Legendary actress Waheeda Rehman was conferred with a Lifetime Achievement Award during the closing stages of the 14th Mumbai Film Festival. After being presented with the award by film director Shyam Benegal, Ms Rehman made the following statement where she expressed her thanks to the Mumbai Academy of Moving Images (MAMI), the organisers behind the event, "I'm thrilled to receive this award from MAMI, a body of the industry at the international film festival hosted in my city Mumbai and that too during the course of the centenary year of Indian cinema. I dedicate this award to the directors, producers, co-actors, technicians who've been a part of this journey with me."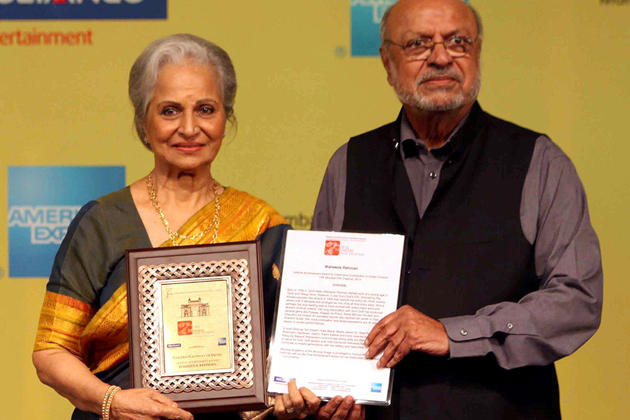 Waheeda Rehman initially worked in a few Tamil and Telugu films before being noticed by the eminent filmmaker Guru Dutt. She starred in a number of classic films alongside Dutt and which were also made under his production company. These include Pyaasa (1957), Kaagaz Ke Phool (1959), Chaudhvin Ka Chand (1960) and Sahib Bibi Aur Ghulam (1962). When asked in a recent video interview with CNN-IBN which film she considers to be the most challenging of her career, as well as her most favourite, Ms Rehman mentioned that it is Guide (1965). She explained why this ground-breaking film, which saw her paired with Dev Anand, is the film which she cherishes the most. "Guide is my most favourite film as I could show my talents as a dancer. Till then, nobody believed that I could dance." You only have to watch Guide to witness Waheeda Rehman's superb abilities as a dancer, as well as her great skills as an actress. This is one of the most memorable performances she has delivered during her illustrious career. She thoroughly deserves this recognition from MAMI for the massive contributions she has made towards Indian cinema.
Congratulations are in order for Ms Rehman for being honoured with this prestigious award!