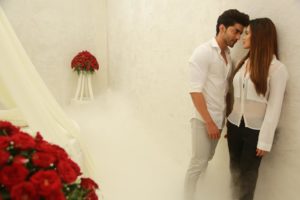 Director Vishal Pandya's first two films Hate Story 2 and 3 were super hits. His upcoming film Wajah Tum Ho in the same genre was slated to be released on Dec 2, 2016 however the makers have decided to shift the release date to Dec 16, 2016.
A large section of the potential audience of Wajah Tum Ho is based in smaller towns where there is a severe crunch of availability of new currency. Due to this short term affect of De-Monetisation, the makers were thus advised by the trade to shift the release to December 16, which also coincidentally has no other Bollywood release. In addition, it gives 15 days more time to people to adjust to the current situation the country is transiting through.
Wajah Tum Ho is a first of its kind thriller where a murder is seen live on a television channel due to a hacker having hacked the channel. The film that is an edge of the seat thriller to find the actual culprit has Sharman Joshi playing a police officer for the first time and the gorgeous Sana Khan and Gurmeet Chaudhary playing lawyers. The handsome Rajniesh Duggal plays the owner of the television network whose channel is hacked.
Talking about the idea of using hacking to show a live murder director Vishal Pandya says, ''I was very interested in hacking as a concept. Besides the fact that it has never been used in a thriller before, hacking is actually a very high-end skill that is actually criminal in nature. It's not just an innocent smart act. Even in our daily lives, there's a constant fear of our computers, phones and bank accounts getting hacked and there is a need for protection against the same. Wajah Tum Ho brings out the issue and the need to protect against hackers.''
Wajah Tum Ho will now hit theaters on December 16th!