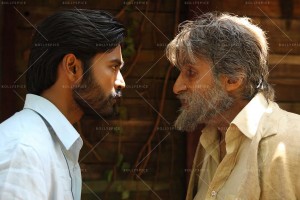 Amitabh Bachchan has been enthralling the nation for over decades. With his impactful voice he has narrated some of the most unforgettable dialogues in the history of Indian cinema. The legendary actor is now all set to lend his voice for the first time ever in his upcoming film titled Shamitabh.
The film has been successful in creating the right buzz as the trailers have received an incredible response with the audience and fans looking forward to watch this R. Balki directorial. For promoting the launch of the second trailer of Shamitabh, the makers had recently executed an interesting activity titled 'Aap Bhi Shamitabh' to engage the audience and Amitabh Bachchan's fans.
On 19th of January, Mr Bachchan announced that he will be lending his voice to three lucky people and ten lucky participants will get to watch the new trailer in advance. The digital space was set abuzz with fans enthusiastically sending entries to win a chance to meet Mr. Bachchan.
The winners were awe-struck when Amitabh Bachchan agreed to shoot a gratification video and lend his voice to his fans.
Here are the gratification videos:


Shamitabh trailer 2 video:

Directed and written by R Balki, Shamitabh marks the debut of Akshara Haasan. Presented by Eros International, the film is schedule to release on the 6th February, 2015.