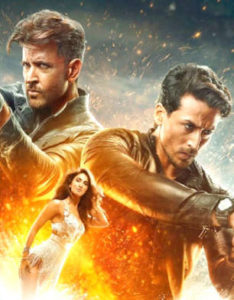 For Gandhi Jayanti 2019 Bollywood brings the mega blockbuster War. Starring Hrithik Roshan and Tiger Shroff they take on a student-teacher dynamic as super agents of the James Bond variety, sometimes fighting each other, sometimes joining together to save the world. Produced by Aditya Chopra, directed by Siddharth Anand, its release marks a new level in both action as well as visual styles for action. But it must not be forgotten that these two actors are dancers unmatched in Bollywood, so there must be a good soundtrack to go with all the power visuals. For this Vishal-Shekhar have been asked to define a 5 song very short album, just enough to show off what needs showing off.
Ghungroo is the centrepiece song… all the interviews have been about this song; all the interest musically has centred around this smooth Daft Punk-esque sound. A tropical paradise, Hrithik with Vaani Kapoor, sex practically in the air… this song is dripping with cool. The released YouTube clip gives a teaser only up till the 3rd minute, where the song takes a softer turn (even Vishal-Shekhar recognising the same beat and rhythm combo being very boring) to give Shilpa Rao a verse for herself. Lyrically this is a moulded copy of Ghungroo Toot Gaye by Pankaj Udhas and possibly to hide this there is little chance for either singer to get out over the rhythm. Overall this is a stock standard but fusion song, bringing Pankaj Udhas' ghazal together with Daft Punk's club rhythm in a sort of Michael Jackson video.
For the bit everyone is waiting for, Jai Jai Shivshankar provides both the chance to see Hrithik and Tiger dance together as well as providing an early contender for this year's Navratri/Dusheera/Diwali celebrations. Vishal Dadlani and Benny Dayal are good foils for each other, with a limited beat behind them doing nothing more than giving them time. However, towards the end it does get its own solo to get its rhythm on. There isn't much to the lyrics, with a description of the mood leading to the throwing of colour. But at the end of the day, there isn't much need for music or lyrics in this piece as its all about the on-screen visuals, the brimming muscles covered in colour and those smooth moves to some classic Bollywood music for this time of year.
The other 3 songs are simply instrumental themes designed by Sanchit and Ankit Balhara. First up is War Theme, a real rock version of a spaghetti western, obviously representing the showdown of two great actors and yet friends. The violins are a nice touch as in staccato they wind up the tension nicely.
Kabir's Theme is for Hrithik, dark, smooth, driven. The electric guitar is all action but around it the instruments keep a tight beat and rhythm making sure the intensity never lessens for an instant. And finally, there is Khalid's Theme, peaceful, serene, Tiger all the way. Then there are the alarm bells and sirens, Vishal is singing in English, the Daft Punk rhythm is back and this could easily be the title track for the film as by its end, cinemagoers will be ready for the tone of this film.
When writing this album, it seems obvious that Vishal-Shekhar were given very strict instructions on what was required as what they have delivered is very limited in scope. There's the cool song, the fun song and 3 background songs, each which develop their own intensity inside 2 minutes and represent the characters to the required mood. Technically speaking that's job done as all requirements have been met. However, from an album point of view, this album never really gets going and definitely has no flow about it. Even then while no doubt listeners will add 'Ghungroo' and 'Jai Jai Shivshankar' to their playlists, these are not likely to last long or remembered as classics in years to come as they provide nothing new, different or even interesting.