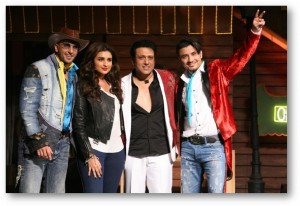 Mumbai witnessed entertainment at its best today when Ranveer Singh, Ali Zafar, Parineeti Chopra and the inimitable Govinda came together and went wild – raw – crazy – dirty Kill/Dil Ishtyle!
The awesome foursome had a killer time reliving their characters Dev, Disha, Tutu and Bhaiyaji and had great fun interacting with their fans and the media. The delighted audience was transported into an extraordinarily superb Old West cowboy saloon replete with a lifelike windmill, club and bar along with a coffee shop… and this is just the beginning!
Get treated to a western makeover, set to Indian tunes like never before. A situational qawali track backed by very strong desi rhythms, 'Nakhriley' is sung by the very talented actor-singer, Ali Zafar, along with the wonderful combination of Shankar Mahadevan &Mahalakshmi Iyer.
Enjoy the fusion trio string section rendition of violins, violas and cello that can be heard throughout this fun filled song. Captivating lyrics by Gulzar Saheb set to evergreen Indian beats by Shankar-Ehsaan-Loy will leave you on a high with an incredible up-tempo crescendo at the end of the number!
Kill Dil releases worldwide on 14th November 2014.