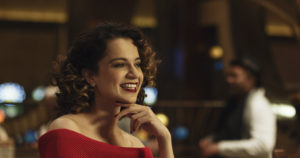 National award-Winning director Hansal Mehta's forthcoming film Simran, which has Kangana Ranaut essaying the role of a woman who pursues happiness despite stumbling on the way, is set to break stereotype and urging to dream big with the film.
In Simran, Kangana's character Praful Patel shows her journey which navigates through family, conservatism, expectations, love, crime and redemption, albeit which she remains undaunted in spirit and never gives up while moving on a rocky path. Her chapter in the film has so many attributes and facets which would be relatable to us.
Kangana's in the film is settled in the US and is aspiring to make her better living for herself. Her story is of the majority of the migrants from India settled in the States. Through the film Hansal established their simple, isolated lives and their aspirations and ambitions.
Praful is a coming of age woman who is unapologetic, ambitious, free-spirited and desirous of independence beyond what her family already allows her. She is a divorce who does not fear from making her own decisions. The film will take you through the stigma attached to choices and how Simran through Kangana's character breaks stereotypes attached to divorce.
Simran is a film that is joyous, light hearted and yet layered with truth.The film showcases that it's okay to be flawed and unapologetic.
A T-Series, Karma Features PVT. LTD. & Adarsh Telemedia film, Simran stars Kangana Ranaut, directed by Hansal Mehta and produced by Bhushan Kumar and Shailesh R Singh. The film is set to release on 15th September 2017.