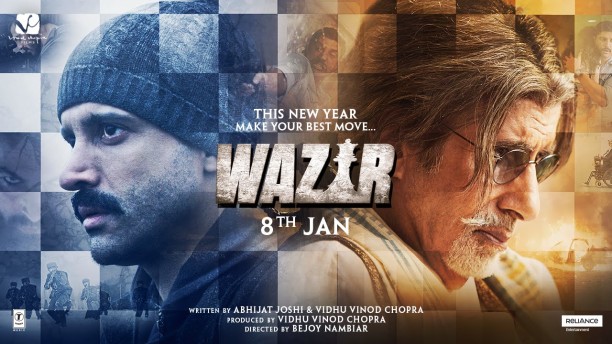 2016's first big release is Bejoy Nambiar's Wazir starring Amitabh Bachchan and Farhan Akthar in principle roles where the story centres around the idea of a chess game, its rules, its pieces, the relationships and most importantly the idea of winning and losing.
Having directed Bachchan in his 2004 release Lakshya, Wazir sees Akthar and Bachchan share the silver screen for the first time. This is something I am aware that a lot of people have been waiting for and I count myself as one of them. The question is does Nambiar's directorial offering live up to the expectation of so many?
Without giving too much away, Wazir sees Akthar cast as Danish Ali, a grieving officer, married to Ruhana played by Aditi Rao Hydari. Their relationship is affected by a moment of recklessness for which Hydari blames Akthar. It is following this incident that the rest of the film plays out and sees several 'reactions' take place as each move is played out akin to a game of chess.
A meeting between Akthar and Bachchan, who is cast as genius chess master teaching children the art of the game, sees the two characters develop an understanding of each other's personal circumstances. It is through this that an unlikely friendship is formed where Bachchan as Omkar Nath Dhar/Panditji acts as the catalyst in progressing the story. That is about all I can say without giving away too much of this thriller.

So what are the good bits? Without a doubt the performances given by Bachchan and Akthar come under this. Bachchan in some scenes is exceptional. The cheeky smiles, the looks that could kill, one liners, and dialogue that explains moments and emotions is delivered in a way that does complete justice to the character. Bachchan portrays Dhar in a way you can expect only him to do. You cannot ask for anything more.
Akthar on the other hand is the perfect foil to Bachchan. Where Bachchan brings a smile to your face, Akthar's portrayal of a tormented officer is brilliant. A character full of contradiction, Akthar manages to capture the mood, mind frame, thought process and presents them through tiny nuances. His first scene with the minister demonstrates this.
Aditi Rao Hydari does the best she can in her limited role as the agonising wife. You feel the emotions that do at moments tear her apart, but you do feel at times that she has more dances than dialogues.
Manav Kaul as the minister performs admirably. His performance adds a menacing and at times unsettling aspect to the film, his stand out scene once again being his first scene with Akthar.
Neil Nitin Mukesh was impressive in his role. Though limited in his screen time he definitely made an impact and I truly believe he may have found his calling.
Written by Vidhu Vinod Chopra and Abhijat Joshi whose previous work has included Munna Bhai; Wazir was initially intended to release as a Hollywood film but was tweaked to suit the Indian audience. Both have done well to present the idea of life as a game of chess, where the fun lies in predicting your opponents move.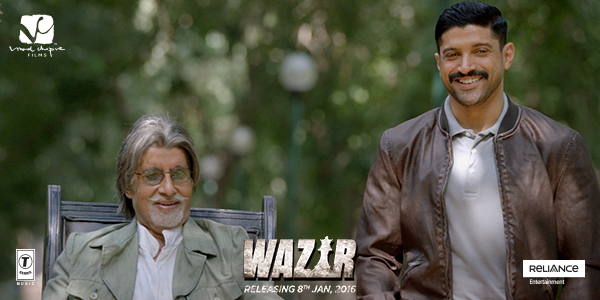 Nambiar manages to successfully use visual aesthetics to capture his characters moods and emotions. The screenplay is therefore shot majority in dark, dull and broody shades by cinematographer Sanu Verghese to depict the tragedy both the lead characters have suffered.
I tried to avoid listening to the music of this film prior to watching the film in an attempt to avoid the self picturisation of the songs and found that the songs when played against the background of the film to be good quality. The various songs reflected the various points and moods of the various characters in their lives. Each song reflected this in its own way.
Now for the bad bits. Presented in partial flashback form the film at times does feel bitty, with certain scenes being shown twice a la Kahaani and Talaash. Though what disappoints most at times is the simple fact that Wazir can feel predictable. Some characters should have been kept a mystery for longer rather than having their cover blown so early on in the film. The main secret, if you want to call it that, is kept reasonably well but it feels as a hollow victory when the film could have been so much better.
I also felt that there were several fundamental flaws in the story that you were forced to accept as an audience due to convenient loopholes, which, can be annoying depending on how you look at it.
Closing remarks – Nambiar has done reasonably well with his third film. Wazir keeps your attention for the full hour and forty minute run time. Yes, the film has flaws. Every film has them it is just whether you can digest the number of flaws that are there. Would I recommend this film? Yes – but purely for the performances given by Amitabh Bachchan and Farhan Akhtar.
Therefore I give Wazir a bollytastic 3.5 out of 5.