Abhishek Bachchan was quizzed by our London reporter Sunny Malik on the release day of his latest film Players in London last week, and the actor candidly spoke about the film, his father, his co-stars, Social networking and also revealed that Dostana 2 will not be shot in the British capital anymore.
The film has released worldwide. How are you feeling?
I was having this discussion with another journalist friend of mine and about ten years ago when these promotional activities were not as rampant, the last week was the most exciting time. You had seen the film, you would sit down and discuss the film, there was anticipation, nervousness and you would have trial shows where your family and friends would see the film. Everyone would come out of the trial and say whether they liked it or not. I can't actually believe the film has released. I flew in to London this morning (6.01.2012) and I am flying out to Mumbai tonight. It has been a whirlwind. It takes at least a week or two for it to sink in that the film has been released. Having said that, we were in Dubai for the Premiere and the reactions there were wonderful. Players is a very basic film and what I like about the directors, Abbas-Mustan is that they are very clear. We are not here to win any awards or to get the greatest reviews. We are just here to entertain and that is their mantra. They don't care about these things and are not worried about what review a critic will give the film. They just want to go out there and want the audience to say that it was super and entertaining.
I expected the reactions to be positive because it is a correct film and we are not experimenting here, it is very safe. It is the sort of film which almost guarantees you entertainment. But the reactions that we had were overwhelming. I frankly, did not expect that. I don't really know what is happening back home in India but I have been trying to read a little bit on Twitter.
Your father, Amitabh Bachchan has been retweeting fan responses.
Oh has he? He has become the excessive father?
But he has not done so before.
He has never done that. That is why it's sceptical because people accuse him of promoting his son, which I think is very unfair. The first time something similar happened was during Guru. That was the first and sadly the only time my father has praised my work. My father is my best friend and has been brutally honest about my work. When he saw Guru, he was very emotional and moved. I remember that after showing him the film, he spent the entire night talking about the film. I then went to New York for the Premiere and he was so excited that he put out a full-page ad with some of the text messages he received from his friends about the film. He did that as a father and he wanted to say that I have always beaten you down about your films, that you are not good, you need to improve and you have blown me away with your performance in this film and I am so happy as a father, that I want to express my happiness. The media just piled on to him and told him to stop promoting his son. Since that day, he has sadly never spoken about my films. He is tweeting about it but he has not told me anything about it, I am going to fight with him now (laughs). But you know, it is sad that we forget that apart from being an actor and a beacon to the rest of the industry, he is also a father and don't take that away from him. If any other father does that, it's fine but if my father does it, they don't like it. It is very sweet of him that he is doing it now. Tell him to stop right away (laughs).
Everyone is talking about the train sequence and about the stunts in the film. Were you ever hesitant to do the stunts yourself?
Oh no, I was so charged up to do them. When Amin (Stunt director Alan Amin) told me about the train sequence, I told him that this is fantastic. Then, I was hung between two moving trains at 90 km/h at -30 degrees and I said to myself that I should have thought about this one before (laughs). But it was a lot of fun.
You rapped for the song 'Bhuddhi Do Bhagwaan' from Players.
Yes, I apologize for that.
There was also a trending topic on Twitter called #ThingsIRatherDothanHearAbhishekBachchanRap (Things I rather do than hear Abhishek Bachchan rap). You supported the joke instead of being offended.
I think Twitter is a great platform. Somewhere, I don't take myself too seriously. I think, that the day actors take themselves too seriously, they get lost in this entire sycophancy of who we are meant to be. You have to be grounded and have to be yourself. I always say that it might be just one person feeling something, but is an audience buying a ticket and his opinion matters to me. It was fun and I wrote wait until you hear me sing. You have to smile at these things and have fun.
How did you make Abbas-Mustan, known as the men in white, wear black?
(Laughs) There are actually three of them; Abbas, Mustan and their brother Hussain, who is the editor of the film. When we were in Russia, it was all white because of the snow, so we said how are we going to see them? Bobby actually got them those worker jackets and we forced them wear them, which was quite funny.
Sonam and Bipasha were supposed to be with you here in the UK. What happened?
That's a very good question. I am actually glad, as those two talk so much and I have been with them for the last two weeks. I make fun of them and I always get stuck in between them when we are on domestic flights, one is one the left and one is on the right. They only talk about clothes and fashion and I aIways say 'guys please be quiet' but I bought noise cancelling headphones which help (smiles).
Are you filming in the UK anytime soon?
Dostana 2 might not happen in London unfortunately. It's sad. The new script has changed and it's not in London anymore. I would love to come back and shoot here as I filmed Jhoom Barabar Jhoom here. But I would really love to shoot up north somewhere, in Birmingham or Manchester, but as of now there are no plans.
Players is out now worldwide.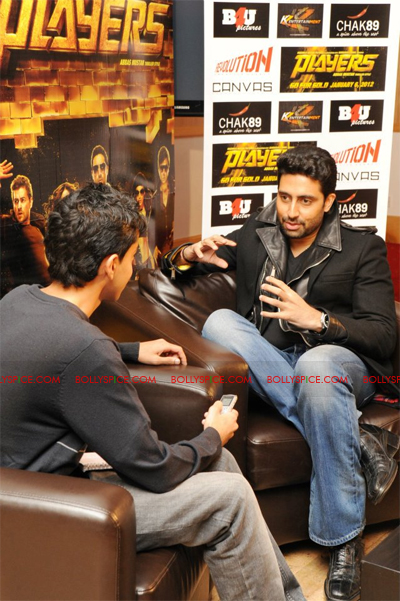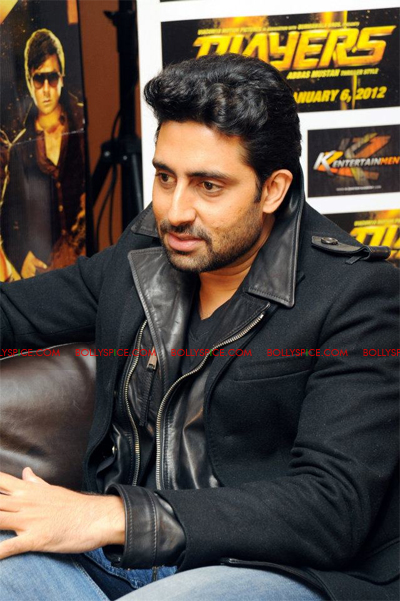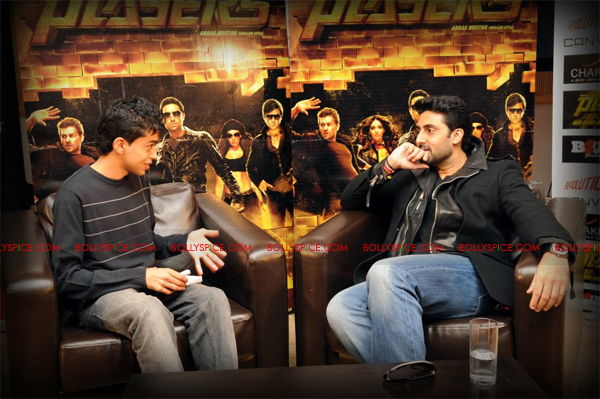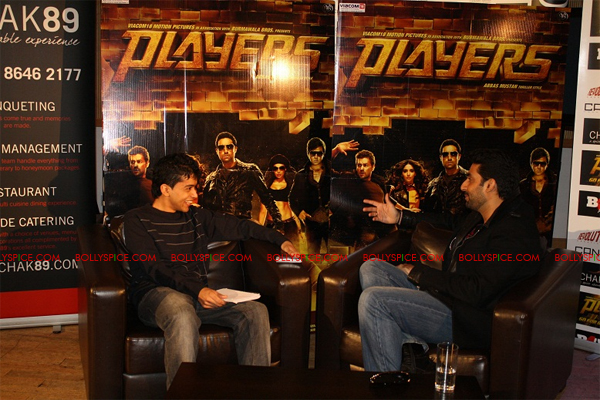 Photos: Hayat Khan