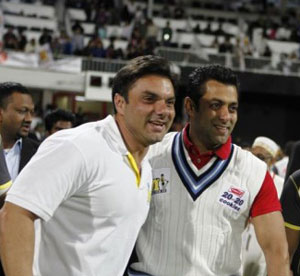 Sohail Khan is the proud owner of his team Mumbai Heroes. However this year Riteish Deshmukh will not be a part of his team as Riteish has how own team Veer Marathi. Sohail says he is going to miss his favourite captain and friend Riteish Deshmukh but on a cheerful note wishes Riteish the best for his team.
Incidentally his team Mumbai Heroes will not have Salman playing for his team. "Salman is an icon now so I can't take risk with him now. He has gone through a major surgery last year we have to be careful. He could not play the last two seasons because of his illness" informs Sohail.
However Sohail says that Salman will be there to cheer the team as and when he can. "We will visit all the venues and be a part and support our team wherever they are playing" he adds.
While Salman is not part of the team surprisingly being the owner of Mumbai Heroes Sohail too will not be seen on the field. "I was out in the first ball so I was removed from the team" he adds jovially.
Salman or no Salman, it's going to be interesting watching all the stars sweating out on the cricket field.