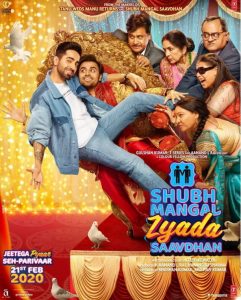 Shubh Mangal Zyada Saavdhan
Starring Ayushmann Khurrana,Jitendra Kumar, Gajraj Rao, Neena Gupta,Maanvi Gagroo
Written & Directed by Hitesh Kewalya
Why are films about gay people so sad? They are either about AIDS or star-crossed same-sex lovers who are doomed to die or suffer, take you pick.
Shubh Mangal Zyada Savdhaan(SMZS) breaks the glass ceiling and the gaze that sees the ling …it not only normalizes a same-sex relationship, it compels the homophobic onlookers—the frowning family and the sniggering relatives—to come around , to …well…if not accept than succumb to the pressures of normalizing homosexuality that seems to be building up like gathering clouds all around the homophobic cartel of wedding revellers, none more so than patriarch Shankar Tripathi (Gajaraj Rao,splendidly stoic starchy and slightly sleazy in his prudery) who sees his only darling son Aman (impressive debutant Jitendra Kumar) kissing with his friend (Ayushmann Khurrana, turning gay with full conviction) in a train filled with wedding revellers.
Crazy things keep happening all through SMZS, as though the Gods of all Moral Issues had decided to take a small break to just let the chaos of characters dive into their own fears anxieties and insecurities and come out screaming, kicking, grunting and, yes, moaning. In pleasure and in pain. And till death do they part. The pain and pleasure, I mean.
Just to let us know that writer-director Hitesh Kewalya means business, the film plunges without losing a minute, into the Ayushmann-Jitendra relationship as the world around them breaks into wedding festivities. The tone of the film is constantly celebratory . It is no coincidence that the breakneck happenings in the film are positioned,just days before Article 377 is repealed. And when the breathless TV anchor comes on to make that historic announcement, I swear I saw a man in a pink shirt being man-handled in the background.
This is the kind of a tongue-in-cheek film that refuses to buckle under the "responsibility" of telling us what same-sex couples would like to hear or what is politically correct to say about them. Not that the raucous laughter (in one sequence Ayushmann dressed with a ghunghat as a bride sneaks to the mandap to marry the man who is being force-wedded to a not-so-susheel girl) takes away from the film's seriousness of purpose. On the contrary, the more raucuous the laughter the heftier the bite in the butt of the butt-bite haters.
Speaking of bites in the butt, try this. The girl Kusum (Pankhury Awasthi) is eager to marry a gay man as long as he lets her do her own thing while he does his own. Pulling the stree-ling?
Speaking of laughter Neena Gupta discovers her funnybone all over again after Saath Saath 40 years ago. As a mother who is pushed into accepting her son's homosexuality she has a whale of a time making raunchy fun of her intensely homophobic screen-husband Gajraj Rao. Gupta and Rao were a scenestealing couple in Ayushmann's earlier game-changer Badhaai Ho. Here they are are on a totally different trip, and enjoying every bit of it.
But the finest character in this zany homage to homosexuality is an absolutely wacky girl called Goggle, so called because she insists on wearing sunshades all the time(there is a reason for it,and I am not telling) . Goggle played with looming relish by Maanvi Gagroo is desperate to get married, so desperate that she rides to the mandap on a horse eager to just get it over with . She's also the most liberal character in this plot of prudery ,outdated morality, and worm-infested broccoli farming. We need more ball-breaking rule breakers like Google to change rigid mindsets.
We need more films like Shubh Mangal Zyada Saavdhan which break the godddamned rules of 'right' living without getting judge mental about the conservative elements. A salute and a hurrah for the writer-director for sustaining a mischievous tone of rebuke and ribaldry all through without losing sight of the narretive's serious undertones.
We need more actors like Ayushmann Khurrana to play characters who are flawed frail and never afraid to fall or fail.As the nose-ringed precocious and cocky Kartik, Ayushmann hits all the right notes, punches all the nosy noses and trots away into the sunset with the love of his life as though by birthright. Jitendra Kumar as the more inhibited semi-closeted Significant Other comes up with a surprisingly articulate volume of expressions for a newcomer,ranging from hurt to ecstasy.
Jitendra has a bright future. As for more unapologetic remorseless films about homosexuality such as this, only time will tell.