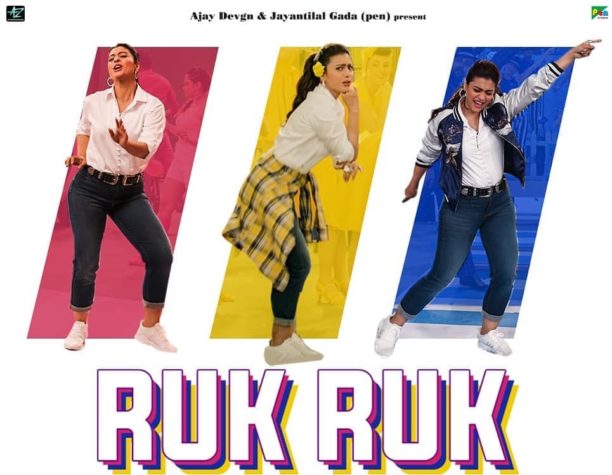 Helicopter Eela is set for release and one of the highlights of the film is Kajol bringing on the moves with 'Ruk Ruk Ruk'. Considering the fact that in her last few films she has primarily been seen swaying to the melodies in chiffon sarees, one can't even recollect when was the last time she danced like this to synchronised beats.
"I guess that was way back in Fanaa, I think ussme ek-do gaane aise they," she reminds me with a smile.
So how did she react when something like his came her way?
"Sabse pehle toh I fired the choreographer Ranju", laughs Kajol, "He suggested that we have to do this song in minimal number of shots. You can see that it has been done in just 2-3 shots. I was like how would I be able to do that. As a matter of fact he first showed me a video which was even shorter and a single shot one. Pehle toh maine usse bahaut daanta ki how would we do it. Mujhe toh issme 10-15 din ke rehearsals lagenge. He was confident though that we would be able to do it. He said that ma'm koshish karte hain, hum kar lenge. Nahi hoga toh mere paas backup plan hai, we would do it with cuts and shots."
Eventually though, it all went well.
"Yes, thankfully after rehearsals we were able to pull it off well. Everyone coordinated so well in the background. Kisi ki wajah se retake nahi hua, agar hua bhi toh woh meri wajah se hua", she confesses, "There was so much happening in the background which needed coordination. A cycle was coming from one direction, there was balloons somewhere else, and then someone had to set the table. Still, we shot it in two days flat. We were all very happy. (Laughs) Honestly, I patted myself on the back. When the song's shoot was over, we were all looking at ourselves that wow, we finished it, it is an accomplishment."
Well, it is indeed an accomplishment if one looks at the final results. Now that the Pradeep Sarkar directed film is arriving this Friday, one looks forward to the results on the big screen.