Producer Shashi Ranjan and director Binod Pradhan's Wedding Pullav, starring Anushka Ranjan and Diganth Manchale, unveiled its trailer on 17th August at JW Marriott Hotel Mumbai Sahar.
One of the highlights was that star Alia Bhatt launched the trailer for debutant Anushka Ranjan, who is a childhood friend. Thrilled about her friend's debut Alia expressed her love and best wishes while presenting the trailer, saying, "Main or Anushka or Kaanchi sath me hi badey hue hai and we used to play actors-actors together. I am very very excited, very proud, very emotional, very sentimental, very nervous and very very happy to present to you the wedding pullav with my dearest dearest friend and my elder sister Anushka Ranjan."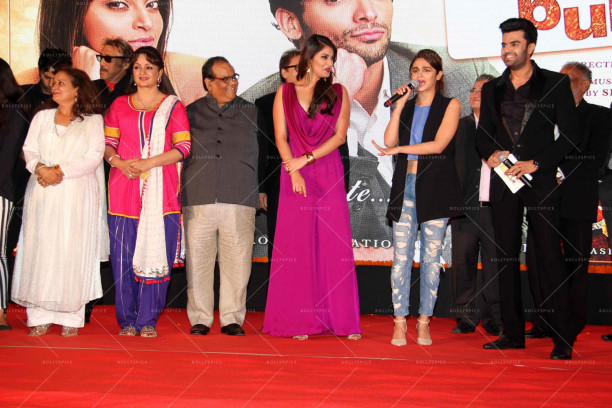 Anushka Ranjan came onstage to thank everyone especially her parents, "I would love to thank my parents, you know aapke bachpan me aapke mom dad kehte hai ki aapki saari khwahish puri karenge, aapko jo chahiye wo denge, I think my parents have really lived up to that thing."
The trailer with its fresh look and outstanding music got great feedback from the cheering crowd that included industry biggies like David Dhawan, Mahesh Bhatt, Jackie Shroff, Sonu Nigam, Madhur Bhandarkar, Ramesh Sippy, Ramesh Taurani and many more.
The ace filmmaker Mahesh Bhatt praising the debutant said "Anushka is a brave girl. You are here on centre stage, daring to be judged by millions of people out there, so 100% marks for daring. The results are not in our hands but I have seen this that more audacity you have the more chances you have to cover the great future. We will hold our breaths and see what that hour on Friday brings to us. But whatever may be the outcome we are committed to be in the arena to play on and on and on."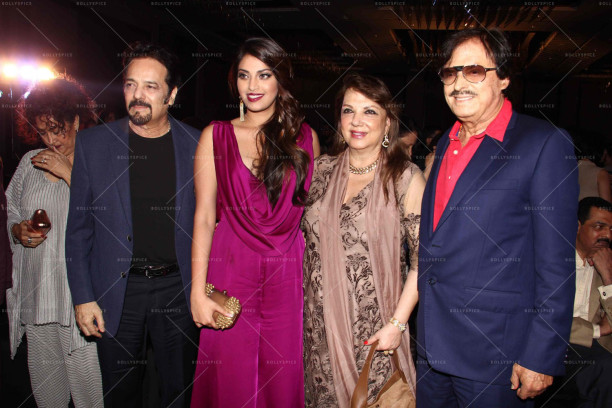 Agreeing with Bhatt saab, Shatrughn Sinha who was also present there to cheer Anushka said, "We all are family, friends here gathered to shower our blessings on Anushka and what all Mahesh Bhatt, the most intellectual person here, has said regarding this film I agree with him 100%. The daring steps taken by her will make the real producers Shashi and Anu Ranjan proud."
David Dhavan who is a very old and good friend of Shashi Ranjan said, "First of all I want to say that Anushka you are superb, that's your first film and you have made your father proud. Shashi is a friend of mine from last 35 years, we have studied together and I have seen him all through. And I am really proud of how he has done the film, it's not easy to make a film today, in this time and this boy has done it." "He still looks like a boy." he added smiling.
Satish Kaushik who was accompanying everyone there on the stage said, "This is a day for Anushka Ranjan, she is the center stage girl. She has a bright future, you have seen the trailer, and she looks good. I always used to tell Shashi whenever we used to go to his house that there is a talent hiding in your house, you know . Shashi and Anu themselves are in the mid of popular cinema and Anushka's day is now coming. She has an Indian face, she is tall-good looking, she can look good in a sari and she can look good in any dress, and there are so many well-wishers of her who are actually giving her a lot of wishes." He also added that she has a very bright future and wished her good luck.
GR8 Entertainment's 'Wedding Pullav' directed by ace cinematographer, Binod Pradhan and introducing Anushka Ranjan and Diganth Manchale is slated to release on 16th October, 2015. This romcom also features legendary star Rishi Kapoor besides boasting of an impressive ensemble cast, including, Karan V Grover, Sonali Sehgal, Satish Kaushik, Parmeet Sethi, Kitu Gidwani, Himani Shivpuri, Upasna Singh and Tripta Lakhanpal.
The other credits include: Music by Salim-Suleiman, Sound Design by Rakesh Ranjan, DOP – Gopal Shah, Story Writer – Pooja Varma, Screenplay by Shashi Ranjan & Rahul Patel, Dialogue Writer – Bharat Kukreti & Choreographer – Pony Verma Prakashraj.