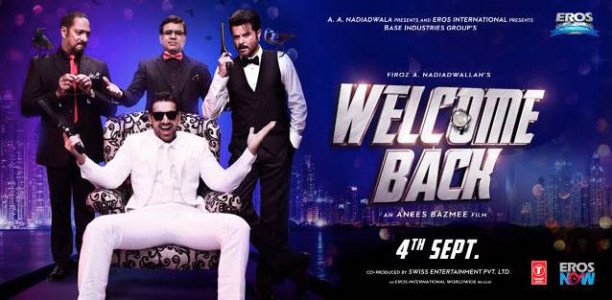 You just know if over-the-top ridiculous movies are your kind of thing. If you're not one of those people, you'll find justification for your dislike in bits of Welcome Back that just try too hard. But if you are a lover of rapid-fire absurdities, you'll mostly giggle and chuckle as the plot becomes increasingly convoluted.
Overall, Welcome Back is exactly the kind of ridiculous, zingy stuff you expect from writer-director Anees Bazmee, with the right amount of nods to other films (Bunty Aur Babli, Ram Lakhan and PK, to name a few), insults (personal favorite "moochwala bean bag") and physical gags. But the humor isn't always as smoothly sustained as in the original Welcome, and on occasions, perhaps not unexpectedly, the movie tries reaching too far and goes well past the gleeful "did they really go there?" disbelief into "why did they go there?" disbelief. (I think in particular here about the desert-set climax, which I'll get to in a minute.)
In Welcome Back, the plot is essentially the same as in Welcome: Mobsters (though now gone "decent," or as the subtitles say "descent") Uday (Nana Patekar) and Majnu (Anil Kapoor) try to marry Uday's long lost and personality-devoid sister Ranjhana (Shruti Hassan) off to someone in the family of their old pal Dr. Gunghroo (Paresh Rawal). They fix Ranjhana's marriage with Gunghroo's long lost stepson Ajay (John Abraham) before Gunghroo even gets to meet him, and when Gunghroo finds out that Ajay is the don Ajju Bhai, he of course now objects to marrying Ajju into the decent family of Uday and Manju. His attempts to foil the marriage are, naturally, too little too late as Ajay and Ranjhana have already met-cute on their own and decided to get married. There is also another bigger-don-and-son duo who get involved and complicate matters: Wanted bhai (Naseeruddin Shah) and his son Honey (Shiney Ahuja).
Adding yet another layer of complication are a mother-and-daughter duo of con artists (Dimple Kapadia and Ankita Srivastava) who are masquerading as a maharani and rajkumari in an attempt to swindle Uday and Majnu and then Wanted bhai and Honey. (It's a welcome turn to see a young woman romancing the significantly older men played for comedy and plotting rather than just assuming the age difference is normal.)
The sequel certainly feels the absence of Akshay Kumar, who's the master if ever there were one of this type of convoluted hilarity. Without Akki to do it, Anil Kapoor — with his break apart sunglasses making a repeat appearance, of course — turns up the ham factor to 10, with a foil in Nana Patekar and his "control, Uday, CONTROL" as the straight man of the comedy duo that is now more front and center than the love story.
That's not to say that John Abraham isn't a pleasure to watch too as the somewhat secondary hero, grinning like a dweeb as he plots to humiliate Majnu and Uday, doling out physical punishments to their henchmen and issuing threats with suave certainty. If you want to watch John beat down goons with a wet towel, tear his shirt off Salman style and then devolve into alternating scenes of swagger and silliness, this is the film for you.
A particularly great comedy scene has Majnu and Uday attempting to kill Ajju in his bed, sneak his body out of the hotel and bury him in a graveyard. Ajju has caught on, escapes the strangling and feigns being dead so he can haunt the clumsy dons in the cemetery — and then to top it off, he and Gunghroo as ghosts get into a hilarious singing contest with Majnu and Uday.
On the subject of singing, though, this movie's songs are mostly lacking and the lip-syncing is often horribly off. Tutti Bole Wedding Di is the only song that's really enjoyable (and the picturization is likely so because it involves plenty of hamming it up and some scheming), and some like Time Lagaya Kaiko are just deplorable and amateurish.
An even bigger misstep than the songs is the extended climax, which has everyone running from Wanted bhai in the desert. It ends a movie that has mostly been the right kind of ridiculous on the wrong kind, with John Abraham running on top of a camel stampede, some typical moral posturing and then a dust storm that carries away the entire cast. If you don't get swept away in that, though, Welcome Back is mostly the kind of rib-tickling absurdity you need once in a while.