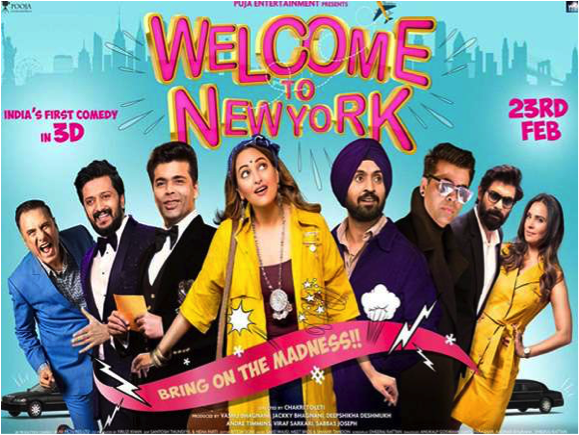 Starring Diljit Dosanjh, Karan Johar, Sonakshi Sinha, Boman Irani, Lara Dutta, Riteish Deshmukh and Rana Daggubati, the heartfelt, slapstick comedy Welcome To New York is set to hit theaters on February 23rd!
The funny tale tells the story of two very different people from varied backgrounds who come together by sheer chance. Sinha, plays a neurotic and undiscovered fashion designer stuck in traditional values, who has just lost her job and her boyfriend. Dosanjh is in his element as a hustler farmboy who refuses to follow in his father's footsteps, wanting to be an actor and travel the world. An unexpected trip to New York City sets them off on a comedic adventure that changes their lives forever.
They jump at the chance for an open audition call seeking unknown talent to participate in India's biggest entertainment awards ceremony to be held in New York City. Little do they know that the show's promoter has a wicked ulterior motive…
Join the crazy couple as they go up against a mob, power-mad divas of the movie industry and a hilarious kidnapping plan to rid the world of India's biggest movie personality.
Set amidst the glamorous world of Bollywood celebrities, film fans will get to see a host of stars including super celeb interviewer, director and awards host Karan Johar, not just in one role – but two! Riteish Deshmukh, Boman Irani, Lara Dutta and Rana Duggubati add to the chaos and hilarity with catchy one-liners and some side-splitting sarcasm that will have audiences in stitches throughout.
Director Chakri Toleti said about the movie, "We have an extraordinary cast in our film, but the beauty is how they complement each other. It was a pleasure working with such talented actors, especially in comedy, timing is everything."
Check out the trailer!

The movie has the largest ensemble of cast (16 stars) for the first time in Bollywood and the movie has songs sung by the crème de la creme of singers – from Rahat Fateh Ali Khan to Mika Singh.
The first track 'Pant Mein Gun Hai' is party anthem, featuring Diljit Dosanjh, Sonakshi Sinha, Karan Johar & Lara Dutta and composed by Sajid – Wajid & voiced by Diljit Dosanjh. The lyricist of the song are Sajid and Danish Sabri. This is the first song from Puja Music & it is distributed by Sony Music India.

The latest release 'Ishtehaar' by the legendary Rahat Fateh Ali Khan is all about the feeling.
'Welcome to New York', India's first 3D comedy is produced by Pooja Films (Vashu Bhagnani, Jackky Bhagnani & Deepshikha Deshmukh) and WizFilms, and is set to be released nationwide by new indie distribution company Rising Star Films, headed by Waqas Afzaal. Afzaal said of the new venture: "Rising Star may be a new player in the UK, but we have some really exciting plans and a great line-up of films that we are confident UK audiences will love. Welcome to New York is a great film with a superb cast and we're delighted that this will be our first film to be released in the UK."
The film has also received huge support from the 'filmi' community, with Salman Khan unveiling the first trailer and KJo and the full cast releasing a hilarious short film on Twitter, each claiming to be the driving force of the film. We leave it to audiences to decide!
Stay tuned for more!