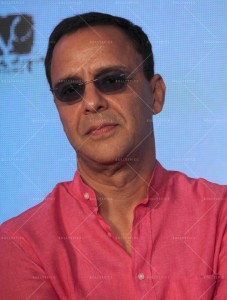 As a film journalist, it is common practice for us to regularly speak to actors and actresses about their upcoming film or project. Yet as someone who is passionate about Hindi Cinema, I consider it an incredibly rare treat to be able to speak to either a director or a producer who has played a fundamental role in orchestrating the making of a film. BollySpice had the absolute pleasure to speak with one of India's most acclaimed filmmakers Mr Vidhu Vinod Chopra. He is the man who has directed several hit films such as Parinda (1989), 1942: A Love Story (1993) and Mission Kashmir (2000). Mr Chopra has also worked with director Rajkumar Hirani as a producer in films such as Munnabhai MBBS (2004), Lage Raho Munnabhai (2007) and of course the global blockbuster 3 Idiots (2009).
We spoke to Mr Chopra about the upcoming film PK, starring Aamir Khan, Anushka Sharma, Sanjay Dutt, Sushant Singh Rajput and Boman Irani. Check out what he had to say about PK, the process he went through in making this film, as well as his expectations of post-release. Enjoy!
BC: So tell us what was your reaction when you first heard the script to PK?
VC: You know I don't hear the script, I actually contribute to it. I sit and work with Abhijan Joshi and Rajkumar Hirani. So when I heard the idea I was delighted but then it's a process. It's not like they wrote the whole script, I heard it and said 'wow.' I heard the idea and thought it was very exciting and bit by bit, it actually took 5 years to make this film and 3 years to write it.
BC: How was it working with Raju Hirani the fourth time round?
VC: Wonderful! I mean working with him is like working with your own kid brother. We've been working together for too long (around 25 years), it's been fun!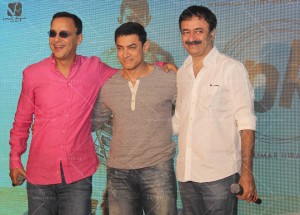 BC: Any female actress would jump at the chance of doing a film like PK which has top actors and filmmakers associated with it. What made you guys go with Anushka Sharma?
VC: You know whenever I do casting, whether it's Aamir Khan or whether it is Sharman Joshi in Ferrari Ki Sawari or Vidya Balan in Parineeta, it's always depending on the role and the casting of the actor or actress who fit's that role. It has very little to do with his or her stardom. If that was the case, then there would be no Vidya Balan in Parineeta or Sharman Joshi in Ferrari Ki Sawari. So Anushka is in the film because she fits the role. It's as simple as that.
BC: If you were in the director's chair with this film, would you change anything about it? Or are you happy with the final cut?
VC: I can't direct this film. It's very different from what I have done. If you've seen Broken Horses which will release in April and compare it to this one, you will know what I am saying. This is a film I can contribute to as a writer, as a person who helped with the creation of the music, editing etc. But this is really Rajkumar Hirani's film.
BC: What made you both see Aamir as the leading character PK?
VC: We actually thought about this film while we were still doing 3 Idiots. He was part of 3 Idiots and was like a seamless transition and there wasn't much thought to it.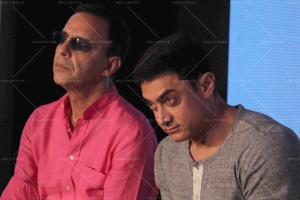 BC: And what is your opinion of Aamir's performance in the film?
VC: He's done very well. You will see it.
BC: What is your favourite song from the film?
VC: I have two favourites which are 'Chaar Kadam' and 'Ae Khuda Kahan Hai Tu', which are two very different songs.
BC: The film does look very interesting based on its promos. But would you care if the critics chose to give bad reviews towards it upon release?
VC: I don't read reviews. My wife (Anupama Chopra) as you know is a critic and she writes. I only read her reviews and she doesn't review my films. So I don't get to read any. (Laughs)
BC: 3 Idiots and the Munnabhai films were overwhelming hits and are considered to be classics today. Do you think you will be able to strike gold again with PK?
VC: I don't care about that at all. I have never cared about it and will never care about it. That gold is not the gold I crave for. I care for a good movie and I think we've already hit gold with PK because it's a good movie, irrespective of whether it works or not. If I cared for that, would I cast Sharman Joshi in Ferrari? Why would I, you tell me? After 3 Idiots I would get any big star. Because I believed he was the right guy for that movie. So I'm chasing gold in cinema and not gold in bank balance.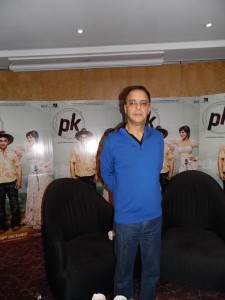 BC: If you saw someone like PK walking in the streets of Delhi, how would you react?
VC: I'd say 'hey, that's from my movie'. (Laughs)
BC: If you had to sell this film to someone who has never seen a Bollywood film before, what would be your pitch?
VC: I'd say go see Broken Horses and then go see PK because it's from the same guy. (Laughs)
BC: What are some of your favourite Bollywood films?
VC: More than films, I like filmmakers. I like Guru Dutt, Mehboob Khan, Bimal Roy, K. Asif, Shantaram, early Raj Kapoor and Hrishikesh Mukherjee. These are some of my favourites.
BC: Bollywood has such a huge love affair with London. What do you find special about the city?
VC:  London is actually like our second home. With all of you guys here and just 7 hours to get here on a plane, it really is like second home.
BollySpice would like to thank Mr Chopra for taking the time to speak with us!
You can catch PK in cinemas this Friday! Don't miss one of the most highly anticipated films of 2014!