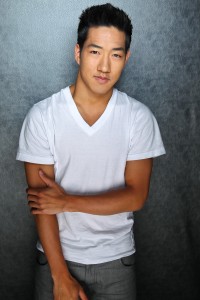 One of the things we like to do here at BollySpice is not only focus on the world of Bollywood, but also to shine the light on artists outside of Hindi films. This week, we are featuring dancer Alex Wong. Because of his outstanding technique and talent, he is known as Alex "Freakin" Wong to the fans of the popular US dance show, So You Think You Can Dance. A classically trained ballet dancer, he was a soloist with Miami City Ballet when he first auditioned for the dance reality show in 2009. He was unable to compete that season because of a contract issue with the ballet company. The next year Alex was back and was on his way to winning the show when tragedy struck and he tore his achilles tendon. That didn't stop this amazing dancer. He worked hard at his recovery and made it back to the world of dance and has since skyrocketed to fame.
Now you may be wondering why we decided that we had to talk to Alex about Bollywood! Well, it was a during rehearsal for a Bollywood number that Alex was originally injured. During last season, Alex was back as an All-Star and with contestant Amy Yakima, blew everyone away with a fabulous Bollywood number! As he said, it was redemption! After the piece was done, Alex said he LOVED Bollywood and so we had to find out what this classically trained dancer had to say about the dance of Bollywood! Check out what he told us in this exclusive on the naach of Bollywood, working with choreographer Nakul Dev Mahajan and whether we will see Alex make the leap to Bollywood.
So back in your season on So You Think You Can Dance, the first time you heard Bollywood would be your number, do you remember what your thoughts were?
Oh, I was really excited. I love Bollywood and I loved Bollywood music and dancing growing up. I didn't know much about it but when I would hear it would get really excited. I was also really afraid cause I had injured my knee and I didn't tell anybody. I knew Bollywood had a lot of squatting and knee work so I was a little terrified.
Did you know about Bollywood before that?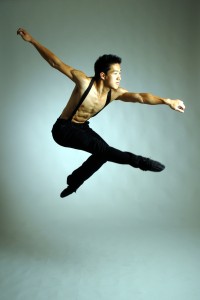 I didn't know much about it but I was somewhat familiar with it. Also with SYTYCD publicizing it more, I knew a little more about the ideas behind it.
How would you describe Bollywood style of dance?
Something that is very up lifting. What really gets me is the masses of people you sometimes see in Bollywood films. There are just so many people dancing and the energy really bleeds through the screen and I love it!
What do you think about Bollywood dance?
Love it! It makes me so happy.
You worked with Bollywood choreographer Nakul Dev Mahajan for the Dizzy Feet Foundation Gala this year, tell us about that experience.
It was great working with Nakul again. I had worked with him on my season and had always felt incomplete because I didn't get to perform my Bollywood piece. It was nice to do something I was somewhat familiar with because we had reference videos of the dancers that did it before us. It was a little mash up of a couple Bollywood numbers that Nakul had done previously on SYTYCD.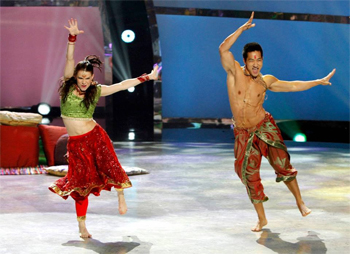 Then, of course, you danced that incredible number with Amy in this last season, can you tell us about rehearsing that number and working with Amy?
Gosh I was so excited to do that Bollywood number, I love love love fast and energetic dancing and that's exactly what that was. I think I was so excited that when we first started I was thinking why is this slow? But then I realized after watching a playback that it was not slow AT ALL, hahaha I don't know what I was thinking, I think I was too excited. Amy is a super hard worker and great to work with. She'll try anything and make anything work so it's always a treat when you get to work with hardworking dancers like that.
It was such a cool piece, what did you love about the number?
I loved the speed and how it had a little story line. It was such a happy piece and doing it also made me really happy. I love it was sort of a forbidden love, and then little kiss we had on stage then immediately after we would look around as if to make sure we weren't caught, loved it!
It got such a fabulous response, how did that feel?
It felt great to finally be able to perform a Bollywood routine on SYTYCD. I had REALLY wanted to perform my Bollywood piece during my season and so it totally broke my heart when I couldn't do that.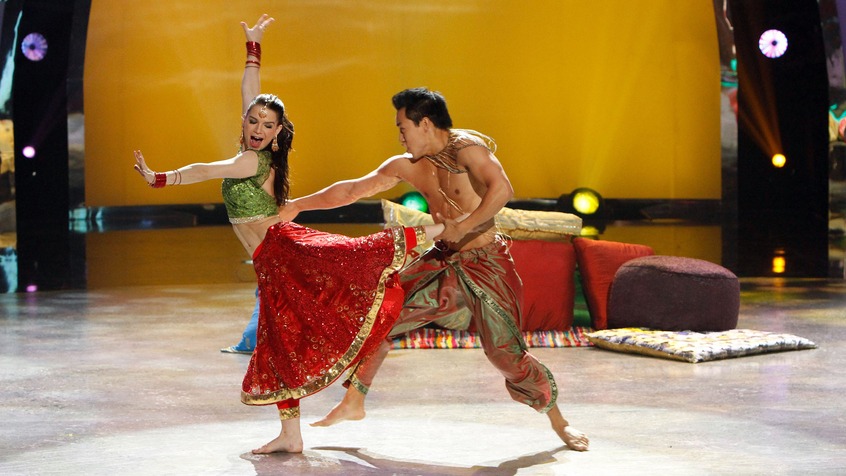 When I talked to Nakul about this number he said he felt like he owed you the Bollywood number you deserved to do and he felt like he needed redemption for you. Your thoughts on that.
Nakul is a great person. He always felt somewhat responsible for my injury on season 7 because I snapped my Achilles' tendon doing his number. The thing is, it could have snapped during any number doing any sort of jump. I've always told Nakul that it had nothing to do with the Bollywood routine and that it wasn't his fault.
Did it feel like redemption in a way?
Yes, absolutely. It's something I've wanted to do since I was injured!
What do you love about Bollywood style of dance?
The intricacy or the hands, and the excited feeling of joy when I get to dance it! I also LOVE the music!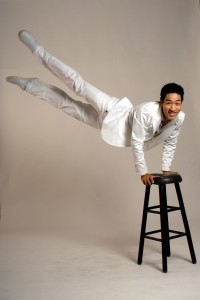 Would you do Bollywood again?
Of course. That's a no brainer. Nakul! I'm ready!!
How challenging is it as a classically trained dancer to go into this genre that is so different?
You know as hard as Bollywood is, I think being classically trained really helped. I'm using to working with very precise movements and that's what Nakul expects. I feel like one of my strengths is accuracy and speed so I feel like its a perfect match 🙂
Of course Lauren Gottlieb, another SYTYCD all-star is making quite the name for herself in Bollywood. Have you seen ABCD and her on the dance reality show Jhalak Dikhhla Jaa in India?
Of course I have! Lauren and I are quite close and we talk often. I went to go see ABCD in theaters when it was playing in Los Angeles. Also I watched her kill it every week on dancing with the stars India. She did so well! I remember her talking to me after she had done ABCD, and she was in India and was really unsure of what to do. I was so confident in my opinion of her staying in India and hope it helped make her decision easier. She's doing so well just like I knew she would. She's a star!
Have you watched any Bollywood films?
I haven't seen many Bollywood films in its entirety, but I've seen plenty of snippets here and there.
Would you ever consider coming over to do a Bollywood film?
Oh my gosh, yes of course I would! That would be such a dream come true. I think that would be amazing. I have never been to India and it's probably #1 on my list of places to go.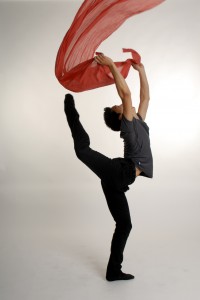 Bollywood certainly is becoming known the US now more then it ever has, do you see that to be true?
Absolutely. I do think SYTYCD alone gave a lot of exposure to Bollywood to peak peoples interest. I grew up in Vancouver though, and I remember always seeing a lot of certain movie theaters that would only play Bollywood films.
You are considered one of the best that has ever been on the SYTYCD stage and fans love you, how does that feel?
Hahhaa well that's very nice of you to say that. I think there have been a lot of great dancers on SYTYCD and it certainly feels great to be appreciated for something you love to do and are so passionate about. I never thought I would have so many people coming up to me on the streets all the time recognizing me for my dancing and saying how much they loved what I did on the show and how I touched their hearts. Never in a million years would I think that my dancing would reach so many people. I feel so lucky!
What are you working on now?
I'm working on several different projects. I just finished an industrial where I sang solo in the Delta arena in Utah for an audience of 18,000. It was amazing because I got to incorporate dance into it as well. I'm also coaching two Olympic figure skaters, Meryl Davis and Charlie White, they are the US world champions in ice dancing, and then next week I am heading off to China to dance in an Acura industrial, then possibly another Broadway show after that, we'll see!