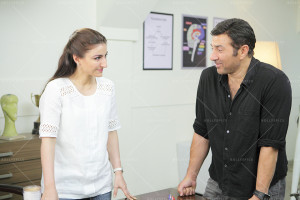 Actress Soha Ali Khan plays the role of a psychiatrist in the Sunny Deol starrer Ghayal Once Again. According to a source close to the cast, Soha actually ended up slapping Sunny Deol really hard across the face for a particular scene. This occurred for a sequence where Sunny loses his cool, the actress was supposed to slap him to bring him back to his senses.
While filming the scene, Soha was so immersed in her character that she did not realize when she slapped the actor hard across his face. This entire incident left everyone on the set including Soha extremely shocked.
However, being the cool guy that Sunny is, he completely understood Soha's situation and decided to let it go. There is no doubt that Soha is one of most committed actors in Bollywood and this incident proves her determination as an actress.
Now that's what we call a real sport!
Dharmendra presents, written and directed by Sunny Deol, Ghayal Once Again stars Sunny Deol and 4 young kids – Rishabh Arora, Shivam Patil, Daina Khan and Anchal Munjal in lead roles.
The movie releases on 15th January 2016