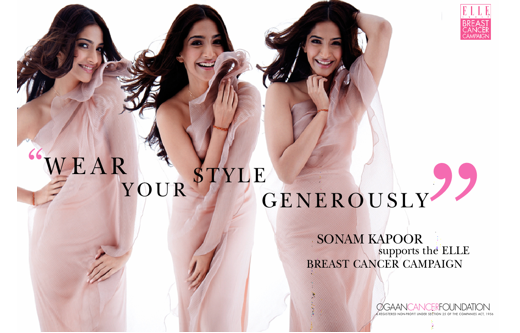 What does Sonam Kapoor want for her birthday? The answer to that may surprise you! It is not clothes or shoes, though I am sure she would love some, what girl wouldn't, it is actually a donation. Sonam has requested that for her birthday all of her friends donate to a cause that is close to her heart. She said, "It is my privilege to be associated with Ogaan Cancer Foundation and play a part in spreading breast cancer awareness. Everyone seems to know someone with breast cancer – I lost an aunt to it. I'm very happy to support the OCF team, which has shown earnestness and a sense of dedicated purpose. I hope I can make a difference in my own way.
Therefore this year on my birthday I urge friends, family and fans who wish to gift me to do so by donating to this cause."
The actress tweeted her request

2 all my friends who wnt 2 gift me on my bday on 9th june pls do so by donating 2 my cause! (Breast cancer awareness) http://t.co/uU48mt99

— Zoya Singh Solanki (@sonamakapoor) June 4, 2012
Its something vry close 2 my heart so please donate generously! http://t.co/1pzaL5At love u all a lot

— Zoya Singh Solanki (@sonamakapoor) June 4, 2012
A lot of ppl have lost loved ones & creating awareness http://t.co/1pzaL5At will B the best bday gift evr.

— Zoya Singh Solanki (@sonamakapoor) June 4, 2012
If you want to donate go to Give-me-the-gift-of-your-support-for-breast-cancer-on-my-birthday.
Fans and stars have been tweeting their support for this very admirable cause and we here at BollySpice applaud the actress for making this initiative!
About Ogaan Cancer Foundation
The ELLE Breast Cancer Campaign is the fundrasing arm of the Ogaan Cancer Foundation.
Mission
To raise funds and awareness for breast cancer using the unique relationship of ELLE India with its readers and clients.
Description
Statistics show that early detection of breast cancer greatly improves survival rates, and awareness is our biggest weapon in this battle.
Worldwide, the fashion industry works together toward enhancing breast cancer awareness – as well as toward raising funds.
In India we at ELLE try to replicate this very successful endeavour, because breast cancer by its very nature targets the women who are our readers.