Yesterday we gave you an overview about the exciting London Indian Film Festival that is running from July 18th to the 24th. Today we thought we would give you the full list of films and events that will be featured at the Beyond Bollywood film festival!
FILMS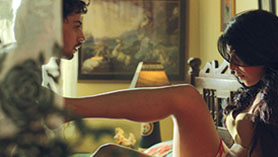 B.A. PASS | Dir. Ajay Bahl | Hindi, Punjabi, with English subtitles
The Graduate meets film noir in this sizzling tale of seduction and betrayal where a young man is seduced by a gorgeous cougar who leaves him entranced, that is until she farms him out to entertain her lady friends with dangerous consequences. The film's steamy trailer drew millions of hits on YouTube and the eroticism of the film has drawn the ire of India's moral police.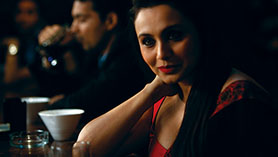 BOMBAY TALKIES | Dirs. Karan Johar, Zoya Akhtar, Dibakar Bannerjee, Anurag Kashyap | Hindi, Marathi with English subtitles | Closing Film.
Mumbai's spectacular homage to 100 years of Indian cinema is a compilation of four films shot by some of its finest directors that boldly tackles gay and cross-dressing themes alongside looks at different aspects of stardom.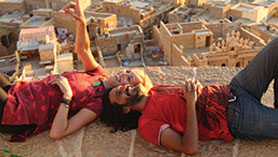 THE BRIGHT DAY | Dir. Mohit Takalkar | Hindi, Marathi, English with English subtitles.
An unfocused young man cannot get to grips with his humdrum middle class life, leaves behind his family and girlfriend and goes on a trip across India to find himself and what follows is a visual extravaganza taking in temples, rivers, palaces and deserts with a supporting cast of European backpackers and holy men.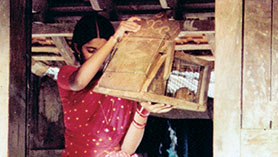 ELIPPATHAYAM (RAT-TRAP) | Dir. Adoor Gopalakrishnan | Malayalam, with English subtitles.
This milestone of Indian cinema deftly documents the tale of a man and his three sisters who cannot comprehend the sweeping changes arising from the demise of feudalism in the southern Indian state of Kerala. The film won the Sutherland Award at the London Film Festival in 1982, the only Indian film to have won the coveted award after Satyajit Ray's win in 1959 for The World of Apu.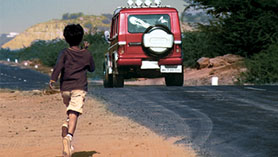 THE GOOD ROAD | Dir. Gyan Correa | Gujarati with English subtitles.
A young boy from Mumbai separated from his parents, is befriended by a truck driver and his surly assistant who are on a perilous smuggling trip and a young girl on a deeply personal quest is in imminent danger of becoming part of the flesh trade, all set against the backdrop of the stark beauty of one of India's most isolated and dangerous locations, Kutch.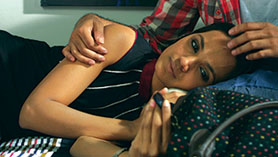 JOSH (AGAINST THE GRAIN) | Dir. Iram Parveen Bilal | Urdu, English with English subtitles | Special screening in association with Women in Film & TV (UK).
This empowering film is LIFF's first ever selection from Pakistan and tackles the themes of class separation, feudalism, poverty, individual empowerment and women's rights head on and takes no prisoners en route.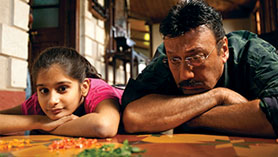 LIFE IS GOOD | Dir. Ananth Mahadevan | Hindi with English subtitles.
A warm-hearted tale of the unlikely friendship between a lonely and depressed post office worker (Bollywood star Jackie Shroff) and a 6-year-old schoolgirl.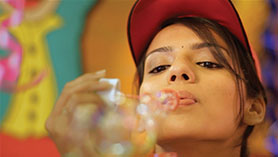 LUCIA | Dir. Pawan Kumar | Kannada, English with English subtitles.
In a drama that breaks new ground for Kannada cinema, an usher in a run-down cinema finds himself suffering from insomnia. Soon, he gets the most incredible, weird and wonderful dreams that have life-changing properties. But these come at a price! Set against the backdrop of the teeming metropolis that is Bangalore, 'Lucia' is a vibrant rollercoaster ride that blurs the line between dreams and reality to extraordinary effect. Cinemagoers are also being urged not to disclose the surprise ending! Just as fascinating as the film itself is the story of how it was made by Pawan Kumar, director of the award-winning hit 'Lifeu Ishtene'. The first crowd-funded production in Kannada cinema history, 'Lucia' was financed entirely by its eager audience. This London Indian Film Festival screening is the film's world premiere.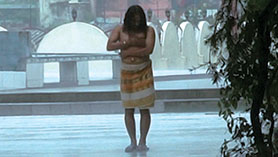 MAPA (MAP) | Dir. Elías León Siminiani. Spanish, English with English subtitles.
LIFF's first Spanish selection follows a young filmmaker who travels from Spain to India to retrace a journey taken by his ex-girlfriend. It won Best Documentary at the Seville Film Festival and was nominated in the same category at Spain's prestigious Goya Awards.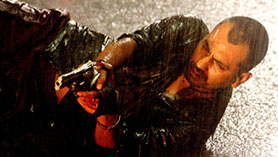 MONSOON SHOOTOUT | Dir. Amit Kumar | Hindi with English subtitles | Opening Film.
One of the first films made under the UK/India film co-production treaty, this film executive produced by British filmmaker Asif Kapadia (Senna) follows a rookie cop in monsoon-lashed Mumbai who faces a life altering decision, whether to shoot, or not to shoot an escaping suspect.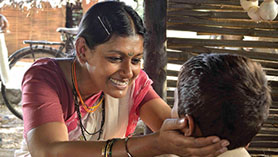 OONGA | Dir. Devashish Makhija | Oriya, Hindi with English subtitles.
Akin to the global super-hit Avatar we are presented by the story based on true events of an ancient tribal people from the forests of Orissa who are suddenly confronted by a land-grabbing corporation intent on clearing their homelands for bauxite mining. Stars Seema Biswas (Bandit Queen).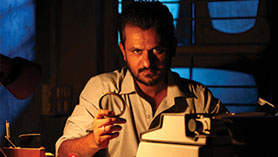 PUNE 52 | Dir. Nikhil Mahajan | Marathi with English subtitles.
The life of a private detective undergoes a dramatic change when he takes up a case that is deeply personal and highly complex. Set in the year 1992, against the backdrop of the finance reform policy that spiralled the Indian middle class into a tizzy of consumerism, reforming everything, including their relationships.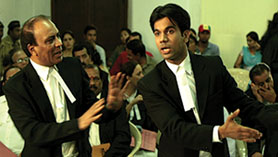 SHAHID | Dir. Hansal Mehta | Hindi with English subtitles.
This extremely topical film tells the true story of a former Muslim radical who becomes a lawyer and takes on his greatest and most controversial case, defending one of the men accused of the 2008 Mumbai terrorist attacks.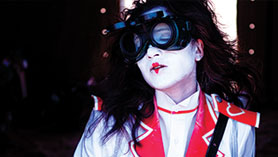 TASHER DESH (THE LAND OF CARDS) | Dir. Q. | Bengali with English subtitles.
After shocking the world with Gandu, director Q returns with this psychedelic take on Nobel laureate Rabindranath Tagore's namesake play where a prince and his friend are shipwrecked on a militant paradise island where human behaviour is outlawed all the soldiers style themselves after a deck of playing cards. The soundtrack features Asian Dub Foundation, Susheela Raman, Sam Mills, Eric Truffaz, Moog Conspiracy and Anusheh.
LIFF TALKS | Special Events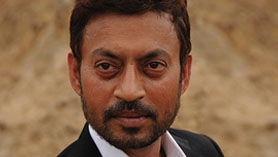 IRRFAN KHAN IN CONVERSATION
A graduate of India's National School of Drama, Irrfan Khan had a quiet beginning in Indian television and arthouse features, arriving on the international scene in Asif Kapadia's 2001 BAFTA-winning The Warrior. Notable performances include The Darjeeling Limited, Slumdog Millionaire, A Mighty Heart, Vishal Bharadwaj's Macbeth adaptation Maqbool, Life of Pi and The Amazing Spiderman, and the HBO series In Treatment; he also won India's National Award for Best Actor for playing an athlete turned bandit in Tigmanshu Dhulia's 2010 Paan Singh Tomar. Khan will share his experiences in the British, Hollywood and Indian film industries with director Asif Kapadia.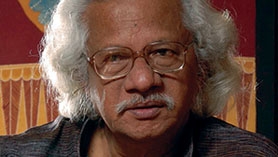 LIFE IN PICTURES: ADOOR GOPALAKRISHNAN MASTERCLASS
Only two filmmakers from India have won the BFI's Sutherland Trophy – Satyajit Ray and Adoor Gopalakrishnan for his film Elippathayam in 1982. With this rare visit to London, legendary South Indian filmmaker Adoor Gopalakrishnan will speak about his internationally successful career. Leaving his government job to study at the National Film Institute of India, Pune in 1962, he pioneered the first film society in Kerala and set up a co-operative aimed at the production, distribution and exhibition of films. Kerala has remained his base and cultural inspiration. With 11 feature films and over 30 documentaries and shorts, Gopalakrishnan's accolades include India's highest civilian award the Padma Vibhushan in 2006, for his contribution to the arts. Hosted by Derek Malcolm.
SATYAJIT RAY FOUNDATION'S SHORT FILM COMPETITION

CALCUTTA TAXI – Director Vikram Dasgupta | 21 mins | Canada.
A young Art College student finds his backpack stolen on the day of a political strike. Set in the grimy backdrop of a city going through a political crisis, Calcutta Taxi unravels the story of three lives that coincide and affect each other. Each one having lost and found some things in this chance encounter of life.

I AM MICRO | Directors Shumona Goel and Shai Heredia | 15 mins | India.
Shot in the passages of an abandoned optics factory and centered on the activities of a low-budget film crew, I Am Micro is an experimental essay about filmmaking, the medium of film, and the spirit of making independent cinema.

FAUX DÉPART (FALSE START) | Director Shekhar Bassi | 9 mins | 2012.
Fahim and Haashid, friends borne of necessity and neither speaking the others language, sit on a secluded French beachhead. Ill prepared and uninformed, the men plan for their journey to England in search of a better life.

SIKH FORMAGGIO | Directors Katie Wise, Devyn Bisson, Dan Duran | 20 mins | USA.
After emigrating from India to Italy in search of jobs familiar to their agricultural roots, a Sikh community finds work within the struggling Italian Parmesan industry. As the Sikhs attempt to keep their culture and traditions strong in their new home, they are also helping to preserve a piece of Italy's culture – the art of making parmigiano reggiano cheese.

ON MIGRATION | Director Asheq Akhtar | 5 mins | UK.
A short film about the early experiences of migrants from Bangladesh and India, using verbatim accounts from the director's parents as they recount their personal journeys arriving in 1970's England.

KAUN KAMLESHWAR? | Director Anurag Goswami | 19 mins | India.
Brothers Madhav and Raghu travel back to their village with a clear mission – to find Kamleshwar and put an end to their troubles. Fate, however, takes an unexpected turn…
Be sure to check out for more information on the festival please visit: www.londonindianfilmfestival.co.uk
Join us on social media: www.facebook.com/LondonIndianFilmFestival & www.twitter.com/LoveLIFF