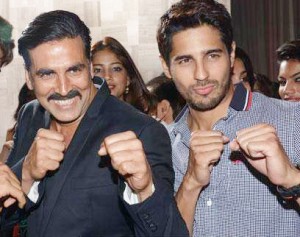 Not only does Akshay Kumar have the reputation of being one of Bollywood's most handsome and leading men, he also has the reputation of being a bit of a prankster. Though he is considered as the naughtiest of all the B'Town celebs, this time he was the one to be fooled on the sets of his upcoming movie Brothers out on August 14, starring him and Sidharth Malhotra. The 47-year-old actor recently posted his picture on Twitter along with co-star Sidharth Malhotra, where in both the celebs are showing their back along with a play card with famous character's name written and stuck on heir butt.
The star captioned the picture "I may have a reputation of a prankster but @Brothers2015 was one set where even I was played a prank on 🙂 #goodtimes."
It's what is pasted on their backs that will crack you up. While Sidharth has a piece of paper with Vinod Mehra stuck to his rear, Akshay has Sanjeev Kumar written on his behind. Now we aren't sure who dared to play a prank on these reel brothers but whoever it is, deserves a slow clap!
Brothers is the hard-hitting action-drama surrounding a broken family forced to face up to one another mentally and physically, all within the world of mixed martial arts and underground street fighting. The film stars one of India's most reputed actors Akshay Kumar (a martial artist, who has launched stars such as Kylie Minogue, Snoop Dogg and Sylvester Stallone in Bollywood) and emerging star Siddharth Malhotra. The film is a co-production between Endemol India and one of India's leading production companies, Dharma Productions.Anticipation around the release of Brothers is mounting given the union of an esteemed cast and crew, spearheaded by Karan Johar, Karan Malhotra, Akshay Kumar and Sidharth Malhotra.