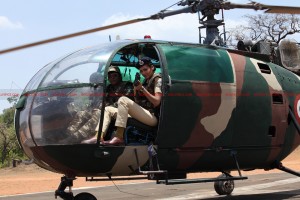 The Jannat 2 girl Esha Gupta, who is all set to play a cop in Prakash Jha's upcoming Chakravyuh, recently shot a scene mid air dangling from a chopper. Big deal? Well, that was indeed a big deal for the starlet as Esha suffers from vertigo.
Initially, when the actress was asked to shoot the scene, Esha was petrified hearing it. She at once requested a body double or find a way out of doing the scene. However, later she agreed to do the stunt as soon as Esha saw Jha with a camera, in another helicopter.
Says Esha, "I have been battling vertigo for a long time. It's something that I deal with on a daily basis. In fact, I recently shifted into my new apartment which is on the 11th floor, but I tell my friends how I will never look down from the balcony!"
Speaking about the shoot on the sets of Chakravyuh, Esha said, "I was supposed to be strapped mid-air in this helicopter for a scene. But when I saw my director in another chopper with a camera shooting me, I got the courage. So I got myself strapped to the harness, said my prayers and did the shot."
Directed and produced by Prakash Jha, Chakravyuh stars Abhay Deol, Arjun Rampal, Om Puri and Kabir Bedi in pivotal roles, besides Gupta. The film is scheduled to release october 5th, 2012.