Authors: Aashi Gahlot & Anjum Shabbir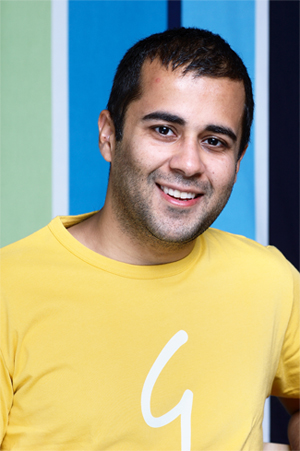 3 Idiots. Hello. Kai Po Che.
And now 2 States.
These are the Bollywood films that have so far been inspired by the magic of Chetan Bhagat's words.
2 States, starring Alia Bhatt and Arjun Kapur in the lead, is a story particularly close to Chetan Bhagat's heart.
Based on real life experiences, the story unfolds the adventures and obstacles of falling in love with someone who is from a different community.
In an exclusive interview, BollySpice's Aashi Gahlot and Anjum Shabbir quiz best-selling author Chetan Bhagat on the secret ingredient of love, what his wife thinks of 2 States, how it feels to have his books rapidly being turned into Bollywood films and more!
Aashi Gahlot: How does it feel to see your words, your characters, your books on the big screen?
Chetan Bhagat: It feels very surreal because these were thoughts at one time popping in my head…for 2 States…I scribbled it onto a post-it-note. It was as simple as that. I still remember that post-it-note. And now, from there to come here to worldwide thousands of screens – so obviously it takes a while to absorb it all in and this time there is a bigger personal connection as it's based on my own life. It's not just my books. It's quite something to take in.
Anjum Shabbir: Most of your books have been picked up as films, do you now write with that in mind? Does it affect your creativity?
Chetan: Not really. No. I think that I think in a very mass Indian way. Bollywood thinks out of my thinking and the thinking of Bollywood matches. But I've had all sorts of stories of mine being taken as films. Three boys in an engineering college. I mean that became one of the biggest films. Something on the riots of Gujurat became Kai Po Che. So I'm not so worried that my story better be Bollywood friendly. I think that what it needs to be is a good story and then, Bollywood will come.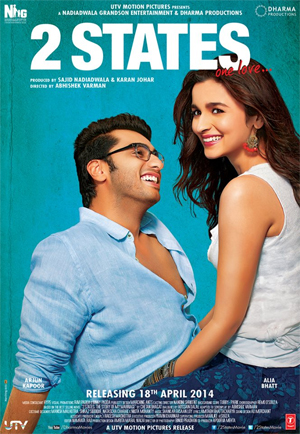 Anjum: Is there anything with 2 States the film that you thought, I wish they hadn't left that out, or, maybe they could have changed this?
Chetan: I haven't seen the final cut yet. There is always going to be issues which you feel that okay – but, that's not the bright way to look at it because I'm not critiquing it. What I need to do now is forget about the old material, look at the film and see if it does the job that the book tried to do – to touch people, to make them laugh, to give the message. And if it's doing that- yeah minor tweaks here and there do matter. And I think it does.
Aashi: Which character is particularly closest to your heart?
Chetan: Definitely this guy (points at Arjun Kapoor in the 2 States Poster) – he is playing how I was. He's just wearing better clothes and looks better. But he's playing me and Krish Malhotra is the modern Indian lover who is in love with the girl but will also want the girls family to be happy. So he's ready to do the hard work. He takes his time. That character came out really well.
Aashi: It must be an emotional process to write on your own life experiences rather than writing purely on fictional characters.
Chetan: Yes. This time I had to be extra careful when I wrote the book to make sure, because these are real people. I don't want to offend them. Of course it's not a memoir, it's a fictional novel. But still people are going to draw comparisons and you have to put in a lot of humour.
Anjum: How does your wife feel about the story – as she is a huge inspiration and part of the story?
Chetan:She feels quite amused by the attention the book got and now of course the movie. Actually when I started to write she asked, are you sure you want to write this? Is this even a book? There's nothing to write here. We met and okay some parents didn't agree. What's the big fuss about it? How can this be a full novel compared to the education system in Five Point Someone or the Gujarat Situation in Kai Po Che – how can this be? But this became the most popular book. It's funny how it is. Because the more personal it is the more it appeals to people.
Aashi: I think you're very brave to write on real life.
Chetan: No…I think I'm just brave to be married!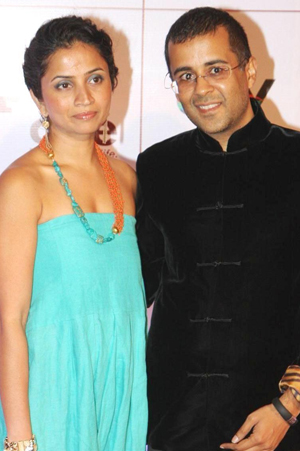 Aashi: Love is a very complicated topic and is difficult for everybody regardless of religion, background, sexuality – so what would you say is that secret ingredient that makes love work?
Chetan: I think a good understanding of what the other person is all about. Good communication. And mixed with attraction I think- because you're talking of love. Because a friendship also needs understanding and communication but you put attraction in it and it becomes love.
Anjum: As you've got children now, do they come and say, daddy can you write this book for us?
Chetan: I remember when they were very little – they are 9 now, twin boys – they were very little and not very impressed with my books. When they were 2 or 3 they'd say, why do your books have no pictures? Why do you write books without pictures? It's so boring! Please write books with pictures.
Now they are a little older, they read Harry Potter so they realise the novel. But they still feel Dad isn't it a little boring to be a writer? Why are you a writer? I'm like, okay. I don't know anything else.
Aashi: If you could pick one film and adapt it into a book, which film would it be?
Chetan: I think Dil Chahta Hai would have been a good one. I really got inspired by that movie when it came out.
Anjum: What can we expect next from Chetan Bhagat?
Chetan: It's Kick which is another screen play I've done – and then a new book I've done, which is coming in October.
2 States is scheduled to release on April 18th, 2014.