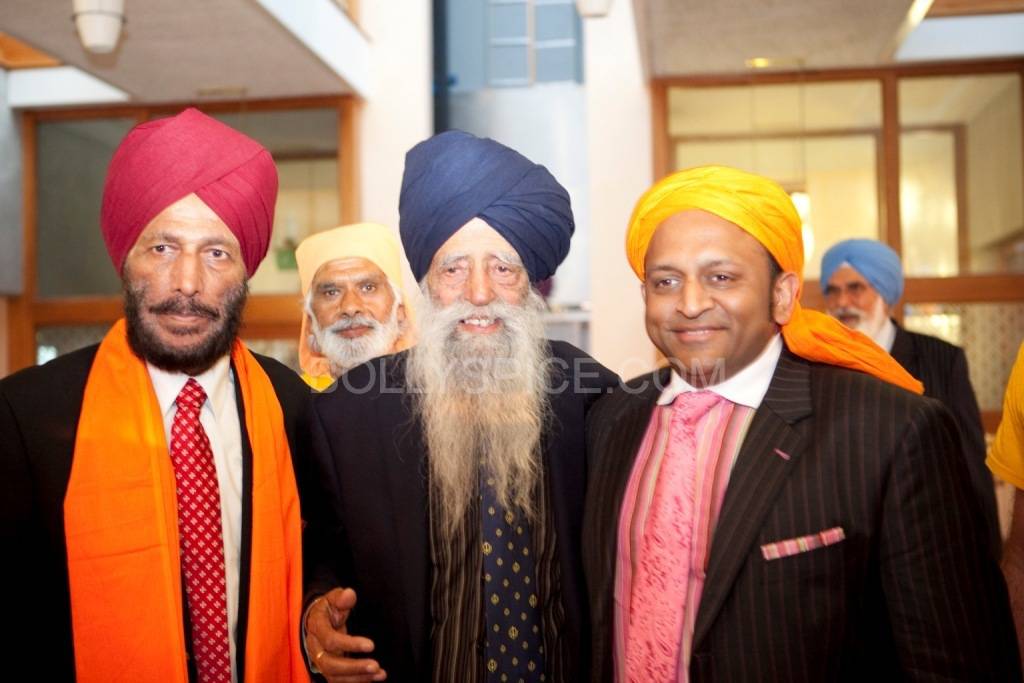 It was a starry evening in Southall when The Flying Sikh MILKHA SINGH visited SRI GURU SINGH SABHA GURUDWARA to meet Fauja Singh, the 'World's oldest Marathon Man'. The community joined them in full force to serenade sporting icon Milkha Singh who in fact inspired Fauja Singh to start his exciting Marathon career.
During the first ever international tete-a-tete between the two sporting legends, Milkha Singh and Fauja Singh were ecstatic to meet each other and Fauja Singh presented Milkha Singh with a special Sikhs in the City T-shirt as a memento.
The meeting took place during the UK promotions of 'Bhaag Milkha Bhaag', one of the most anticipated Indian films, based on the life story of Milkha Singh.
Milkha Singh said he feels, 'honored with Rakesh Omprakash Mehra directing the biopic based on his life and struggle and hence has decided to accompany him on this journey in the global promotions of the film'. The soon to-be released, Bhaag Milkha Bhaag which reveals the hardships and life story of the 77 year old, featuring Farhan Akhtar as Milkha Singh, is already creating a huge buzz with its hit music, trailers and international star cast.
BAFTA nominated film director Rakeysh Omprakash Mehra's Bhaag Milkha Bhaag releases worldwide on 12th July 2013 through Reliance Entertainment.
Stay tuned we have interviews and reports galore coming up soon!