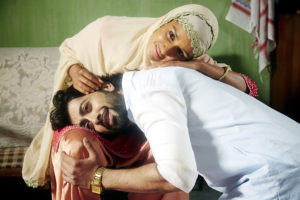 Shraddha Kapoor, who will be next seen playing the intimidating Haseena Aapa in Apoorva Lakhia's upcoming gangster drama 'Haseena Parkar', is blessed with a petite figure, but the actress surprised the film team with her strength while filming a crucial scene involving her reel husband Ankur Bhatia, who plays Ibrahim Parkar.
A source attached to the film unit revealed that while filming Ibrahim's death sequence, Shraddha was required to carry Bhatia on her shoulders after he gets shot multiple times. Though the team suggested that Shraddha use a body double, she insisted on performing it on her own and managed to carry the tall and well-built Bhatia on her shoulders for the scene. Needless to say, the entire unit was awestruck by her.
Swiss Entertainment presents Apoorva Lakhia's Haseena Parkar, co-produced by Sameer Antulay and Babu Tyagi and produced by Nahid Khan starring Shraddha Kapoor, Siddhanth Kapoor and Ankur Bhatia is set to release on 22nd September 2017.