Anybody Can Dance(ABCD)
Starring Prabhu Deva, Kay Kay Menon, Ganesh Acharya
Directed by Remo D'Souza
Rating: ***
"Indians don't have a mind to think," mock-whispers Kay Kay Menon, playing the sort of slimeball you thought went out of style with Prem Chopra. Menon, who once was a formidable actor, hams it to the hilt as a kind of Mogambo of the dancing world who thinks dancing is for big bucks, and also for big… well you know the 'f' word that rhymes with bucks.
Prabhu Deva, God bless his 'sole', is the other polarity. He dances because…well, he has to. He imparts his skills to a ragamuffin bunch of street kids who seem to have auditioned for Breakin' that street-smart film about using breakdance as a form of selfexpression that came way back in 1984. Indeed there is something very 1980s about Tushar Hirnandani's screenplay which pitches the idea of Good Dancing Versus Bad Dancing with a heartwarming sincerity .
Movie plots based on dancing and dancers are rare these days. Choreographer-turned-director Remo D'Souza has hit upon a winning idea. Being a choreographer he is able to weave the characters into a web of dance-related episodes that culminate in that grand do-or-die competition that we have been witnessing in one form or another since the time movies came into being. It could be Rocky Balboa in the ring. Or the raring-to-go students from Prabhu Deva's makeshift dancing school in this film…Heck, anybody can dance as long as the music is right.
Remo D'Souza's film glides in expected but never dull ways. It winds its way through a series of selfconsciously constructed road-blocks for the sincere dance teacher and his students who learn, the hard way, that dance is for one's own pleasure and not to show off. Ironically this philosophy of dance as a form of self-expression hardly fits into the the framework of cinema where the very nature of the medium invites the maximum appreciation.
What sees ABCD through is its sincerity of purpose. Director Remo D'Souza intends to do a 'dance film' with a sturdy plot to hold up the choreography. In that endeavour the film doesn't slip up at all. The fact that it has Prabhu Deva at the helm certainly helps to keep the show on the road.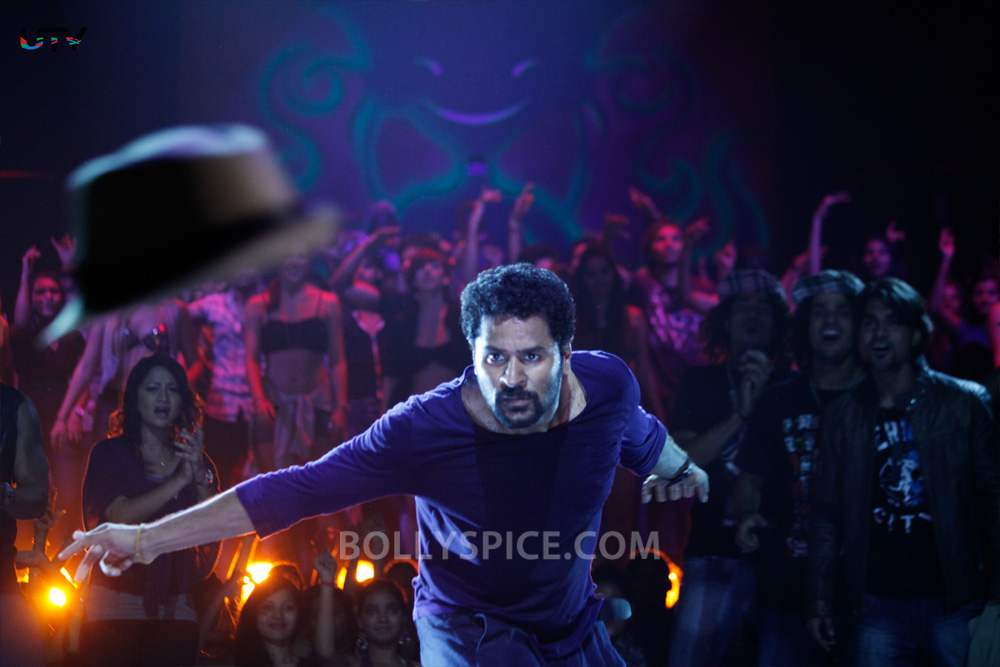 As an actor Prabhu Deva is restrained and effective in bringing out the idealism and discipline of a dance teacher. His thick Tamil accent is justified by the character's origins being nailed to Chennai. You know when this guy explains the essence of dance to his students he isn't faking it. But it's when the choreographer-dancer's takes the floor that we're really floored. When Prabhu dances time freezes. The long pre-interval episode where he puts up what could only be termed the Grand Prabhu Deva Tour de Force is the film's high-point.
The youngsters who play Prabhu Deva's students are passable in their acting skills. But I suggest they should just focus on dancing as a career.The actor who plays the dopey-dancer Chandu(Punit J Pathak) corners much of melodrama in the second-half.
Honestly, the film just needed to get on with the dancing and leave the mapping of a back-story for the dancers to another time, another place. For this one, all we needed was what B. Subhash recommended in the 1980s. Dance Dance….I almost expected Mithun Chakraborty to show in support of Prabhu Deva's shimmying shishya-log.
If you know how to dance or if you've ever desired to dance ABCD is the film for you. With Prabhu Deva's astonishing virtuosity on the dance-floor to guide the characters' and the film's destiny and to provide a centifrugal scinitillation to the proceedings, there is little reason to quibble over the content.
Sachin-Jigar's music and songs though adequate could have been more dynamic. Watch out for the number accompanying the end-titles where dancing legend Saroj Khan joins Prabhu Deva, Ganesh Acharya and Remo D'Souza.That's this innocent and earnest film's paisa-wasool moment.