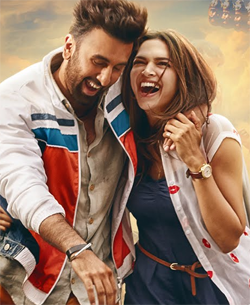 The much-loved jodi made merry with song and dance
There can be no Tamasha without Ranbir Kapoor. So even though her 'hero' is across the Atlantic, Deepika made an SOS call to him last week to implore him to join her for an evening of music and dance at a suburban bistro.
The gentleman-actor who is in the midst of a hectic shoot in London, which is into its final leg, couldn't disappoint the lady and that evening, bridged the distance between them through a video conference call.
Deepika kept a poker-straight face as she kicked off the evening with her favorite song from the film 'Tu Koi Aur Hai', before suddenly springing a surprise on her guests, by getting RK online. Together, they reminisced about how difficult it was filming this number, which Ranbir loves too for its meaningful lyrics, as it was shot more like a scene than a song. That meant that it had more to do with a play of emotions rather than the jhatkas and matkas mandatory to a Hollywood masala medley. Next up, was "Heer toh Badi Sad Hai" which, in a way, reinforces its composer AR Rahman's sentiments, "What cannot be put into words can be expressed through music" — a line which was a part of the hand-written invite Deepika had sent out personally. This one has a sad ring to it but an upbeat tempo making it an unusual "happy-sad song" which makes one sigh and smile. But it was the chart-topping "Matargashti" which made their happy feet dance.
Deepika insisted that her co-star Ranbir join her and he did from the Queen's City while she complimented his moves back in Mumbai. Love can cross continents, Yash Chopra had reiterated two decades ago, when Dilwale Raj had come down from London and wooed his Dulhania away with her bauji's blessings. Twenty years later, RK and Deepika were being called the next Shah Rukh-Kajol Jodi. When this observation was made, RK, quick on the uptake, retorted, "I would rather we be called the first Ranbir-Deepika Jodi than the next SRK-Kajol." The questions about star pairings continued to flow as one of her guests wondered if Deepika thought she looked good with Ranbir or Ranveer (Singh). "That's for others to decide," the actress said. RK borrowed the line when he was asked who he made a better match with: Katrina (Kaif) or Deepika? However, he did unbend to say that Deepika always looks good. Period.