Whistling Woods International (WWI), The Asia's largest Film, Television, Animation & Media Arts Institute which is  also listed amongst the TOP TEN Film Schools in the World by The Hollywood Reporter, celebrated its' 5 years of existence and the convocation ceremony. The 5th Year Anniversary and Annual Convocation day witnessed many renowned personalities from the film fraternity; media and entertainment corporate world were present in the event. To be present in the event were Ronnie Screwvala and Shabana Azmi to encourage the new batch of young talent entering the Indian film and entertainment industry. Yash Chopra & Khayyam Saab was also present in the event and was honored with the WWI Maestro Award.
Mr. Subhash Ghai, the Founder and Chairman of Whistling Woods International said, "Whistling Woods alumni and their placement in the industry, is a testimony of daring to dream; and how nurturing it with the right environment and experiences, can lead someone to achieve success on their own terms. It is that time of year again where we set free our students, into the industry, infusing it with new life and a fresh perspective. We wish our graduating students all the very best in their future endeavors, to make it big in the film and entertainment industry."
The graduated students from the batch received placements in the leading production houses such as Endemol, Dharma productions, Anil Kapoor Productions, Epigram, Prana Studios, Sanjay Leela Bhansali films, Vidhu Vinod Chopra Productions, Prakash Jha productions, AFAQs, and many more.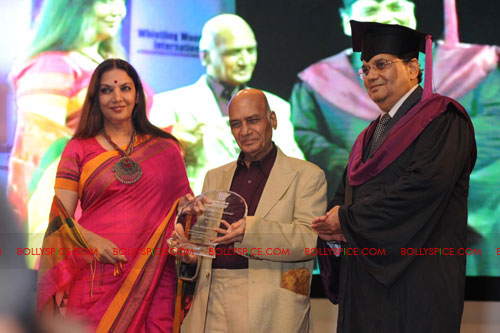 It has been a tradition in Whistling Woods International to acknowledge two stalwarts from the Indian Film Industry with WWI maestro awards on Annual Convocation Day. Keeping the tradition alive on Annual Convocation Day Whistling Woods International honored Maestro Award for 2011 to Khayyam Saab and Mr. Yash Chopra for their valuable and lifelong contribution towards Indian cinema and Entertainment Industry. Mr.Ghai while honoring the award said, "Both Khayyam Saab and Mr. Yash Chopra are stalwarts of our industry and have been great veterans. Their presence on this significant occasion is truly appreciated. Their achievements are a source of inspiration for these students to achieve their dreams."
Two students received Valedictorians. The two students are Murali Krishna who graduated in Cinematography and is working on several Hollywood projects and Ankit Banga who completed his MBA in Media and Entertainment has been placed at Indiabulls, by Ms. Meghna Ghai-Puri, President, Whistling Woods International.
Also presented veteran Actress Shabana Azmi said "My heartiest congratulations to you all and I am extremely proud to have been part of Whistling Woods since its inception. A large part of what I am today is due to the training I received in my early days and it has stayed with me forever. Today as you are passing out know that that you are to start afresh and do not know everything.  Your resource base should be life and there is lots to learnt from everyone and everything around you"
Khayyam Saab said, "I would like to thank Whistling Woods for this honor bestowed upon me. I would also like to wish all the students from all the streams at whistling Woods India all the very best for a bright future"
Mr. Yash Chopra said, "I thank all the members at Whistling Woods for having conferred upon me the Maestro award. To receive this honor in the midst of the future of the film industry is a nostalgic feeling for me. Back in the day our textbooks were films made by stalwarts of the industry. We had to learn everything from experience and we had just one goal –to learn. Our careers were the goal, not glamour. Today you are fortunate to have an institute like Whistling Woods to educate and guide you.  A word of caution though – there is no substitute for hard work. The future of our industry lies in your hand, so go out and give it your best."
Ronnie Screwvala, film producer and chairman of UTV group said, "The entertainment and media industry in India is picking up and garners as much importance as industries like automobile and IT and plays a pivotal role in the India consumption story. Opportunities are immense, content is a key driver and one has to think from a 360 degrees to succeed."
Concluding the event, Ms. Meghna Ghai-Puri said, "Today, at the Convocation Day of Whistling Woods International Class of 2011, I feel proud to see 170 students graduating from this institute. WWI will continue on its path to provide expert guidance and training to our students through a mix of meticulous theory and rigorous practice. I would also like to thank all our industry experts who encourage these bright students through their curriculum. We would like to wish the students all the very best for their future endeavors and I am confident that our alumni will change the future course of the industry."