Its 'that' time of the year again when Bollywood slowly starts rolling out its numerous award functions. Whilst the exact level of prestige and honour these shows hold is a debatable topic, it definitely does give our celebs the perfect occasion to bring their fashion A-game to the red carpet. We're super psyched to see what unfolds on the red carpet this award season and are happy to start the season off with 'Big Star Entertainment Awards'. The ceremony which is a creation of Star Plus and Big FM is only four years old however courtesy of the big brands involved, the red carpet welcomed quite a few biggies on the night. Here's how the ladies on the night faired on the red carpet: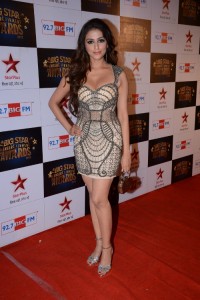 Aarti Chabria
Putting in a rare appearance was Aarti in a cream embellished body-con that also featured a play on sheer. The dress itself wasn't all too bad but the styling was a bit dated for me. Sparkling sandals are so 90s as was that handle clutch.
Verdict: Not hot!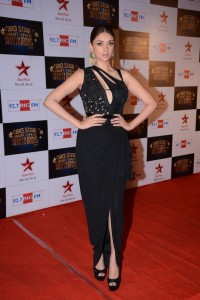 Aditi Rao Hydari
One thing I have to say for Aditi is that she's always pushing the envelope and trying something new. This time round she thought a Mandira Virk gown would do the trick. Sadly I'd say any gown but THAT gown would do the trick. Not feeling the neckline at all. The forced posing on the red carpet didn't help. Why must our girls forget that they're on a red carpet not a Vogue shoot! Add to that the mismatched Valiyan cuffs and you pretty much have a wanna-be-fashionista disaster!
Verdict: Not hot!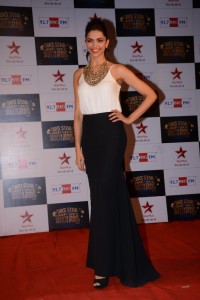 Deepika Padukone
I really do hope a day come in the near future when we have a bad Deepika Padukone film or a bad Deepika Padukone appearance! The lady just seems to be on a golden run with both! Extra props to her stylist for this outfit because its not just a simple gown of a shelf but a ordinary Isabel Marant top and a Mcqueen skirt which when paired just looked supremely elegant! The kundan necklace however did the final trick and pulled the look together into the striking outcome it was. (P.S Notice ladies how Ms Padukone is not striking some major pout on the carpet but just sporting a lovely natural smile, yes that is the final ingredient to your look we miss!)
Verdict: VERY HOT!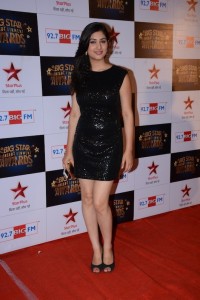 Disha Parmar
It was a sparkling bodycon for Pyar Ka Dard Hai actress Disha on the redcarpet. It was such a welcome change to see the stunning lady in the effortlessly striking attire considering that her styling on the show is anything but! Love that she let the dress do the work and kept the styling simple.
Verdict: Hot!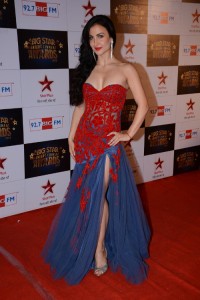 Elli Avram
Salman's latest favourite BB contestant Elli Avram made an appearance on the carpet in a Jaya Mishra gown. Not loving the gown at all and the OTT styling does not help. To add to that, the fitting just seems a bit off.
Verdict: Not Hot!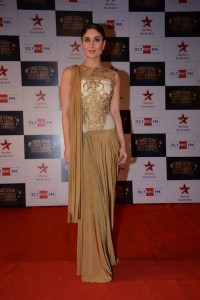 Kareena Kapoor Khan
Bebo put in one helluva an appearance in a Shantanu and Nikhil piece. The top kurta of the concept saree was highlight of the attire and therefore everything else was styled keeping that in mind. Loving the sleek hair and makeup!
Verdict: VERY HOT!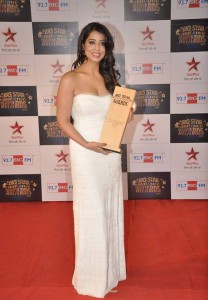 Mahie Gill
Gosh it hurts to see a stunning lady styled poorly! That gown is doing absolutely nothing for Mahie and sadly the styling had nothing in it to distract us from the poor gown choice.
Verdict: Not hot!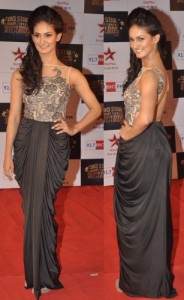 Mukti Mohan
TV Actress Mukti Mohan was seen in a Siddharth Tytler gown. The gown worked for its enhancing embroidery and unique fall. What didn't work was the hair Mukti opted for. What a shame because otherwise this look is rather flawless!
Verdict: Mukti is hot, her hair is not!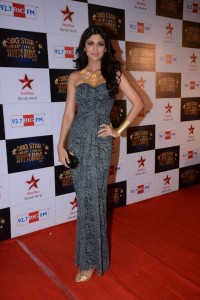 Shilpa Shetty Kundra
One really has to stop gawking at Shilpa's extraordinary figure and focus on her clothes as if it's a tough task! Mrs Kundra killed it on the red carpet in a Dolce and Gabbana gown, gold cuff, and statement necklace. All these years later and she still gives the younglings a really compelling run for their money!
Verdict: VERY VERY HOT!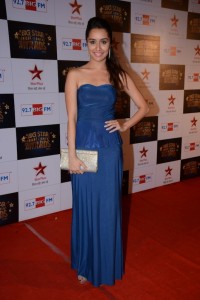 Shraddha Kapoor
It was a disappointing look from our Aashiqui 2 actress who sported a very debatable blue peplum gown. The gown was a mess as was the rest of her styling. Whilst we're happy she went with the trophy, we would like to see her fair better on the red carpet for the rest of the award season!
Verdict: Not hot!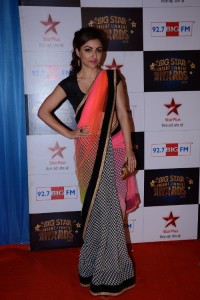 Soha Ali Khan
Soha went with a printed half n half net saree. The saree itself was pretty neat however perhaps not appropriate for an award function. The dated styling didn't help.
Verdict: Could have been hotter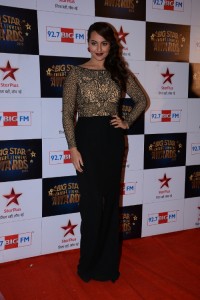 Sonakshi Sinha
Zara Umrigar was the designer of choice for Sonakshi on the night. Soft side swept hair and dark lips complimented the all black look very well. I love the old-school Hollywood style elegance Ms Sinha was sporting on the red carpet.
Verdict: VERY HOT!
Sunny Leone
Sunny Leone went the desi route on the night. The saree/lehenga saree itself worked however the blouse was a major mismatch. She kept the rest of the styling very traditionally desi by option for a soft updo and jhumkas.
Verdict: Could be hotter!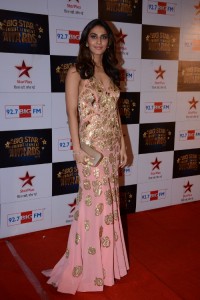 Vani Kapoor
Shuddh Desi Romance actress Vani Kapoor put in an appearance in a Innana by Monica and Karishma gown. It was a risqué gown which could have been a miss but courtesy of the styling it is a hit. Especially love Vani's eye makeup and hair.
Verdict: HOT!