There were two star studded events in the last week that demand the attention of our Fashion crew – the launch of the Dabboo Ratnani Calendar 2014 and the premier of Abhishek Chaubhey's Dedh Ishqiya.
Dabboo Ratnani Calendar Launch
So let's start with the DR Calendar launch. Shah Rukh Khan, Arjun Rampal, Priyanka Chopra, Bipasha Basu and Sonakshi Sinha all made appearances to promote their shots but other celebs included Gulshan Grover, Sophie Chaudhury, Mandira Bedi, Anu Malika and Subhash Ghai. Although Hrithik Roshan didn't make an appearance, his parents Pinky and Rakesh were there to support his shot.
Shahrukh Khan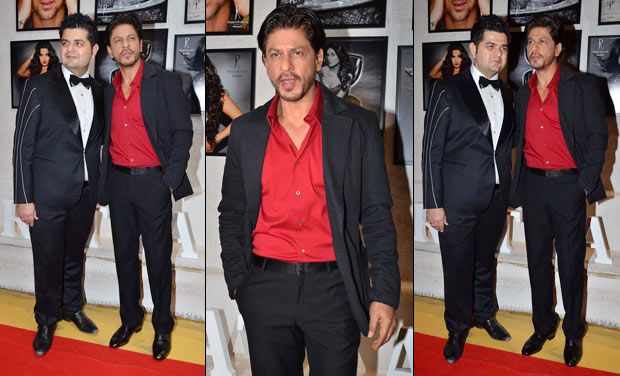 He's maintained that physique but he's starting to look a bit tired. We're getting bored of seeing you in a suit Shah Rukh. Red and Black is a classic combination, but you could have spiced things up a little?
Verdict: Not Hot
Arjun Rampal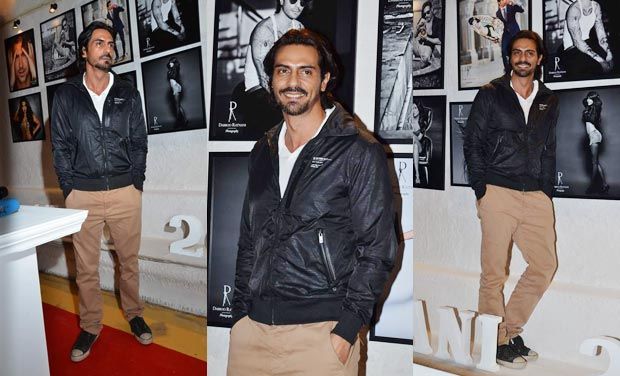 I may have a soft spot for Mr Rampal, but he seems to look better with age and he really does just ooze confidence in whatever he's wearing. He looks effortlessly cool in his plain khakhi, white and black combo.
Verdict: Hot
Priyanka Chopra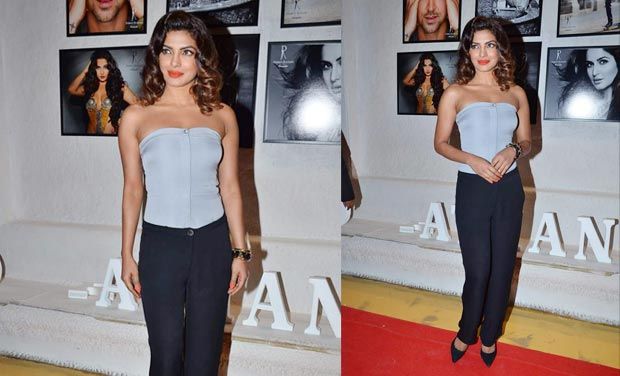 PC chose to don the retro look with curls, coral lips and a strapless grey and black jumpsuit paired with pointed shoes. Waist upwards she looked great, but the baggy boring lower half and those pointy shoes that we've been seeing a lot of recently did nothing for the sexy star. Good job she can't get rid of that pout…
Verdict: Could be hotter
Sonakshi Sinha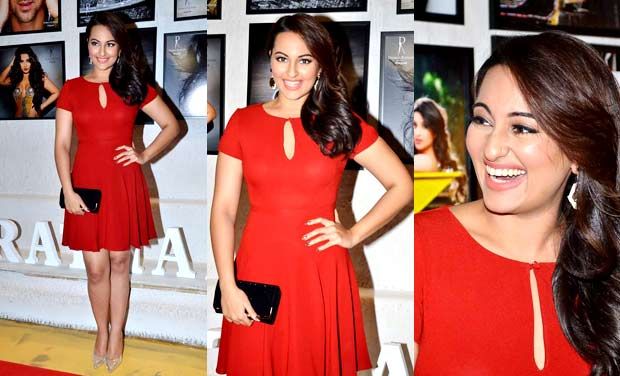 She's the girl with curves, the popular "gaon ki gori", and she doesn't always get it right when it comes to fashion. However, she has got it spot on this time. Sonakshi flattered her figure with a red skater dress and paired it with statement earrings. Hair was sleek and makeup, simple. Definitely one of your hottest appearances Sonakshi!
Verdict: Hot
Bipasha Basu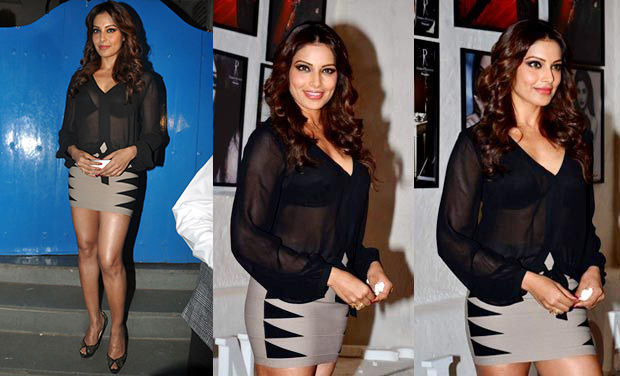 Bengali bombshell Bipasha stayed true to her nickname and donned a sheer black blouse with a mini bodycon skirt. The skirt was perhaps a little too on the 'mini' side and aside from showing off Bips' assetts, the blouse wasn't a great statement. Hair was styled in her classic flicks and waves and make up was perfect as usual but we already know you're hot, Bipasha, there's no need to show it off all at once.
Verdict: TOO hot = Not hot
Dedh Ishqiya Premiere
The Dedh Ishqiya premier was more of a family affair with both Madhuri and and Arshad spotted with their other halves but a surprising no-show from lead Naseerudin Shah.
The Dixit-Nene couple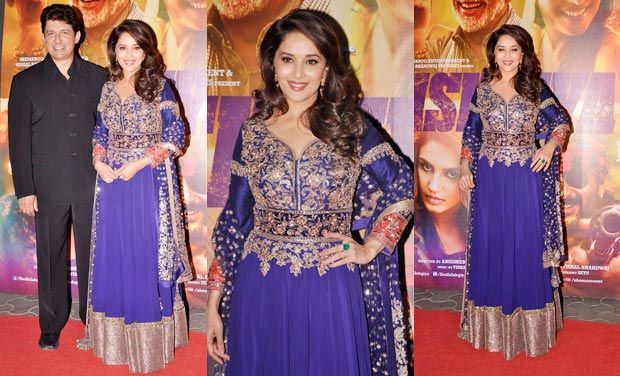 Madhuri kept it traditional with a lovely indigo Manish Malhotra ensemble paired with minimal jewellery. Hubby, Sriram, kept it simple with a plain black suit. No doubt, Madhuri's sequins were enough to sparkle for both of them.
Verdict: Hot
Arshad Warsi & Maria Goretti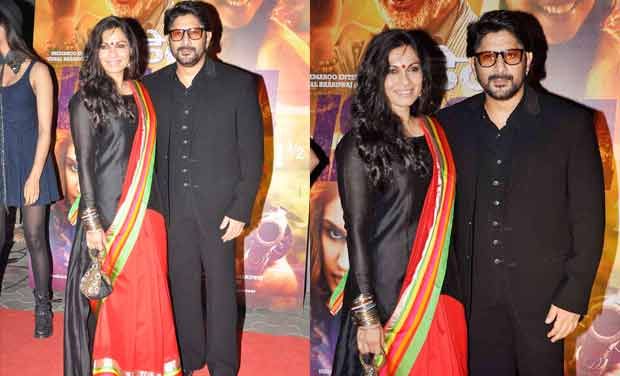 Maria completely outshone husband Arshad in her Payal Singhal saree. While Maria's bold and bright outfit choices sometimes attract attention for all the wrong reasons, this outift was definitely a winner. The black floor length- blouse complemented Arshad's black suit and the neon striped border add a youthful burst of colour.
Verdict: Hot
Huma Qureshi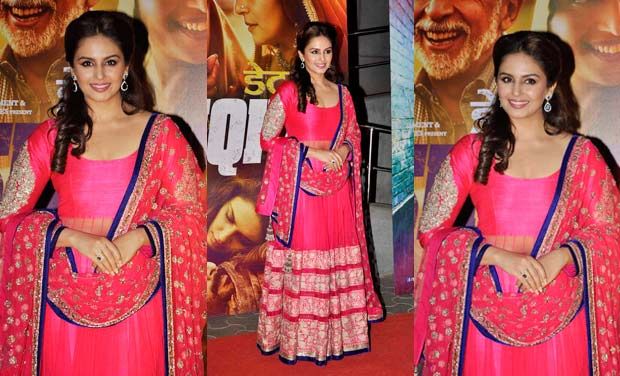 Huma also chose to wear a Manish Malhotra outfit and the design worked well with her tall stature while the pink suited her complexion. Charming.
Verdict: Hot
Kalki Koechlin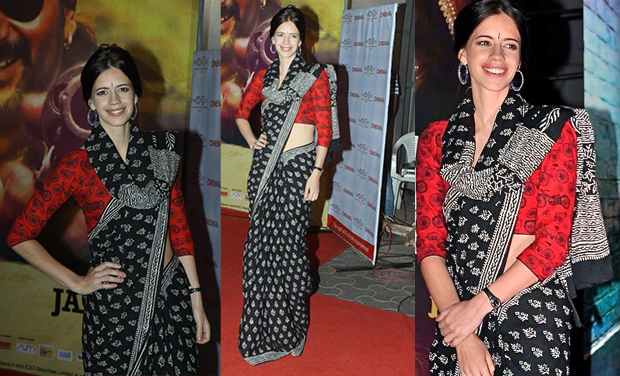 Black cotton print saree and a maroon bicycle-print three-quarter-sleeve blouse. It was refreshing to see Kalki in such a simple and traditional outfit and she carried it off well. Of course she shook things up a little with the draping, but the hair and accessories give her a little bit of a "hare-krishna movement" look.
Verdict: Could be hotter