If the nominations bash turnout is anything to go by, this year's Filmfare is going to be one helluva event! Not only did we see an extensive list of attendees at the bash we also saw actresses really paying attention to fashion on a pre-awards gathering which was rather refreshing. Here's what worked and what didn't!
Aditi Rao Hydari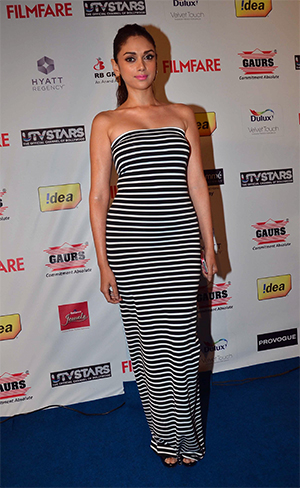 Understandably Aditi wanted to play it cool on the nomination bash and keep the 'good' stuff for the actual awards night but I find the look going a wee bit too on the casual side. Definitely more of a holiday/resort look rather than one for a bash. Although I do like how she styled it and am oh-so-glad she retired the posing she's been subjecting us to in her recent string of appearances.
Verdict: Inappropriate for the event, but hot otherwise!
Alia Bhatt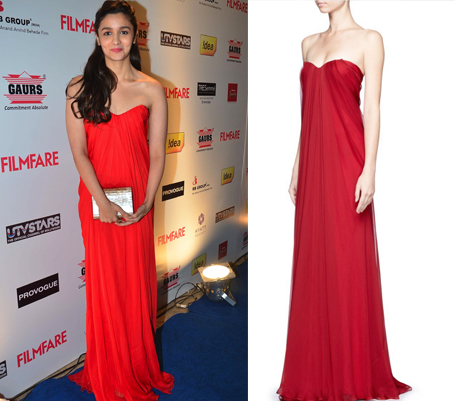 This Alia appearance proves that there is such a thing as dressing it too down. She wanted to make the Alexander McQueen look less formal so eased up on hair and makeup but it ended up looking like she'd had to rush out of home before she could complete hair and makeup. Not feeling this look.
Verdict: Not hot.
Deepika Padukone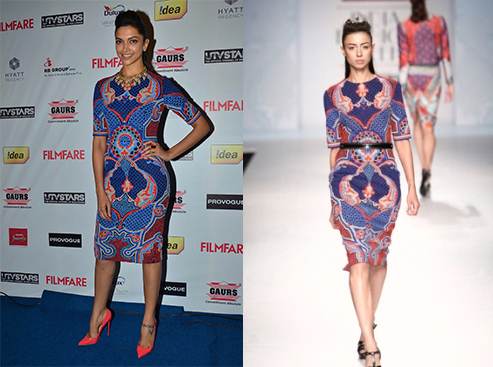 Getting her mojo back and delivering a hit after a miss at Screen Awards was Deepika. The outfit was a perfect balance of formal and casual and styled to perfection. Apart from being the highlight itself, the Pankaj and Nidhi dress was very well complimented by the pop of color in the shoes and the statement necklace
Verdict: Hot!
Divya Dutta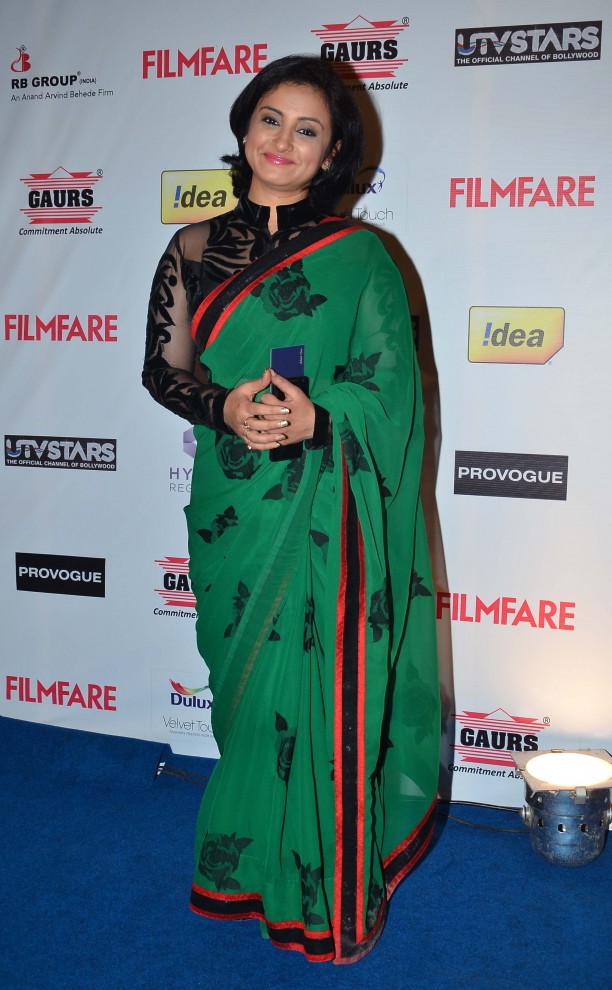 How I wish this talented lady would get herself a stylist pronto! That blouse could hardly have done anything right for her but of course the saree (which truth be told looks like a cheap Masaba rip off) didn't help.
Verdict: Not hot!
Hasleen Kaur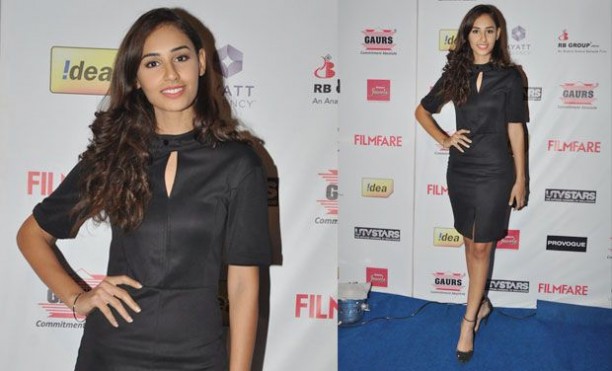 Debutant Hasleen Kaur hasn't been on the scene for too long but definitely has a unique style sense, which we're catching onto. This appearance, like Deepika's, was a perfect blend of formal and casual. It was a very safe styling but since it all ended up coming together so well I'm not going to complain.
Verdict: Hot
Huma Qureshi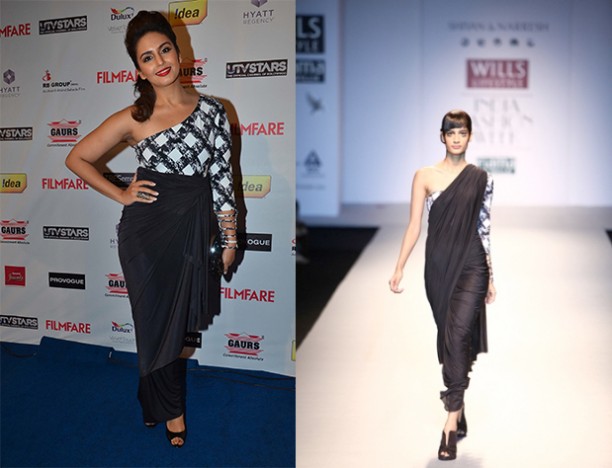 Its one great appearance followed by one that isn't for Huma as always. Screens was a great moment but this Shivan and Naresh attire look wasn't. And in no way was that the fault of the design itself. Wish the hair was styled differently and although I appreciate a bold move in making a piece truly 'yours' by styling it uniquely, can't help wishing that Huma had worn it as it was presented.
Verdict: Not hot
Jacqueline Fernandez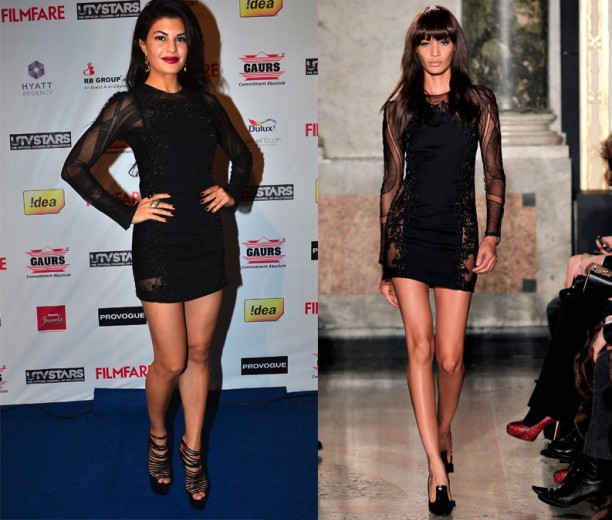 My favourite underrated fashionista was back in the game with FF Nominations Bash in an Emilio Pucco black mini. And as expected, Jacky was an absolute knockout! Loved the dark lips and naturally blown out hair. Although even I can't deny that those shoes needed to go!
Verdict: Minus the shoes, VERY HOT!
Kajal Agarwal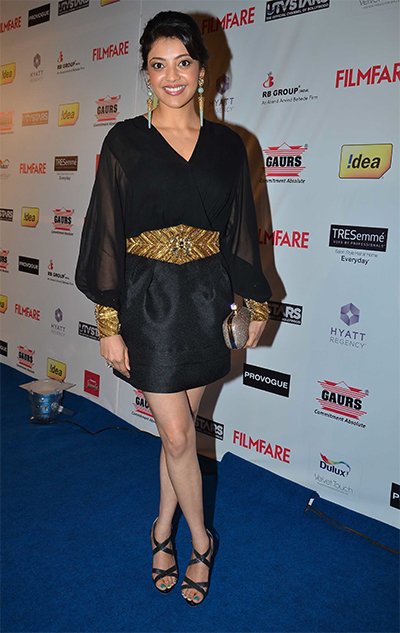 Going for a wrong kinda mini black dress however was Kajal on the night. I can't look past 'those' sleeves, even if the rest of the dress is quite decent. Also, someone needs to get Ms Agarwal some serious help in the make-up and hair department she's constantly doing them absolutely wrong!
Verdict: Not hot!
Kalki Koechlin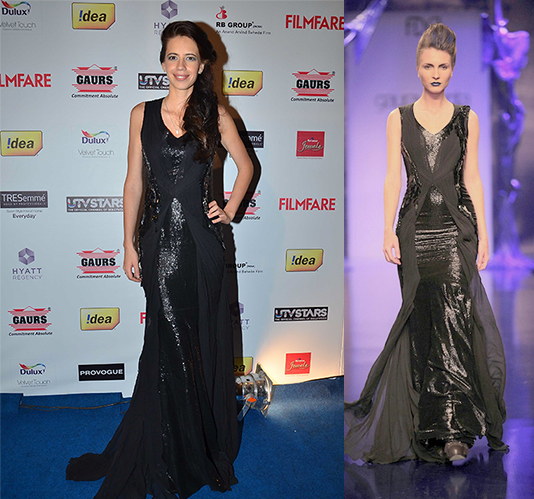 Kalki is in it to win it this award season and no I don't mean the awards, I am talking about the limelight on the red carpet. What a striking Gaurav Gupta she chose for the night, albeit more suited for the actual event rather than a nomination bash. Would have loved an up-do to highlight the dress more but that's not a complete deal breaker nor is the fact that she was perhaps a wee bit overdressed for a simple nominations bash.
Verdict: Hot!
Konkona Sen Sharma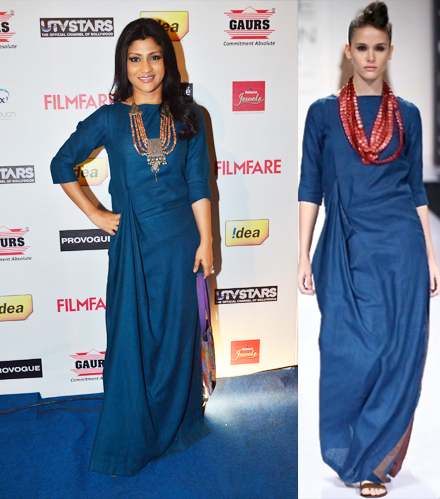 Can we all rejoice for a Konkona appearance before we even begin to talk about the clothes! And now coming to the clothes, finally someone wearing a Payal Khandalwal so beautifully and in such a well fitted manner! Loved that she styled it with a statement necklace, even if I prefer something bolder in color than the one she chose. Hoping to see more stunning appearance from the actress this award season as she does have knack of coming out with very unique dos!
Verdict: Hot!
Madhuri Dixit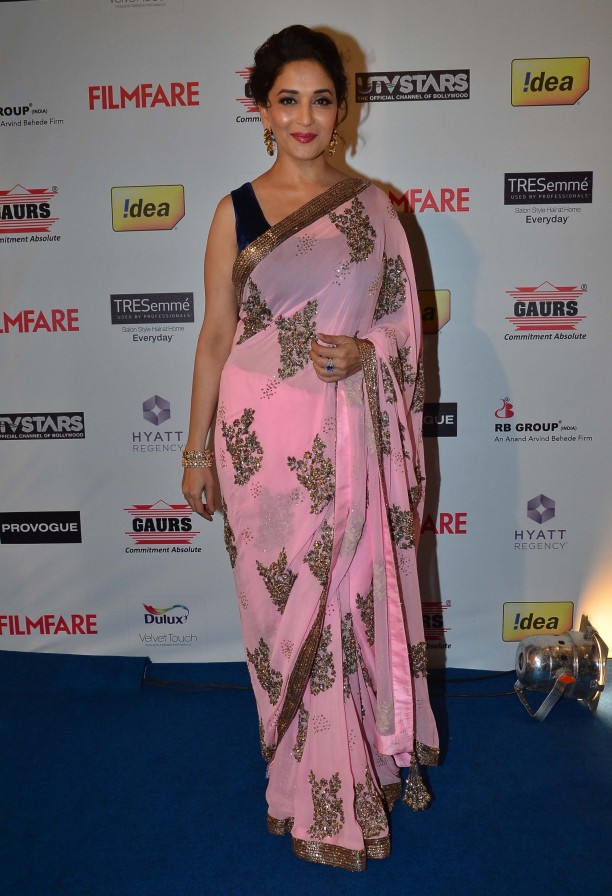 Another day, another dated saree by Madhuri with a dated up-do. She's doing it all right in the films arena and has jumped on board with the style of cinema Hindi cinema is doing these days, now if only she would jump on board with hiring a good stylist who brings the best out in the 90s diva.
Verdict: Not hot!
Nimrat Kaur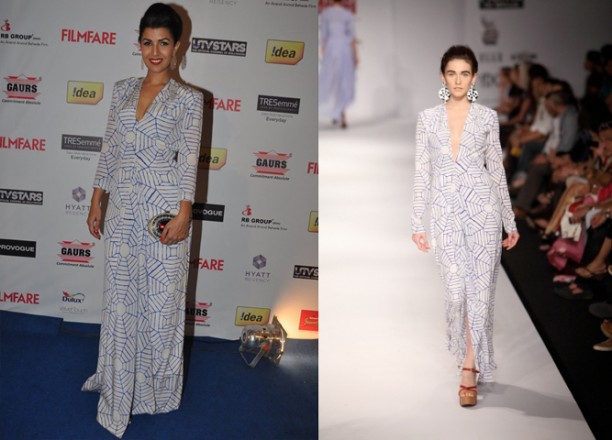 Sporting one of my favourite and a truly underrated designer, Anand Kabra, on the night was Nimrat Kaur. She looked great in the Kabra gown, complimenting it aptly with dark red lips, gold earrings and a subtle clutch. Definitely a winner of an appearance from the The Lunchbox actress.
Verdict: Very hot!
Richa Chadda
Long sleeve gowns aren't as common as you think so I was very surprised seeing Richa pull off one by Valentino, that too really well! The side swept hair and minimal styling was ideal for the look. What didn't work were those peep toe shoes!
Verdict: Hot, minus the shoes!
Shazahn Padamsee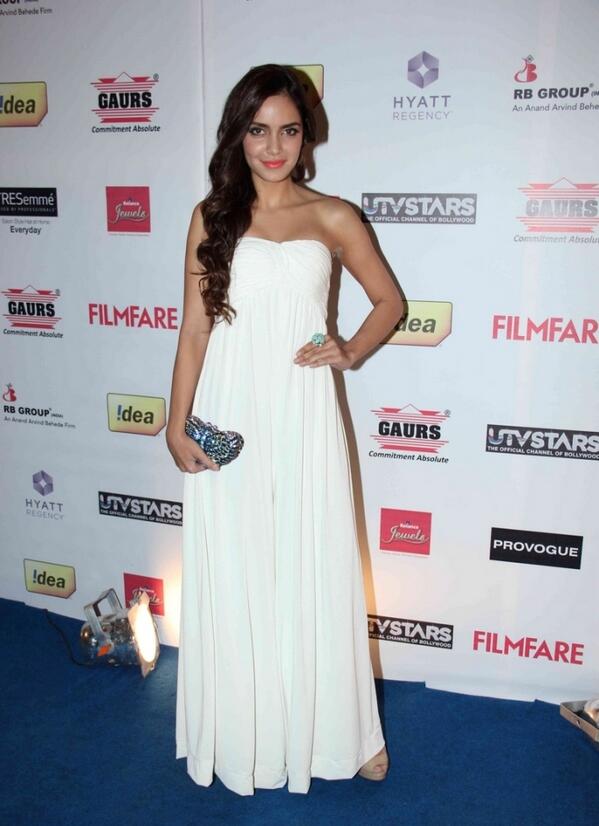 Shazahn opted for a white strapless gown bringing in the color by way of blue accessories and red lips. She looked quite great!
Verdict: Hot!
Shilpa Shukla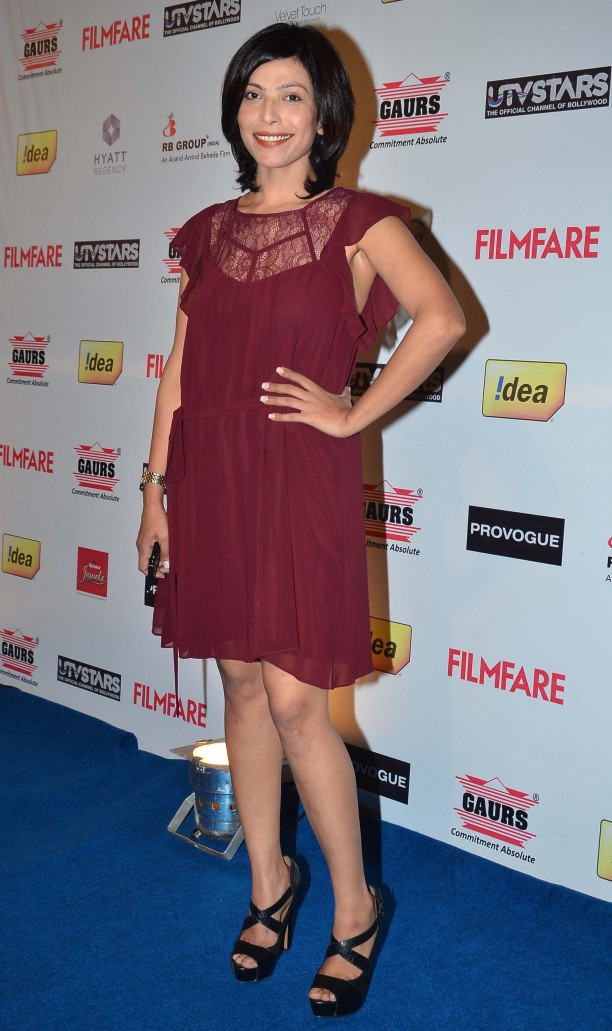 It was above knee high burgundy dress for Shilpa, one that wasn't much to rave about as it was plus those shoes didn't help.
Verdict: Not hot!
Shraddha Kapoor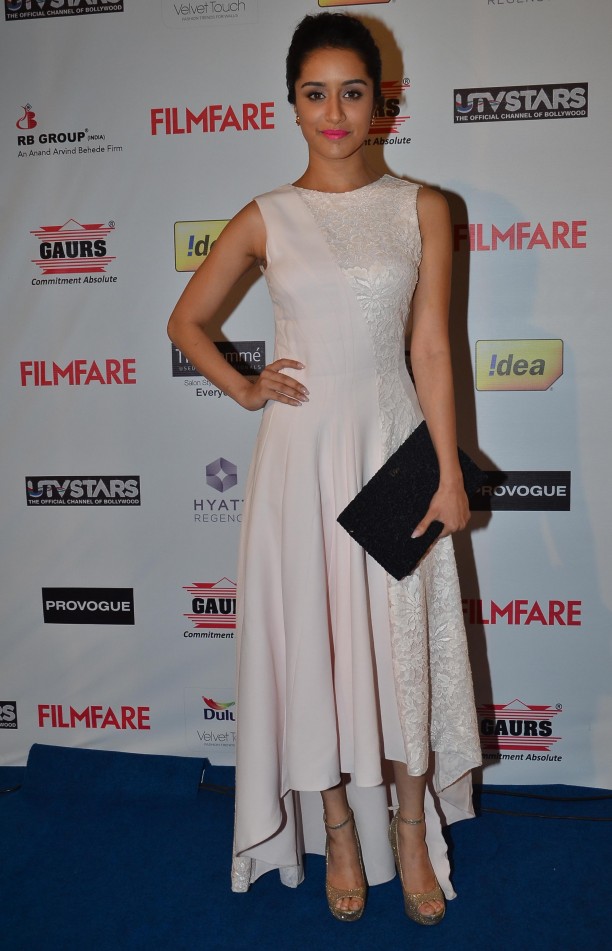 Seems like our B-Town ladies were stuck with choices for appropriate shoes because yet again with Shraddha we have another lady who would have been styled to perfection had it not been for those shoes. But then again, not a fan of that clutch either. Dress, hair and makeup were all going great but Shraddha lucked out with the accessories she chose.
Verdict: Minus accessories, hot!
Shruti Haasan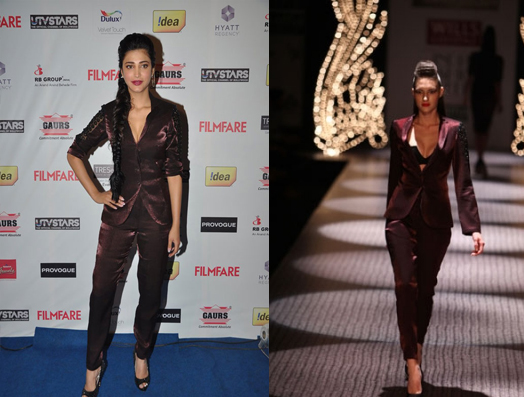 Shruti was all about business on the night in sizzling Namrata Joshipura suit. Quite like that she was brave enough to bare the plunge neckline without making it look too risqué. The side braid was a nice touch also to soften up the look.
Verdict: Hot!
Sonal Chauhan
It has been a string of bad appearances from Sonal and this one sadly doesn't break the routine. The Harsh Harsh dress was just not flattering at all!
Verdict: Not hot!
Sonali Bendre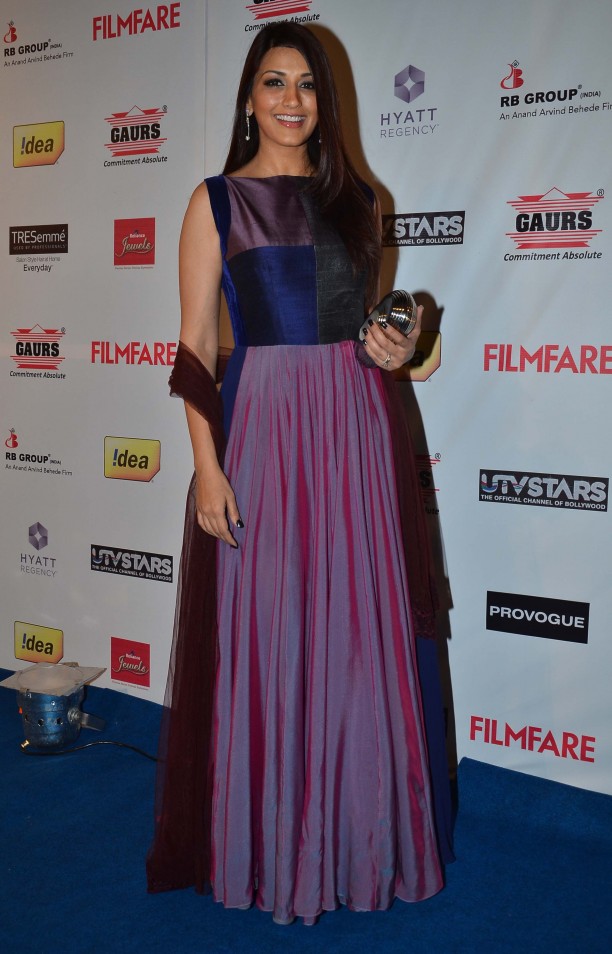 It was trusty good ol' Manish Malhotra for Sonali on the night. She wore it rather well but that hair was a bit boring and overpowering for the look. Although that aside, she looked great!
Verdict: Hot!
Sonam Kapoor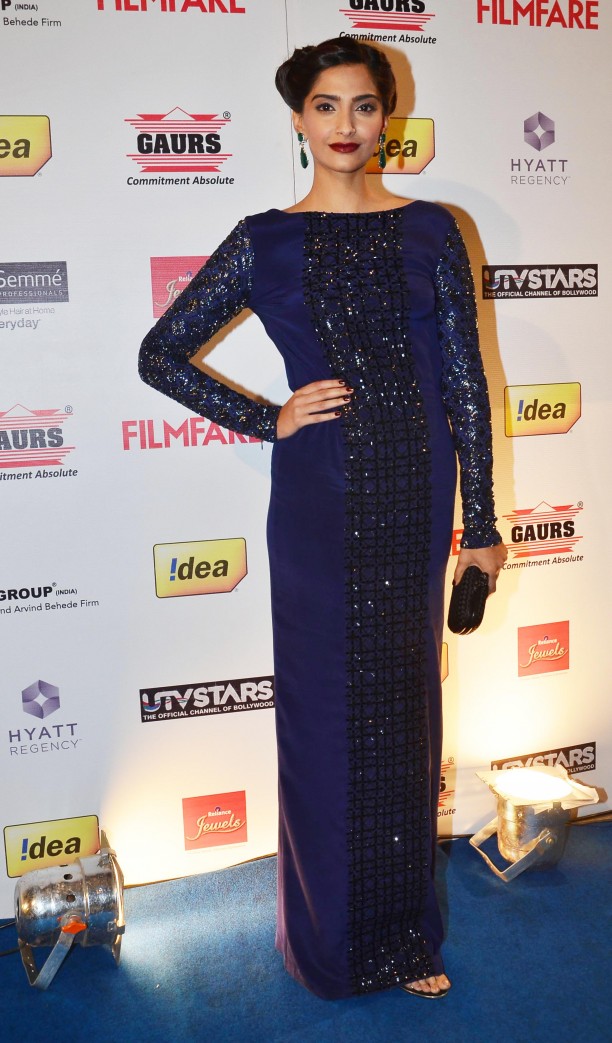 Reverting to one of her favourites, Anamika Khanna, was Sonam Kapoor on the night. Though the gown worked, the sizing did not and Ms Kapoor lucked out with hair and makeup which all seemed off this time around. I'm sure she'll be back with a bang in no time!
Verdict: Not hot
Sophie Chaudhry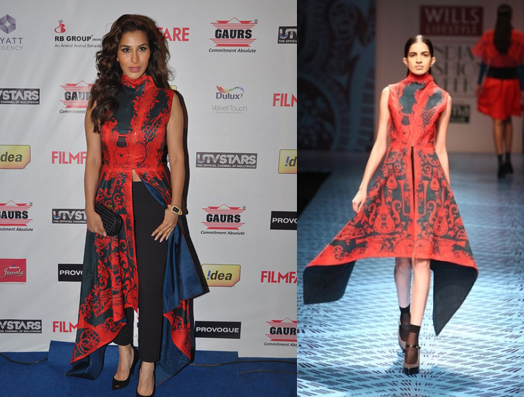 The spot-light stealer of the night had to be Sophie in her high-low Pankaj and Nidhi piece. Usually not one to fall in love with hi-low attires I was forced to change my position this time around I didn't mind it in the slightest bit! The nude makeup and the volumed up hair was a fantastic addition and just made the appearance all the more striking.
Verdict: VERY VERY HOT!
Taapsee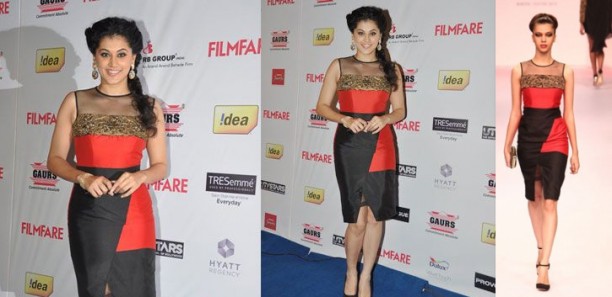 Had it not been for the hair, this appearance of Taapsee in her Rajat Tangri pencil dress would have been a winner all the way. Despite the hair thought she ends up looking rather nice.
Verdict: Hot!
Tamanna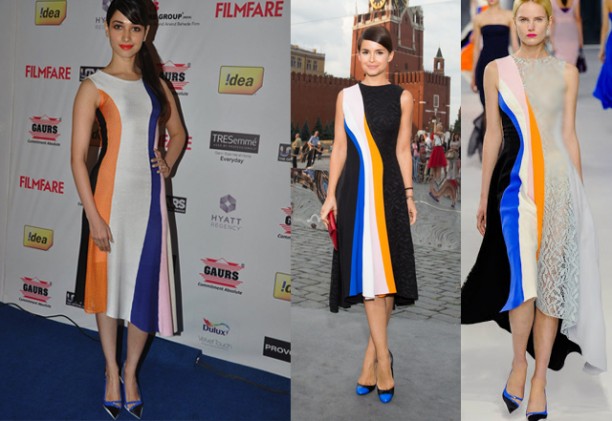 Sophie's appearance finds a tough contender in Tamanna. It was another great combination of a casual and formal mood on the night. The dress from Dior's Resort 2014 collection has seen many variations over time courtesy of its original somewhat bold design to which the brand created various alternatives. Tamanna's version adds to the growing list. Brilliantly styled with absolutely lust-worthy Dior pumps! The red lips and sleek hair were a great addition also without which the look wouldn't have been a winning one.
Verdict: Very hot!
Vaani Kapoor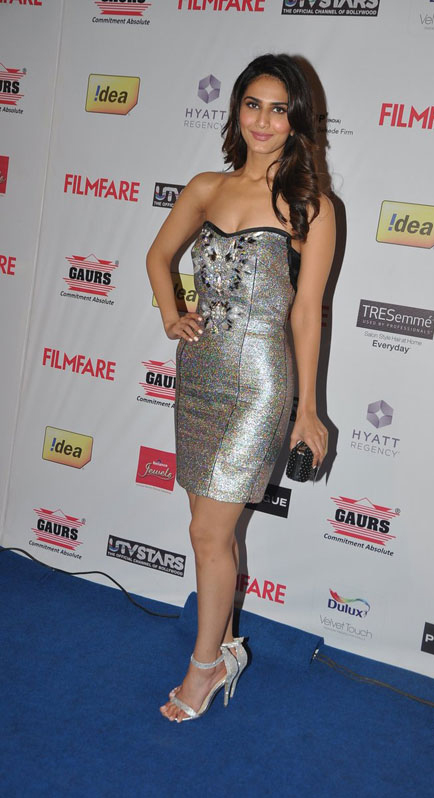 Vani went with Vizyon on the night but sadly it was a very poor choice leaving the actress looking not her best. Lets not even go to the shoes!
Verdict: Not hot!