Lifestyle magazine associated events always excite me. Why? Well for some odd reason they inspire our stars to put their best foot forward as far as fashion on the night is concerned. Stars take bold choices, venture out of their comfort zone and sometimes, even succeed in delivering a winning look. GQ Awards 2013 was held over the weekend and saw some of the most glamorous faces of fashion, television and movies gracing the red carpet. Read on to find out my thoughts on their red carpet attire.

Mr and Mrs Abhishek Kapoor were feeling blue on the night, and in a good way! Whilst the Mrs rocked the flowy maxi and simple blown out hair, hubby looked dapper than ever in torn jeans, printed t-shirt, blazer and sneakers combo. Don't you love it when men put a bit of effort into their ensemble!
The Kapoor Are Hot!

Aditi Rao Hydari was Gaurav Gupta-ed out on the night in a cream gown from the designer. Not the biggest fan of the gown but its not a complete disaster since Aditi did style it rather well.
Aditi is Hot her gown is Not.
Its been a while since we spotted Fiza actor Bikram Saluja out and about. Kudos on staying away from the usual one-coloured formal look and bringing out the maroon blazer.
Hot
Farhan and Adhuna Akhtar did all blacks. Whilst Farhan looked mighty cute in the black bow-tie attire, Adhuna looked quite nice in the knee length black dress that featured gold work. What didn't work were her shoes though.
The Akhtars are Quite Hot.
Fresh out of the Big Boss house Hazel Keech put in an appearance in a Swapil Shinde gown. The gown had a lot of potential but somehow came off looking very unflattering on Hazel. Considering it was a strapless gown, the ultra bare neck look didn't work. Hair down instead of an updo may have helped. I guess Hazel was hoping the statement earrings would do the trick but sadly they didn't. What a let down this one was considering what it could have been.
Not Hot!
Maybe I expect too much from Hrithik, which is why this look disappoints. The shimmery jacket on all-black was just 'meh'. Then there was the hair which just made him look more aged then he is. It was not a good night, fashion wise, for our superhero.
Not Hot.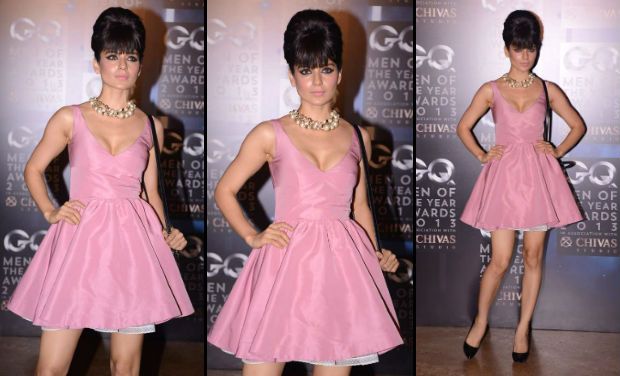 Luckily for Krrish's heroine, the same fate didn't await her. The knee length fit-flare Dior dress was ultra cute on Kangana! The statement necklace, updo, bangs, pumps, and dark eyes were all part of a winning combo! Yes she does give us this knee-length flare dress look often but she pulls it off well. May I add that the sexy V neckline was the right design as it did not push the dress into a 'trashy' zone.
Very hot!
Rocking monochromes in a formal business-y look was TV actress and model Karishma Tanna. It was a simple look which she styled very neatly. The pop of red, shoes and clutch choices all brilliantly complemented the attire.
Hot
Yamala Pagala Deewana 2 girl, Kristina Akheeva, made an appearance in a neon Namrata Joshipura gown styled by Ranjit Rodricks. The drop earrings and nude-esque styling perfectly complimented the dress which didn't need much added to it. Especially love Kristina's makeup and kudos to the restraint the makeup artist showed, an under valued talent indeed.
Hot
JDJ finalist Lauren Gottlieb opted for a halter neck animal print gown. On the fence about the hair and the gown print, the design is fabulous no doubt. Though she did style this one particular well.
Just Okay
Playing with mesh once again was Lisa Haydon in a Kshitij Kankaria gown. Very rare for Lisa to have a bad day in the fashion arena so this one was no exception. It was minimalistic styling so all eyes could be on the risqué gown.
Quite Hot
Madhoo Shah was seen in a satin gold gown. One that needed to be fitted better for the 90s actress and one that definitely needed to be pressed again. Since there's so much going wrong with the gown itself, I won't even bother starting with the styling.
Not Hot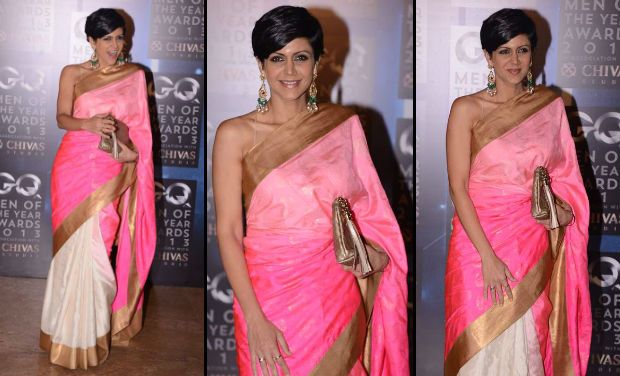 Wearing what I'm told is her own design, Mandira Bedi put in an appearance at the event. I can't help notice that the colour pallet for the design is very much Masaba-esque considering the designer's festive wear features a similar seasonal colours and karela gold borders. Seeing as Mandira has won Masaba numerous times in the past wouldn't surprise me if she was inspired by the talented designer's work for her own designs. Anyway, back to the appearance. The saree of course works but the clutch, or rather how it's held doesn't. Also the bare/bold blouse look has been done to death! The earrings stand out like a sore thumb. And, don't you think its time Ms Bedi moved away from the spunky hair look which she works well, but its one I'm a bit tired of seeing on her. All in all, this look had potential but the blouse and styling in general let it down.
Not Hot
One to always be rustic in his movies, Manoj Bajpai cleaned up for the red carpet and how! I for one think he looked rather handsome in the all black bow tie suit. Sure its no fashion feat but it's a welcome change to see Mr Bajpai all dressed up working the red carpet
Hot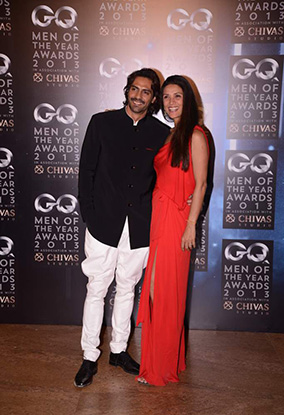 Gotta hate people who look effortlessly hot! Arjun Rampal was the only man doing Indian on the night in a bandh gala. Not quite sure what the pants are because they are not as well fitted for a jodhpur (which we know Mr Rampal favours) however definitely not tailored for his height if they're your usual pants. Regardless, he looks hot! As does the Mrs in her all red high slit dress. Pants fitting aside, they look great!
Very hot!
It was the night when men you wouldn't have pegged to be on the red carpet set out to woo the ladies. Nawazuddin Siddiqui was not far behind in a bow tie attire of his own and unlike his contemporaries the phenomenal actor when for a bolder choice with a pop of purple and I for one am loving it!
Very hot!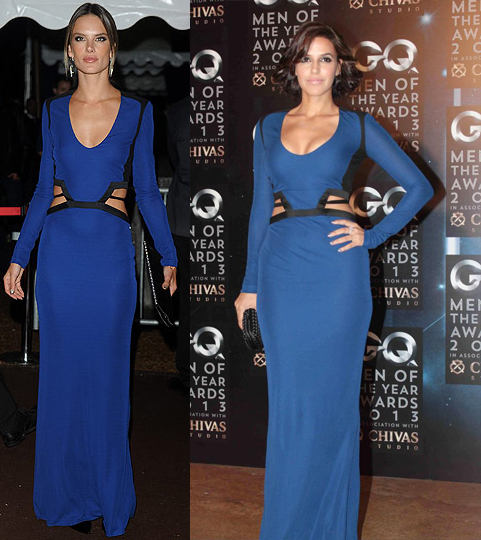 Neha Dhupia was spotted in a Roberto Cavalli cut out blue dress. Earlier won by Brazilian Victoria Secret's model Alessandra Ambrosio at Cannes the dress is a colour that only few can pull off. The design is said to be a one of a kind as Roberto himself has designed it. Neha ditched the bling unlike Alessandra and did all blacks for her accessories whilst sporting a vintage hairstyle. She totally made the design her own with a unique twist which worked and how!
Hot!
Now here's a woman who never ceases to look hot! Ace model Nina Manuel made an appearance in a magenta James Ferreira jumpsuit/romper. Considering that all that colour was striking enough, the simple hair and makeup was a great choice. The cream clutch I am not too happy with but considering Nina looks so brilliant otherwise who the hell is going to even look at the clutch!
Super hot!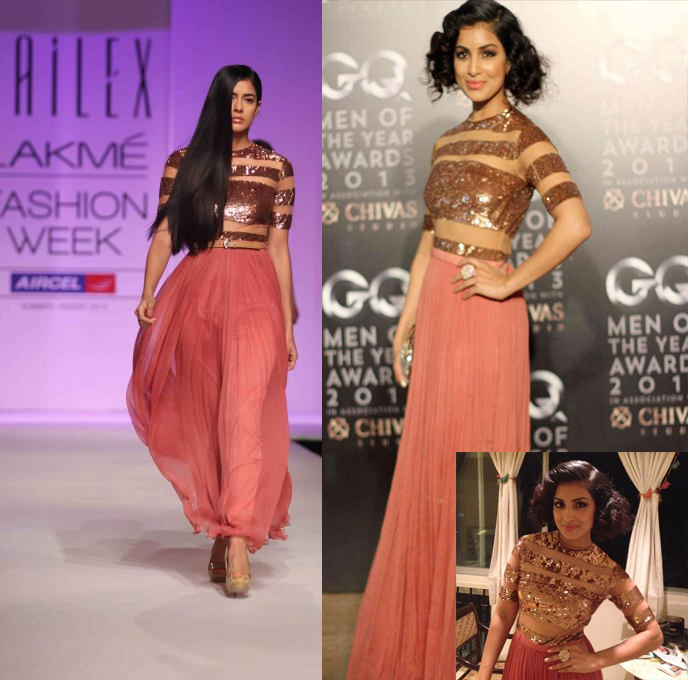 Ranbir Kapoor's Besharam heroine Pallavi Sharda chose Sailex as her designer of the night. The gown worked but the vintage hair was not something she pulled off. What a shame considering that gown is really something!
Not hot
Ditching gowns for a midi Gucci dress was Delhi Belly girl Poorna Jaganathan which featured rush lurex jacquard fern motif. The look worked as did the hair and accessories but the shoes were a major let down. And considering the look was a midi dress, the shoes can hardly be ignored.
Not Quite Hot.
Perhaps the youngest lad of the night gave us the most boring look amongst the men. Prateik Babar did an all black suit with a tie and sadly didn't give a reason for strong fashion debates. As Sabyasachi once said, a look that doesn't strike debate is the worst one of them all!
Not hot!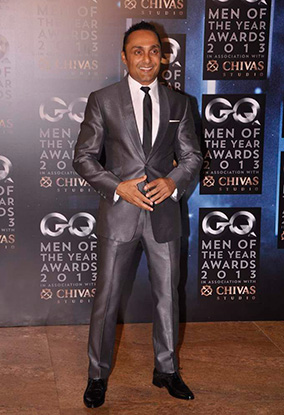 Back to men taking more risks, Rahul Bose went for a grey/black combo with his suit. Way to change things up!
Hot
Perhaps the boldest of the men on the night was Randeep Hooda who did all whites. Neck down the man looked great, but that hair just ruins the look! Almost as if hours were spent in making sure the bangs split into equal parts on his forehead!
Randeep Hooda is hot, his hair is NOT!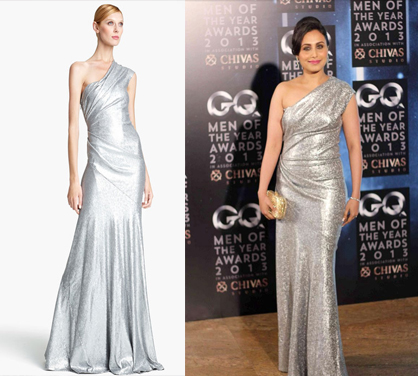 The night truly saw some surprising faces gracing the red carpet and leading the list was Rani Mukherji in a Donna Karan gown. It's a gown I don't take to itself let alone on Rani. Sadly it was unflattering on the actress and the length adjustment making it a wee bit off the floor made it even more unappealing. Add to that the dated styling and the lack of confidence in pulling it off that you see on the actress's face, and you have a look that falls flat on its face. What did work however was the pop off pink on the lips, if only that was enough to save the look. Kudos to venturing out of her comfort zone but sadly it doesn't pay off this time around Rani.
Not hot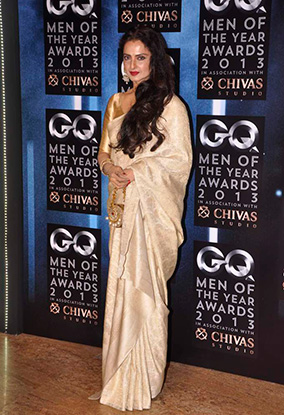 Giving the rich silks a break Rekha opted for a simpler golden saree this time around and it's a welcome change. Granted it's the same one-sided- hair and red lips, but that's her signature style that I've grown to love. This time around though I love the saree even more! Here's hoping one of these days she does something new with the hair.
Hot
Second animal print sighting of the night was on Mere Dad Ki Maruti actress Rhea Chakraborty. This one was a bolder choice than Lauren's but Rhea wear it well. The shoe choice has to be the highlight of the look.
Hot!
Rarely to miss a major red carpet event Housefull 2 actress Shazahn Padamsee put in an appearance in a Sonya Vajifdar dress. The gown would have worked if there was a balance between the cut out and the bare back design highlights, both aspects together was a bit of a design clash for me.
Not hot
The easiest title to give away on the night would have been 'Disaster Look of the Night' which no doubt belonged to Shibani Dandekar for her attire. I suspect it may be a Falguni & Shane Peacock design however regardless of the designer, the look is a complete fail.
Not Hot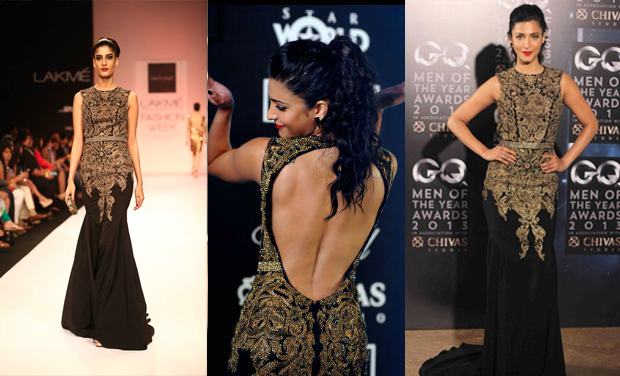 Going for a Rajat Tangri design once again was Shruti Haasan on the night, who wore the designer recently at SIIMA. This time around she didn't go for a controversial sheer design but a heavily embellished black gown featuring a trail. Styled to perfection the look featured a messy pony tail and red lips.
Red hot!
Wearing a fresh off the runway Sonam and Paras Modi (SVA) gown was Miss India Earth 2013, Sobhita Dhulipala. Considering the gown was such a statement in itself, loved that she kept the hair so relaxed. She looked great!
Hot!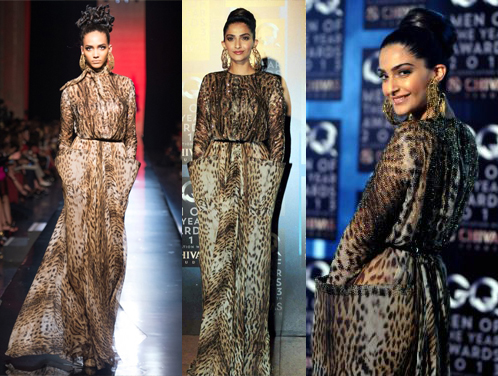 Closely following Shibani for the Disaster Outfit of the Night title was someone you'd least expect to be in the running for the trophy. The animal print Jean Paul Gaultier gown was overwhelming enough without Sonam having to highlight the pockets whilst she posed, it just made matters worse! She followed the ditto styling of the outfit as presented on the ramp but sadly on Sonam it was all too overwhelming. You truly had to search for her amongst all that happening around her!
Not hot!
Sophie Chaudhry walked the red carpet in a Harsh Harsh gown with gold accessories. The side curled hair was a great look for her and was just what the strapless gown needed (take note Hazel Keech).
Hot!
90s hottie Suman Ranganathan gave us a pretty unconventional look in a knee length printed dress with a pop of purple for a clutch and red peep toes. It's definitely unconventional but I for one am loving this look! The highlight is her beautiful natural hair but generally I love the laid-down/chilled-out look the actress sported compared to the overly formal attires of the evening.
Unconventionally hot!
I include ace choreographer and TV icon Terence Lewis in the WHWN discussion more for the new look he's sporting than for his attire. I first thought the mustache didn't work but am warming up to it. Apart from that, the outfit worked for me, minus the shoes. Your thoughts?
Just Okay!
Bow ties were the flavor of the evening no doubt! Vir Das opted for a black/blue combo and pulled it off effortlessly. Doesn't he look ultra suave?!
Very Hot!
Also doing blue was Zarine Khan in a one shoulder Mitali Wadhwa gown featuring a metallic belt. The gown and makeup I have no issues with however wish she'd not gone for such a sleek hair and something softer. On the fence about the black peep toes, what do you guys think?
Not Hot.