This year's IIFA awards, held at Tampa Bay, were overflowing with style and the celebs were seen working the green carpet more than once for the various events of the weekend. The stars pulled out all the stops for the fashion police and Bollyspice have their pick of who was hot and who was not. First up, some top picks from the green carpet: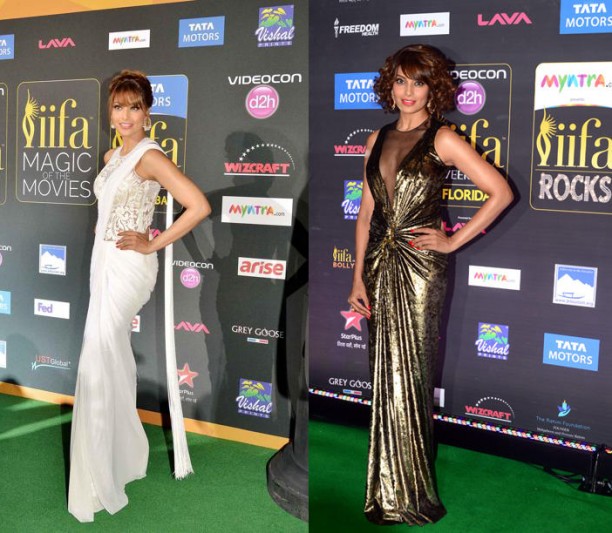 This Sonakshi Raaj saree-gown came straight off the Lakme Fashion Week runway and onto Bipasha's stunning curves. No flaws here!
The siren strikes again in this Gaurav Gupta gown which almost looks like it was made for Bipasha.
Verdict: Bipasha Basu – Hot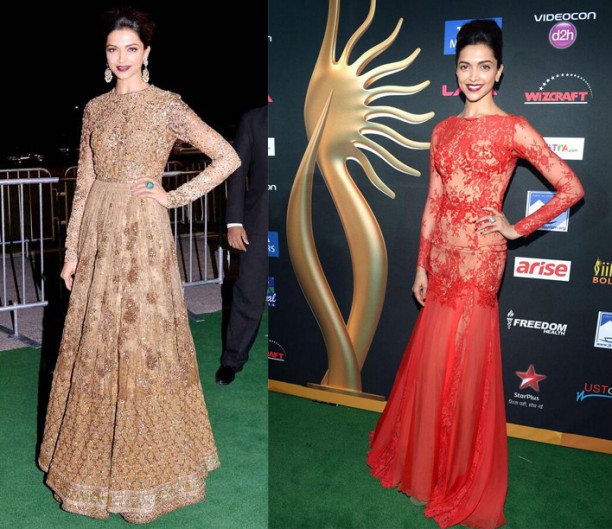 The star of the moment, Deepika Padukone, is making sure she looks the part of reigning Bollywood female and this golden Sabyasachi gown is simply exquisite. Of course she keeps the look contemporary with a pop of colour on her finger.
Her second green carpet moment is equally divine with this red Zuhair Murad lace gown. Although we're not a fan of the clashing berry lipstick with this outfit, she still manages to pull it off.
Verdict: Deepika Padukone – Super Hot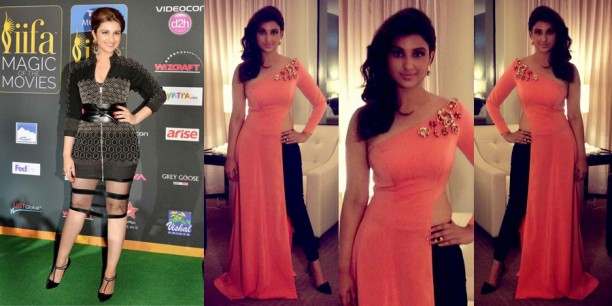 Parineeti has certainly been upping her game on the fashion circuit but this Gaurav Gupta outfit fails to impress. Apart from a cut that doesn't suit her body shape, her hair and accessories are a just a little bit boring.
What a transformation! Did she switch stylists overnight? This fusion Nikhil Thampi outfit is a significantly better choice and the cheeky bit of skin show is just the right amount for her. Thank goodness.
Verdict: Parineeti Chopra – Not Hot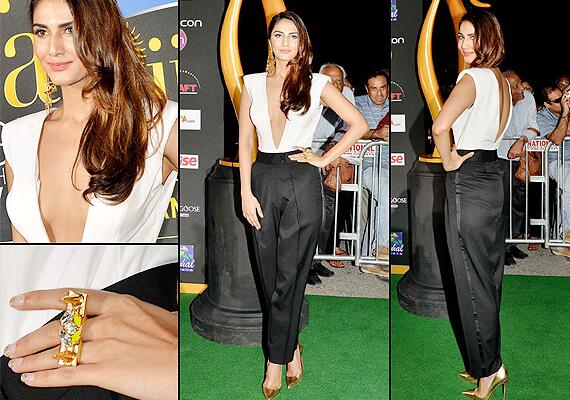 Vaani sticks to looking effortlessly sexy in this Nikhil Thampi monochrome look. She pulls off this revealing number without looking vulgar at all.
Verdict: Vaani Kapoor – Hot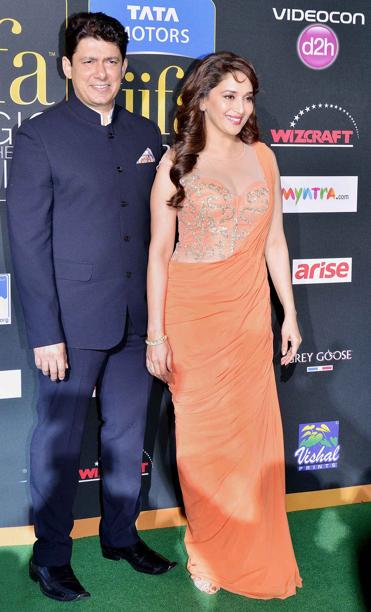 Madhuri kept on trend with this peach Sonakshi Raaj saree-gown and miminal accesories putting the newcomers to shame.
Verdict: Madhuri Dixit – Hot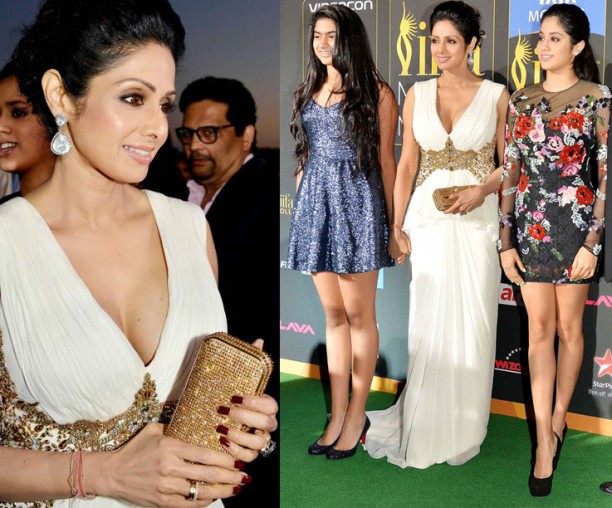 From one evergreen beauty to the next, Shri Devi wore this sexy white gown paired with golden accessories. Simply stunning.
Verdict: Sridevi – Super Hot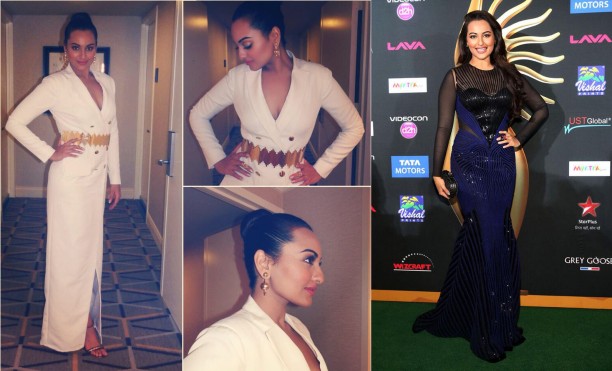 Sonakshi isn't missing a single opportunity to flaunt her new figure and this first look wowed us here at Bollyspice. The white Nikhil Thampi outfit accessorised with an Aatee belt and Valliyan by Nitya Arora jewellery is ravishing. And she doesn't stop there…hair is swept back in a top knot to perfect the sexy look. Hats off to you Sona!
Expectations were high for green carpet appearance number two and sadly we were disappointed. We don't love this Amit Aggarwal gown on her upper body but although this look wasn't as hot as appearance number 1, she still looks beautiful with her soft curls and spot on accessories.
Verdict: Sonakshi Sinha – Super Hot to Mediocre…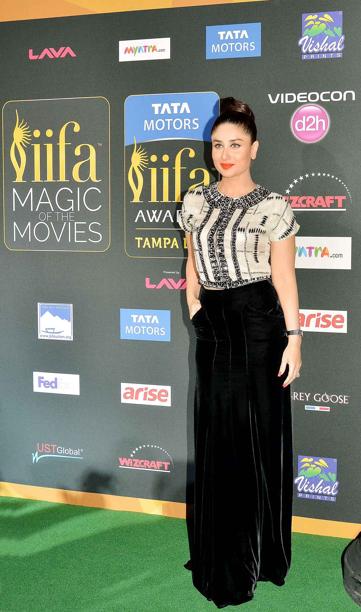 We absolutely love this Georgio Armani oufit. The velvet skirt teamed with the sequined top and finished with hair swept up into a bun is perfect. Royalty.
Verdict: Kareena Kapoor Khan – Hot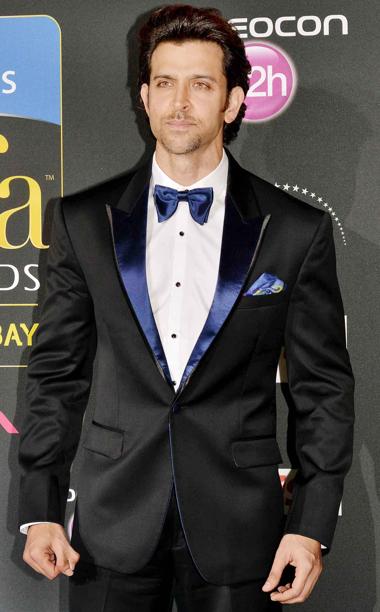 Heart-throb Hrithik continues to keep hearts beating with this nice black and blue tux.
Verdict: Hrithik Roshan – Hot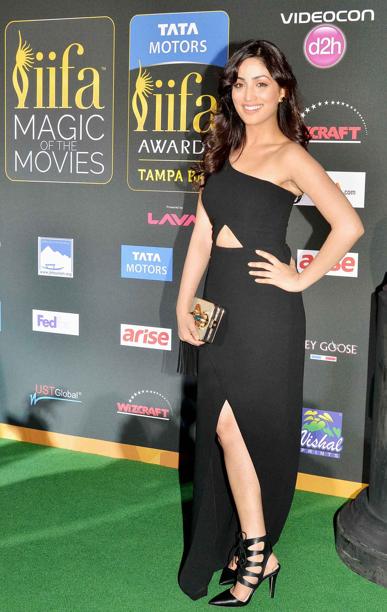 Yami kept things extremely simple with a plain black gown and almost no jewellery but she doesn't she look divine?!
Verdict: Yami Gautam – Hot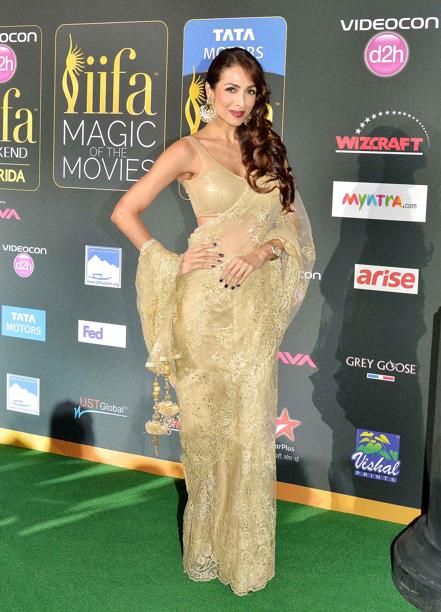 A gold net saree and dark maroon lipstick…too reminiscent of Rekha?
Verdict: Malaika Arora Khan – Not Hot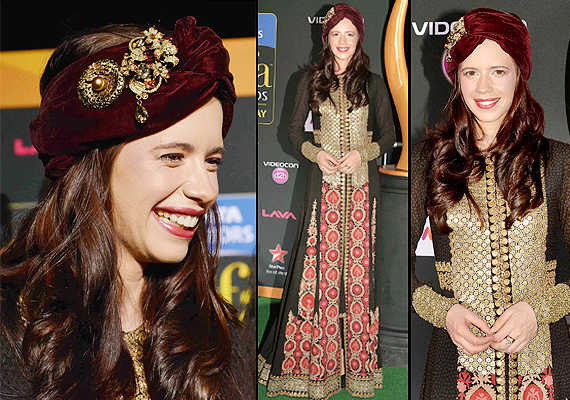 Although this Sabyasachi look works magic on the runway, it just didn't work with Kalki this time.
Verdict: Kalki Koechlin – Not Hot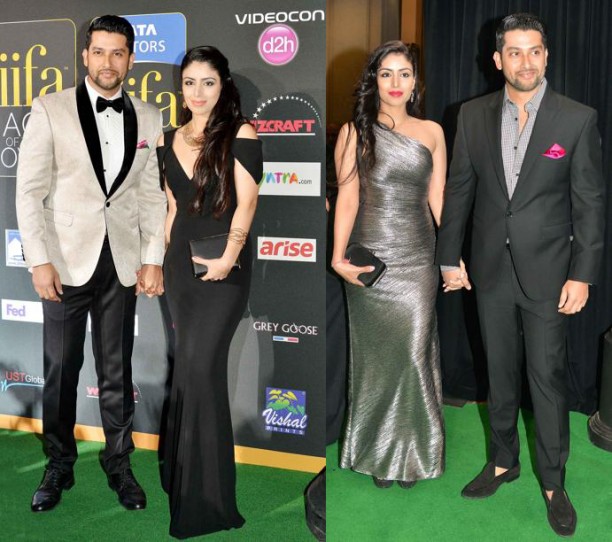 The beautiful couple get it right twice with their green carpet outfits and they manage to subtly match, first with the black lapel of Aftab's tux complementing Nin's dress and then his grey shirt complementing her chrome gown. We also love Aftab's pink pocket square.
Verdict: Aftab Shivdasani and Nin Dusanj – Super Hot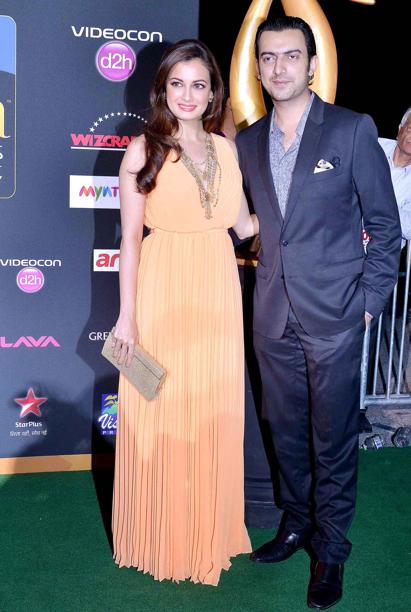 Dia kept things simple with a Halston Heritage gown and layered necklaces. Although we love her understated style, this outfit is just a little boring.
Verdict: Dia Mirza – Too simple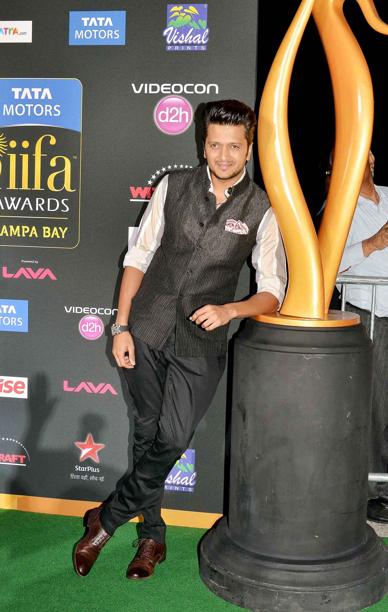 There's just too much shine for our eyes at Bollyspice…sorry Ritesh!
Verdict: Ritesh Deshmukh – Not Hot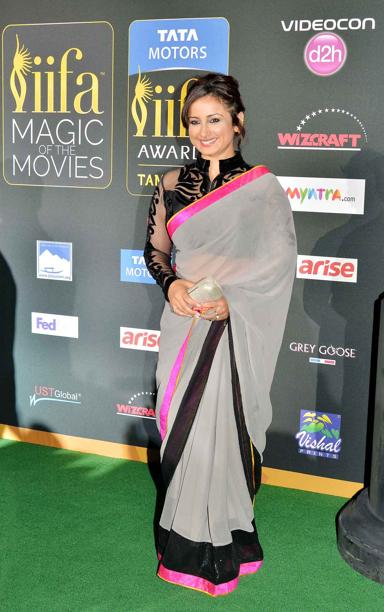 Divya looks stunning in this grey saree. The black blouse and pink border just add that hint of contemporary to her normally traditional look keeping her completely in her comfort zone.
Verdict: Divya Dutta – Hot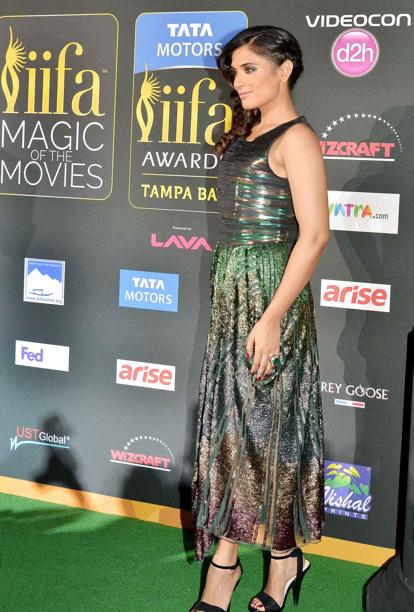 Another bold outfit from Ms Chaddha and we just don't like it.
Verdict: Richa Chaddha – Not Hot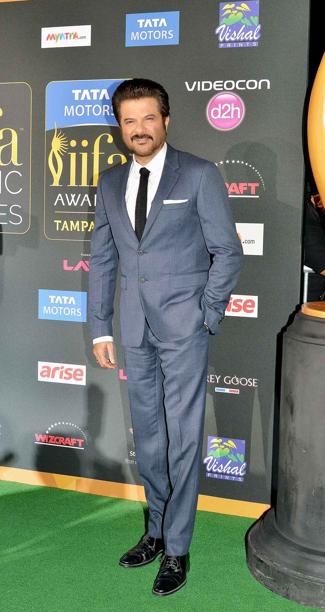 The man who refuses to be cast as Sonam Kapoor's father because he's just too young for that…can't blame him when he looks so sharp!
Verdict: Anil Kapoor – Hot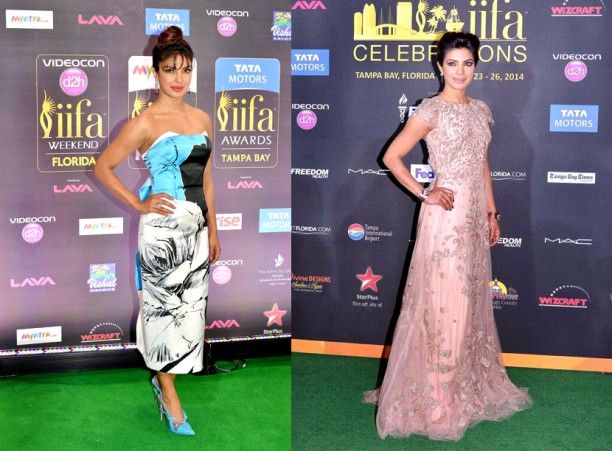 Well we certainly like the second look a lot more than the first but Priyanka undeniably looks hot on both occasions. Here's one star who knows what looks she can and can't pull off.
Verdict: Priyanka Chopra – Hot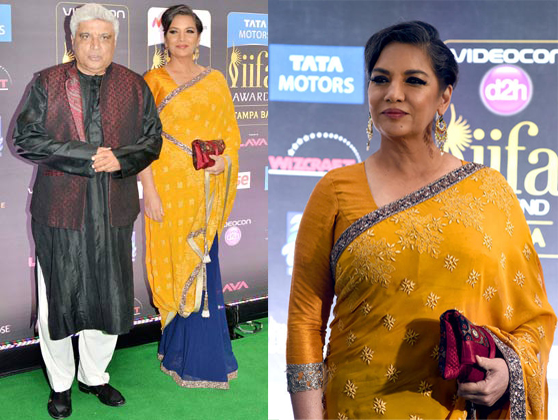 Shabana Azmi manages to always keep it classy. This mustard saree is a perfect shade with minimal but eye catching detailing and she accessorises it with a simple pair of earrings.
Verdict: Shabana Azmi – Super Hot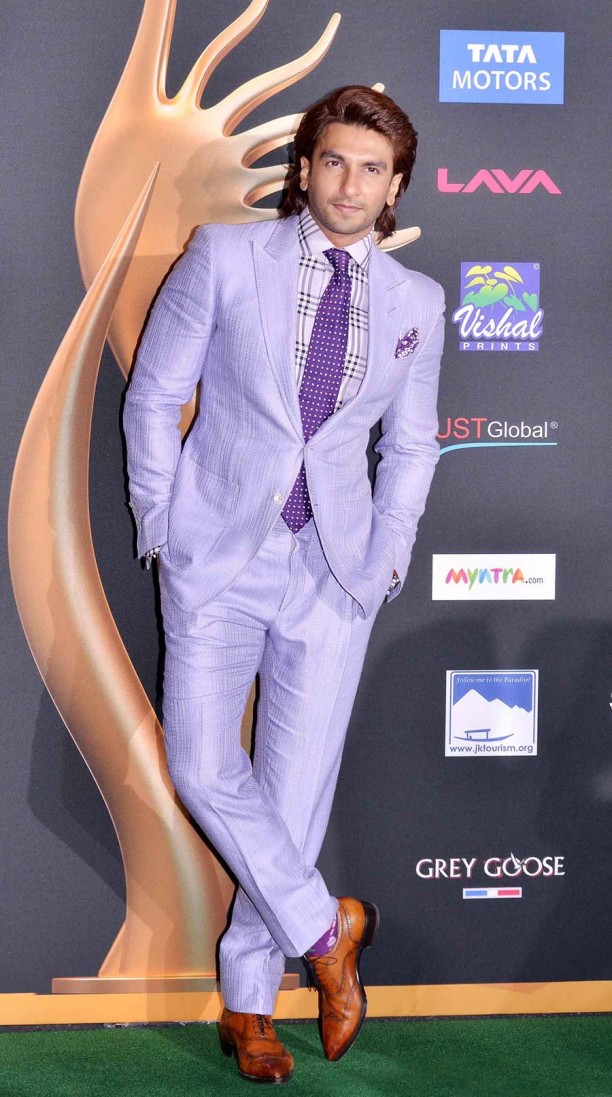 Ranveer decided to grace the prestigious green IIFA carpet in a more subtle shade of purple than we recently saw in his Durex ad.  Although it is refreshing to see a male making some funky fashion statements, this 'parma violet' look isn't our cup of tea. Perhaps the lavender Tom Ford tux could have been paired with something a little less…well…purple. Thank goodness the Louboutins aren't purple too.
Verdict:

Ranveer Singh – Not Hot