If the turn out at the nominations bash was this amazing, we can only imagine how fabulous the red carpet at the 58th Idea Filmfare Awards 2012 will be. For now here's my take on fashion on red carpet on the night of the nominations bash!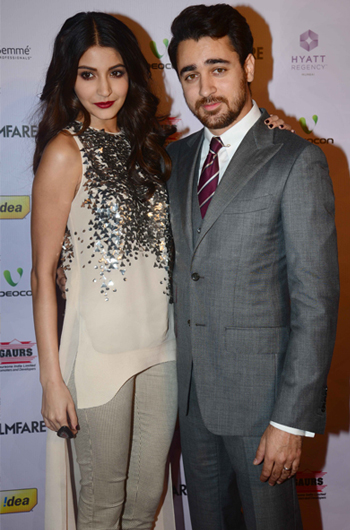 Anushka Sharma & Imran Khan
With the release of their film finally out of their way, Matru Ki Bijlee Ka Mandola stars Imran Khan & Anushka Sharma finally were able to make a non-in-character appearance. Anushka works the Cue by Rohit Gandhi + Rahul Khanna look and how! Loving the hi-low sequined top, the chunky strap heels and the dark lips. As for her partner in crime Imran, well he looked quite dapper as well in his grey suit and purple striped tie. Loving that he's ditching the clean-shaven look these days. This works for me more. What do you think ladies?
Verdict: Anushka & Imran are HOT!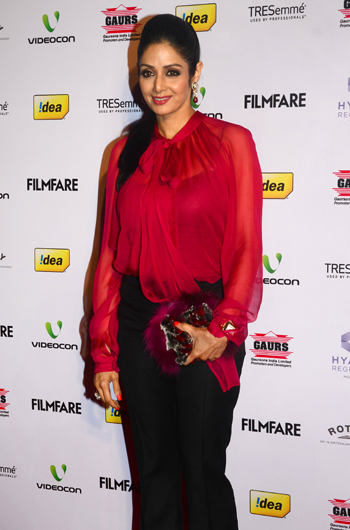 Sridevi
Going slightly down the corporate chic look on the night was Sridevi in a red kitty bow blouse and black trousers by Rohit Gandhi & Rahul Khanna. I don't know about you all but the look to me came off looking a bit too overwhelmed. Add to that the ill matched purple fluffy clutch, which was exactly that, ill matched!
Verdict: Sridevi is NOT HOT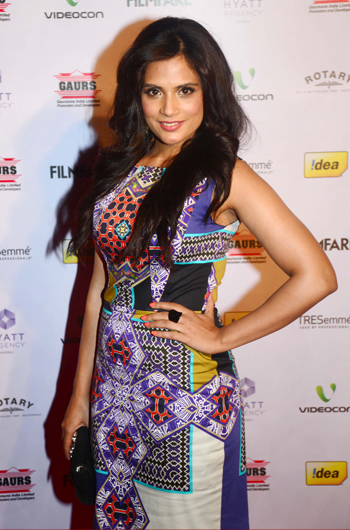 Richa Chaddha
Gangs of Wasseypur star Richa Chaddha was spotted in an Etro printed dress. I don't have any issues with the dress and Richa even wears it well but perhaps a change in how it was styled would make this a winning look for me. The hair worn down, the make up and the boring accessories really minimized the chances of this look being a hot one.
Verdict: Richa Chaddha is NOT HOT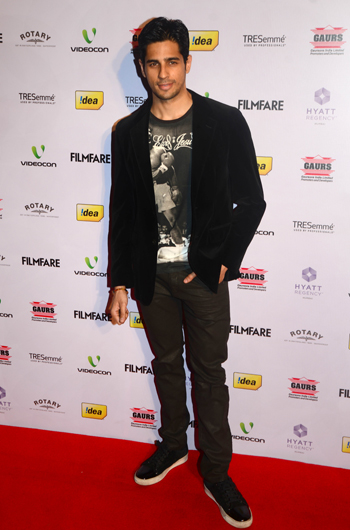 Siddharth Malhotra
Usually one to dig the printed retro shirt-blazer-denims look this time around I really didn't fall for it on Siddharth Malhotra. Maybe it was the lack of any color or the shoes? Overall what a disappointing look from a gorgeous man!
Verdict: Siddharth Malhotra is disappointingly NOT HOT!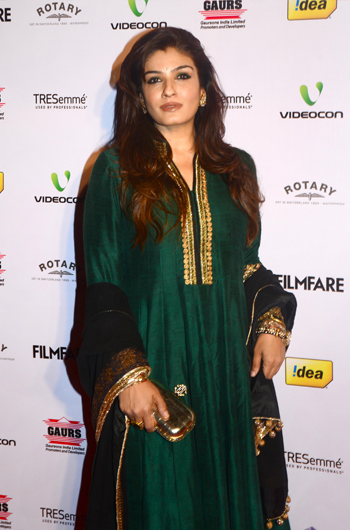 Raveena Tandon
I do wish our ladies would take a break from Manish's designs until he brings us pieces that are less overwhelming and well frankly, less boring! Really not loving the green floor length anarkali. There are so many more gorgeous looks a woman as stunning as Raveena could be pulling off but instead we're faced with this one!
Verdict: Raveena Tandon is NOT HOT
Sonali Bendre
Now that is what I call a cleverly selected Manish Malhotra piece! Although still a piece from his obsessed-with-floor-anarkali collection, this one works for its unique color combination. The net gives it a light and fresh appeal. And of course Sonali wears it very well! Nice call on ditching major accessories and sticking to a simple clutch and barely-there earrings.
Verdict: Sonali Bendre is HOT!
Shruti Haasan
So she's a real life rockstar who loves making bold choices be it with her fashion or films but sadly for Shruti this risky move doesn't work out. Not quite sure what I dislike more, the lips or the dress? Or maybe I'd warm up to the lips if it wasn't paired up with THAT attire? I guess it will all remain a mystery!
Verdict: Shruti Haasan is NOT HOT!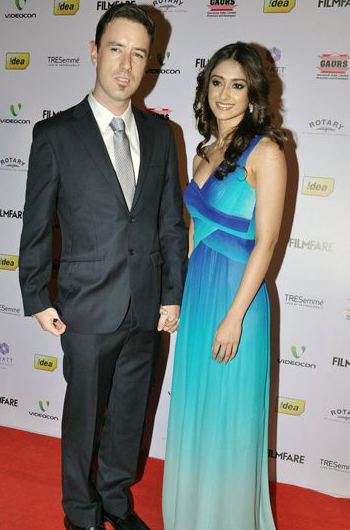 Ileana D'Cruz
Ms. D'Cruz opted for an ombre maxi that unfortunately didn't do justice to her. I do hope she makes smarter choices for the rest of the award season.
Verdict: Ileana is HOT but her gown is NOT!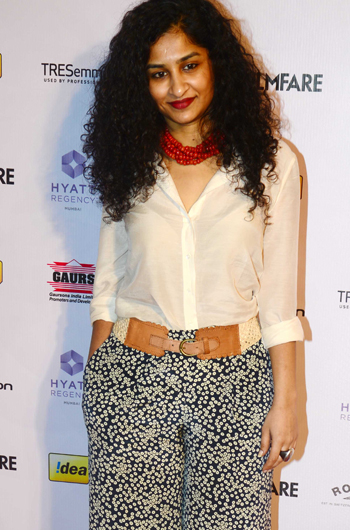 Gauri Shinde
She directs well, brings us back Sridevi after 15 years and even dresses well! Gauri Shinde is indeed a woman to celebrate. I'm loving the wide legged pants look. Especially love the pop of red for a neckpiece.
Verdict: Gauri Shinde is HOT!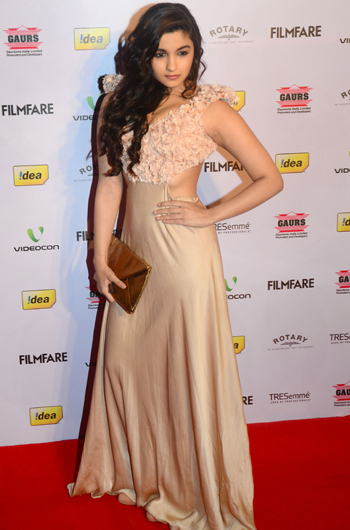 Alia Bhatt
Finally ditching the micro mini was Alia Bhatt on the night. She turned to an equally risky and bold design of Sonakshi Raaj's. Unfortunately as sexy as the backless gown and the side cut design might be from a glance, the overwhelming front design really is a downer for the whole look. What a shame because otherwise Alia looked rather fabulous and even pulled off the color well!
Verdict: Alia Bhatt is HOT but her gown is NOT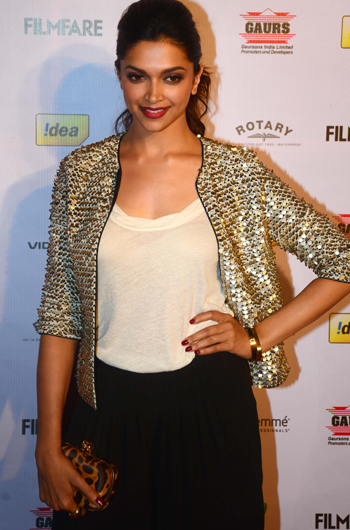 Deepika Padukone
Not every day you get a half-baked or rather tired look from Deepika. Somehow this Rohit Gandhi + Rahul Khanna attire just didn't have the 'it' or 'wow' factor we're so used to seeing on Deepika. The animal print clutch doesn't work for me neither does the blinged out jacket.
Verdict: Deepika Padukone is NOT HOT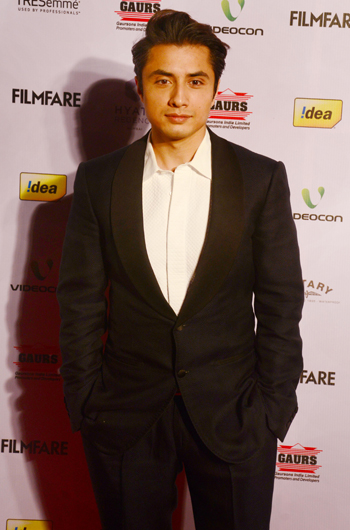 Ali Zafar
It was a traditional black/white combo for Mr Zafar on the night. I cannot decide if I miss a bow tie or a simple tie so I'll leave that to you guys but for now he belongs on my hot list!
Verdict: Ali Zafar is HOT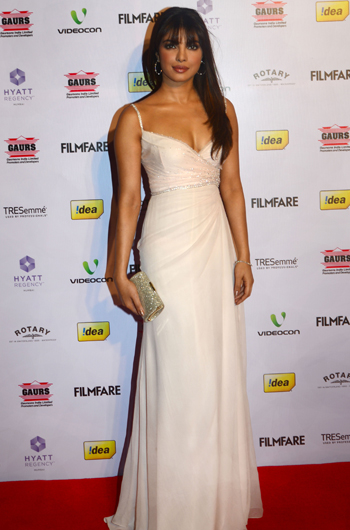 Priyanka Chopra
Sporting a simple white gown on the night was Priyanka Chopra. Whilst I loved the attire by Dior, really not a fan of the hair she chose to accompany it. Don't you wish she'd ditched her rock-star hair-do for the night and gone for something a bit old school, classical and striking?
Verdict: Priyanka Chopra COULD HAVE BEEN HOTTER!
Huma Qureshi
Doing Bollyspice's WHWN means you know a cry for a new stylist when you see one and sadly for Huma Qureshi this appearance is definitely one of those cries. Nothing is working for her. The dress is wrong in more than one way, the pumps are way off the mark and the clutch is as miss-matched as they come. And I've not even gotten to the hair styling or the pink lips? We do hope Ms Qureshi is in better company, fashion wise, for the rest of the award season because otherwise it is going to be a long and painful season!
Verdict: Huma Qureshi is NOT HOT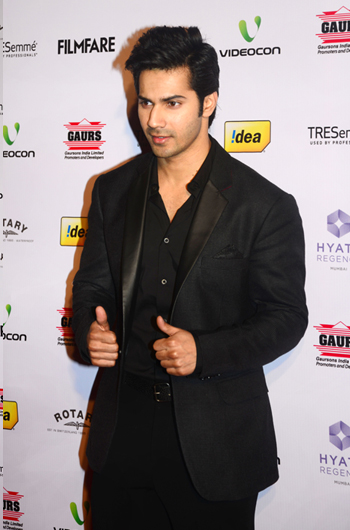 Varun Dhawan
Doing the timeless all black look on the night was Varun Dhawan. Gotta love a man who sticks to the old school ways and Varun sure as hell pulls it off well!
Verdict: Varun Dhawan is HOT!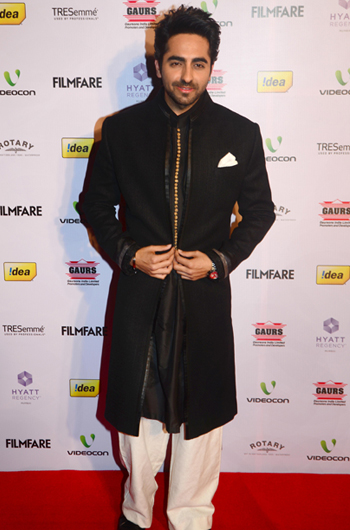 Ayushman Khurana
Our Vicky Donor star was one of the few men who did Desi on the night. Whilst I love a man in an elegant kurta-pajama there's a few issues with Ayushman's looks. Firstly the look seems more appropriate for the actual award ceremony rather than a mere nominations bash. Secondly the fitting of the attire seems to be a little off if you notice the pants around the feet. Better luck next time Mr Khurana!
Verdict: Ayushman Khurana is NOT HOT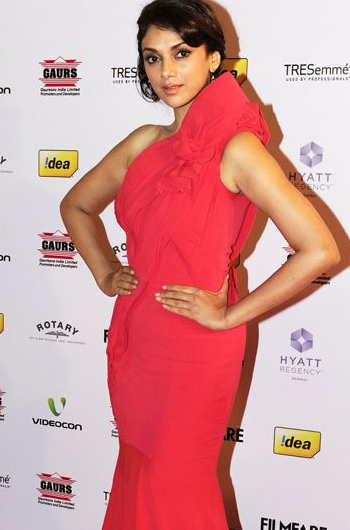 Aditi Rao Hydari
London Paris New York star Aditi Rao Hydari went with a Gaurav Gupta gown on the night. Since the gown is of THAT calibre she styled herself devoid of any accessories and color. Whilst usually I love it when a woman knows when to stop accessorising, for this look I think she over did the underdoing? If that makes sense! Not to mention the gown is really not something to rave about and like Mr Khurana's attire, slightly more appropriate for the award ceremony itself.
Verdict: Aditi Rao Hydari is NOT HOT
So yes whilst the red carpet was steaming hot with the biggest names in show biz the fashion on the night wasn't quite as hot. We do hope the stars put up a better show for us fashionmongers at the actual award ceremony in a few weeks time. For now stay tuned to Bollyspice for all your Bolly-fashion updates this exciting awards season!