To celebrate the upcoming release of Akshay Kumar's production, Speedy Singhs, and introduce the cast of the film to B'town, the Bollywood star and wife Twinkle Khanna held a party in their Juhu home on Wednesday.
Stars such as Sonam Kapoor, Sonakshi Sinha, Karan Johar and Bipasha Basu turned up to show their support and party until dawn!
We of course put our fashion hats on to see if the stars had dressed to impress us with their outfit choices. Click on to see which stars outfits were looking hot and which unfortunately were not…..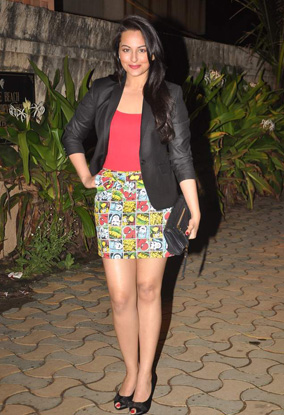 I love Sonakshi Sinha's pop art skirt! The skirt adds some fun to her outfit and makes a change from the usual outfits worn by the stars. It is so nice to see that Sonakshi has dared to be different. Sonakshi looks stunning and I love that she has matched her lipstick and nail varnish to the red of her top!
Verdict – Sonakshi Sinha is HOT!