B-Town was present in full force at Yash Raj Studios on Wednesday for Apsara Film & TV Producer's Guild Awards 2012 sponsored by Chevrolet. Here's the verdict of fashion on the red carpet on the night.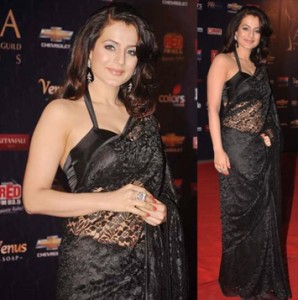 Amisha Patel
Amisha Patel made an appearance in a lace black saree and kept the accessorising to a minimum. Whilst this is definitely a much better choice than some of her recent outings I can't help but think that the idea of a black lace saree is rather dated, as is that blouse design. Add to that the mess that the hair is, this look unfortunately doesn't score well on the BS fashion radar.
Verdict: Not Hot.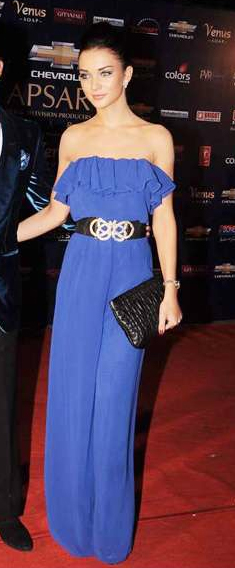 Amy Jackson
It was yet another winning appearance for Ek The Deewana star Amy Jackson in this blue ruffles jumpsuit. Not many can make a jumpsuit of that color look so elegant but Amy manages to do just that. Love the choice of black belt and clutch to compliment the blue.
Verdict: Very Hot!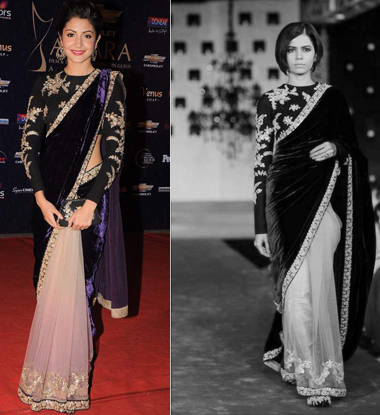 Anushka Sharma
By now we all know that Ms Sharma has a soft spot for Sabyasachi couture so it was no surprise seeing her grab a velvet saree and blouse by the designer that had debuted not too long ago on the ramp at Lakme Fashion Week 2011. Whilst I do love that she wore it with the exact blouse the saree was presented with on the ramp, one can't help but wish that she'd left the pallu unpinned. Although I do find the unpinned pallu style to be slightly overrated when it comes to formal events but this velvet pallu in particular just doesn't sit quite right when pinned up. Nonetheless Anushka ends up at the 'hotter' end of the spectrum with this look.
Verdict: Quite hot!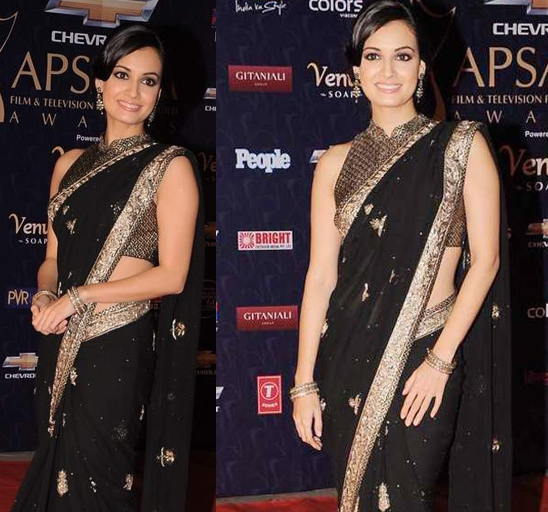 Dia Mirza
It was a black saree and a high neck embellished blouse for Dia on the red carpet that I dare say may be a Ritu Kumar piece. Quite a safe choice and a look that Dia pulled off effortlessly. Kudos for avoiding any other bling whilst accessorising since that blouse has enough sparkle in itself.
Verdict: Definitely hot!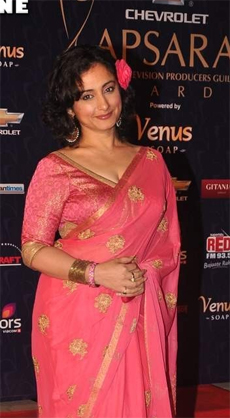 Divya Dutta
One to always sport her own unique style Divya Dutta did just that at Apsara also. Unfortunately I don't take a shine to this look. The pink saree and ditto matching blouse is somewhat of an overkill. A contrasting blouse would have definitely been a better choice, perhaps a gold one. The flower in the hair gives the look a very confused vibe as the saree is elegant and formal but the flower in the hair is something we relate to a more resort-ish/day look.
Verdict: Not Hot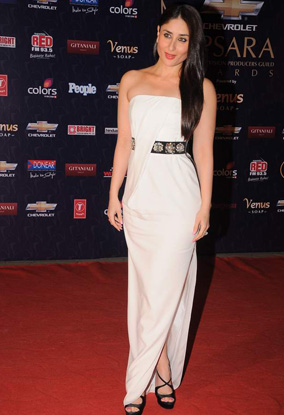 Kareena Kapoor
Bebo took a break from her Ek Main Aur Ek Tu promotional activates and graced the red carpet in a Paul Ka own. The look is simple, elegant and flawless! From the red lips to the lack of accessorising and the black strapped heals, we love it all!
Verdict: HOT!!!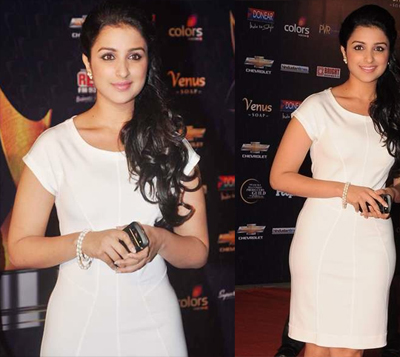 Parineeti Chopra
We had another lady on the red carpet giving us an all white look, Parineeti Chopra of Ladies V/ Ricky Bahl fame. Whilst I would have loved the stunning actresses to give us more of a glamorous look, this simple white dress look is quite flawless in itself.
Verdict: Wish it was hotter!
Priyanka Chopra
In toe with cousin Parineeti, Priyanka also opted for white. Unfortunately this white look just didn't work for me. The saree was rather boring and just nothing to rave about.
Verdict: Not Hot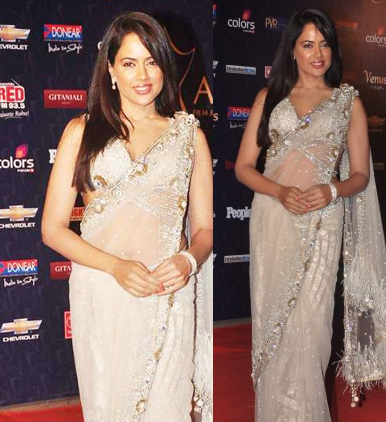 Sameera Reddy
Sameera Reddy added to the list of ladies in white in this Falguni and Shane Peacock saree. The actress looked quite stunning however the saree itself was just a bit blingy for my liking. White is elegant in itself thus the saree felt a tad bit overburdened with the various embellishments and stone work. Add to that the feathers in the pallu, this one definitely misses out on the hot rating.
Verdict: Not Hot
Shazahn Padamsee
Shazahn's one busy lady who doesn't miss a single red carpet event. Luckily for her she has a quite a good fasion sense and manages to leave an impression at most of them. This Gavin Miguel gown flowed beautifully on the red carpet. Some may not be a fan of the top half design but I for one am loving it!
Verdict: Hot!!

Sophie Chaudhry
Sophie sizzled in a red Ramona Narang gown and gave us an absolutely flawless appearance!
Verdict: HOT!!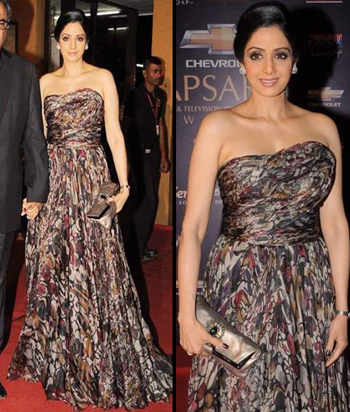 Sridevi
It was our lucky day as we had a Sridevi sighting! The printed Eli Saab gown looked absolutely marvellous on her. There's really not much more to say other than flawless!
Verdict: Too hot!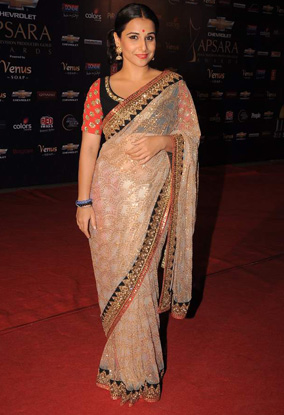 Vidya Balan
Another day, another Sabyasachi on Vidya Balan. A safe choice that looked great on the red carpet.
Verdict: Hot!