When it comes to fashion in Bollywood the films either get it really right or really wrong and this year is no different. 2011 has not been groundbreaking when it comes to fashion first's like 2010 but it has not been a completely bad year.
This year we have put our extra fashionable hats on to bring you this special edition of WHWN. This WHWN looks at some of the best and worst films in 2011 and decides whether or not they have what it takes to go down in fashion history.
Click on to see which movies where looking fashionably hot and which will be perhaps receiving the only award this year – the worst fashion award and that is nothing to be proud of!
Dil Toh Baccha Hai Ji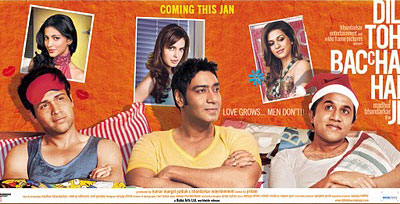 This romantic comedy starring Ajay Devgn, Emraan Hasmi, Omi Vaidya, Shazahn Padamsee, Shruti Haasan and Shraddha Das failed to leave an impact on the box office and the only thing that got us laughing where the bad costumes. From the boring and predictable clothing worn by the male leads to the cheap and unflattering dresses seen on the actresses this was one film that did not appear to think about the character's wardrobes.
Verdict – Dil To Bacha Hai Ji is Not Hot!
Thank You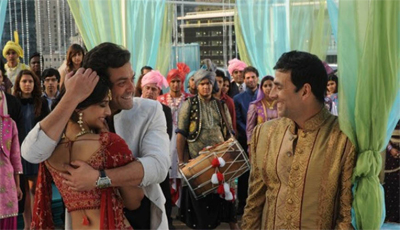 Another romantic comedy but the difference is this got us talking not only about the story line but also about the great fashion.
Thank You featured the star cast of Akshay Kumar, Bobby Deol, Suniel Shetty, Irrfan Khan, Celina Jaitley and Sonam Kapoor and it was the latter that got us talking about her wardrobe. Stylist Pernia Qureshi who brought us Sonam's amazing look in the film Aisha styled Sonam in Thank You and she did a great job once again.  Sonam's character Sanjana may have needed guidance in her marriage but she certainly did not when it came to her wardrobe. Be it western attire or the gorgeous Indian bridal outfit, sported by Sanjana in the last scene, Sanjana was always looking fabulous!
Sonam Kapoor was not the only star in the movie that had a great wardrobe; the male leads where also looking dapper, as was Celina Jaitley. Her character Maya may not have been in the movie for long but her lovely printed sari's did not go unnoticed!
Verdict – Thank You is HOT!
Haunted 3D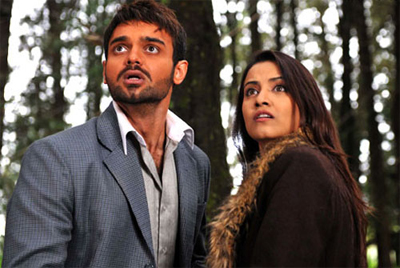 Haunted 3D may have scared the public but the thing we where afraid of in this movie was the terrible fashions.
The fashions that the leading stars wore where just down right tacky. The wardrobe that Mahakshay Chakraborty's character Rehan wore was predictable and boring. As for Tia Bajpai, her character Meera, had a equally terrible wardrobe that saw us frightened by the ugly fur collared coat, which we never want to see again!
Verdict – Haunted 3D is Not Hot!
Ready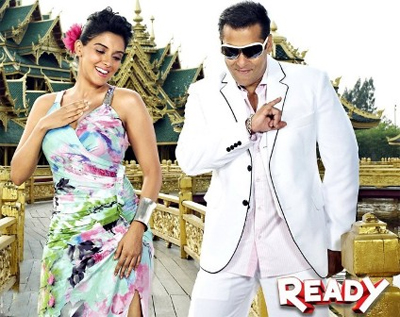 Salman Khan starrer Ready may have received impressive box office results but one thing that did not impress us was the terrible outfits.
If there were one film this year that would be in the lead of receiving the worst fashion of the year award then Ready would get it. Really what was Asin's character Sanjana wearing? From the tacky printed dresses to the unflattering jeans one could only wonder what the costume designer, Salman Khan's sister Alvira Khan Agnihotri, was thinking when she decided to dress Asin so badly. If there is one thing we can take from this movie to 2012 it is how not to dress!
Verdict – Ready is Not Hot!
Bbuddah….Hoga Tera Baap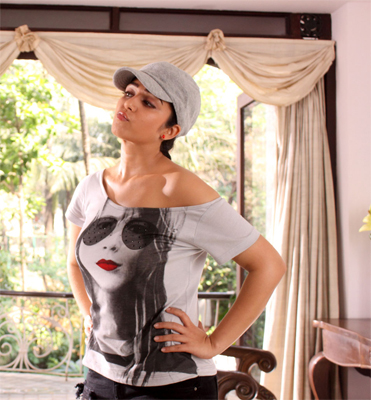 Amitabh Bachchan is perhaps the only actor that can carry of a white suit but it does not mean this a good look to copy. Floral shirts and bright coloured scarves are never a good look on anyone but we have to admit that the unfashionable outfits did fit in with the quirky personality of Vijju.
What we don't understand is why everyone else in the film had to dress so unfashionable. Charmee Kaur who played Amrita, the daughter of Raveena Tandon's character, had a horrible wardrobe that got us shaking our head in disgust. From the tacky hats to the unflattering jeans and t-shirt combo we can only wonder what unfashionable shop they got these clothes from.
As for Raveena Tandon she may have looked great but her character's wardrobe was not. We never want to see that black jumpsuit that she wore in the song Chandigarh Di Star again!
Verdict – Bbuddah….Hoga Tera Baap is Not Hot!
Bodyguard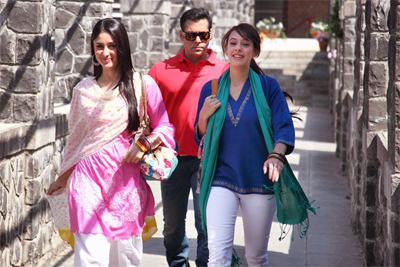 Bodyguard provided another hit for Salman Khan in 2011 but it wasn't Salman that got us talking in this movie. For us fashion heads, Bodyguard was all about Kareena Kapoor's character Divya's amazing wardrobe. Styled by Manish Malhotra Kareena Kapoor was once again looking fabulous in her all Indian attire wardrobe. It was reported that Manish wanted to recreate the brilliant look that Kareena sported in Jab We Met and that is exactly what he did.  With such an eye-catching wardrobe its no wonder Divya needed a bodyguard.
Verdict – Bodyguard is HOT!
Zindagi Na Milegi Dobara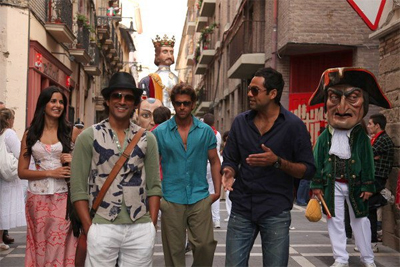 It wasn't just the story of Zindagi Na Milegi Dobara that got us singing its praises but it was the wardrobe that caught our eye too. Arjun Bhasin was the costume designer for Zindagi Na Milegi Dobara and he did a great job in matching the characters personality to their wardrobe.
We loved that each of the three friends had a different wardrobe that stood out for different reasons. Farhan Aktar's character Imraan was a bit of a hippy and his wardrobe of kurta tops, hats and designer sunglasses matched his eclectic personality. Whilst Hrithik Roshan played the investment banker Arjun so he sported a number of tailored and crisp outfits. Abhay Deol was a bit of a joker and his colourful clothing matched his personality. Katrina Kaif, who played the female lead Laila, sported a boho casual wardrobe that matched her free spirited personality. With such a thoughtful wardrobe for the characters it is no wonder this film did so well!!
Verdict – Zindagi Na Milegi Dobara is HOT!
Mere Brother Ki Dulhan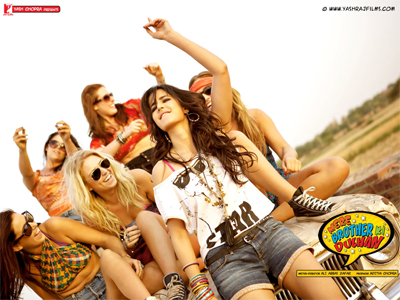 Mere Brother Ki Dulhan showed Katrina Kaif in a new boho, with a hint of rocker chic, avatar. We for one loved Katrina's makeover for this movie. Katrina Kaif's character Dimple was seen in a number of fun and colourful outfits that where right on trend. Rocky S did a great job on styling Katrina Kaif in this movie and we particularly loved her look in the song 'Dhunki'.
Verdict – Mere Brother Ki Dulhan is HOT!
Mausam
Another film with Sonam Kapoor saw another great wardrobe. Sonam always seems to bring her great fashion sense to her characters on the big screen.
Anamika Khanna was the costume designer for Mausam and she did a good job on Sonam's character Aayat's wardrobe. Be it the simple salwaar suits sported by Aayat when she was seen in the Punjab or the vintage style western dresses she wore in Scotland, Aayat was always looking good.
Verdict – Mausum is HOT!
Rascals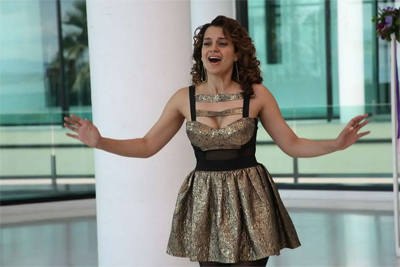 Sometimes we can deal with a bad storyline if we can feast ourselves on some amazing fashion but this was not the case with Rascals.  The film didn't perform well at the box office and neither did the fashion. From the moment Kangana Ranaut's character Khushi was introduced in that horrible bikini we just knew it was going to be downhill. From then onwards Khushi was seen in a number of horrible outfits that made the watching the movie even more unbearable. Lisa Haydon, who also made an appearance in the film, had an equally as bad wardrobe and was seen sporting a number of trashy dresses. As for the male leads, the less said the better!
Verdict – Rascals is Not Hot!
Love Breakups Zindagi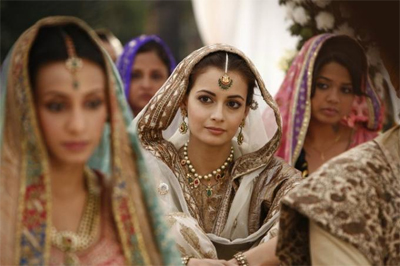 Love Breakups Zindagi may have received average reviews but if there is one thing that made the film memorable for us it was the fashion. The film was beautifully styled and Dia Mirza's character Naina looked lovely in her fresh and colourful outfits. The outfits that where sported by the cast of the movie where believable but at the same time where fashionable. Love Breakups Zindagi got this balance correct and will be remembered for its lovely fashions if nothing else.
Verdict – Love Breakups Zindagi is HOT!
Rockstar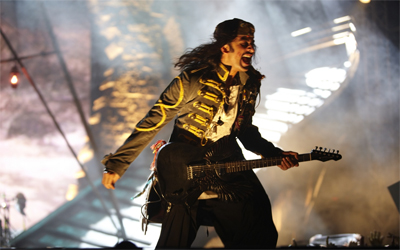 When it came to styling the stars of the movie Rockstar it was either going to go really right or really wrong, luckily for this movie Manish Malhotra and
Aki Narula got it really right. Ranbir Kapoor's character JJ sported a refreshing avatar that had the feeling of a rock star but was not predictable. The wardrobe correctly changed as JJ developed and changed throughout the movie.
Nargis Fakhri's character Heer too sported the perfect wardrobe that fitted in well with the movie's vibe. Be it the Kashmiri style-wedding attire to her everyday outfit's, Heer sported the perfect look that fitted in with her character.
Manish and Aki made sure to think about all aspects of the characters wardrobe be it the scarves Heer wore around her neck or JJ's waistcoats nothing looked out of place in the movie.
Verdict – Rockstar is HOT!
The Dirty Picture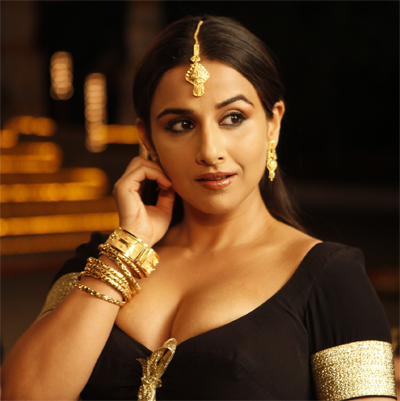 The Dirty Picture got everyone talking because of Vidya Balan's performance but it also got us talking because of her outfits. Perhaps not the first movie that would come to your mind when talking about fashion, but the bold costumes did stand out to us and fitted in perfectly with the movie.
It was reported that Vidya Balan had to wear about a hundred costumes in the movie, and the designer Niharika Khan and Milan decided each look in great detail before starting the shoot of the movie. Well the attention they paid to detail did not go unnoticed because the costumes fitted in perfectly with the era and vibe of the movie.
Verdict – The Dirty Picture is HOT!
Don 2: The Chase Continues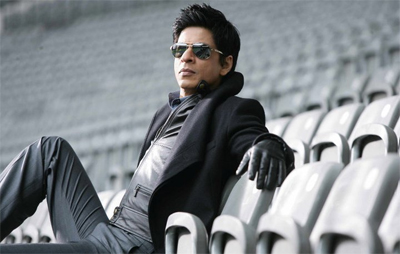 This is the one movie where we noticed the male leads wardrobe more than the females. Shah Rukh Khan aka Don was looking suave in his well thought out wardrobe that suited his character to the letter. We could not take our fashionable eyes of his character.
Priyanka Chopra and Lara Dutta's wardrobes may not have stood out as much as Shah Rukh Khan's did but they did suit the role of the characters. The black evening dress that Roma wore in one of the scenes of the movie particularly stood out to us and looked fashionable and chic. For once though, the top marks goes to the actor Shah Rukh Khan's fashionable wardrobe.
Verdict – Don 2 is HOT!