Fashion and the red carpet have a symbiotic relationship. They simply cannot exist without one another so naturally since its awards season in B-Town our WHWN section is going to be busier than ever! Without further delay lets get judging with the first award function of the season: Colors Screen Awards!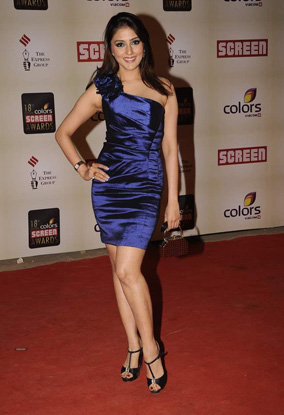 Aarti Chhabria
It looks like Ms Chhabria didn't get the memo that this was an awards function… The dress is way too casual for the red carpet. No denying that she does look great, just out of place. Perhaps a one-sided hairdo highlighting that one shoulder design the dress endorsed could have made this outfit more red-carpet worthy. Whilst this would be a hot rating on any other day, for the red carpet I'm going for a not hot rating for Aarti.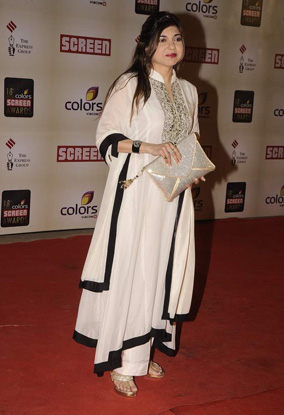 Alka Yagnik
This legendary singer always knows how to dress elegant. The color combination of Alka's salwar makes it royal in itself. However, some accessorising blunders leave this look at the almost-hot level, namely, the oversized clutch and the black bracelet that should have been replaced with bling of some shape or form, perhaps…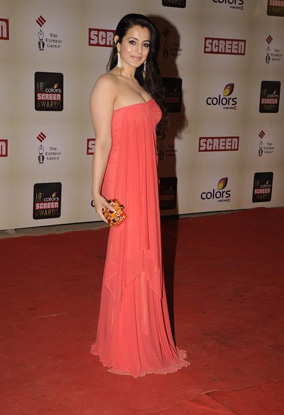 Ameesha Patel
Whilst Ms. Patel knows her big brands and designers she doesn't often wear them well. This look thankfully is an exception even though it's nothing to rave about, its nothing that makes you shake your head in disappointment either. Less is always more and this beautiful flowy gown exhibits just that. Perhaps a fancier hair-do with more volume could have taken this look to a whole new level. For now Ameesha scores a quite hot on our ratings bar.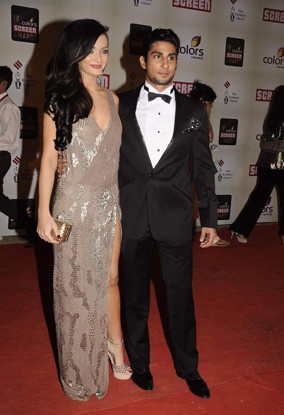 Amy Jackson
I'm going to quite conveniently ignore the rather good-looking actor on Amy's right who clearly has forgotten the location of his shaver and instead concentrate on the lady herself. What a striking outfit! She pulls it off and how! If only those tacky platform heels were ditched this would be a completely classy and hot outfit nonetheless Amy scores a Pretty-damn-hot for now.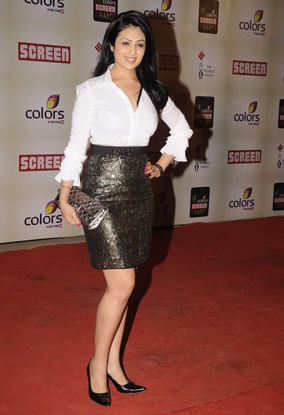 Anjana Sukhani
It really pains one to see a pretty girl get her fashion oh-so-wrong! There's really no place to start with this one so all I can do for now is pray that Anjana gets herself a stylist PRONTO! Not Hot!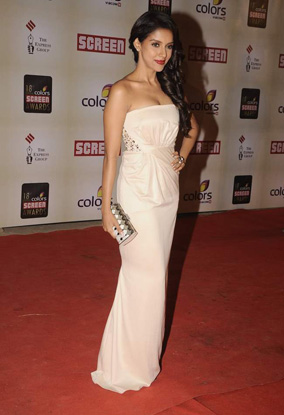 Asin
Rarely does Asin disappoint and this event was no different. The striking red lips compliments the cream gown perfectly making it a winning look all around! Perhaps if pressed to pick a flaw it would have to be the silver clutch which looks a tad bit out of place. Pretty-freakin'hot!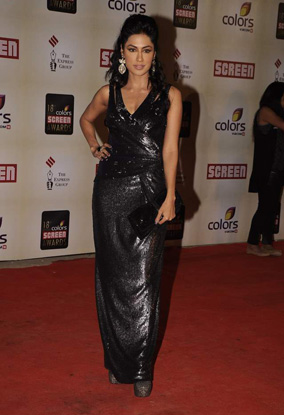 Chitragandha Singh
I think we're all still getting to know Ms Singh's style statement. She's never one to bore and tries out new things. Sadly for her it doesn't always pan out such as this all-black look she opted for. The fabric itself screams 'tacky'! More importantly in this photo, courtesy of the flash, the dress doesn't highlight Chitragandha's figure in the more favourable way. Add to that the icky shoe choice, the bland makeup and oversized earrings, this one was a disaster all around! NOT HOT!
Deepika Padukone
Aqua is without a doubt one of the most flattering colors on the Desi skin-tone and Ms Padukone simply re-affirmed this opinion of mine. This Gauri-Nainika gown would have definitely made heads turn on the red carpet. From the ruffles to the back design, this was one heck of an outfit! Ofcourse the stunning lady adorning it simply added to its beauty. However one thing does irk me and that would be Ms Padukone's dye job! Why those light brown streaks?! They scream 'tacky' and 'wanna-be' and prove to be such downers! Supremely-Hot-minus-the-dye-job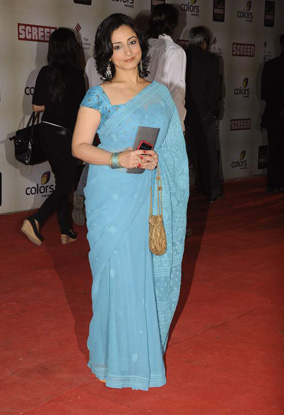 Divya Dutta
It was a beautiful pastel blue saree for Divya Dutta which although some may claim to be too subtle for the red carpet, I thought suited the lady's style all too perfectly. Had the clutch color been re-thought and the red nails been removed, this would be a quite the flawless look! Simply hot…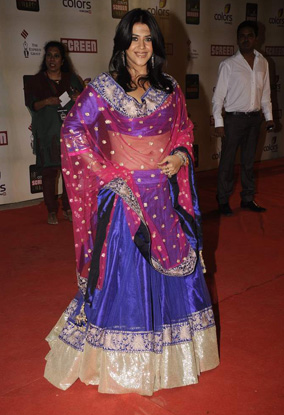 Ekta Kapoor
My favourite lady on the carpet for the night just has to be THE Ekta Kapoor who's successful year was all too evident in her presence –  attire, expression and all!  Whilst I do think she had quite the style going in the past couple of months in her Malini Ramani dresses/kaftans, I'm so glad she ditched it for a more glamorous-do for the award show with this Manish Malhotra lehenga. Normally not a fan of a net dupatta worn in the manner it has been here but Ekta makes me even love that! Some may call it too festive for the red carpet, I say it's the perfect festive attire for a night of celebrations for a producer who has had the year Ekta has had! Extremely Hot!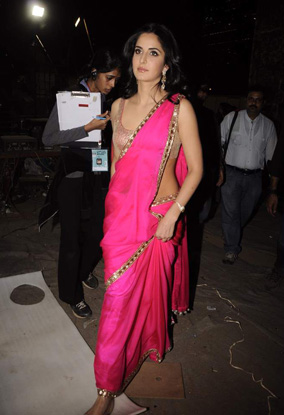 Katrina Kaif
*Yawn * I'm sorry I really have nothing else to do when I see this sleeve-less bling blouse and plain saree look. Katrina Kaif looks like she time travelled to Singh Is King simply because she was too lazy to venture out for a new oufit. I would pay this lady to be more adventurous with her outfits simply because she's got the body to pull off just about anything yet she bores us each time. That aside, the look is a flawless one, just a boring one also.  Boringly-Hot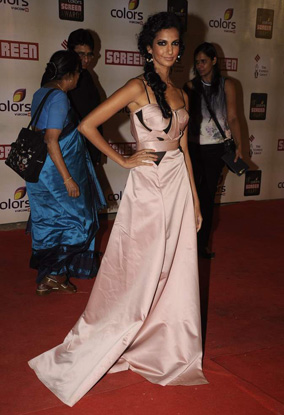 Poorna Jagannathan
Poorna keeps us glued to her style simply because you don't know what she'll wear next! Whilst the styling of this outfit is not absolutely perfect I do love the combination of a elegant flowy gown with the grudgy eye makeup. Quite Hot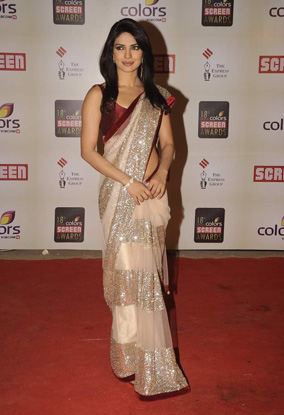 Priyanka Chopra
We had another Manish Malhotra on the red carpet and this time on one of the designer's favourites, Priyanka Chopra. This was a great break from the skirts, dresses and the general boring western attire Ms Chopra has been giving us in the past couple of months. All in all, although not the most innovative of outfits that makes you say 'wow' it remained rather flawless. Hot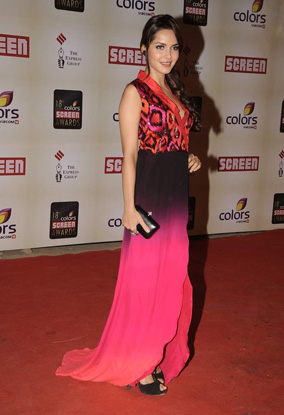 Shazahn Padamsee
Shazahn was the only lady to brave a printed gown on the carpet and might I say she pulled it off quite well! Shoes, clutch, hair and all! Quite Hot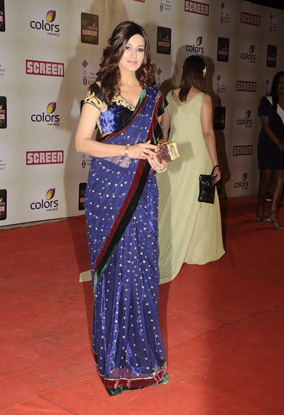 Sonali Bendre
There's nothing quite as elegant as an Abu Jani and Sandeep Khosla outfit and what better place to wear one than an award function! Sonali definitely made the right choice with this beautiful net saree and velvet blouse. I really have nothing more to say except that she looks absolutely stunning! Too hot!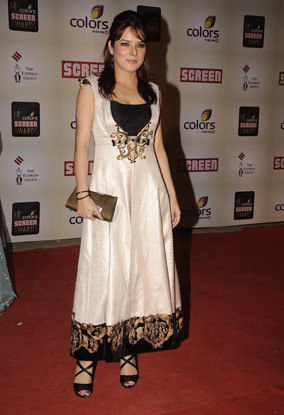 Udita Goswami
It was a simple white, black and gold salwar for Udita that she matched with black accessories and shoes. It was a refreshing break from the multi-layered and floor length anarkali everyone seems to be sporting these days. Once again we have a lady on the carpet who clearly understands the power of the express 'less is more'. Very Hot!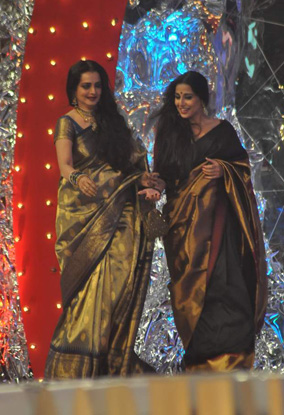 Rekha & Vidya Balan
Vidya seems to have unconsciously mimicked Rekha's trademark style mantra, silk saree with one sided hair. However if we had to pick between the ladies my vote would be for Rekha all the way. Why? Vidya's saree just seems to be overbearing her to the point of looking unflattering! If you're going to not pleat your pallu then holding it out is an art in itself, one which is hard to master when wearing such a heavy silk saree and one which clearly Rekha has down pat! Rekha – Hot | | Vidya – Not Quite Hot
Well there you have it guys! The first of it is now over and we're all warmed up for the many more awards to come. For the stars that dodged the bullet this time, don't worry you'll surely not be so lucky next time. It will be interesting to see the reappearing stars at award functions and just how innovative and impressive they keep their fashion on the red carpet throughout the season. Stay tuned to Bollyspice and we'll be sure to keep you updated.