Bollywood film promotion unshamefully has no bounds. Recently Ekta Kapoor threw a lavish Iftar Party to promote her upcoming production, Once Upon a Time In Mumbai Dobara. But we're more interested in the fashion on the red carpet. B-Town attended with all their glitz and glamour. Good glitz and glamour or bad glitz and glamour, well that is for me to know and you to find out!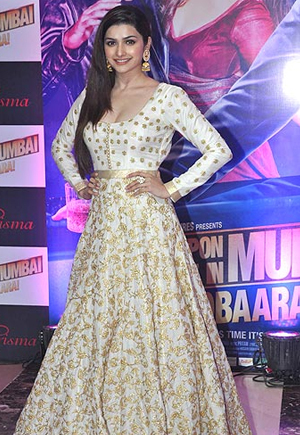 Prachi Desai
Going the Disney Princess route was Prachi Desai in a Sonam and Paras Modi in a floor length anarkali. The anarkali is quite striking but I'm not quite sure where the dupatta for the anarkali went and whilst I usually don't mind it, the outfit and the occasion demanded for one. I wish Prachi had gone for different hair also.
Verdict: Luke warm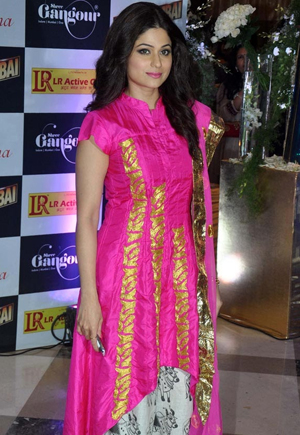 Shamita Shetty
Shamita went for a bright pink Masaba embroidered kurta and cow print pants. I wish Ms Shetty had skipped on the pink lips and kept her hair subtler with a kurta as loud as that. Regardless, she looked quite lovely.
Verdict: Somewhat hot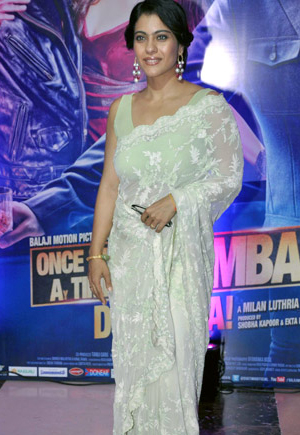 Kajol
Kajol put in an appearance at two Iftar parties on the night, and wore the same at both. The Shehla Khan saree was a lovely break from all the loud colors and shimmering outfits on the red carpet. However, not really feeling the styling of the stunning saree.
Verdict: Kajol & Saree are hot, styling is not!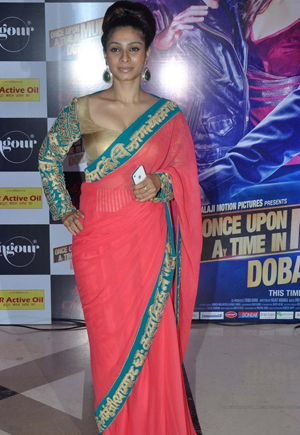 Tanisha
Tanisha didn't have the same luck as her sister with her attire. Who knows if it could have worked had it not been for that disastrous styling that is just wrong on several levels! Someone help the poor girl because this is just getting tragic.
Verdict: Not hot!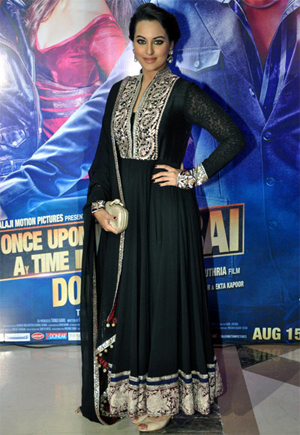 Sonakshi Sinha
Keeping it traditional, but perhaps in not the most festive of colors was Sonakshi in a Manish Malhotra. She looked effortlessly beautiful. Dark eyes and pulled back hair was a lovely addition.
Verdict: Hot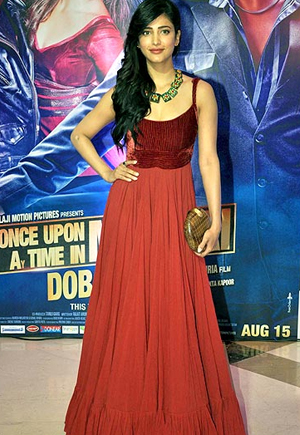 Shruti Haasan
Shruti ditched bling with an Anita Dongre maxi and Curio Cottage necklace. Seeing as the purpose of the night, iftar party or movie promotion bash, is not all too clear, I won't comment on whether she should have opted for something else. Also because she looked so damn hot one can hardly care!
Verdict: HOT!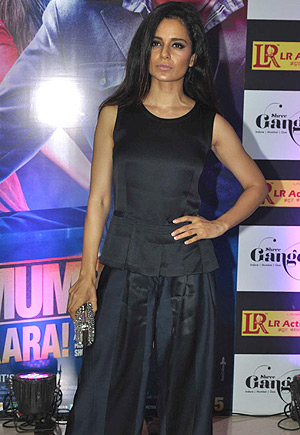 Kangana Ranaut
So yes, we're not judging attires based on appropriateness, but somehow Kangana's was just in the wrong place and there's no denying it. Also would love to see Ms Ranaut sporting a more natural look one of these days instead of the "I'mfashionista-pout".
Verdict: Not Hot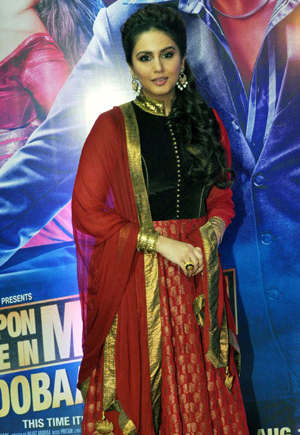 Huma Qureshi
I guess Huma took it to be a iftar party in its true essence and went fully traditional with her look. She looked stunning in her Shurit Sancheti anarkali and perhaps this is a first for Huma, but I really can't fault her styling this time around.
Verdict: Hot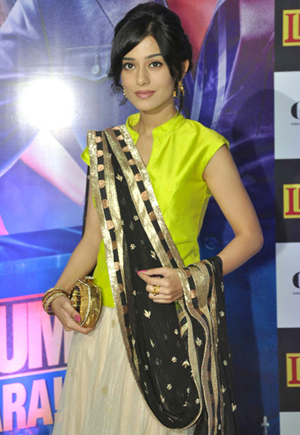 Amrita Rao
Amrita continues to suffer from a serious case of OTT. The Anita Dongre lehenga would have worked with anything but that neon green choli. As if the lehenga and choli weren't overwhelming enough on the petite lady, she decides to go for an over the top upstyle instead of something simple and sweet. She clearly is stuck in the 90s, come on even Madhuri is moving on these days!
Verdict: Not hot!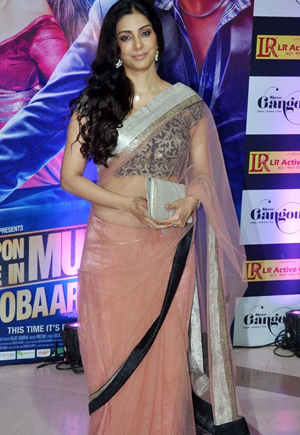 Tabu
Tabu gave me a cringe worthy look on the night not because it was so bad, but because it could have easily been so good! The falling pallu was all too shabby in the net saree and is a look only a few can pull off and sadly Tabu isn't one. Pin the same net pallu and the problem would have been easily solved and the Anamika Khanna saree wouldn't have come across looking so messy. Secondly, what on earth is happening with her makeup? The only thing that was working for her was the hair.
Verdict: Could have been hot!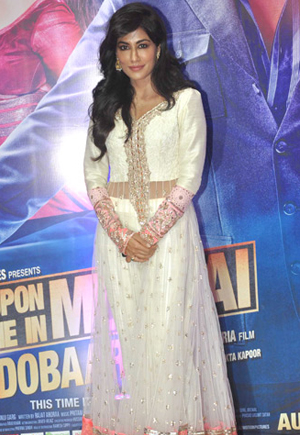 Chitrangada Singh
Truly embracing the festivities in a Manish Malhotra was Chitrangada. Sadly the look was just way too loud and tacky. Maybe it's the outfit, maybe it's how it was worn. Who knows!
Verdict: Not hot!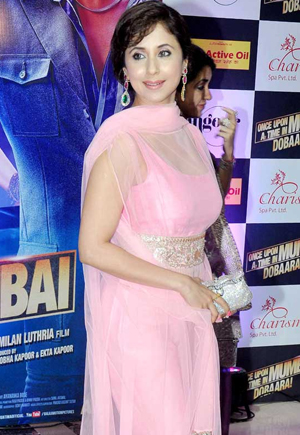 Urmila Matondkar
Surprise! Urmila came out to party on the night with Ekta! Manish's favourite muse wore none other than Manish's work on the night. Unfortunately it has to be the worst of his creations styled in the worst possible manner! Why Urmila why! Such a stunning lady, such rare appearances and all lost because this was the end product.
Verdict: Not Hot!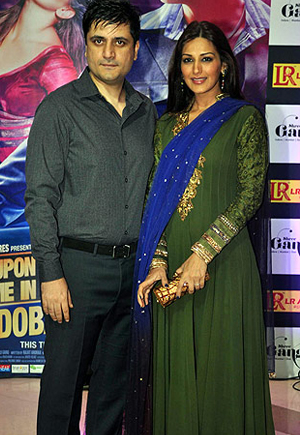 Sonali Bendre
The lady who did pull off her Manish Malhotra so effortlessly was Sonali Bendre! Honestly who can pull off THOSE colors so well? In concept it was a disaster in the making but when on Ms Bendre we forget it all and stare in admiration. (P.S If you're missing her onscreen as much as I am, here's a heads up that she's making a rare appearance on screen in OUATIMD! Woohoo!)
Verdict: HOT!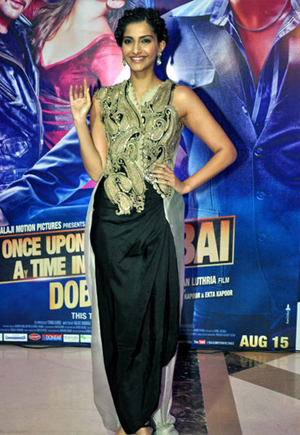 Sonam Kapoor
Though I'm rarely to fault Ms Kapoor's choices, somehow I'm not feeling this Anamika Khanna. Not sure if it's the piece or the event it was worn to. Whilst the top half detail is somewhat exquisite, the beauty of the bottom half is lost to me.
Verdict: Not hot!
Twinkle Khanna
Looking like…well a lit up Christmas tree was Twinkle Khanna. Usually one to mind lit-up-Christmas-tree looks I somehow was enamored by Twinkle's. Yes perhaps a change in dupatta could have solved the problem, but somehow she manages to shine even though the shining was all in the outfit itself.
Verdict: Surprisingly, hot!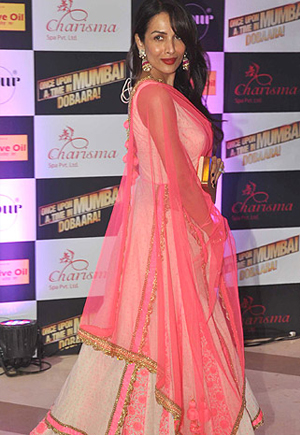 Malaika Arora Khan
It was a neon pink and white long choli lehenga for Malaika, which she of course looked great in. Kudos for giving short cholis a break, which was obviously a hard choice when you have killer abs like Mal to show off! However, one can't help but fault the make up of this look. It all looks a bit too unnaturally pale and the dark red lips just doesn't gel with the look. Wish she'd kept to the softer color pallet.
Verdict: Malaika is hot, her makeup is not!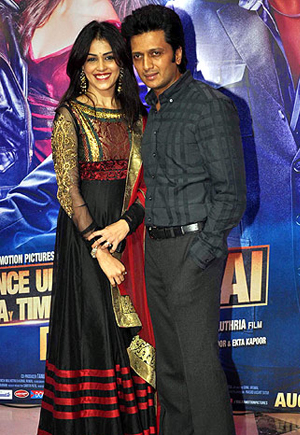 Genelia D'Souza
Genelia played it safe on the night in a traditional anarkali and simple hair and makeup. Considering the bold leaps of risk that didn't pay off on the night for others, kinda glad Mrs. Deshmukh played it safe because she looked great!
Verdict: Hot!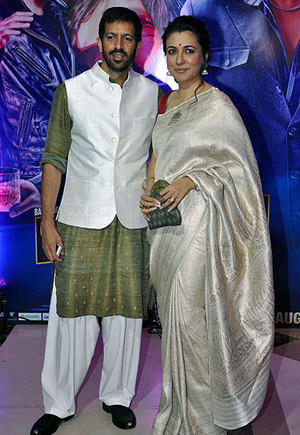 Mini Mathur & Kabir Khan
Now that is one hell of a good looking couple! Mini looked absolutely ravishing in her rich silk saree and hubby Kabir looked equally dashing in a kurta, jacket and pajama. Love that the duo kept it traditional and simple.
Verdict: HOT!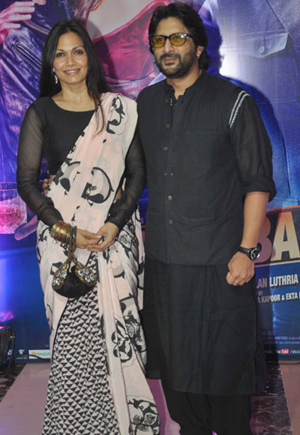 Maria Goretti & Arshad Warsi
Closely following Mini and Kabir for the Best Dressed Couple tag are Maria and Arshad in their all-black attires. Maria just looked drop dead gorgeous in her Payal Singhal saree. Loved that she added traditional-desi to the otherwise contemporary saree by adding the bangles. Arshad looked quite dapper himself in a ankle length kurta which, although overwhelming if you're not of Rohit Shetty height, looked great on him. Minor gripe with those glasses, lose them now Arshad!
Verdict: Hot! (minus Arshad's glasses)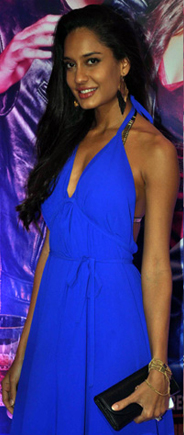 Lisa Haydon
More appropriately dressed for OUTIMD's premiere rather than an Iftar bash/movie promotion night was Ms Haydon. Really not feeling the look for this event.
Verdict: Not hot!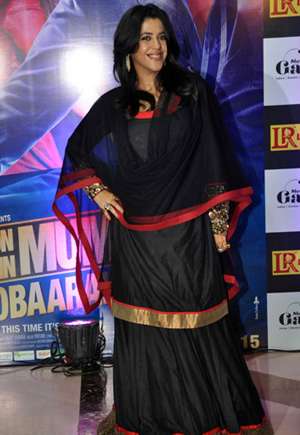 Ekta Kapoor
Now we know hostess of the night and B-Towns Superwoman Ekta Kapoor favours all things dark and mysterious, but this look just became a wee bit too dark for me. Mostly because sizing of the lehenga is overwhelming and the added hairdown styling just left it looking all too drabby (Of course I'm delighted to see Ekta stepping away from Ramona Narang maxis).
Verdict: Not hot!
Well this is for sure, Ekta sure knows how to through one hell of a bash! With a wide list of attendees Ekta managed to get out some pretty rare faces out of their bungalows and into the limelight. Until the next B-Town soiree, stay tuned to Bollyspice!