Esha Deol and husband Bharat Takhtani wedding reception took place last week and the reception was a star-studded affair.
The reception, which took place in Mumbai, saw stars such as Salman Khan, Madhuri Dixit, Rekha, Sridevi, Kajol, Jeetendra and Vidya Balan attend to celebrate with the newly married couple.
With such a star studded affair we put our fashion hats on to see if the stars dressed to impress. Scroll down to see which stars where hot and which where not……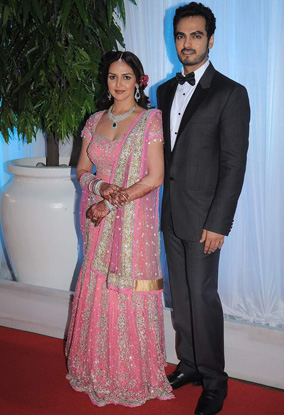 Esha Deol looks lovely in her Rocky S lengha. She works the peach colour nicely and I do love her accessories! Husband Bharat Takhtani looks smart in his grey Tuxedo.
Verdict – Esha Deol is HOT! Husband Bharat Takhtani is HOT!
---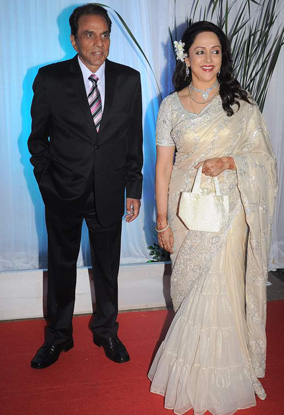 Dharmendra ji looks smart in his suit Hema Malini ji looks stunning in her Neeta Lulla sari.
Verdict – Dharmendra ji is HOT! Hema Malini ji is HOT!
---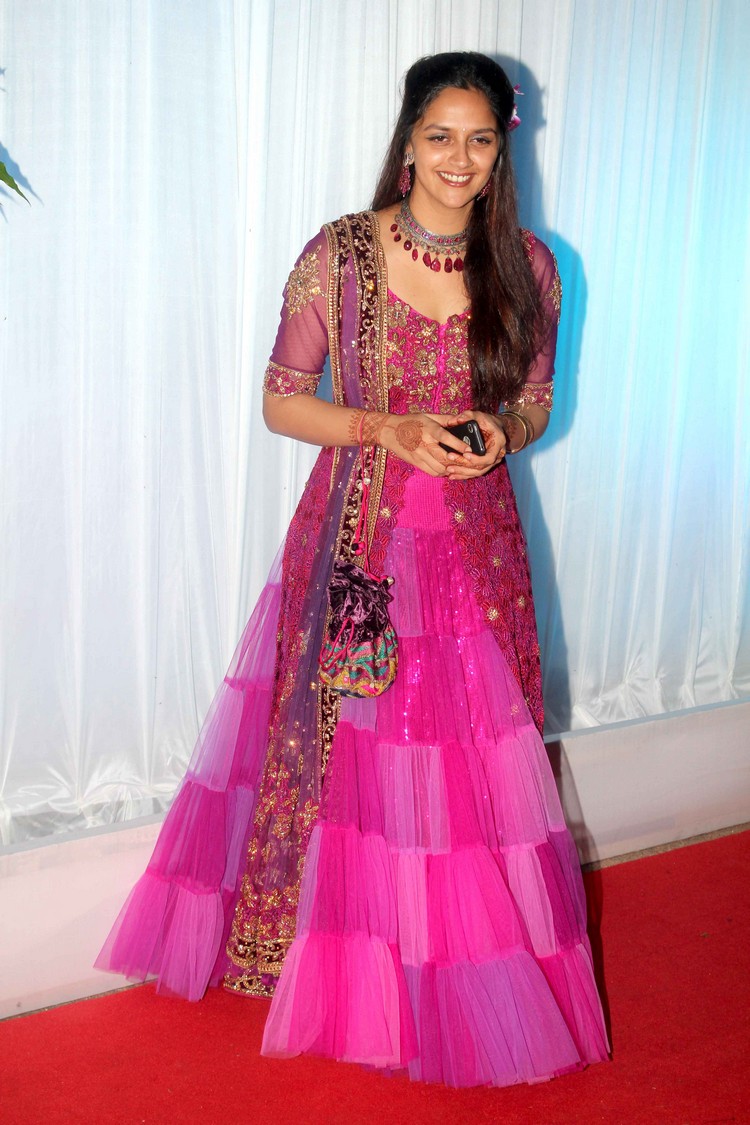 Ahana Deol also opted for a Neeta Lulla creation. Not a fan of this style but Ahana does carry off the colour really well.
Verdict – Ahana Deol is HOT but her outfit is Not!
---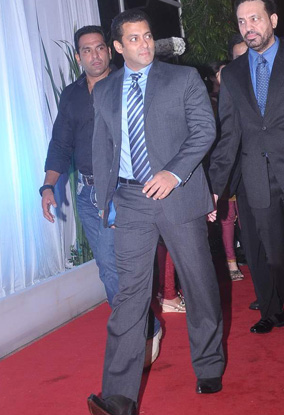 Salman Khan looks smart in his suit, a bit business like but he does carry it off well.
Verdict – Salman Khan is HOT!
---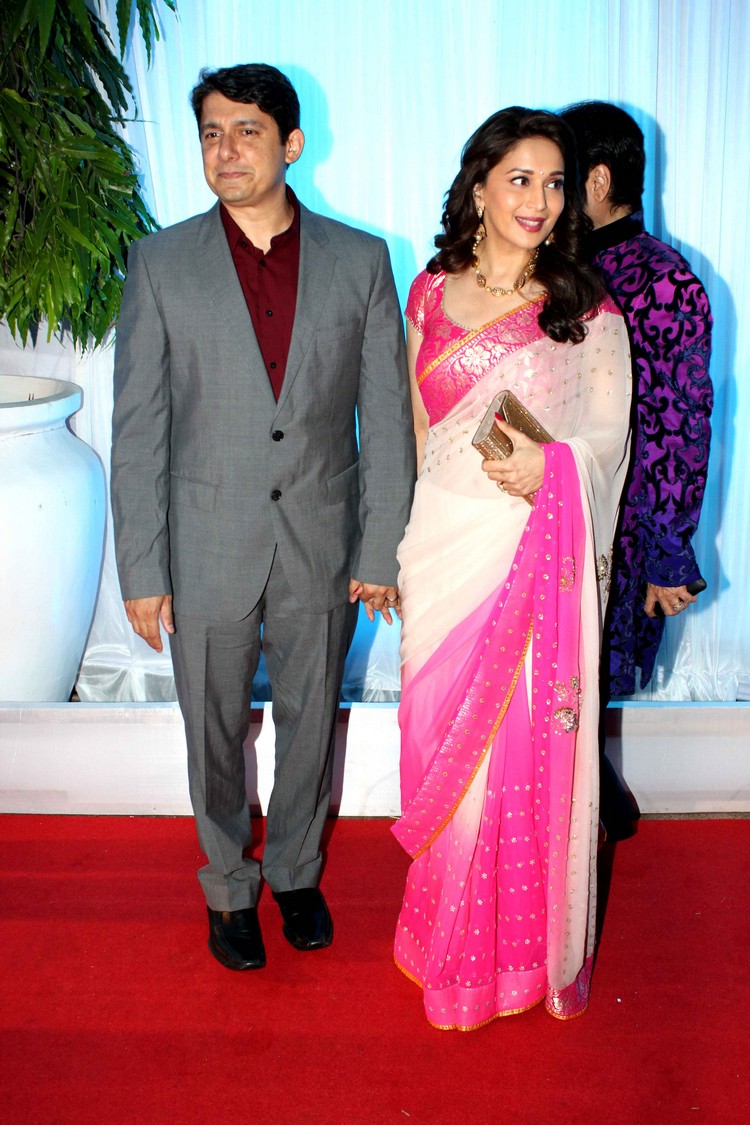 Dr Shriram Nene opts for a casual style grey suit, not a fan of the red shirt underneath, which does nothing for the suit. Madhuri Dixit looks radiant in her pink and white sari. I do love how Madhuri ji has opted for gold accessories to bring out the gold embroidery of the sari.
Verdict – Dr Shriram Nene is Not Hot! Madhuri Dixit is HOT!
---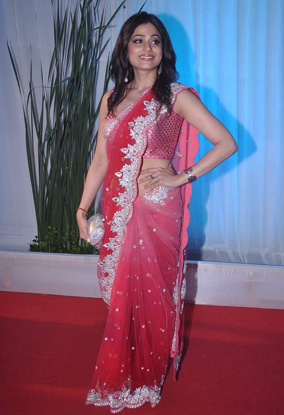 Shamita Shetty carries this sari off nicely and looks pretty in pink. Shamita has opted for simple accessories that compliment the silver in her sari nicely.
Verdict – Shamita Shetty is HOT!
---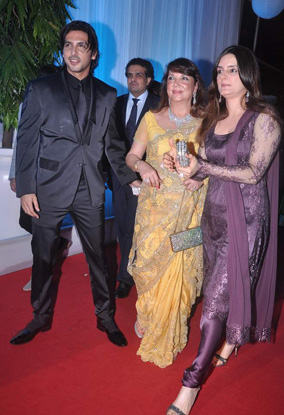 Zayed Khan looks smart in his all black suit, he does however need to sort his hair out but we will forgive him this time, as his suit is a bit dapper! Zarine Khan and Malaika Khan both opt for lace but only Zarine works the lace look well and carries off the yellow lace sari nicely. Malaika's suit does nothing for her, as the colour is far too drab.
Verdict – Zayed Khan is HOT! Wife Malaika Khan is Not Hot! Zarine Khan is HOT!
---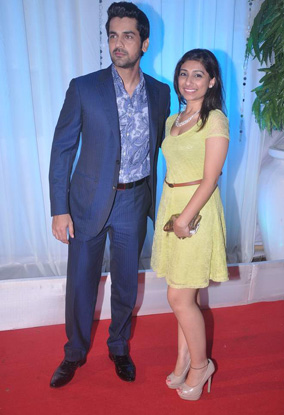 Arjan Bajwa looks good. I do like how he has dared to be different by staying away from the usual black suits we see on the stars. He carries off this blue colour nicely. Arjan works the printed paisley shirt well that goes nicely with his choice of suit!
Verdict – Arjan Bajwa is HOT!
---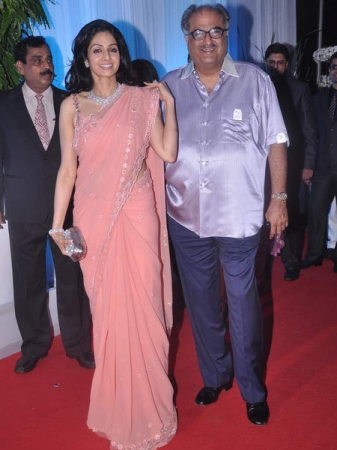 This peach sari is far too simple and does nothing for Sridevi ji. The colour washes Sridevi ji out; she should have opted for a bolder colour of sari. Peach is not the best choice of colour as not everyone can carry it off well. As for hubby Boney Kapoor not a fan of his unflattering shirt, which does nothing for him!
Verdict – Sridevi and Boney Kapoor are Not Hot!
---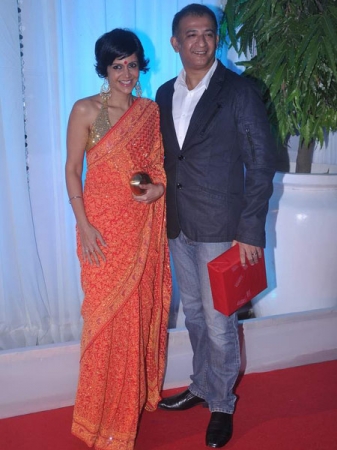 Mandira Bedi works her heavily embroidered sari nicely. I do like the big red bindi, which adds a more traditional vibe to her look. As for Raj Kaushal his outfit is far too simple for a wedding reception and I have never been a fan of denim on denim; it is never a good look!
Verdict – Mandira Bedi is HOT! Raj Kaushal is Not Hot!
---
Rekha ji opts for her usual choice of sari and works it well. Rekha ji knows what style of sari suits her and seems to opt for it each time and there is nothing wrong with that if it works!
Verdict – Rekha ji is HOT!
---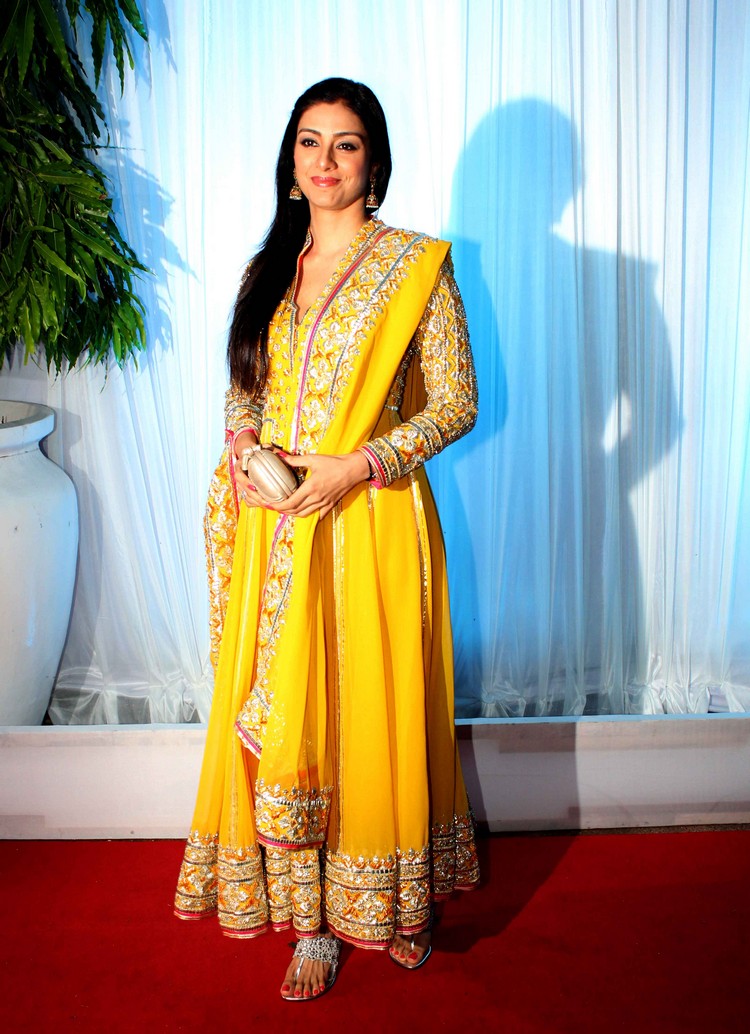 Tabu looks stunning! The yellow colour looks amazing on Tabu and I love the traditional style of the anarkali style churidaar. I do like Tabu's simple accessories, which allow the lovely outfit to do the talking!
Verdict – Tabu looks HOT!
---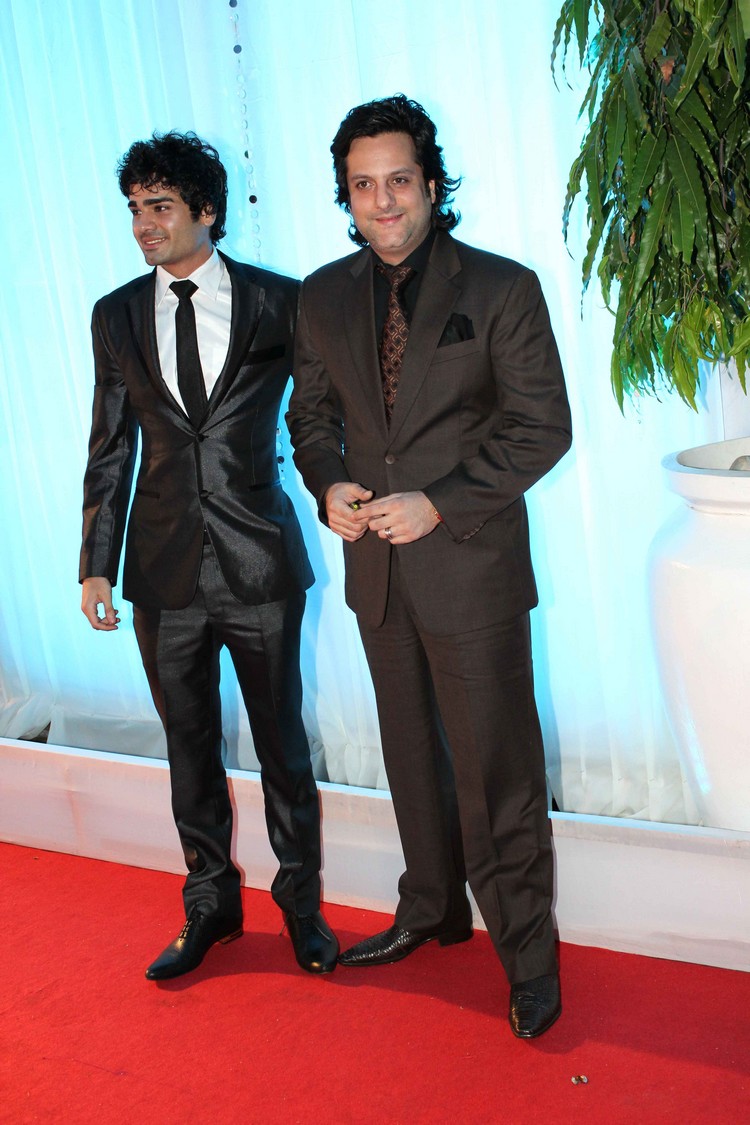 I do admire that Fardeen Khan has dared to be different and opted for a brown suit. Normally I am not a fan of brown suits, but Fardeen does work this look nicely. The one thing I would say is Fardeen needs to sort his hairstyle out!
Verdict – Ignore Fardeen Khan's hair and he is HOT!
---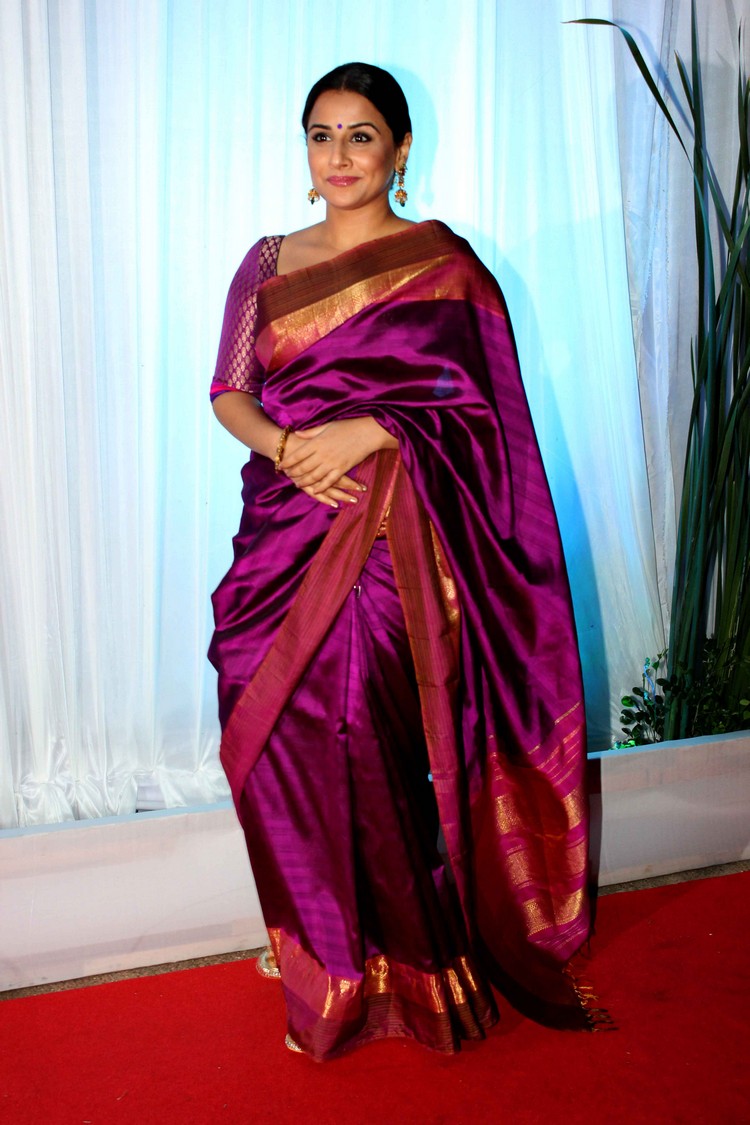 Vidya Balan looks stunning in this Kanjeevaram sari. The colour looks lovely on the actress who works the traditional Indian look really well.
Verdict – Vidya Balan is HOT!
---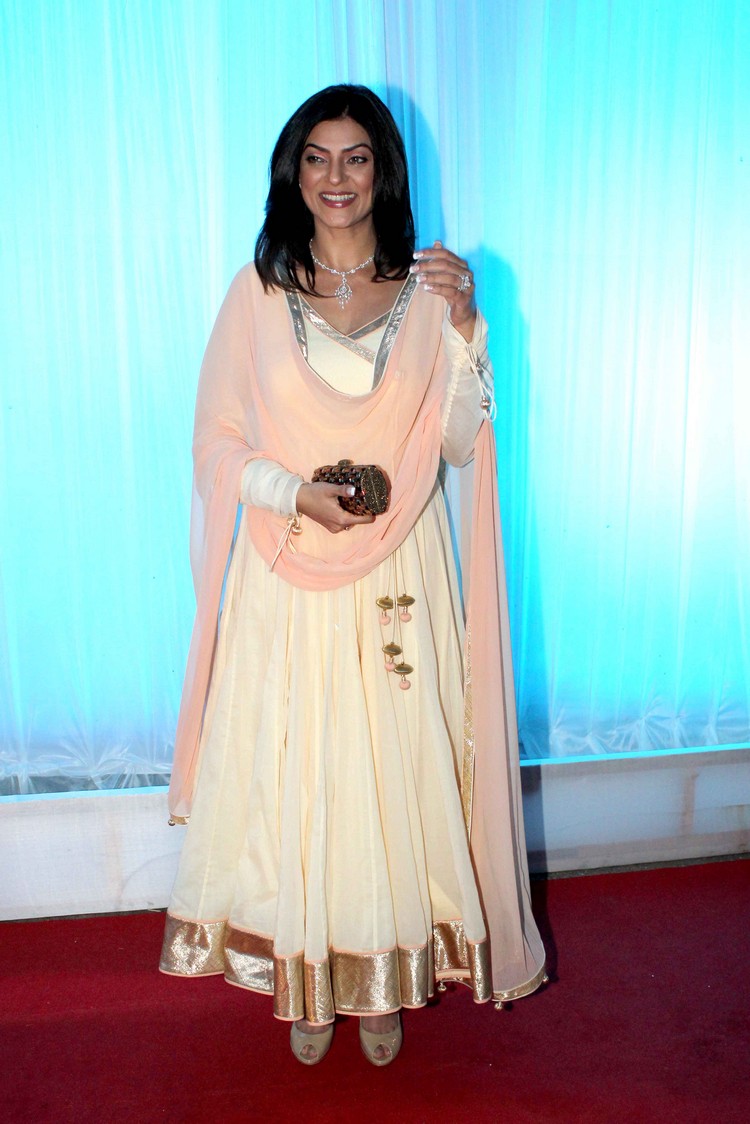 Sushmita Sen looks nice. I do like her simple yet effective outfit. Little white dresses are in fashion at the moment and Sushmita shows us how to translate this trend into Indian attire!
Verdict – Sushmita Sen is HOT!
---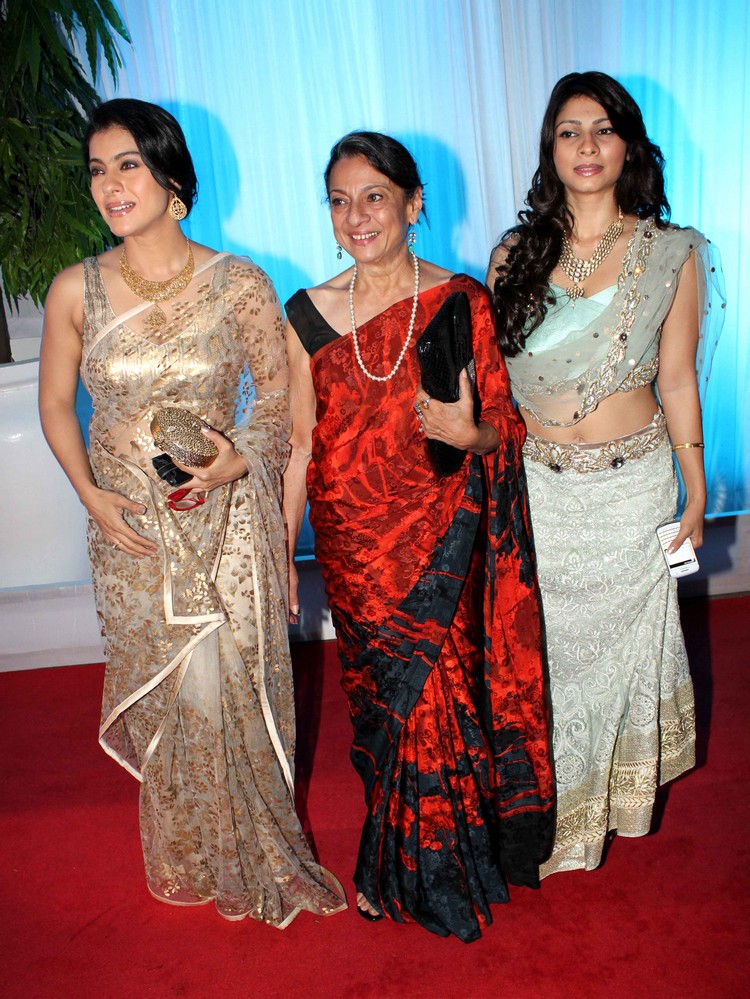 Kajol looks stunning and works her gold lace sari nicely. Mum Tanuja ji carries off her black and red sari too. Tanisha 's outfit is not flattering and the colour does nothing for her either.
Verdict – Kajol is HOT! Tanuja ji is HOT! Tanisha is Not Hot!
---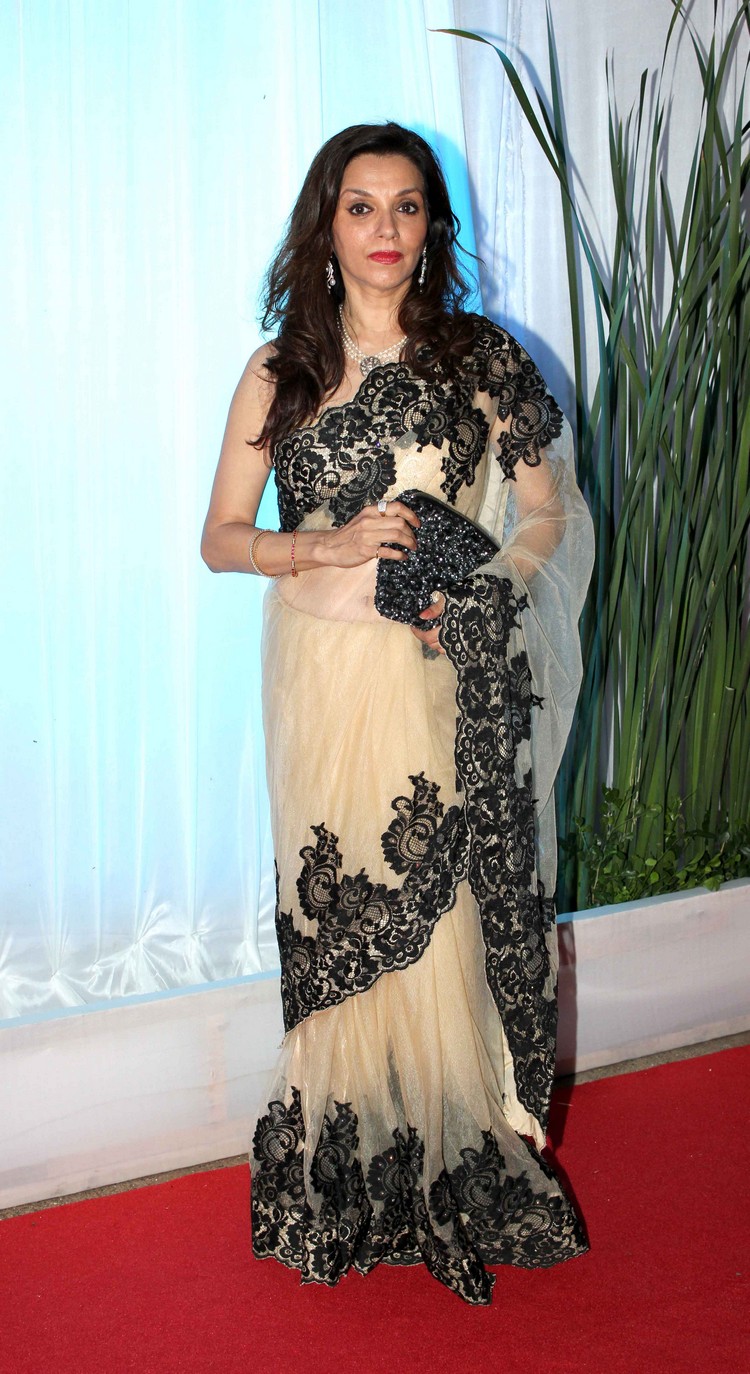 Lillete Dubey works her lace sari really well. I do like the black and cream colour, which adds an air of sophistication to her look. The red lipstick and simple accessories finishes off this look nicely!
Verdict – Lillete Dubey is HOT!