The awards season in Bollywood would not be the same without the Filmfare Awards, which took place few days ago. We all know who won and who did not when it comes to their performances, but it is now time to reveal who earned the title of the most stylish celebrity of the night!
Deepika Padukone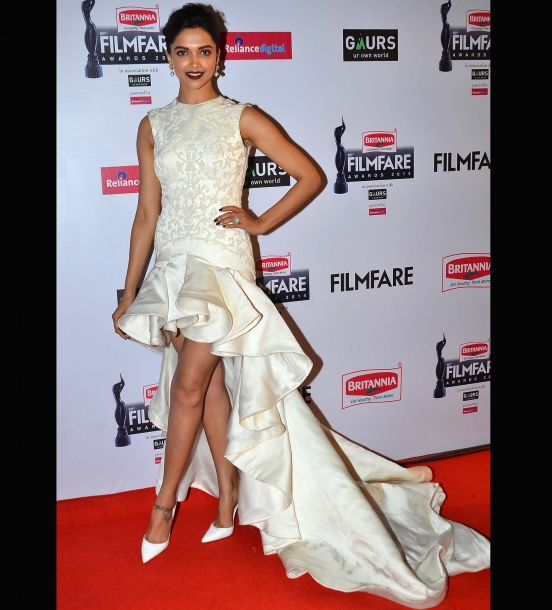 Waist up, Deepika's dress looks dainty and feminine, but the ruffles that make up the skirt on this Ashi Studio gown are not flattering at all. Makeup and hair are great as usual but they are not enough to pull the look.
Verdict: Not Hot
Alia Bhatt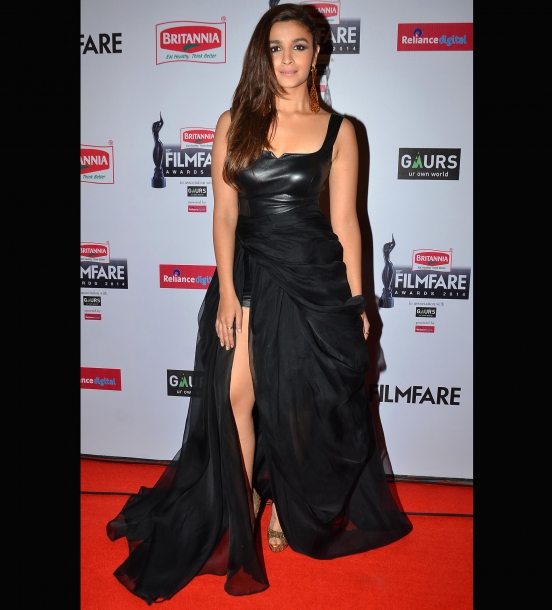 The actress chose a Monisha Jaining dress for the evening. Alia opted for an edgier look with this black leather dress with big earrings and sparkly shoes. Both hair and makeup work great to create a very sexy look.
Verdict: Hot
Dia Mirza
The actress-turned-producer attended the awards wearing a gorgeous yellow and blue sari by Raw Mango, paired with a beaded necklace and jhumkis. The choice of bright colours was absolutely correct as Dia looked spotless.
Verdict: Hot
Evelyn Sharma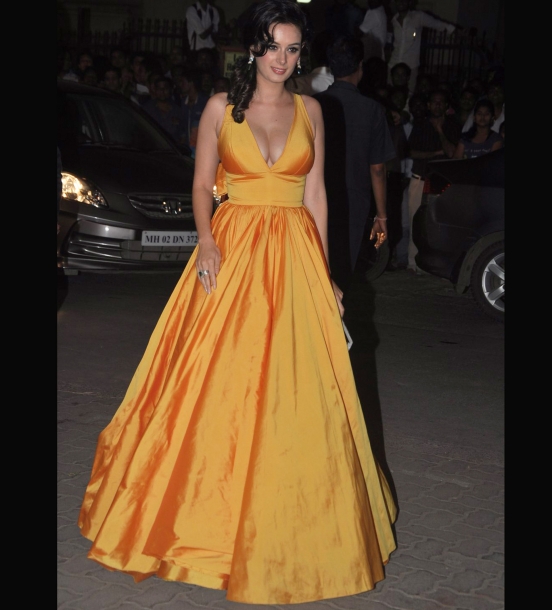 Nothing works on Evelyn's look. The shape of her Swapnil Shinde dress is outdated and there are no kind words to describe that colour. Her hair only adds to the feeling that she is ready to attend prom instead of an awards ceremony.
Verdict: Not Hot
Gauhar Khan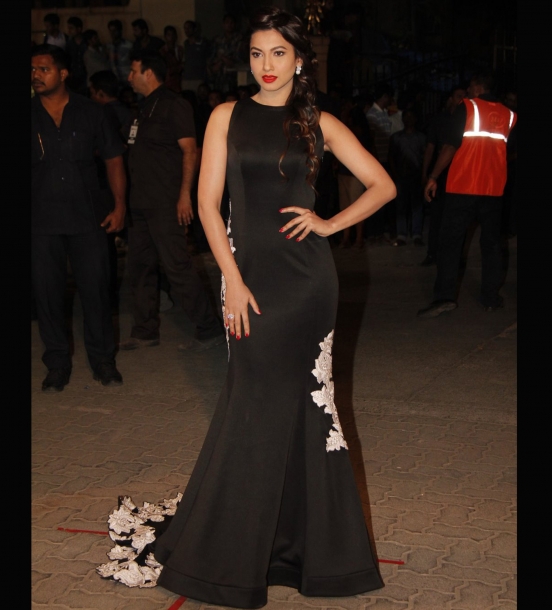 Gauhar looked classy in a black and white Mayyur Girotra dress. Maybe the gown was not very risky, but sleek hair and makeup, and the right attitude did the rest.
Verdict: Very Hot
Hasleen Kaur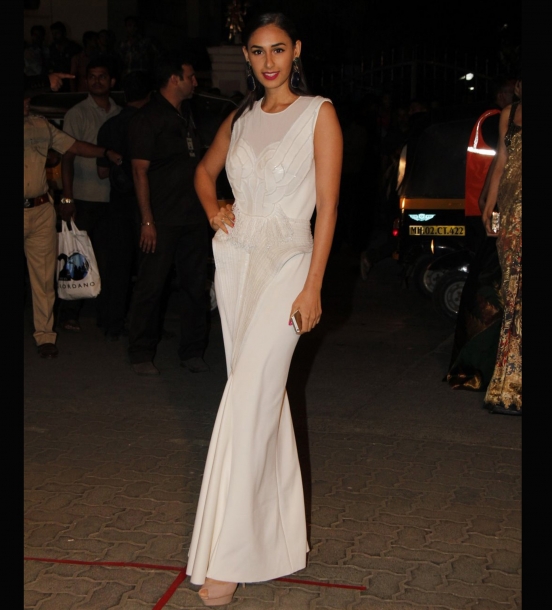 Several actresses opted for white dresses for the event, and Hasleen was one of them. Although her Amit Aggarwal dress is pretty and includes some geometric embellishment, it looks too loose and doesn't look good on Hasleen's figure.
Verdict: Not Hot
Manasvi Mamgai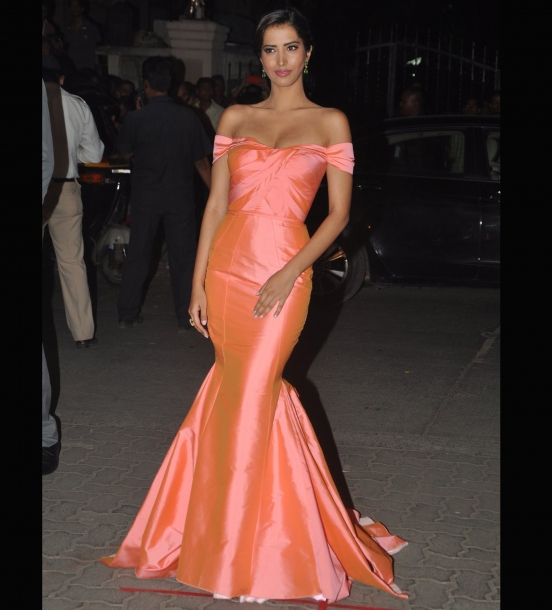 Like Evelyn Sharma, Manasvi also picked a Swapnil Shinde dress for the occasion, and we find the same formula: outdated silhouette and odd colour, although with another colour the dress would look a bit better. The model and actress looks gorgeous but it's not thanks to the dress.
Verdict: Not Hot
Ileana D'Cruz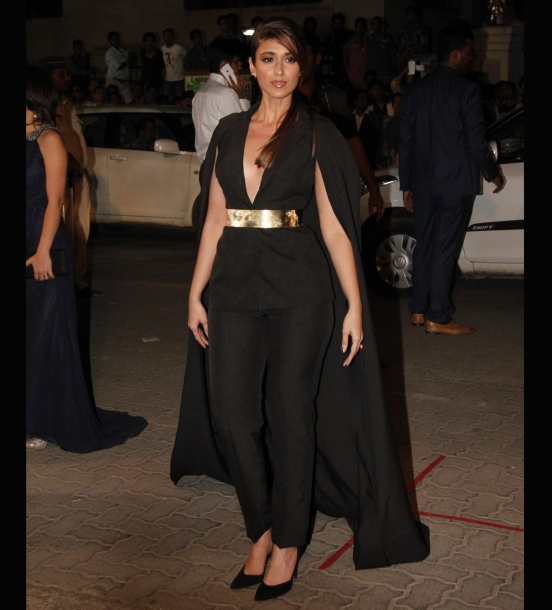 In a risky move, Ileana left the big dresses aside and attended the Filmfare Awards wearing a Nikhil Thampi Label black suit with a wide metallic dress and a dramatic cape. Although the idea may look to serious at first, the plunging neckline adds the right amount of sexiness.
Verdict: Very Hot
Kalki Koechlin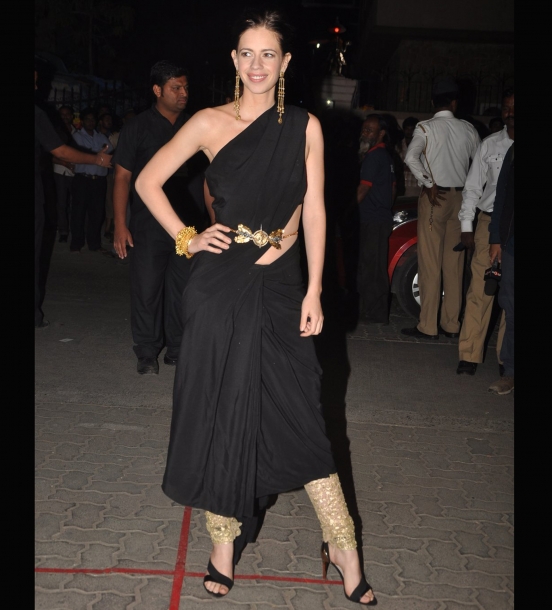 But the queen of risky is undoubtedly Kalki and her fusion sari and pants by Nikhil Thampi. The highlight of the outfit is the jewellery, the rest is a no-no.
Verdict: Not Hot
Kriti Sanon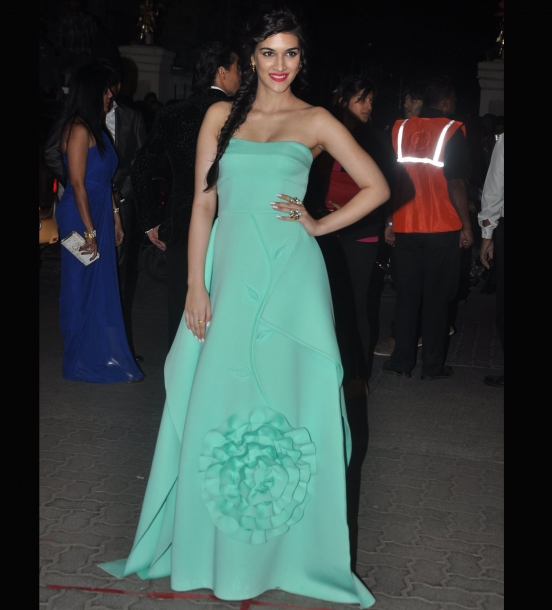 Although Kriti looks beautiful in this mint Gauri and Nainika dress, several other actresses have already worn different versions of this gown, so her outfit was not very surprising.
Verdict: Hot
Nargis Fakhri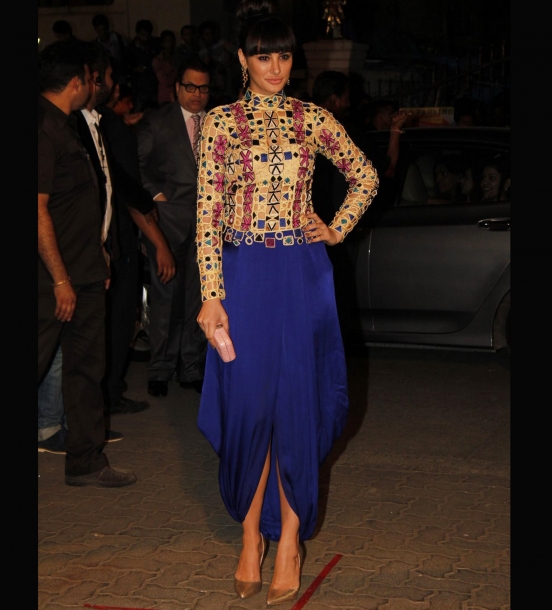 When actresses decide to take risks with their outfits, they sometimes succeed and sometimes fail. Nargis' outfit is an example of how an idea can go wrong. Her Sonaakshi Raaj outfit is insane, and the makeup and hairdo made it even worse.
Verdict: Not Hot
Pernia Qureshi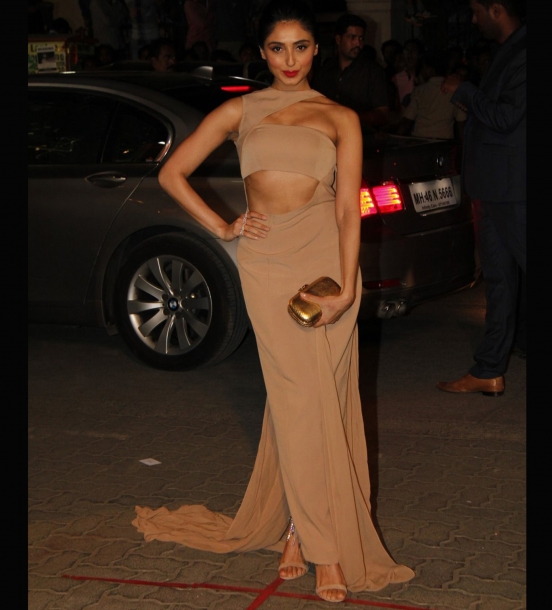 Pernia's nude cut-out dress by Nikhil Thampi was a risky choice but it didn't pay off, as the cut-outs didn't fall correctly on her body and the colour didn't stand out on her skin.
Verdict: Not Hot
Shraddha Kapoor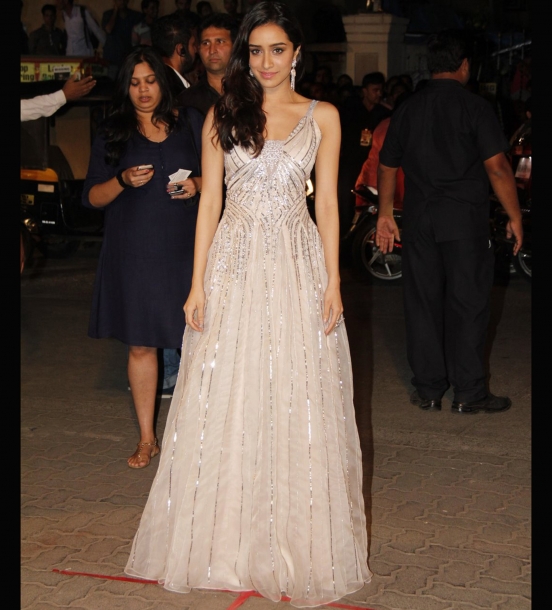 One of the most anticipated looks of the event, Shraddha chose a silvery white gown by Shehlaa. Aware the dress is a jewel by itself, the actress decided to keep the rest of look very simple, although a different hairdo may have worked better.
Verdict: Hot
Sonam Kapoor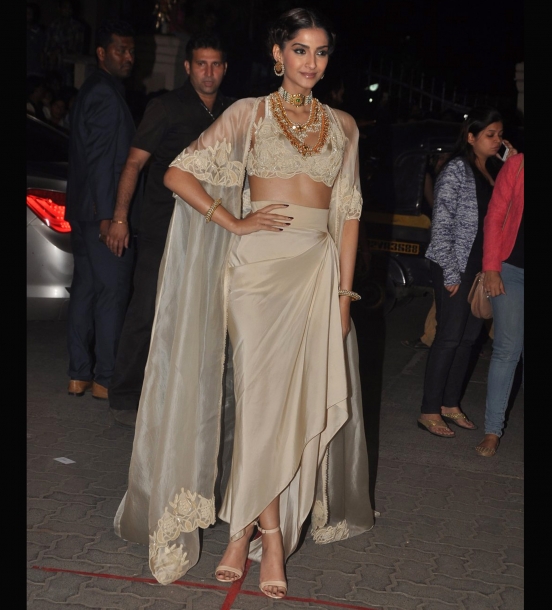 Sonam loves fashion and that's obvious when she walks on the red carpet. Her Anamika Khanna outfit is anything but plain and the jewellery is exquisite. Although the skirt seems a bit odd, the actress owns the look.
Verdict: Very Hot
Sophie Choudry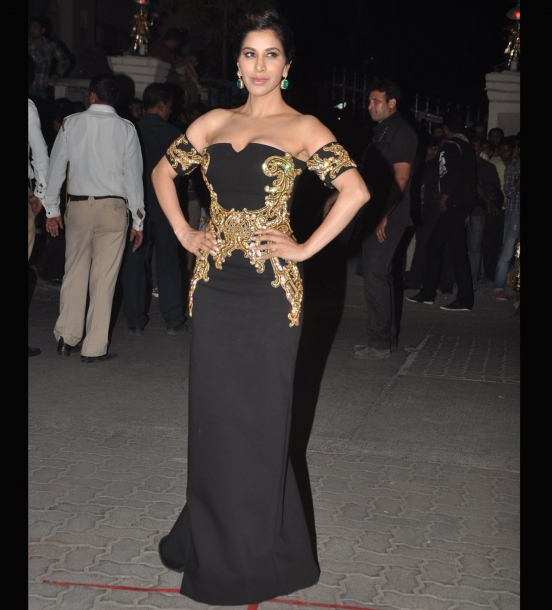 The British actress looked spectacular in this black and golden Monisha Jaising gown, paired with stunning emerald earrings. Although the dress would be equally gorgeous without the sleeves, the overall look is very sexy.
Verdict: Very Hot
Sunny Leone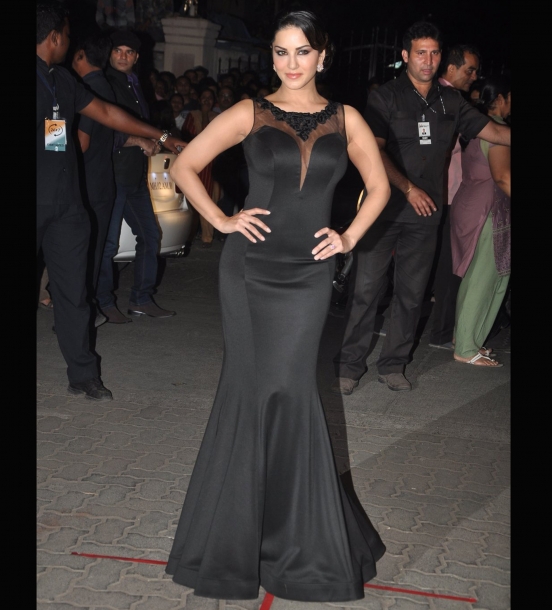 Sunny chose a black gown that fits her curvy body perfectly. The sheer neckline adds the right amount if detail to the dress that otherwise would look too plain. An example of sophistication without resorting to excess.
Verdict: Very Hot
Tabu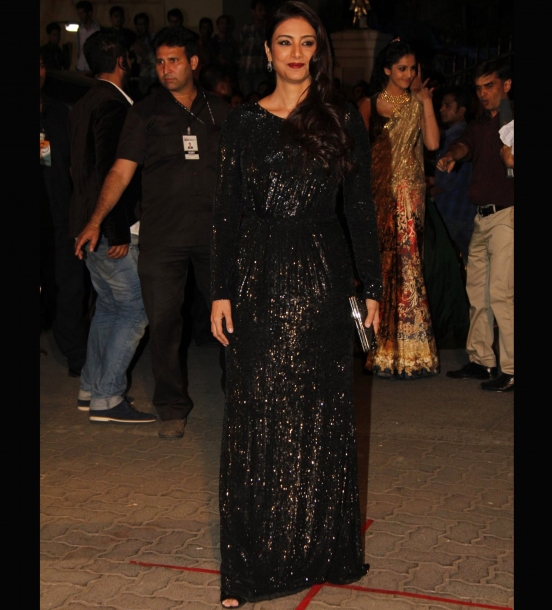 The actress opted for a sparkly black dress paired with dark lips. Although her makeup is spotless and she looks lovely, the Vizyon gown was not a good choice, as it doesn't do anything for Tabu's figure.
Verdict: Not Hot
Madhuri Dixit Nene
Madhuri attended the awards wearing a big blue Jade gown. The dress is not very innovative, but her hair and makeup are so beautiful that she looks amazing.
Verdict: Hot
Kanika Kapoor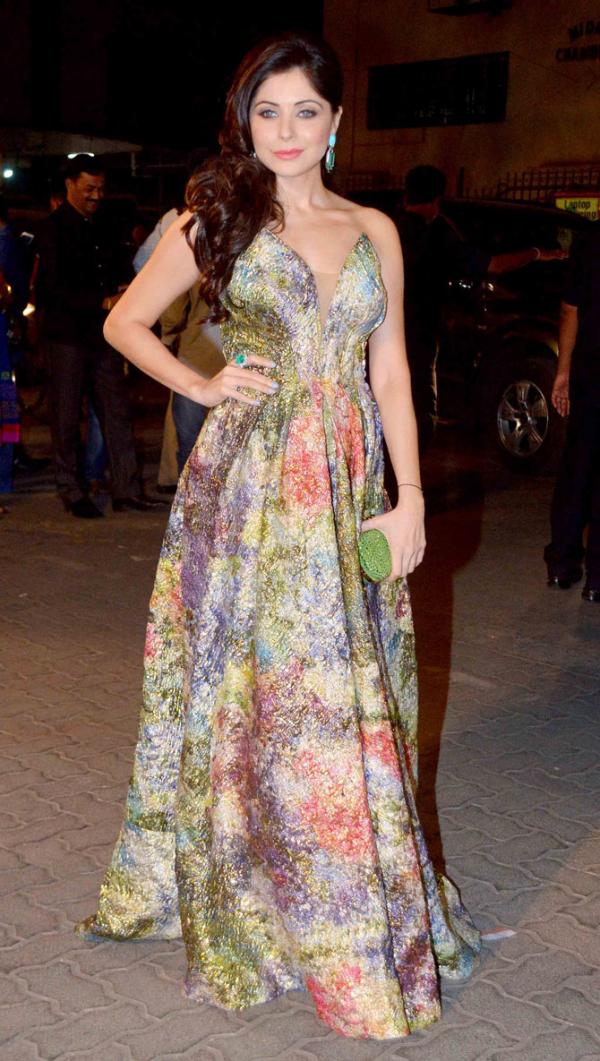 Among so many black and white dresses, Kanika offered a note of colour with a multicolour Monisha Jaising gown. Both hair and makeup complemented her look perfectly.
Verdict: Very Hot