Considering it was merely the nominations bash for Filmfare, the turnout of stars on the red carpet was nonetheless very impressive. Was the fashion as impressive? Read on to find out!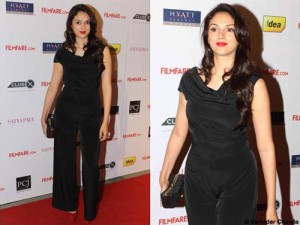 Aditi Rao Hydari
The leading lady of Ali Zafar's London, Paris, New York was in attendance in a black jumpsuit which at a glance looked great however at a closer look was a total disaster! Jumpsuits are a tricky business and the picture on the right proves that unfortunately Ms Hydari doesn't have that trick mastered. Not Hot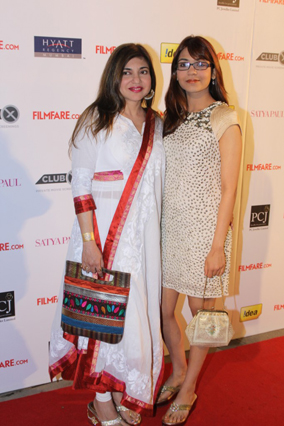 Alka Yagnik & Daughter
Alka Yagnik's salwar choice once again was impressive. I am however a little unhappy with the handbag choice and wish she'd opted for something else. Although what does grab my attention is young-Alka's dress choice! Shame that she opted for those slip-on shoes instead of something cuter. A little hot, a little not.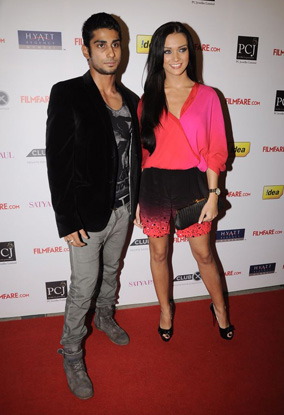 Amy Jackson
Prateik continued to leave us horrified with his look, courtesy of the 'thing' growing on his chin. Thankfully Amy Jackson decided to look so HOT that all eyes must have been on her.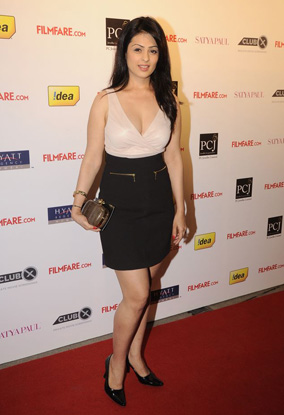 Anjana Sukhani
I continue to wonder why Ms Sukhani opts for 'office wear' for the red carpet. It's getting really repetitive and annoying! Not Hot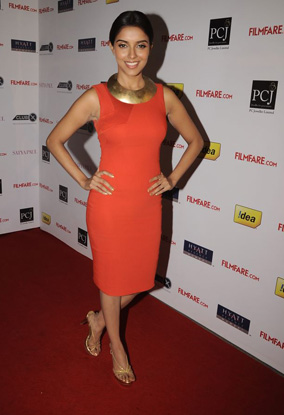 Asin
Whilst I am in love with the dress Asin chose, the necklace and the makeup don't warrant any such emotion. The nude makeup just is way too bland for the look. Sadly, Not Hot.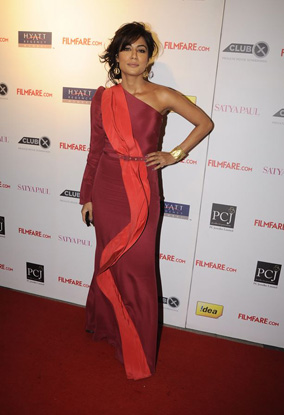 Chitrangadha Singh
Ms Singh opted for a designer we often see on her, Gauri and Nainika, and we simply adore her choice! She looks absolute sizzling! So glad that she opted for a side swept fringe and not the 'big-hair-do' she tends to favour. Absolutely hot!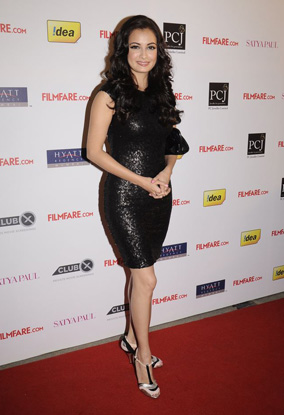 Dia Mirza
As always Dia wore something so simple however made it look absolutely extraordinary. This black sequin dress was perfectly complimented with her lovely curls however a different pair of shoes was oh-so necessary! Quite Hot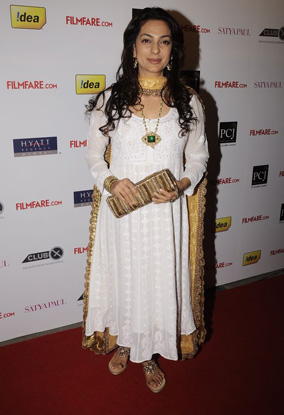 Juhi Chawla
One wonders what Juhi was thinking when she stepped out of the house with 'that' hair! The beautiful anarkali is something you just can't bring your attention to with that hair! Not Hot
Kalki Koechlin
Kalki stuck to her eccentric ways which pays off only some times and sadly this was not one of them. Definitely not an outfit fit for a 'bash'. Not hot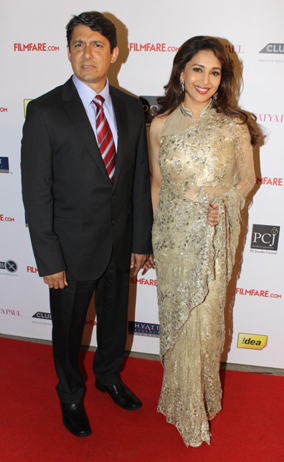 Madhuri Dixit
Madhuri went for a saree that was absolutely in line with her 'diva' status. It's a shame that she didn't choose a different hairstyle! Hot-minus-the-hair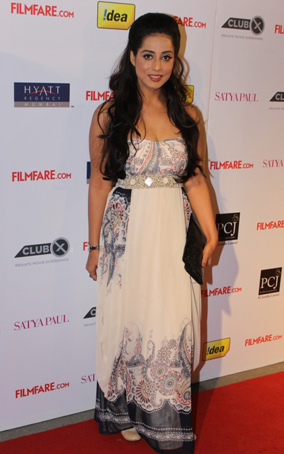 Mahi Gill
Mahi unfortunately disappointed us in this printed maxi. It's really hard to pin point where this look went wrong but the bottom line is, it went wrong! Not Hot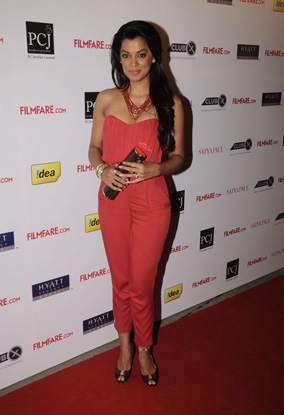 Mugdha Godse
Miss Godse funked it up in a jump suit and we're oh-so-glad she did! She looks absolutely rocking, necklace, shoes, hair and all! Hot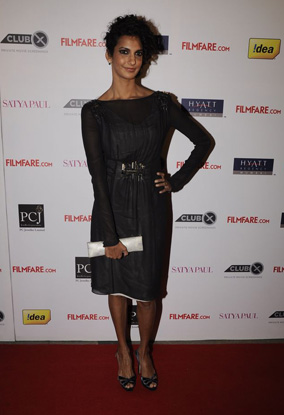 Poorna
Poorna sadly pushed the boundaries with this look and went a bit too far. Not Hot.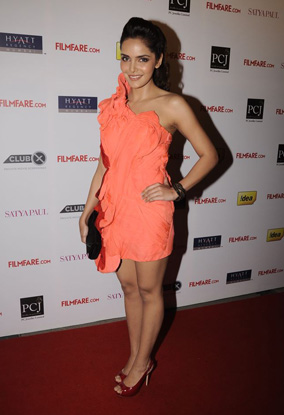 Shazahn
Whilst the dress Shazahn chose was an absolute winner of an outfit, one simply can't figure out why red shoes and a black clutch were chosen to compliment the look. If she'd kept all accessories to a uniformed color of black or cream/nude this look could have been absolutely flawless! Could have been hotter!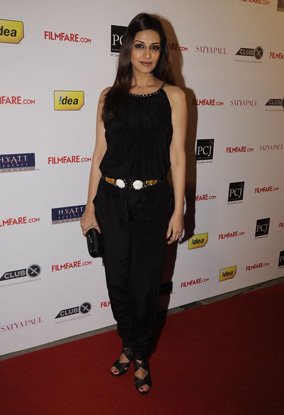 Sonali
Sonali also opted for a jump suit and looking damn fine in hers! But perhaps the dark eyes was just taking the black theme too far, no?! Quite damn hot!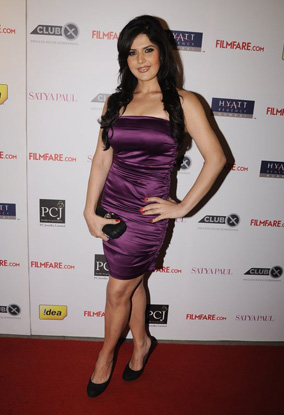 Zarine
It was a strapless mini dress for Zarine that sadly was clearly not designed for a woman of her figure…What a shame! Not hot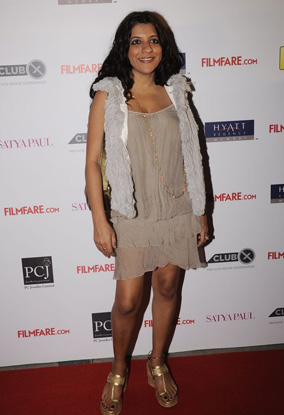 Zoya Akhtar
She may not be the most stylish woman around but this outfit had quite a lot of potential. Had that sleeveless jacket been removed and some attention been given to hair and makeup, this look would have been totally rocking! Could have been hot!
That wraps up our WHWN for Filmfare's Nominations Bash, now its time to sit tight and wait for the fashion that will make it to the red carpet on the actual awards night!