IIFA travelled to Malaysia this year with a host of B-Town celebs making time for the three day event. The final night ended with a IIFA Awards ceremony celebrating cinema achievements in the year 2014. Here's what fashion on the night looked like.
Malaika Arora Khan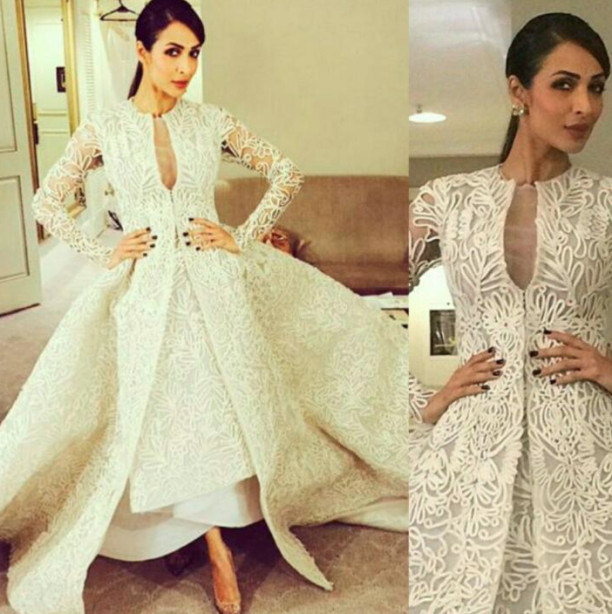 Malaika brought her A-Game and how to the final night of IIFA. She was quite the vision in the all white Aashi-Studio do. Can't fault a single thing with this look. The genius move was the extremely sleek hair with the ultra voluminous gown.
Super HOT!
---
Lisa Haydon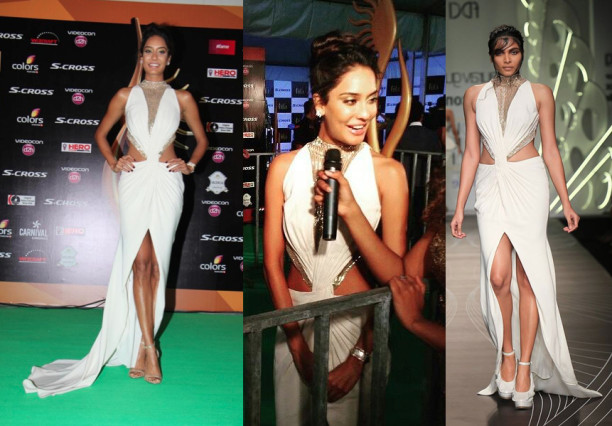 Lisa'a awards night look was a bit reminiscent of her IIFA Rocks attire. The Gaurav Gupta gown is probably something Miss Haydon can pull off in her sleep! As great as she looked the hair did slightly put this look on the verge of classified "dated". Perhaps a softer hair-do was needed here. Nevertheless she looked smoking hot, as always! On a side note, having seen Lisa in every variation of a cut-out look it would be refreshing to see her try something new i.e. something Desi!
Hot
---
Genelia Deshmukh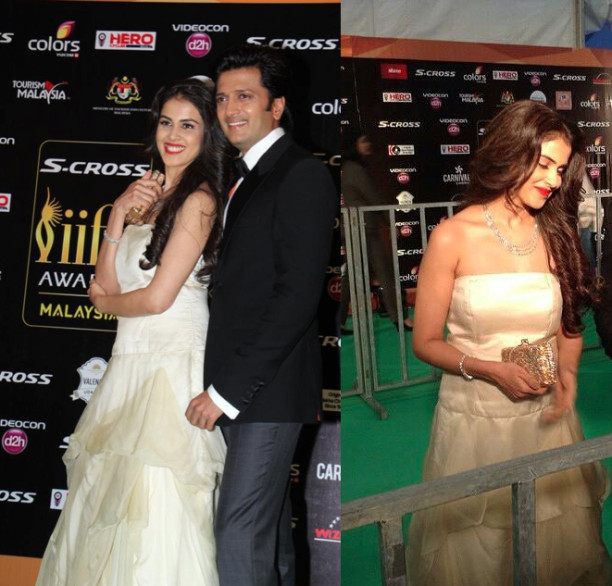 Given how well Genelia did on Day 1 and Day 2 it was heartbreaking to see the final night look being such a fail! We don't have the best of pictures of her Raghavendra Rao look for the awards night but lets just say we've seen enough.
Not Hot
---
Deepika Padukone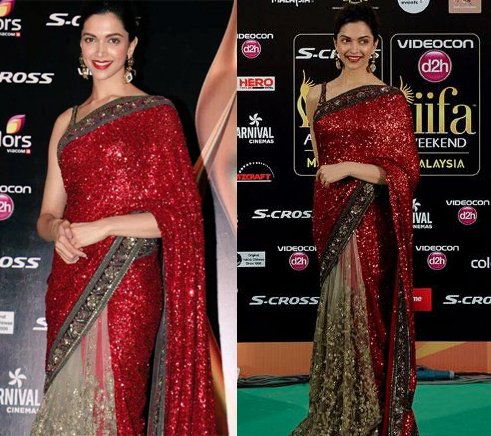 You're all thinking it but I'm going to say it, the Deepika + Sabyasachi combo has officially gotten boring! There has been an overflow of Sabya looks for Deepika lately with most of them having her sport the same bouffant up-do. This look was particularly a dated-snore-fest. To add to that the make-up was a complete fail. We need a stylist intervention!
Not Hot
---
Bipasha Basu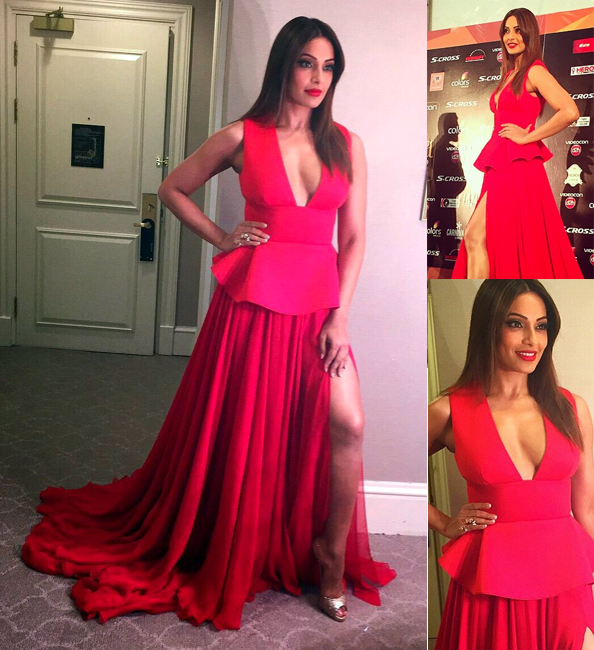 Bips was seen in a Gauri and Nainika attire on the green carpet. Can't say I'm loving this look. Between the high slit and the deep V neck this look ended up coming across as too forced.  Wish she'd saved her Sabya look from the IIFA Rocks night for the awards night!
Not Hot
---
Aditi Rao Hydari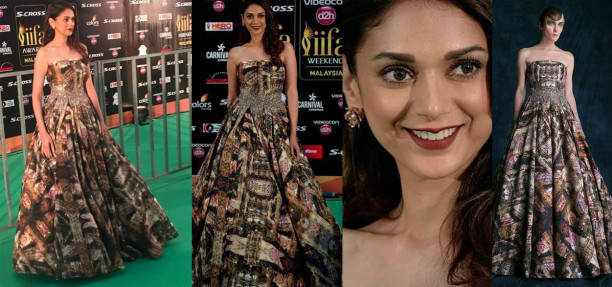 Despite prints taking over casual wear we still rarely see it in formal wear. Thus this Shantanu and Nikhil gown that Aditi sported came as a welcome change amongst all the solid colors and embellished gowns. The soft one sided hair plus the dark lips were beautiful additions. Aditi looked stunning!
Hot!
---
Jaqueline Fernandez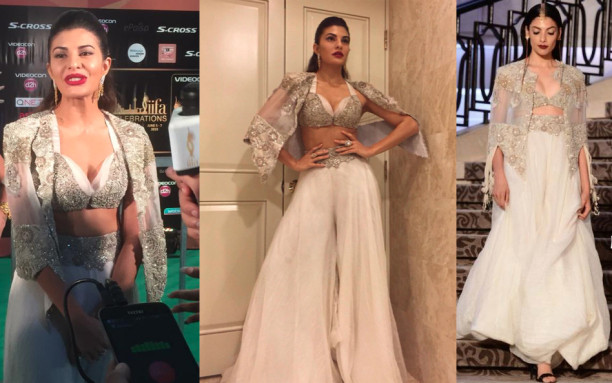 There's always one person who gets carried away with the dressing up and ends with a look that is all too costume-esque. At this event it was Jaquiline in her Anamika Khanna ensemble. Between the cleavage and the midriff this was all too in-your-face. Amazing how the subtle changes that were done clearly to enhance the skin-show actually made this look a complete downer but had it been worn as it was on the ramp then perhaps I wouldn't mind it quite as much.
Not Hot
---
Dia Mirza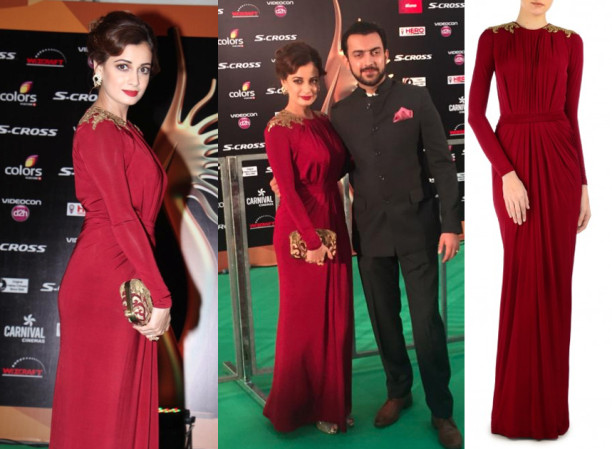 Dia Mirza got her mojo back on the final night! Phew! She looked effortlessly stunning in the Shantanu and Nikhil striking gown which featured an embellished shoulder. Especially loved the old school up-do!
Hot!
---
Anushka Sharma

Like Dia, Anushka also did red in a Gauri and Nainika gown. And like Dia her look was also a 'safe' one. Can't really fault the safe, simple yet beautiful all red look. Forced to make any changes I would say the hair needed a little more volume.
Hot!
---
Amala Paul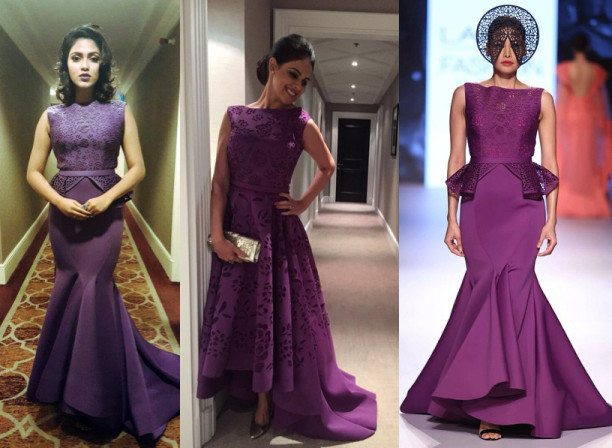 The weekend saw a second Jatin Varma all purple look and coincidentally it was another Southern superstar sporting it. Amala Paul went with Jatin's purple gown featuring a peplum waistline detail. Wet curls and purple lips completed the look. Though the gown was not a total deal breaker on the ramp, on Amala it was. Between the gown itself and the purple lips there really was not much to rave about in this look. Not to mention you cannot help but compare it to Genelia's winning Jatin Varma look from Day 1.  Safe to say Amala chose the wrong all purple gown from the designer's collection.
Not Hot
---
Huma Qureshi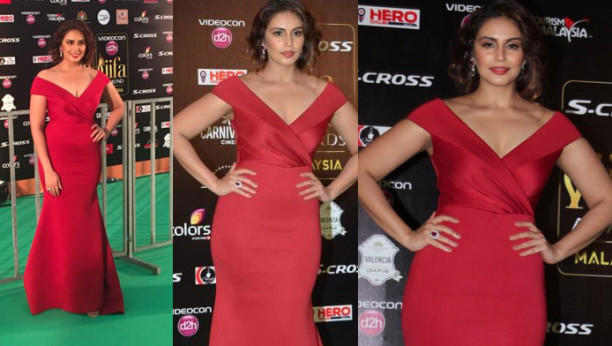 Award functions usually have multiple Gauri and Nainika sightings and I guess IIFA was no exception. Huma also sported a gown from the designer duo's collection. In concept maybe this look worked but the execution sadly was a complete fail.
Not Hot
---
Kajal Agarwal

However the Gauri and Nainika look that did work was the one Kajal sported. She looked ravishing in the backless black and white number. The only minor gripe I have with this look is the lacklustre makeup but of course this didn't stop Kajal's look from being a winning one.
Hot!
---
Lauren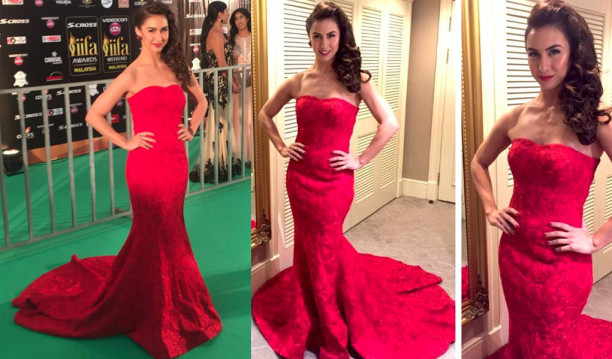 ABCD star Lauren was seen in a Mayyur Girotra red gown. On the fence with the amount of volume in that hair-do regardless though Lauren looked quite good in the strapless red number.
Hot!
---
Neha Dhupia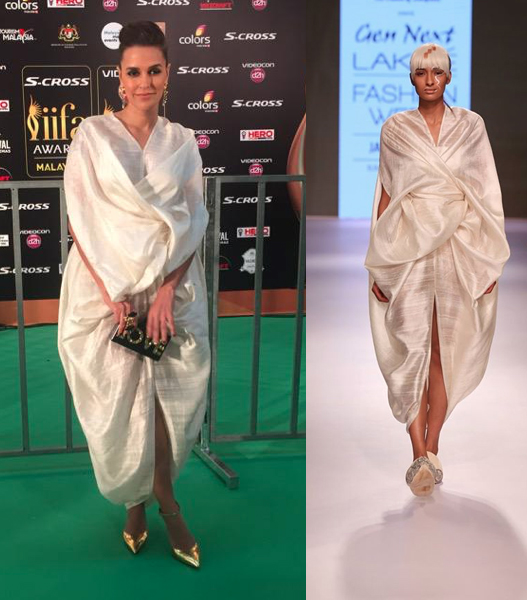 Neha's IIFA Awards appearance was a bitter sweet one. Sweet because it was great to see her supporting a young and upcoming designer, Priyanka Ella Lorena and bitter because her risk did not pay off. I know what she was trying to do but it just ended up looking a bit too messy and haphazard for an awards night.
Not Hot
---
Shriya Saran

Pretty sure concept sarees have been done to death last season but clearly Ms Saran did not get the memo. She was seen in a Gaurav Gupta maroon embellished saree gown. Aside from the fact that this is a look that has been done and dusted, Shriya did look quite good.
Hot!
---
Shraddha Kapoor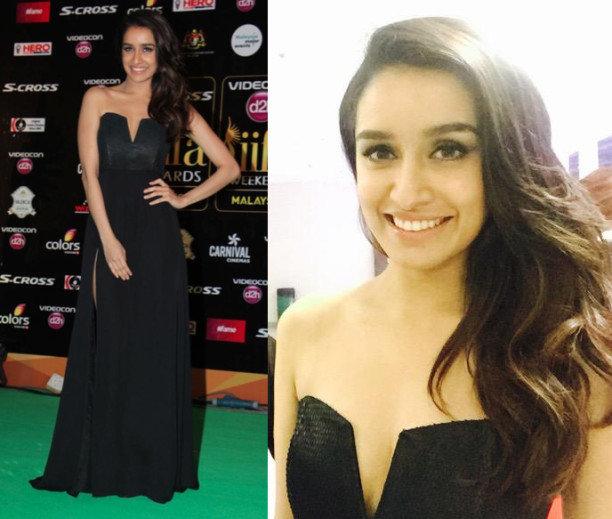 As her stylist Tanya Ghavri put it, Shraddha's look on the night was minimal chic. Given all the grand gowns and embellished attires that surrounded her on the night, her look was indeed a welcome change. Loved the all black Michelle Mason look. Less in this case was most certainly more.
Hot!
---
Parineeti Chopra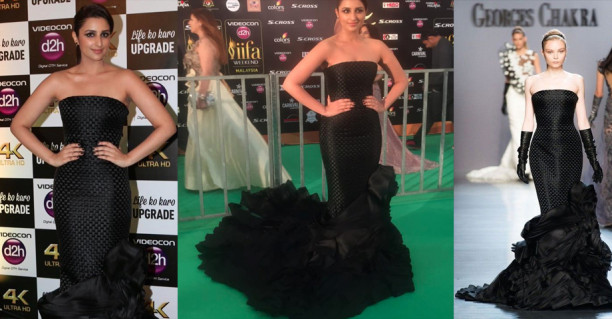 Also doing minimal chic in black was Parineeti Chopra in a Georges Chakra gown. (Is it just me or are we suddenly seen far more Chakra pieces on B-town stars?!) Rarely do I like fitted gowns featuring a ruffled trail but Parineeti's gown was quite the exception. She looked beautiful. Loved the striking eyes!
Hot!
---
Sonakshi Sinha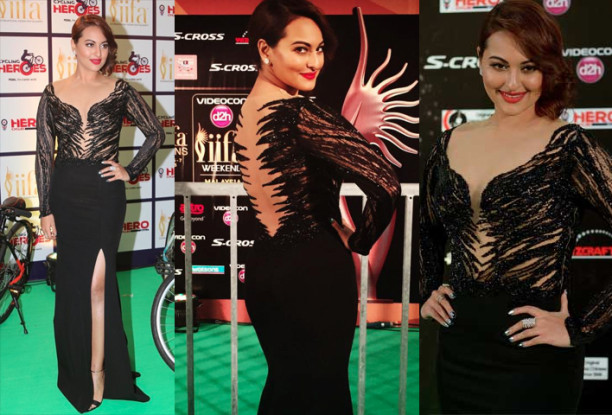 Sonakshi also did all black with a Monisha Jaising gown. Styling, fitting and makeup all worked well however what did not work was the gown itself.
Not Hot
---
Kriti Sanon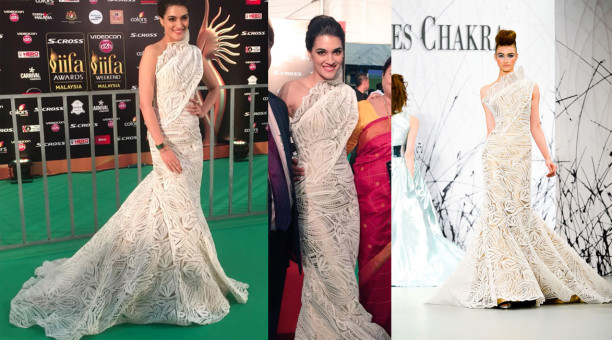 The best has been saved to the last. Kriti Sanon was an absolute vision in a white Georges Chakra gown. I've been progressively loving the young debutant's sense of fashion. Its unpredictable yet not forced. From the makeup to the hair, it would have been hard to take your eyes off Ms Sanon on the night!
SUPER HOT!