The IIFA awards took place last week and the stars descended upon Singapore for the awaited awards ceremony.
Stars such as Vidya Balan, Bipasha Basu and Zeenat Aman took to the green carpet for the main IIFA event. We of course had our fashion hats on to see which stars dressed to impress and which failed to impress.
If there was an award for the best dressed star of the night it would have to go to Sri Devi who looked stunning in a bold coloured Manish Malhotra sari. The worst dressed award for the night would unfortunately go to Shriya Saran who failed to impress us with her sari choice.
Click on to see which stars were hot and which unfortunately were not. …..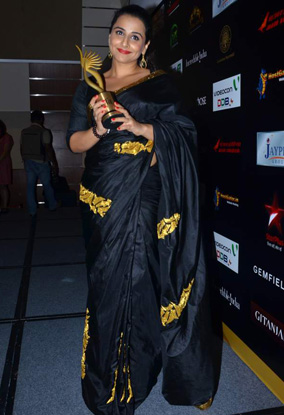 Vidya Balan shows us how to work the LBS, think little black dress but for a sari. I do like how Vidya has opted for statement red lipstick and natural hair and makeup which emphasis's Vidya's beauty.
Verdict – Vidya Balan is HOT!
---
Bipasha Basu looks ravishing in red. The Gauri and Nainika red gown looks great on Bipasha. I do like how she has opted for a leopard clutch to add some fun to her outfit. Bipasha's hairstyle looks great too which makes a change from the usual choice of a tied updo which is the usual hairstyle for such gowns.
Verdict – Bipasha Basu is HOT!
---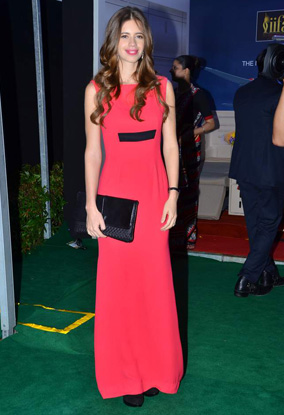 Kalki Koechlin works this simple yet effective Victoria Beckham dress. Kalki works the fuscia colour nicely and the choice of black accessories compliments the dress.
Verdict – Kalki Koechlin is HOT! 
---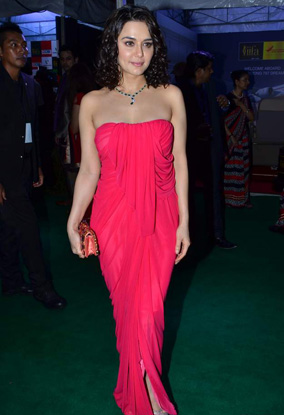 Priety Zinta's red carpet appearance is disappointing.  Her pink dress is very boring and could have done with a bolder necklace and some more jewellery. Her hairstyle is a bit boring and dated too.
Verdict – Preity Zinta is Not Hot!
---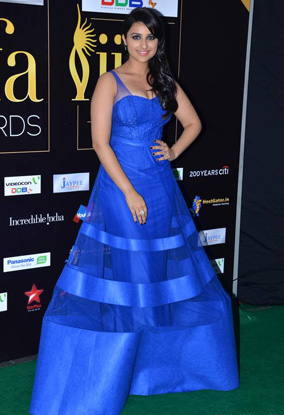 Parineeti Chopra dared to be different with this bold blue gown and although the colour is eye catching I am not a fan of the actual dress. The fabric looks a bit cheap and is not very flattering on Parineeti. Hats off for trying something different though!
Verdict – Parineeti is Not Hot!
---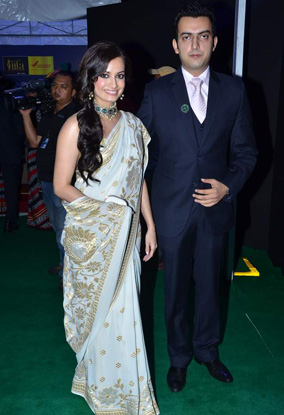 Dia Mirza looks pretty in her gold and white sari. Her boyfriend Sahil Sangha opts for a simple navy suit and works it well.
Verdict – Dia Mirza and Sahil Sangha are HOT!
---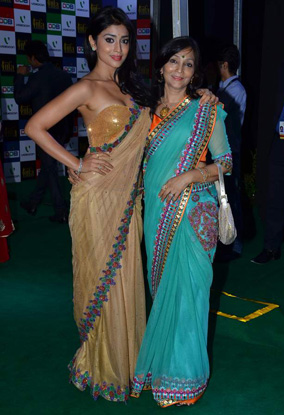 Shriya Saran looks good but her outfit does not. The trimmings on the sari border look like something you would find on a yule log at Chrismas and the blouse looks tacky. The colour of mother Neeraja Saran's sari is nice but the orange blouse does not go and looks tacky.
Verdict – Shriya Saran and Neeraja Saran are Not Hot!
---
Vivek Oberoi opts for a different style velvet suit and works it well. Wife Priyanka looks good in her simple yet effective beige sari.
Verdict – Vivek Oberoi and Priyanka are HOT!
---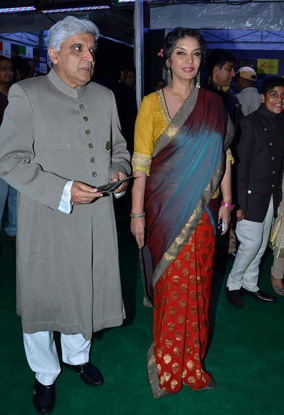 Javed Akhtar ji looks smart in his grey Indian style suit. As for wife Shabana Azmi ji, I do like that she always opts for a fun and colourful sari but the clashing colours and prints of this sari does nothing for Shabana ji.
Verdict – Javed Akhtar ji is Hot!
Shabana Azmi ji is Not Hot!
---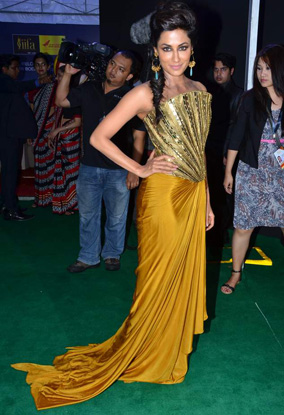 Chitrangada Singh opts for an unusual gown. I am not a fan (no pun intended) of the fabric as it is clingy and unflattering. As for Chitrangada's choice of accessories she took the fan theme to far by opting for fan earrings. Her makeup and hairstyle does nothing for her either.
Verdict – Chitrangada Singh is Not Hot!
---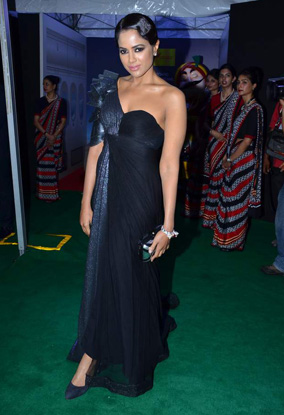 Sameera Reddy works her gown well. Her simple slick hairstyle compliments the dress nicely.
Verdict – Sameera Reddy is HOT!
---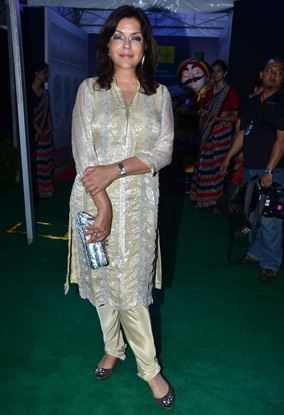 Zeenat Aman ji looks classy and sophisticated in her outfit. I love the colour on her that adds a regal glow to the actress.
Verdict – Zeenat Aman ji is HOT!
---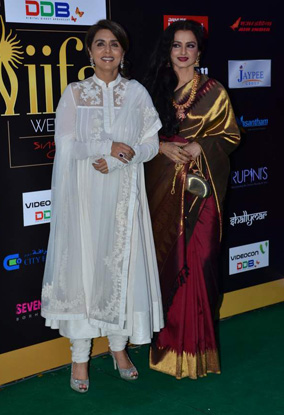 Neetu Singh ji looks great in her white outfit. White gowns and dresses are trendy at the moment and Neetu ji shows us how to work this trend in Indian attire. Rekha ji wears her statement look and as usual works the silk sari nicely.
Verdict – Neetu Singh is HOT!
Rekha is HOT!
---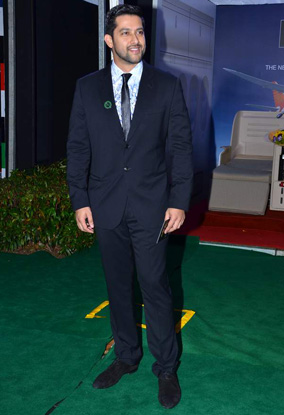 Aftab Shivdasani opts for a navy suit which makes a change from the usual black suits sported by actors. Aftab works this look well and looks smart.
Verdict – Aftab Shivdasani is HOT!
---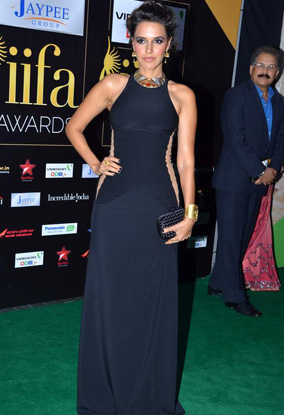 Neha Dhupia looks great but I am not a fan of her dress. The cut out's on the sides of the dress are not flattering on her hips.
Verdict – Neha Dhupia is Not HOT!
---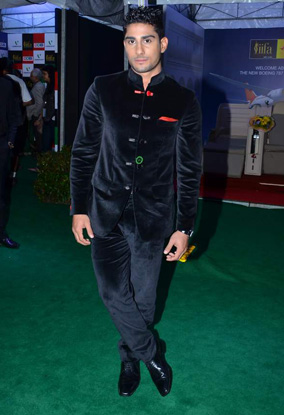 Prateik Babbar decides to follow from Vivek Oberoi's lead and wear a velvet navy suit but does not carry it off as well as Vivek. This look does nothing for Prateik who would have looked much better in a traditional black suit.
Verdict – Prateik Babbar is Not Hot!
---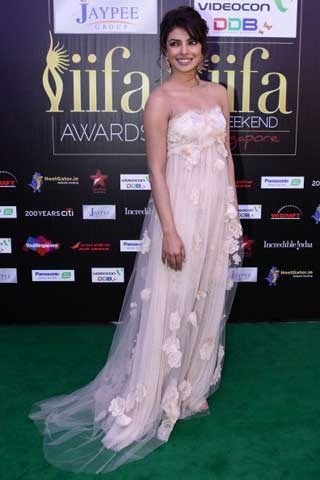 Priyanka Chopra opts for a cute gown and looks lovely. I do like her hairstyle and natural makeup. The gown surprisingly works well with minimal jewellery.
Verdict – Priyanka Chopra is HOT!
---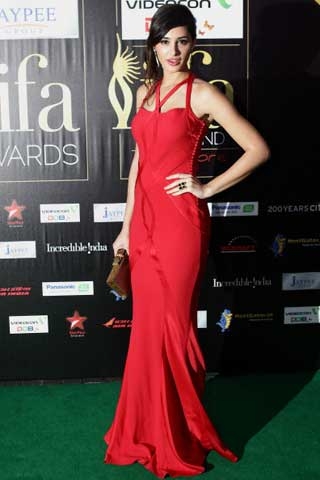 Nargis Fakhri works this red dress nicely. I like her side styled hairstyle, which seems to be the trend amongst the leading ladies on the red carpet.
Verdict – Nargis Fakhri is HOT!
---

Sri Devi ji looks stunning in this Manish Malhotra sari. The bold yellow colour looks great and does not overpower the actress. I do like her choice of silver accessories that compliment the yellow colour nicely.
Verdict – Sri Devi is HOT!