Stars such as Bipasha Basu, Sonakshi Sinha and Vivek Oberoi descended on the green carpet for IIFA Rocks in Singapore last week.
The fashion event saw designers such as Varun Bahl, Masaba Gupta and Suneet Varma have their designs go down the ramp on stars such as Bipasha Basu, Nargis Fakhri and Dia Mirza.
Since the event is all about fashion we had our eyes glued, more so, to the green carpet to see if the stars dressed to impress or failed. If there was an award for the best dressed of the night it would have to go to Nargis Fakhri and Aftab Shivdasani. The worst dressed award would go to Zoya Akhtar whose outfit choice bored us on the green carpet.
Click on to see which stars where fashionista's and which need to make more effort next time…..
Dia Mirza walked down the green carpet in a Rocky S creation. Dia carries this dress of nicely and looks sweet. This grey is more suited for a birthday bash or a garden party but Dia does carry it off nicely.
Verdict – Dia Mirza is HOT!
---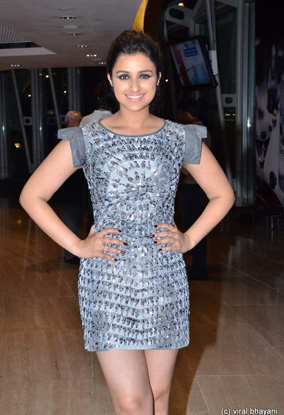 Parineeti Chopra also worked a short grey dress. I am not a fan of the detail on the sleeve that looks like Parineeti has put some tissue paper in the sleeves, ignore that and the dress is not so bad!
Verdict – Ignore the sleeve detail and Parineeti is HOT!
---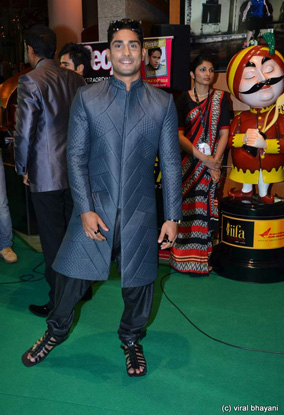 Prateik Babbar opts for unusual Indian attire and carries it off nicely. I do like the padded detailing on the top. Loose the sunglasses on the head and ignore the sandals and the outfit is good!
Verdict – Prateik Babbar is HOT!
---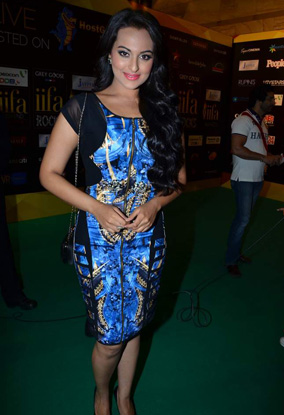 Sonakshi Sinha carries off this bold printed Falguni and Shane Peacock dress nicely. I do prefer seeing Sonakshi in Indian attire as she carries it off much better but she works this dress nicely too. Love the soft curls and statement lipstick, which seems to be all the trend!
Verdict – Sonakshi Sinha is HOT!
---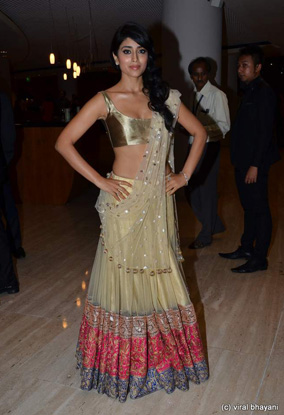 Shriya Saran looks nice but I am not a fan of this outfit. The gold blouse looks tacky and the sari is pretty boring and does nothing for Shriya.
Verdict – Shriya Saran is Not Hot!
---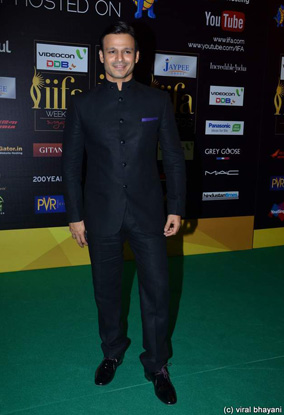 Vivek Oberoi opts for a navy suit and carries this particular style of nicely!
Verdict – Vivek Oberoi is HOT!
---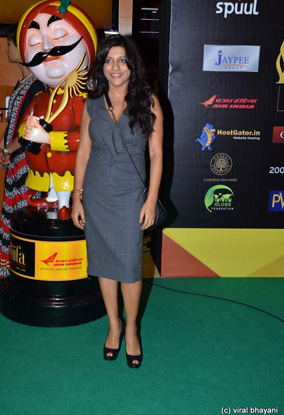 Zoya Akhtar tries to work the grey dress trend, which seems to be popular on the green carpet. I am not a fan of this dress, as it looks more work wear than green carpet attire. Next time try a bit harder Zoya!
Verdict – Zoya Akhtar is Not Hot!
---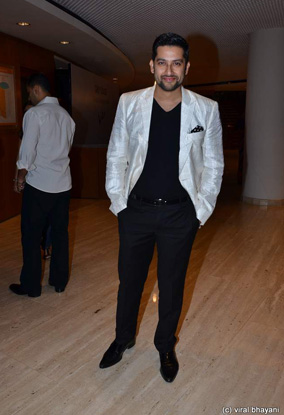 Aftab Shivdasani looks dapper. I would go as far to say that he is the best dressed male at IIFA Rocks. Love the white blazer that looks amazing with the black trousers and shirt. Aftab shows males how to work the monochrome trend.
Verdict – Aftab Shivdasani is HOT!
---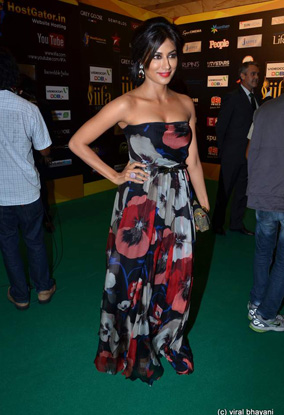 Chitrangada Singh looks pretty and carries of this Gucci floral dress of nicely. The dress works well without a necklace too!
Verdict – Chitrangada Singh is HOT!
---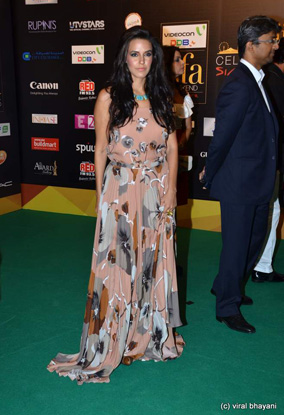 Neha Dhupia also opted for a Gucci floral dress. Peach is normally not a colour everyone can carry off but Neha works it well. The turquoise necklace adds a much-needed splash of vibrant colour to the dress. Love her hairstyle too!
Verdict – Neha Dhupia is HOT!
---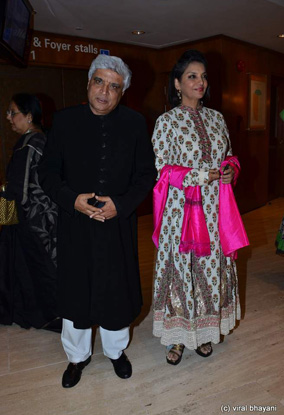 Javed Akhtar ji looks smart in his Indian suit. Wife Shabana Azmi ji carries of her anarkali style churidar off nicely. I do like the bright pink shawl. Most people could not carry this outfit off but Shabana ji works it well.
Verdict – Javed Akhtar ji and Shabana Azmi ji look HOT!
---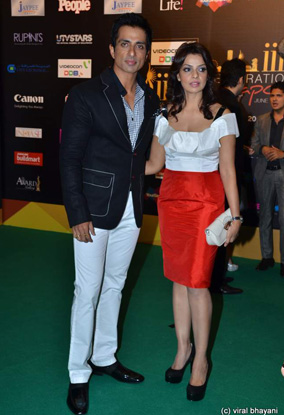 Sonu Sood opts for a nautical inspired suit and carries it off well. Cannot say the same for his wife Sonali. Not a fan of her unflattering dress, the top does nothing for Sonali.
Verdict – Sonu Sood is HOT! Wife Sonali is Not Hot!
---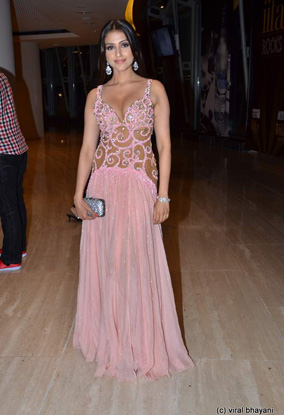 Although Aarti Chhabria 's dress reminds me of something you would see on dancing on the stars she does carry it off nicely and looks pretty. I do like her accessories that compliment her dress.
Verdict – Aarti Chhabria is HOT!
---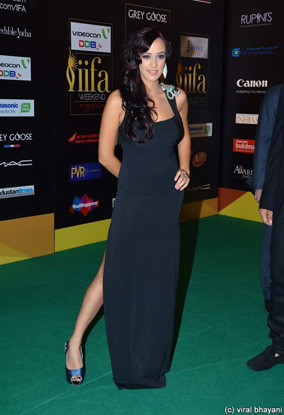 Hazel Keech looks nice but I am not a fan of her navy dress which is a tad bit boring. The shoes look tacky too!
Verdict – Hazel Keech is Not Hot!
---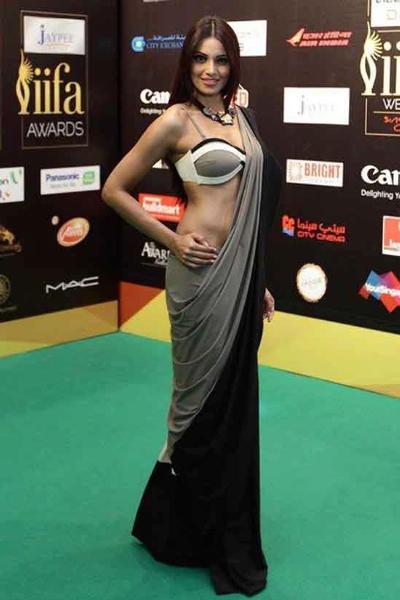 Bipasha Basu adds a western twist to a traditional style sari with her blouse choice. The simple sari looks great on the actress and I do like the statement necklace too!
Verdict – Bipasha Basu is HOT!
---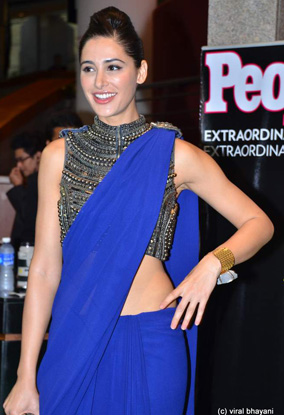 Nargis Fakhri looks great and I do love her choice of sari. The blue colour looks great on Nargis and I love her unusual blouse choice that adds some fun to an otherwise simple sari!
Verdict – Nargis Fakhri is HOT!
---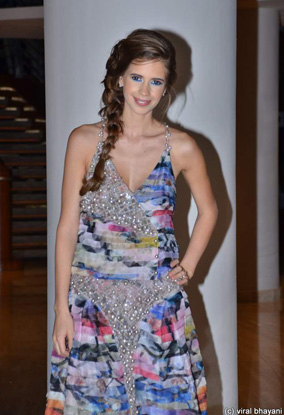 Kalki Koechlin looks pretty but I cannot say the same for her Chanel dress. Out of all the Chanel dresses Kalki could have worn she perhaps chose one of the worst. The print and bead detail looks tacky and does nothing for Kalki!
Verdict – Kalki Koechlin is Not Hot!