The moment finally arrived! After weeks of speculation as to who would be attending, who was not invited and who all begged to be invited the rumours were finally set to rest last night when the who's who of the industry gathered to bring in KJo's 40th year in style! Organised and customised completely by bestie Manish Malhotra, the bash was held at Taj Lands End in Bandra, Mumbai. The details of this lavish affair is a topic in itself however for now I take the pleasure of digging into the glamorous appearances of the ladies on the red carpet (yes we're rather conveniently ignoring the men!). You've gotta love it when a B-Town party isn't a hush-hush affair!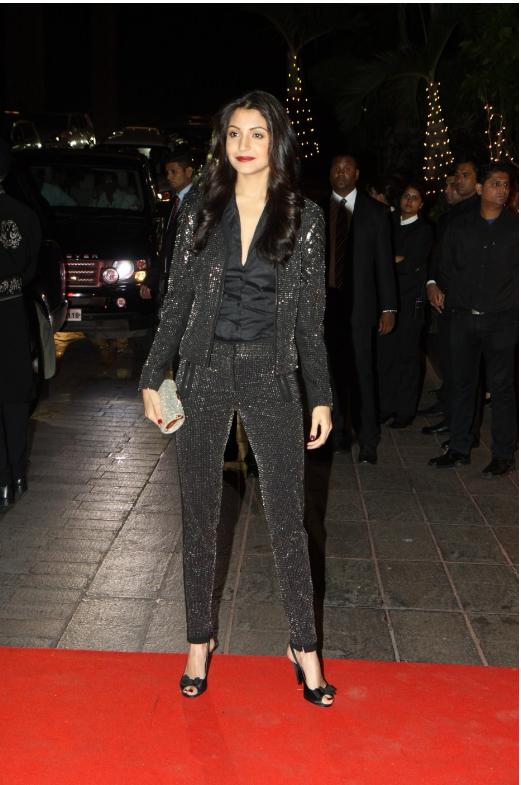 Anushka Sharma
Being the only lady to sport a suit on the night, Anushka owned this sequined Rohit Gandhi and Rahul Khanna attire. The pop of maroon was fabulous and I'm so relieved she didn't go for the usual run of the mill bright red-black combination.
Very hot
---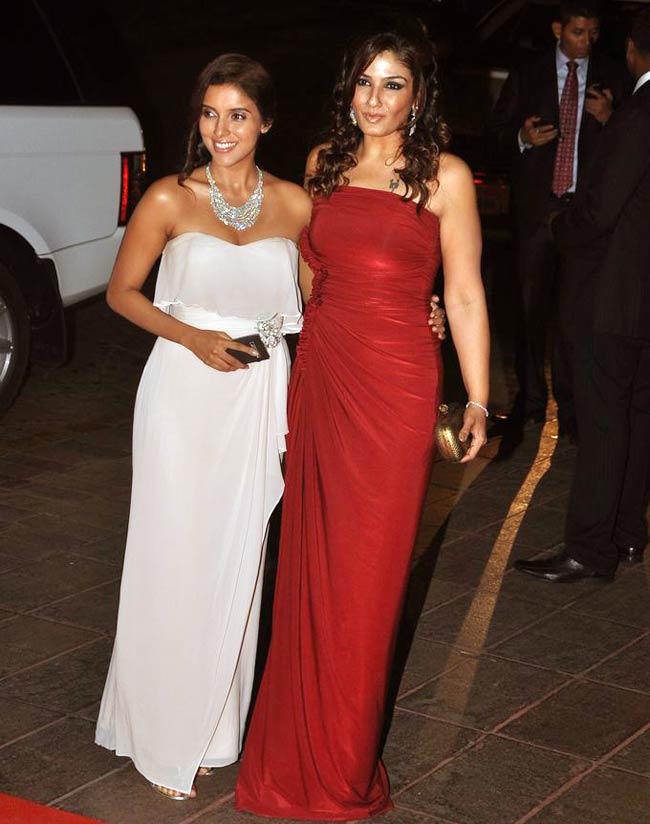 Asin and Raveena Tandon
Never pegged these ladies to be the BFFs they looked like on the night but then again stranger things have happened in Bollywood. Little issues with their attires (Asin's gown is by Badgley Mischka) however major issues with Raveena's hair. The woman looks like she's been styled by her 90s hair stylist who's clearly stuck in a time warp.
Asin: Hot || Raveena: Could be hotter
---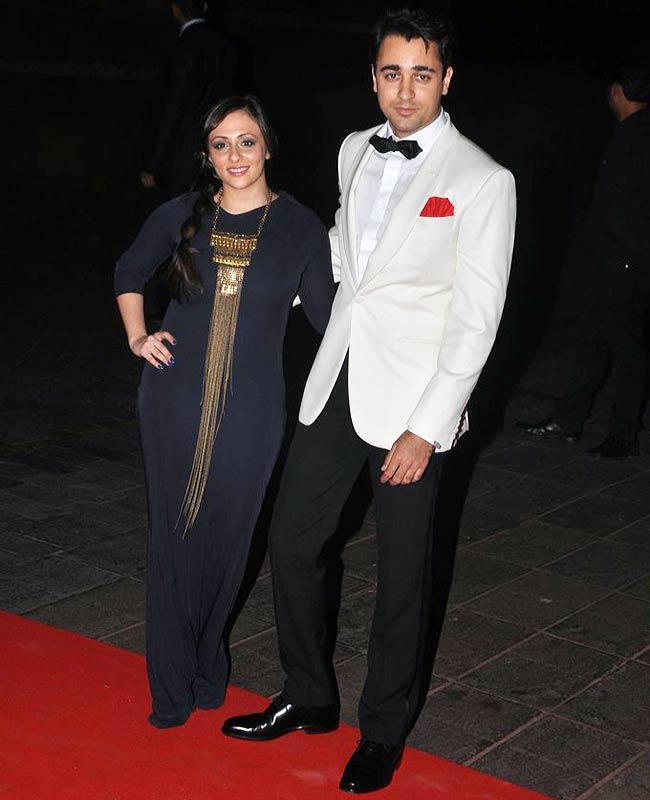 Avantika Malik
Gotta give Avantika props for always daring to be different. I do love combination of an otherwise plain Stella McCartney dress and a knee length necklace. However, the dress's fitting and length is just a bit too untidy for my liking.
Not hot.
---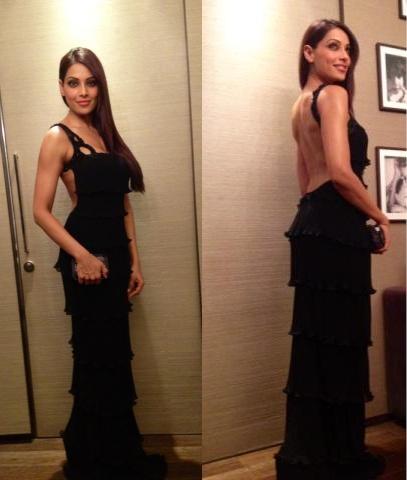 Bipasha Basu
After a string of unsatisfactory appearances Bips decides to blow us away with this multi tiered backless Arpan Vohra gown. It's simple, sexy and effective.  She makes a statement and I'm loving it!
Very hot!
---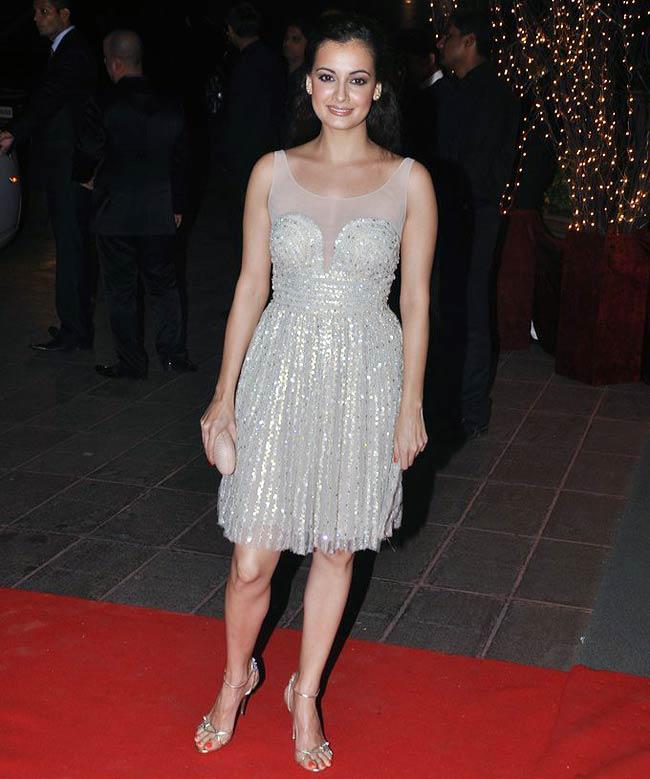 Dia Mirza
Not hopping on the long-gown bandwagon was Dia Mirza in a white mesh neck dress by Rocky S. It's a rare day when we have to slot Dia in the not-hot category. Today is that rare day. The dress is just not working for me, nor are the shoes, hair or makeup. I wonder if it's the high expectations I have from her? Whatever it may be, just not feeling this look.
Not hot
---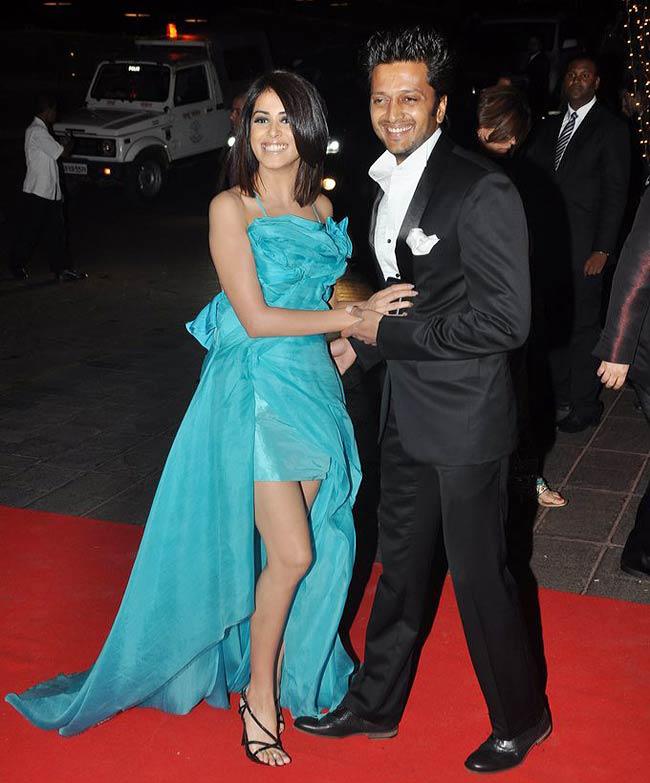 Genelia Deshmukh
Ready to party the night away with the most striking of all gowns on the red carpet was Mrs Deshmukh. Some may say she's pushing the boundaries way too much with this Jatin Varma gown but I say why not! The aqua, the jet black spunky hair and the stunning makeup all compliment her personality perfectly. The only thing I would change is the foot wear. Apart from that, Genelia looks mindblowing!
Very hot
---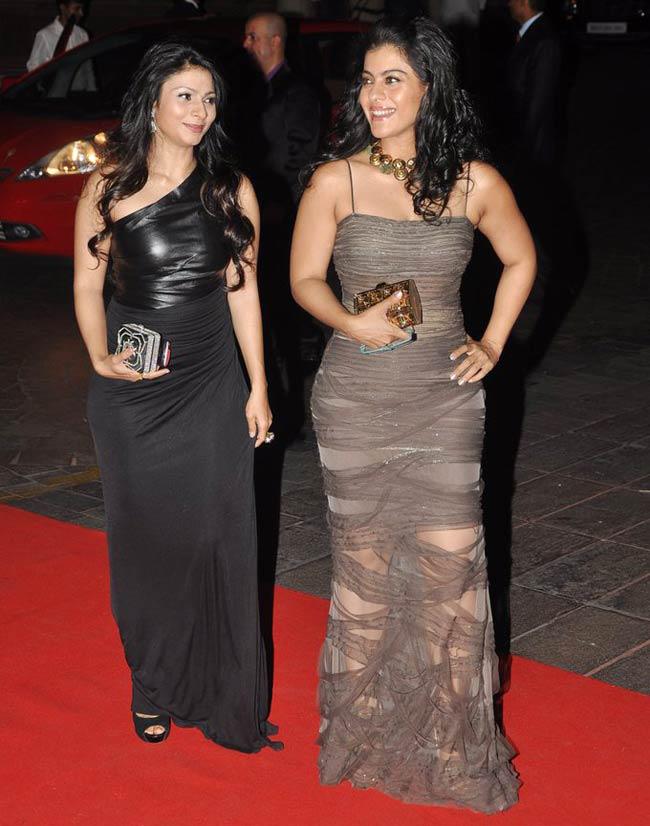 Kajol and Tanisha
Kajol had a good run with an amazing string of appearances lately but sadly it comes to an end with this…whatever it is! The fact that the bottom half is not see-through is probably why this Kushali Kumar gown is a total deal breaker. Had it been otherwise I really wouldn't have minded the outfit. Not quite sure why anyone would think the waist down portion of this attire is attractive. Waist up though I loved how she looked. Especially the combination of the clutch, necklace and slightly off-beat hair styling. Plus I think anytime she manages to dare to not wear Manish Malhotra is an event of celebration in itself! Tanisha on the other hand had nothing working for her. The Monisha Jaising gown may have worked for its predecessor but somehow it lets Tanisha down quite dramatically.
Kajol: Could be hotter. Tanisha: Not hot.
---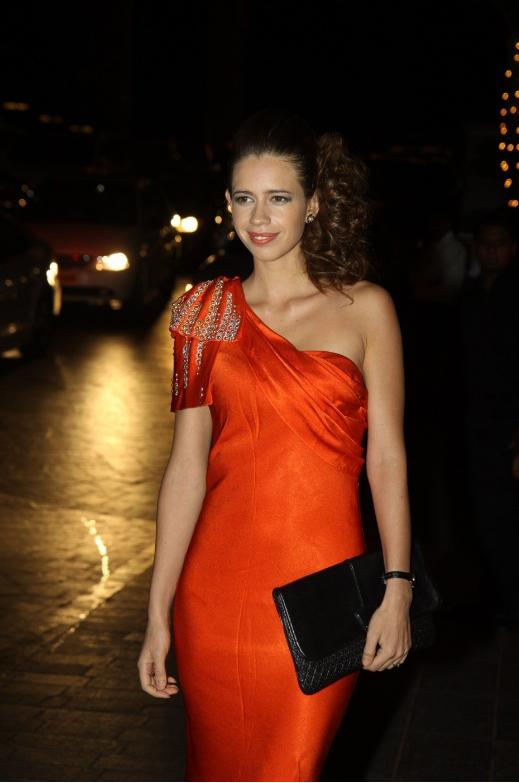 Kalki Koechlin
Dashing back from Cannes was Kalki Koechlin who sported a one shoulder Dior gown on the night. This one is one of Kalki's off beat attires that just didn't pan out.
Not hot.
---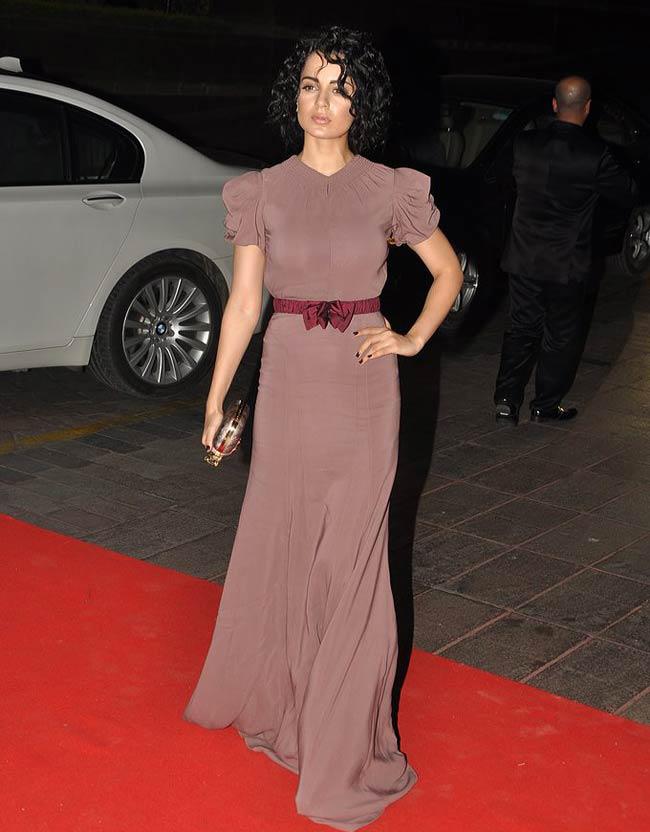 Kangana Ranaut
Growing tired of saying this but sincerely beg Ms Ranaut to try to smile with her striking appearances. A public appearance is hardly a filmi scenario nor a catwalk where she's meant to retain a specific facial expression for the camera. Oh but expressions aside, she looked fabulous!
VERY hot!
---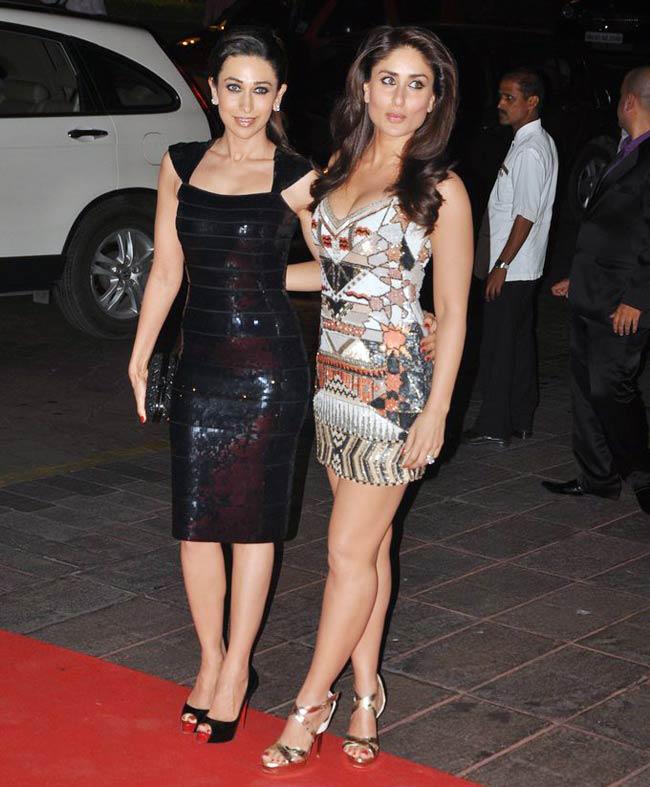 Karishma Kapoor & Kareena Kapoor
Rather majorly disappointed with the Kapoor sisters. Whilst the Herve Leger on Karishma was stunning, it was a rather boring look I'd like people to file away. Kareena on the other hand looked like she stepped off the sets of Heroine. The dress just didn't look the level of 'classy' we expect from Bebo.
Karishma: Could be hotter. Kareena: Not hot
---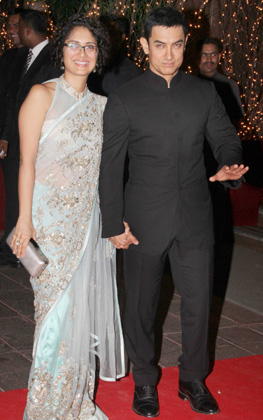 Kiran Rao
Going the glam way was Kiran Rao for a change in a sparkly Gaurav Gupta saree. Not only do I love the saree, I love that she ditched the gowns, which were slowly dampening my spirits as I scrolled through these pictures. Must also add that she styled her entire look quite flawlessly!
Hot
---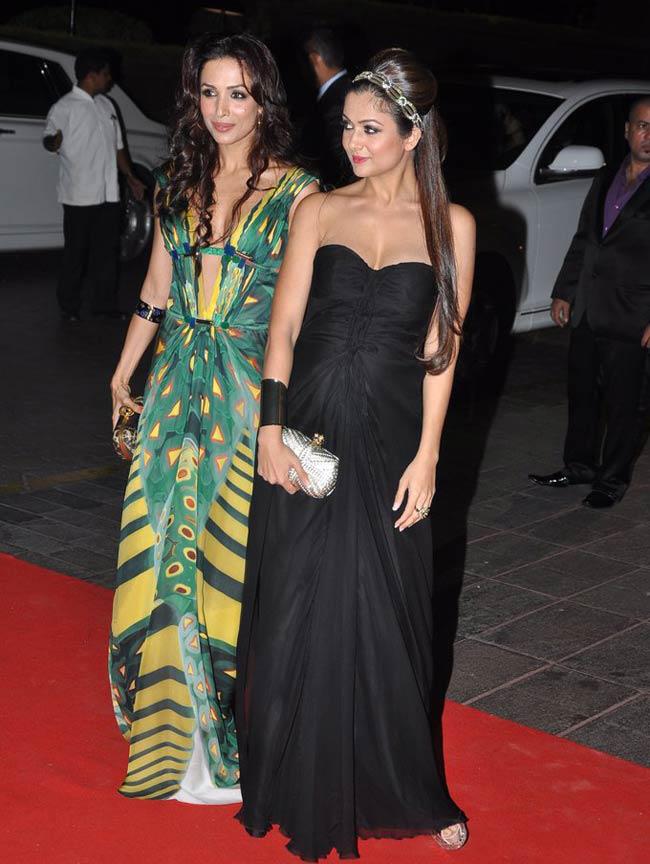 Amrita and Malaika Arora
Do we even bother to analyse these two sizzling siblings? Malaika owned that Robert Cavalli gown which hanging elsewhere would have never caught my eye. Only she can pull off a plunging neckline with so much class and so effortlessly. Amrita lived up to big-sis's appearance in her black gown. Loving the headband and dead-straight hair.
Both: VERY hot!
---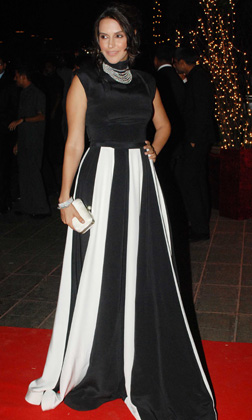 Neha Dhupia
Now this outfit would have made heads turn! I was thoroughly surprised and disappointed that amongst all the gowns on the red carpet I was yet to see a Gauri Nainika piece however thankfully Neha Dhupia came to my rescue! Loved everything about the look especially the necklace worn on top of the high neck.
Very hot
---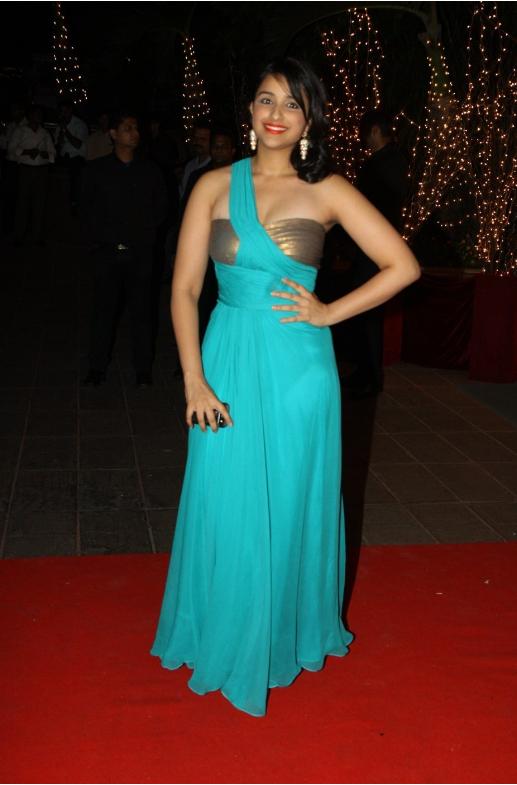 Parineeti Chopra
In my list of ladies who need to be saved from their own fashion sense, Parineeti Chopra is securely at the number one position. Who on earth let her walk out looking like that?! There's not a single hope for this attire. The gown by Shantanu and Nikhil itself should never have existed (something I don't think I've said about the designer duo's pieces in the past!), the lack of accessories just meant you couldn't look away from the hideous gown, the tacky earrings, hair and of course the lipstick (did a 5 year old apply it for her?). An absolute train wreck this appearance was.
Most definitely Not hot!
---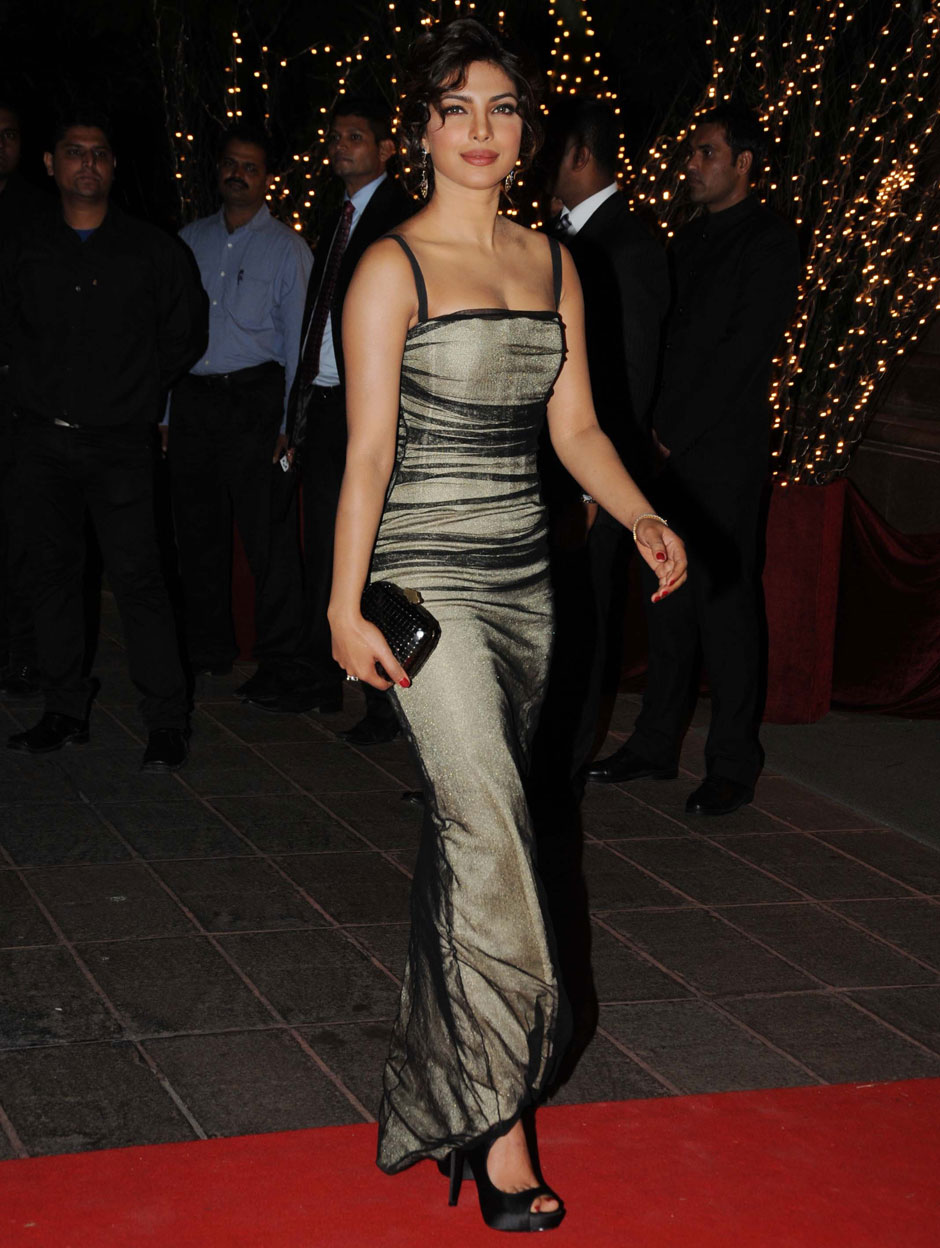 Priyanka Chopra
It was not a good night for the Chopra sisters on the fashion front. The biggest let down of the night has to be Priyanka Chopra in what everyone tells me is a gown, a Dolce & Gabbana one nonetheless. However no matter what the label, a bad piece of clothing is exactly that. Even PC couldn't save this outfit.
Not hot.
---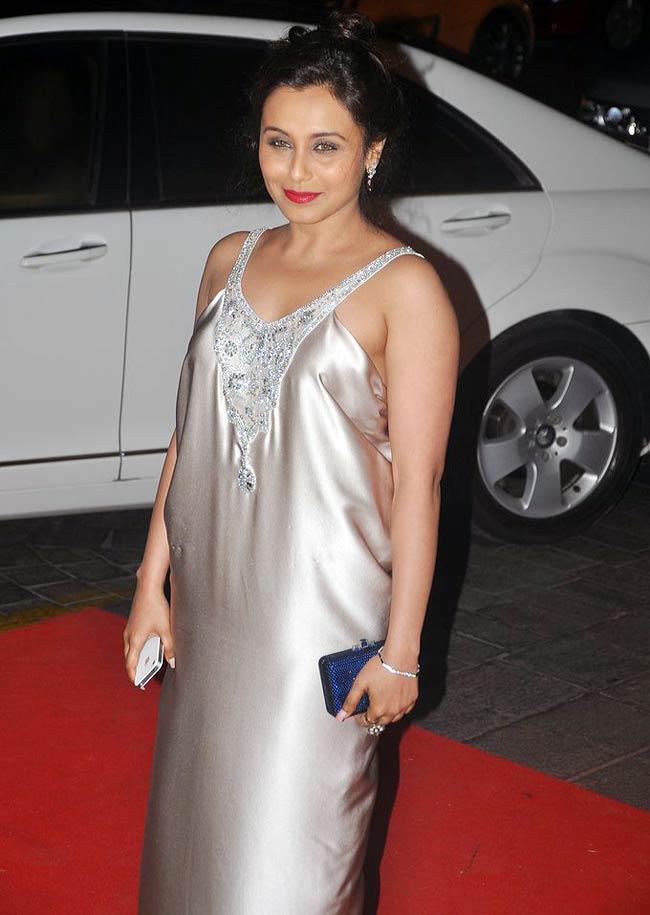 Rani Mukherji
I was yet to recover from Parineeti's gown when the cosmos chucked this one my way and left me in an even more speechless state. I am not quite sure in what world that outfit is meant to be good or at least 'well fitted'. I'd challenge her or anyone else to find me a more unflattering outfit for Rani. Genuinely surprised tabloids aren't going crazy with news of a secret pregnancy because honestly with this outfit, she's left people with very little choice. Thankfully I'm going to chalk it up to her decision to wear the worst outfit possible.
Ridiculous not hot!
---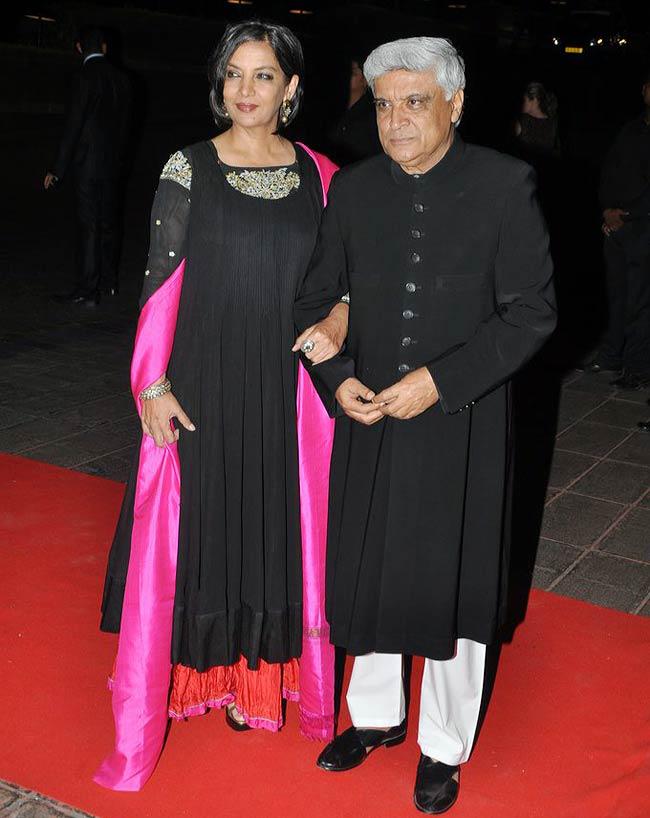 Shabana Azmi
Shabanaji did the color-popping on behalf of all the ladies in her stunning black and fluro pink suit. She's rocking it! What a striking appearance on the red carpet and the best accessory complimenting the attire was but of course her attitude! I fear that she could walk out in a sack and I wouldn't be able to say anything because she'd pull it off with so much confidence and devil-may-care attitude.
Very hot!
---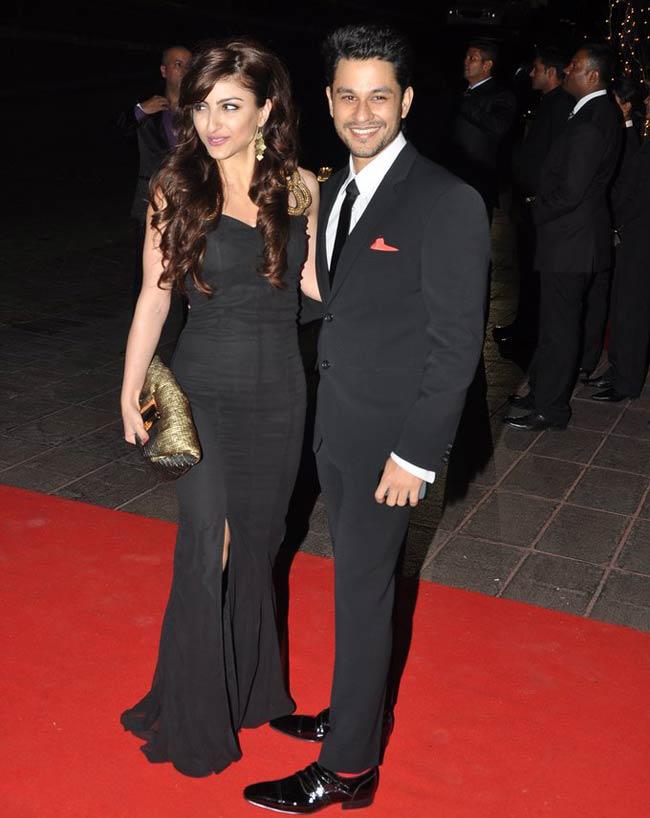 Soha Ali Khan
Loving the hair and even the gown to a great extent but gosh that clutch is hideous!
Could have been hotter
---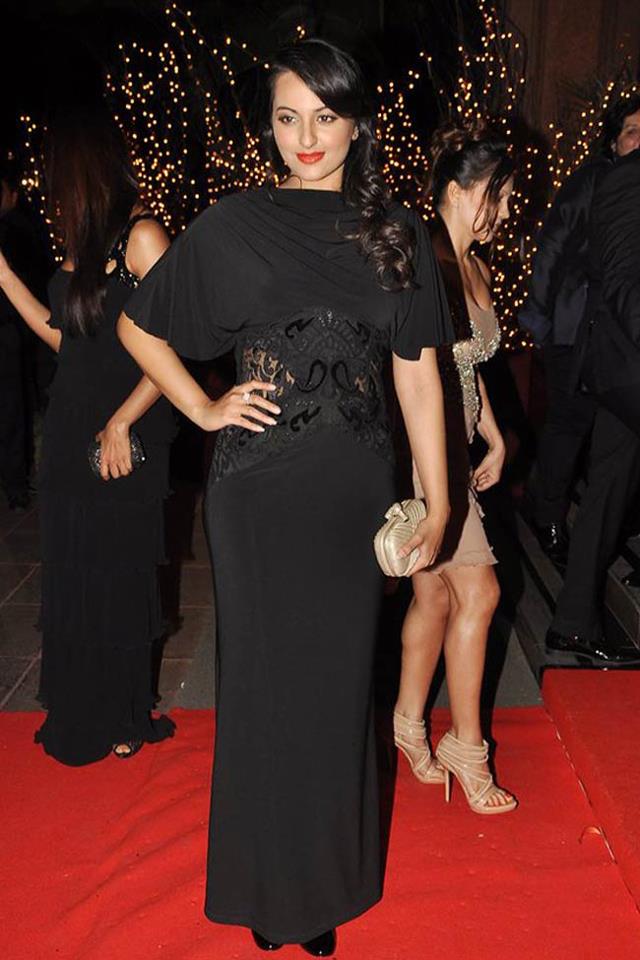 Sonakshi Sinha
Black, a pop of red and cream clutch was hardly a combination to get wrong. However despite it being quite an impressive piece by Shantanu and Nikhil, just didn't seem to be the one for Sonakshi. The boot-ish shoes didn't help.
Not hot
---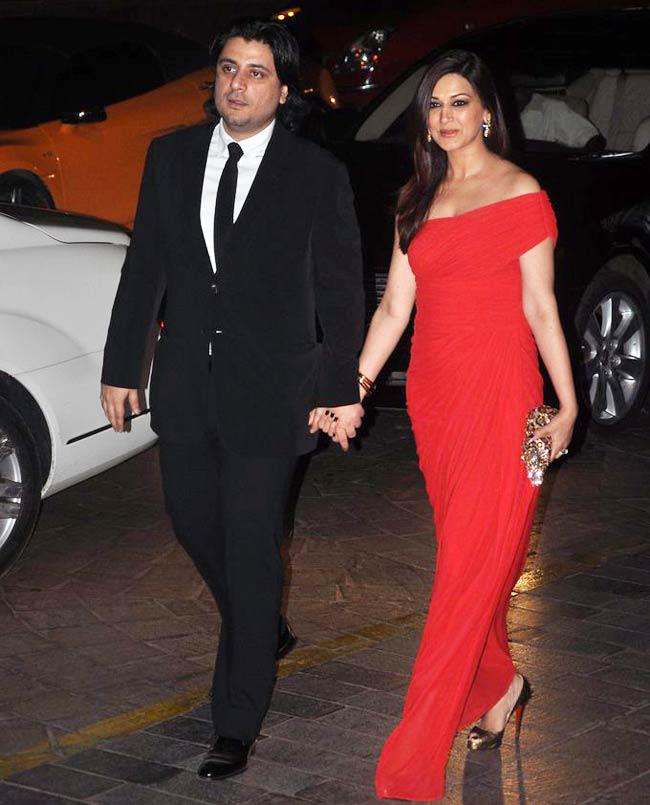 Sonali Bendre
The sizzling lady in red of the night was Sonali Bendre who as always effortlessly glided in in a rather simple Ramona Narang attire but would have definitely made heads turn. Loving it!
Hot
---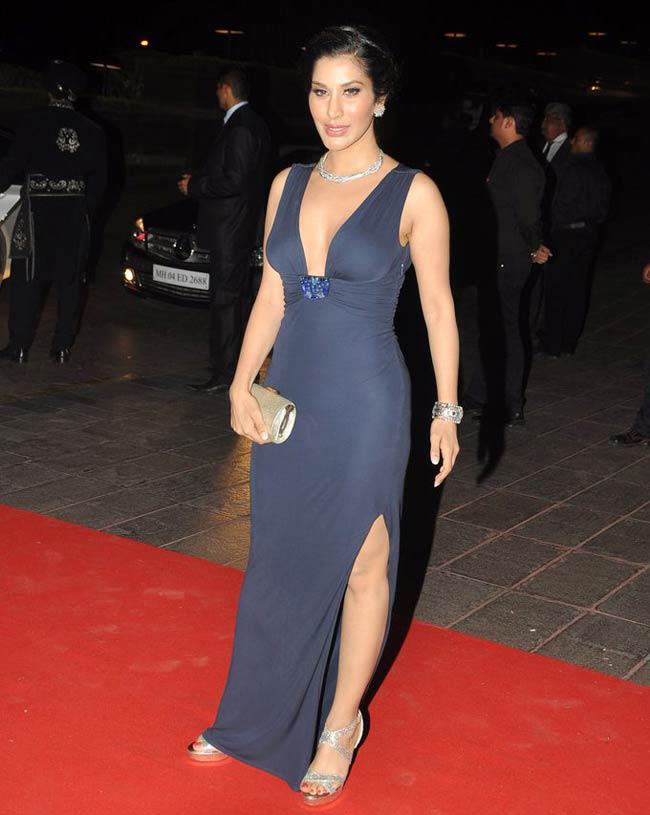 Sophie Chaudhry
No crime in going on the 'curvier' side of things as long as you know how to dress for that side. Sophie seems to have lost her way. Definitely not feeling this gown on her.
Not hot
---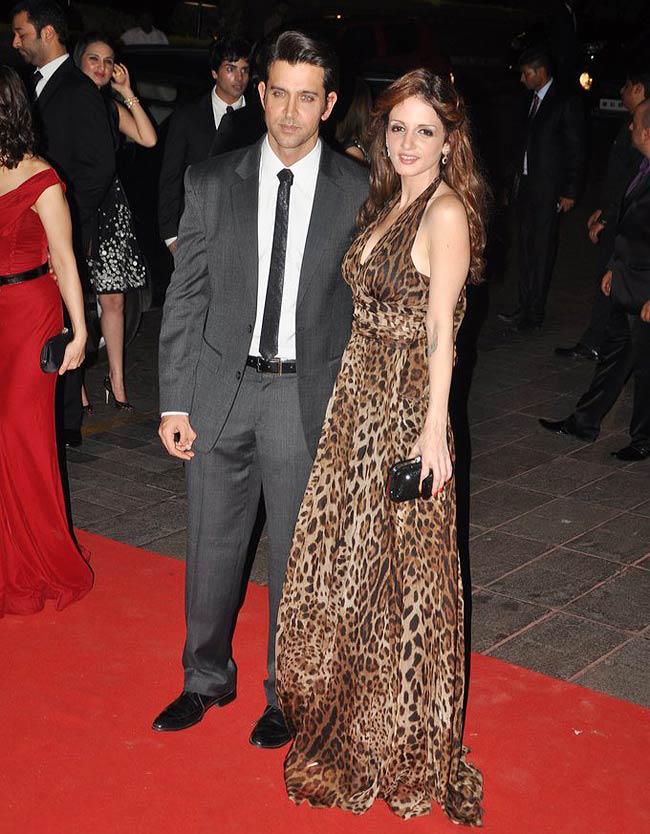 Suzanne Roshan
The only lady to be brave and opt for a printed gown was Suzanne and her bravery paid off! I just love the animal print halter neck gown Dolce & Gabbana on her. It flows beautifully and complements her complexion and hair color oh so perfectly. Love that she paired it with black accessories.
Very hot!
---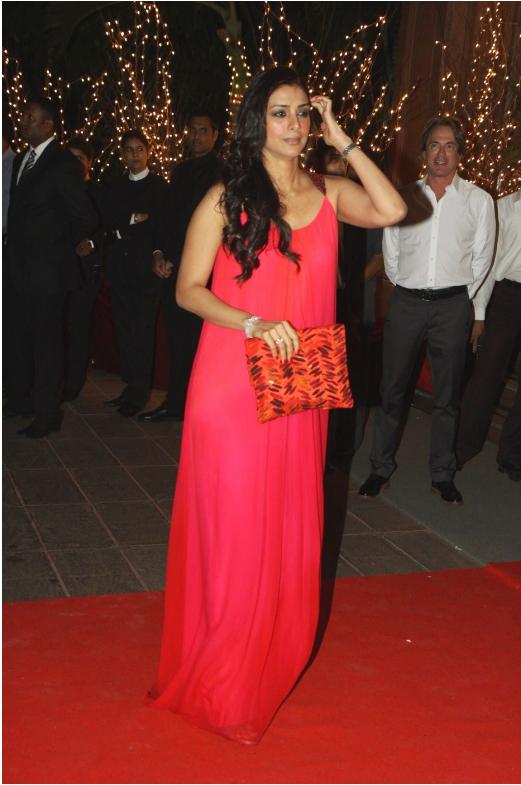 Tabu
A rare appearance by Tabu is a reason to celebrate in itself. However I get rather overwhelmed when that appearance is as stunning as this one of Tabu's in a beautiful Nachiket Barve maxi. Oh you stunning lady! How I wish we got to see more of her!
Very hot!
---

Urmila Matondkar
Someone save Urmila! What a stunning lady but one fashion blunder after another. She just can't catch a break! Another one like Rani to fall in the satin-gown trap.
Not hot
---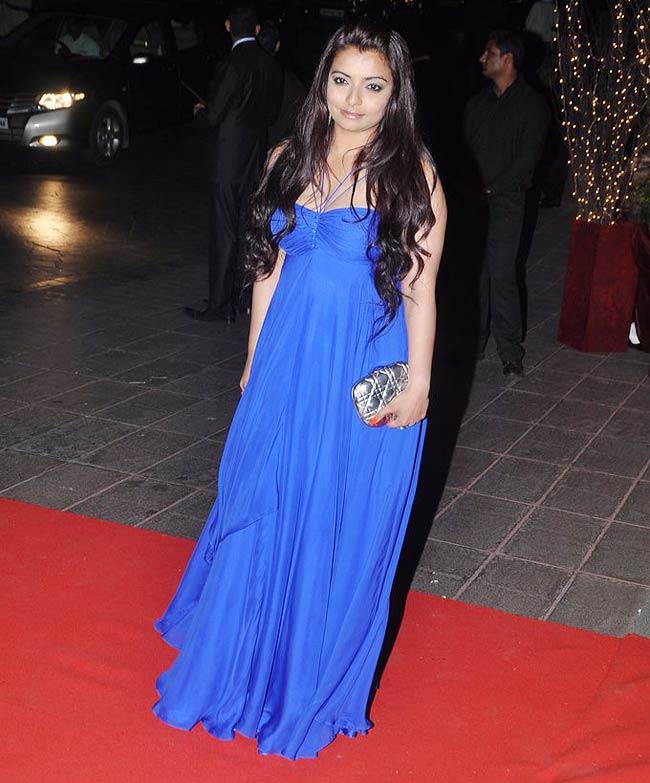 Vaibhavi Merchant
Taking a break from all the dull whites, blacks and greys was Vaibhavi in this bright blue gown. I love the princessy look she pulled off with her long curls and flowy gown.
Hot