Whilst the winners of Life OK Screen Awards aren't aspects of the show we want to particularly discuss, for obvious reasons, the fashion on the red carpet was!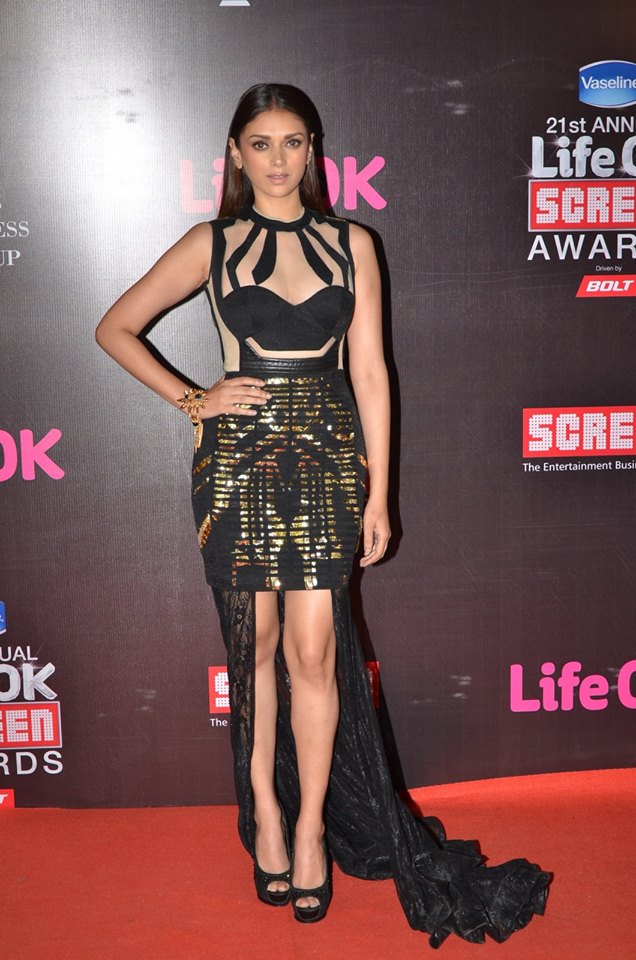 Aditi Rao Hydari
Hi-lows have been done to death yet we find celebrities very boldly still opting for them. This one was an especially blunt hi-low gown by Falguni and Shane Peacock that Aditi opted for. She works the gown well but the styling is all a bit lost.
Verdict: Could be hotter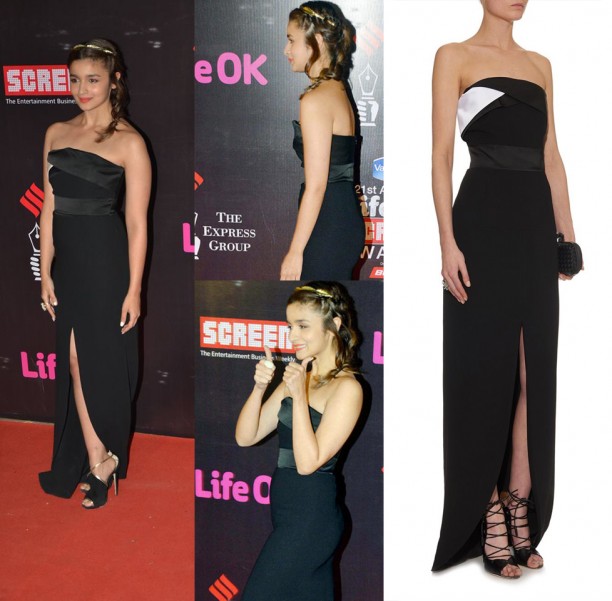 Alia Bhatt
The gown of choice was not the issue with Alia however the styling of the satin crepe strapless Prabal Gurung gown was. Not quite sure what that hair is meant to be. Also not feeling the makeup. What a shame as this could have been a winning look!
Verdict: Not Hot!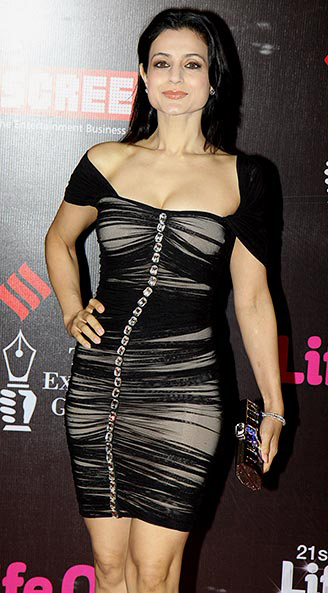 Amisha Patel
Without sounding overly harsh one must question the kind of mirrors that Miss Patel has around her place that support her fashion faux pas one after another! This time it was in a Ramona Narang bodycon. Cannot say much more than, this did not work.
Verdict: Definitely Not hot!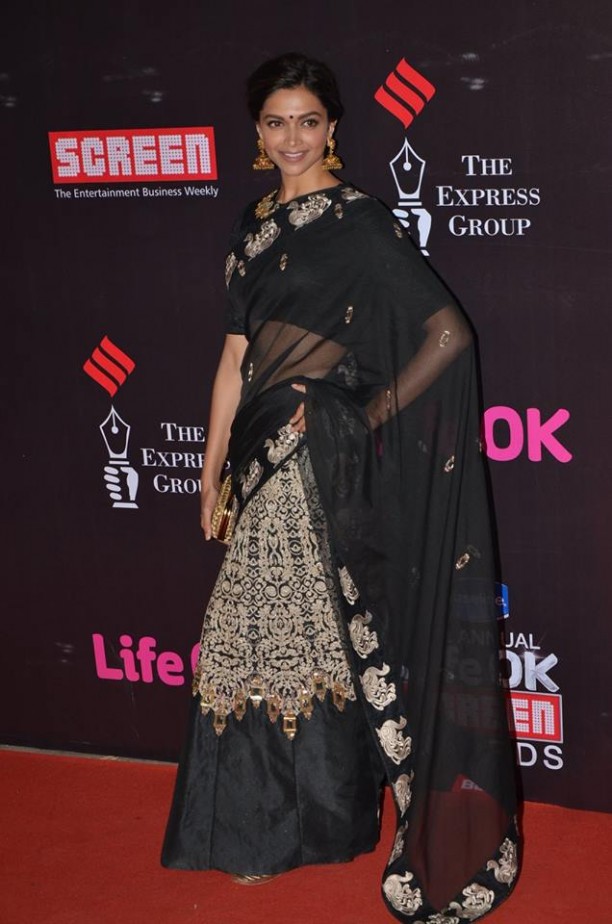 Deepika Padukone
Ditching the gowns DP went traditional with a Jade by Karishma & Monica saree. The saree itself worked find but do wish she'd opted for a pleated pallu.
Verdict: Could have been much hotter!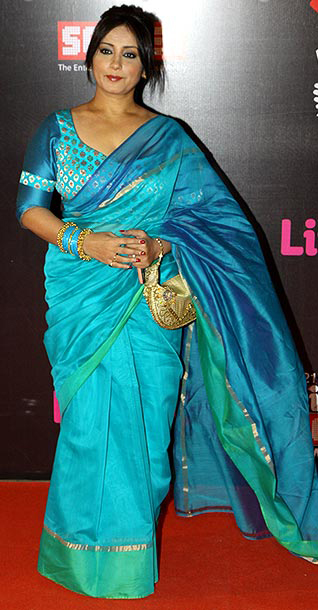 Divya Dutta
Divya went with her signature style on the night with a woven saree. She would have looked great if it wasn't for that hair and makeup.
Verdict: Not Hot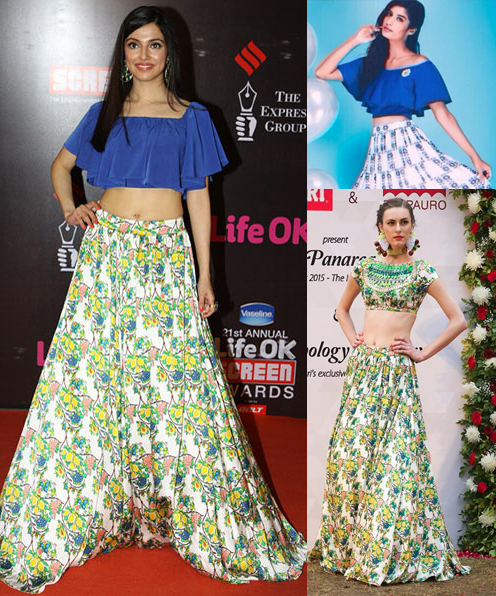 Divya Khosla
Divya Khosla paired a Nisha Sainani crop top and a Pia Pauro maxi skirt together. Individually the pieces worked but together they did not. What was more off putting was the fact that Divya was clearly hesitant to wear this top as a complete off shoulder top.  Last but not the least, had this one even worked, it would have definitely not been award-show-red-carpet appropriate.
Verdict: Not Hot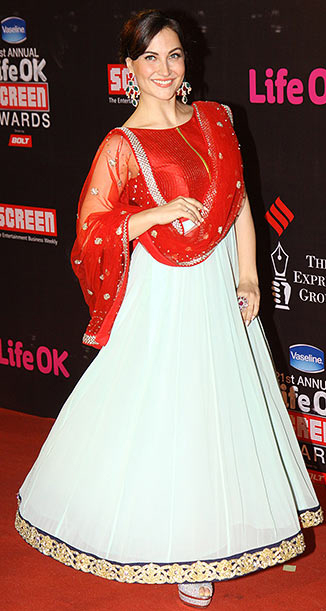 Elli Avvram
Elli Avram went Desi on the night in a Salima Lalani anarkali. The look would have worked had it not been for 'those' earrings. Less is more Elli, less is more!
Verdict: Not Hot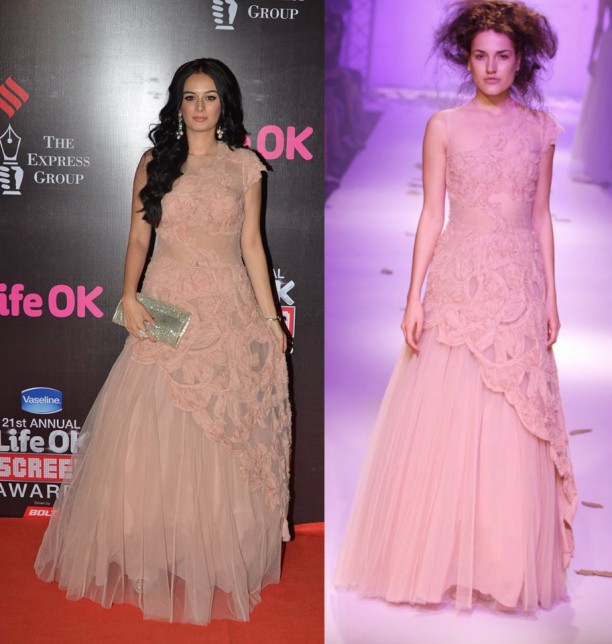 Evelyn Sharma
Evelyn had quite the winning look on the night in a Rocky S tulle gown from the designer's Winter/Festive 2014 collection. Only small gripe with this look is the clutch that starkly stood out.
Verdict: Hot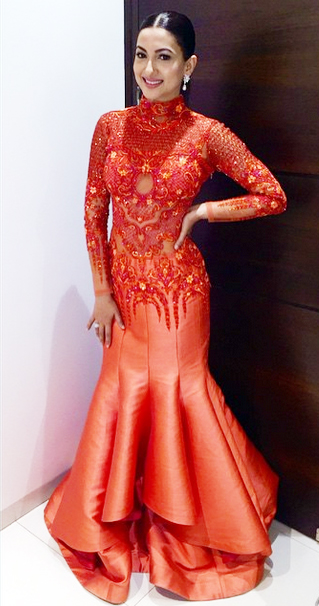 Gauhar Khan
Gauhar was a sight in red in an Anjalee and Arjun Kapoor gown. Given that the gown was quite structured would have loved hair that was more 'fun' and not as sleek. Though this wasn't a big enough issue with the look to declare it a complete blunder.
Verdict: Hot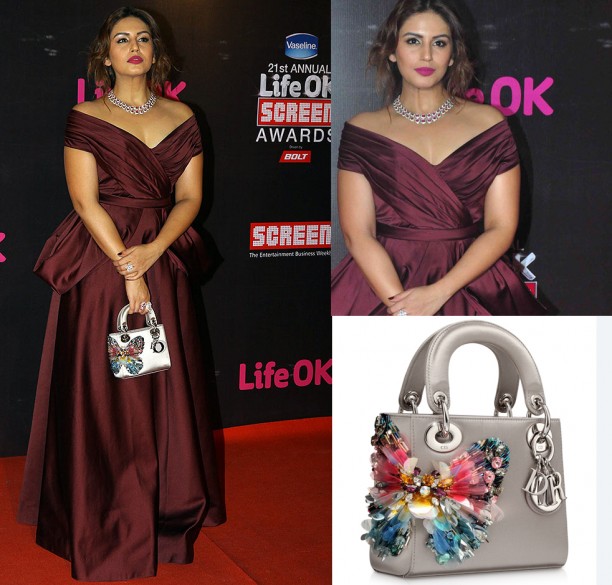 Huma Qureshi
It was quite the overwhelming Amit GT gown for Huma. One that definitely didn't work for her. Nor did the additional of the Dior handbag. There was no saving this one.
Verdict: Not Hot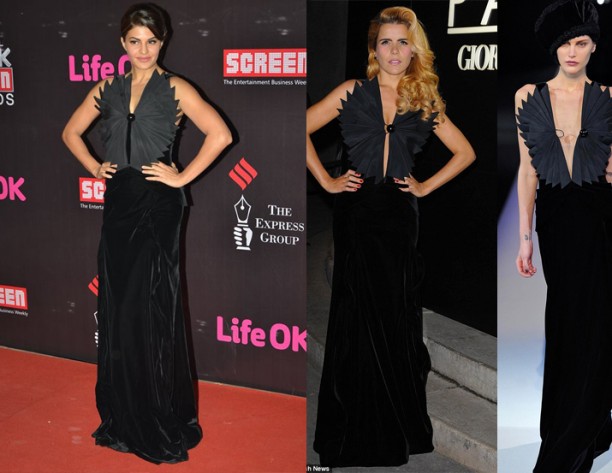 Jaqueline Fernandez
Jaqueline added a black slip to Georgio Armani's fan bust gown from the designer's Fall Winter 2013-2014 collection. The gown looked quite different when presented on ramp and when sported by Paloma Faith but we're quite glad with the unique touch Jaqui gave the look and made it her own.
Verdict: Very Hot!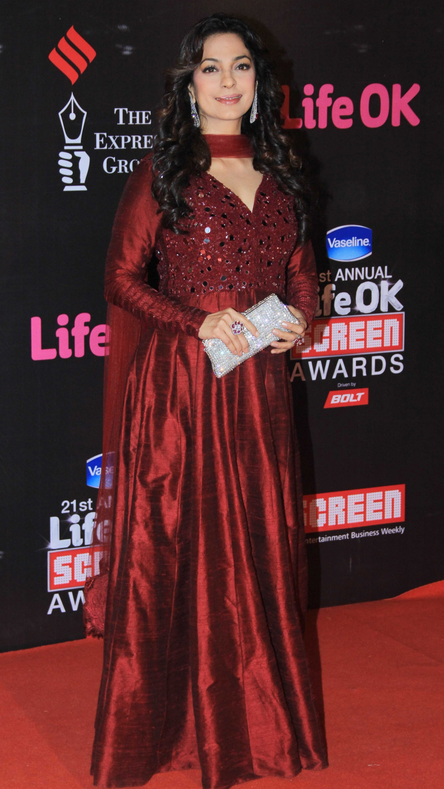 Juhi Chawla
Predictably Juhi was spotted in a Manish Malhotra anarkali. Would have wished that the petite actresses had opted for a less overwhelming anarkali perhaps by simply just opting for one that wasn't floor length. Regardless though she still looked quite stunning. Extra points for FINALLY putting effort into hair, makeup and jewellery, something she rarely does.
Verdict: Hot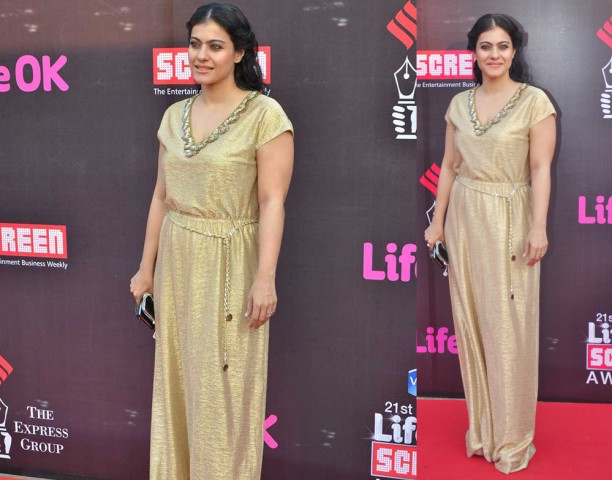 Kajol
Like Evelyn, Kajol also went with a Rocky S gown on the night. We can't say though that her look was as impressive as Evelyn's. Had this one been properly it would have worked but for now this is a dud look.
Verdict: Not Hot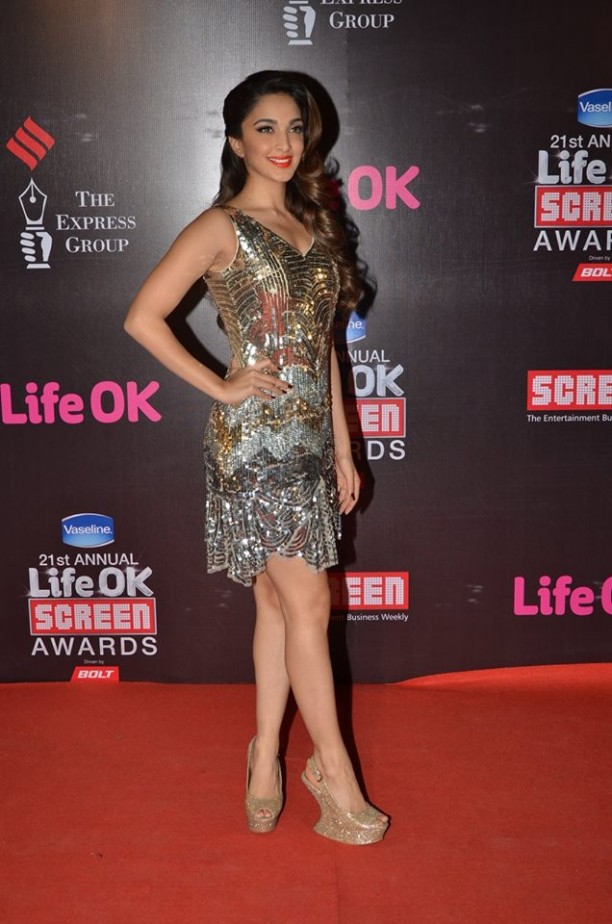 Kiara Advani
Kiara Advani literally shined on the night in a Belle by Oasis knee length dress. She worked the look rather confidently with a pop of color for lips and side swept curled hair. What didn't work were the gold wedges, which in all their sparkly glory seemed misplaced, though not enough to ruin his winning look.
Verdict: Hot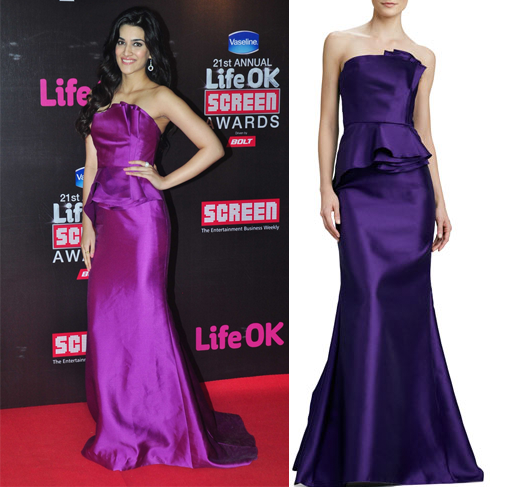 Kriti Sanona
Working a color that very few manage to pull off was Kriti Sanon in a Carmen Marc Valvo. She looked simply stunning in the strapless gown. Can't fault this one at all!
Verdict: Very Hot!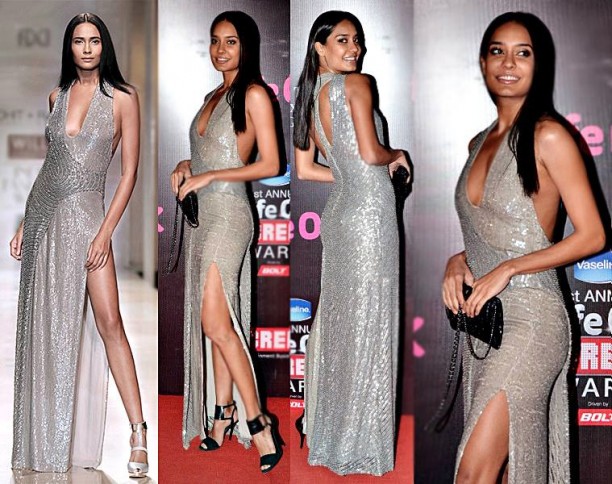 Lisa Haydon
Wearing yet another risqué attire and giving the faintest care in the world for it was Lisa. Gotta love this lady's inherent style.
Very Hot!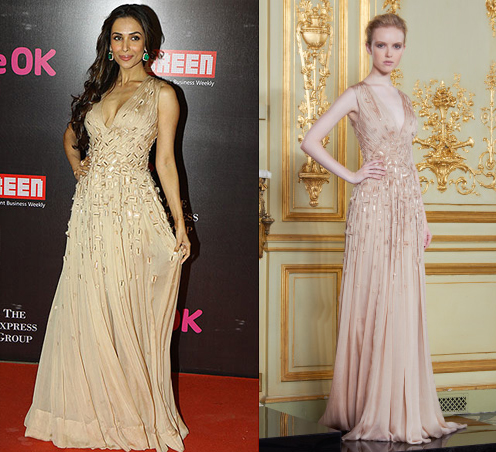 Malaika Arora Khan
It is always greatly appreciated by fashion enthusiasts when our stars introduce us to new talents in the industry. Mostly they opt for the big Indian names or the bigger western names however very few think outside the box. Malaika was that rare person who opted for a Rami Al Ali gown from the designer's Autumn Winter 2014/2015 collection. She looked ravishing in it minus a very small thing, the earrings. Would have preferred something subtle.
Verdict: Hot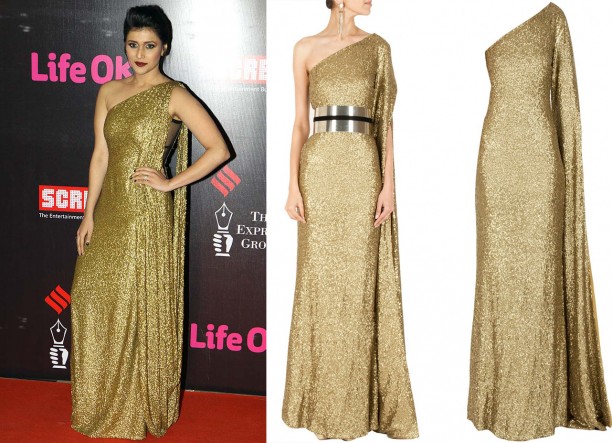 Mannara
The Nikhil Thampi wave at award shows continues. Last year we had quite the number of Thampi sightings, not that we're complaining! This year it was Mannara bringing out a Nikhil Thampi one shoulder saree gown. Love the fact that she gave the classic Nikhil Thampi belt a break since it was done to death last award season. In addition to pulling off the gown so flawlessly Mannara's volumed upstyle and dark lips were great additions.
Verdict: VERY VERY HOT!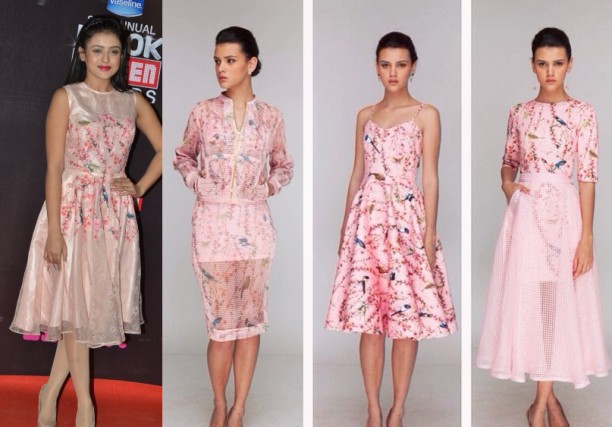 Mishti
Kanchi star Mishti was spotted in a Nishka Lulla dress. The dress hails from one of my favourite collections from the designer but sadly Mishti wore it all wrong. From the panty hose to the lip color. To add to that, this was really not an attire designed for a red carpet event.
Verdict: NOT HOT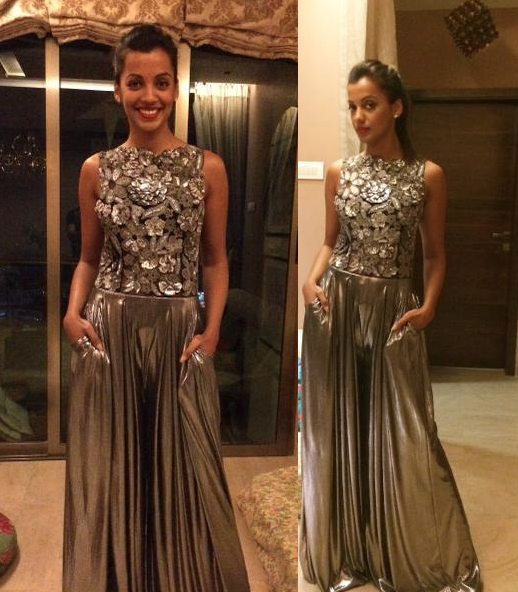 Mugdha Godse
Gold lame is all the rage right now but not every piece works. Thankfully for Mugdha this Namrata Joshipura gown did. The sleek hair and red lips complimented the look beautifully.
Verdict: HOT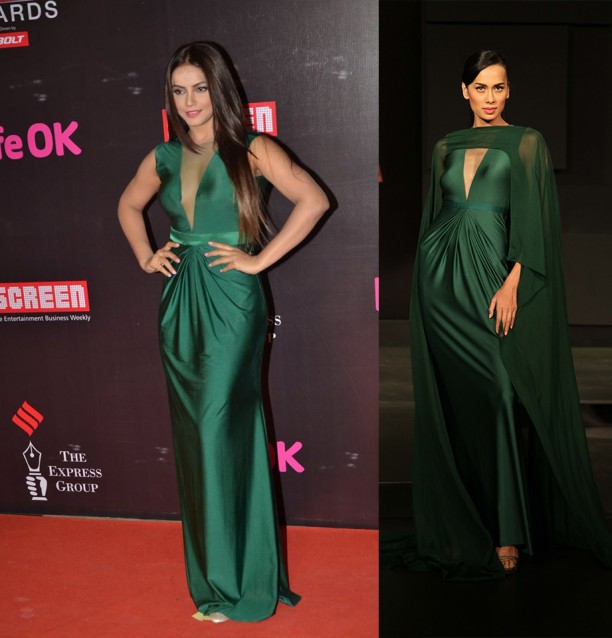 Neetu Chandra
Neetu was quite the vision in a Gavin Maquel gown. Quite glad she skipped the cape which was presented with the gown on the ramp. However I can't help wishing she'd skipped the sheer neckline and dared to wear the neckline as per the original design. Regardless, the look remains easily one of the more impressive ones of the night.
Verdict: HOT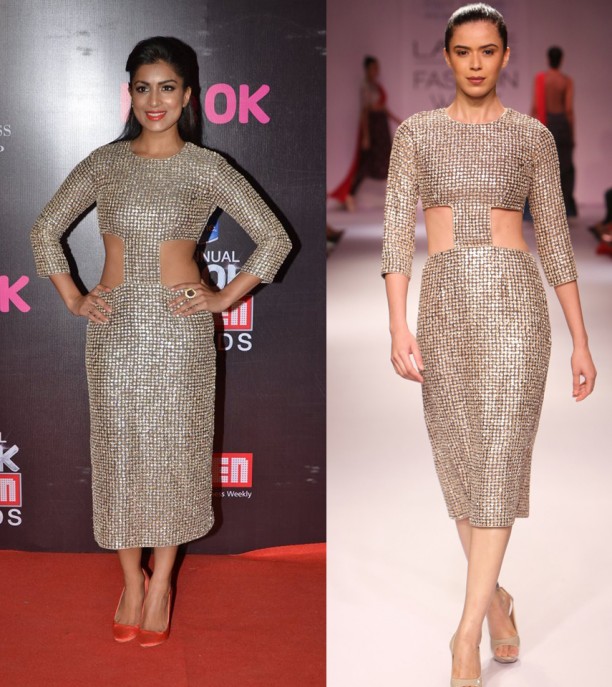 Pallavi Sharda
Of all the Payal Singhal designs in the world not sure what possessed Pallavi to choose the most unimpressive of them all. She adds a pop of color for lips and shoes and makes matters worse.
Verdict: NOT HOT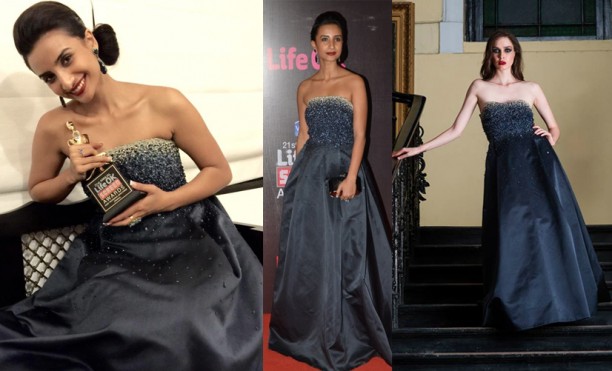 Patralekha
Vizyon was the designer of choice for Patralekha who also took home a trophy on the night. The gown with the pop of red for lips worked well. What left to be desired was more impressive makeup.
Verdict: Hot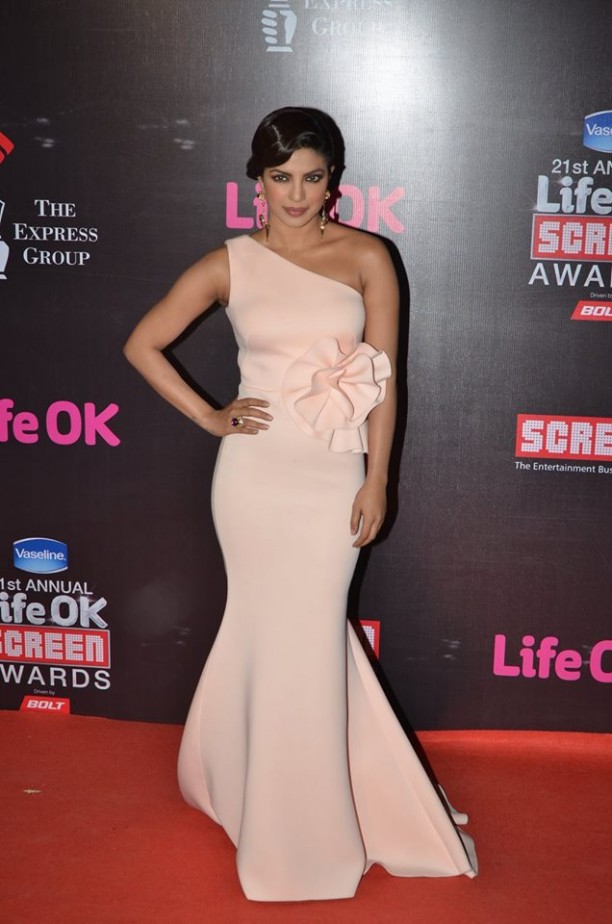 Priyanka Chopra
Priyanka's look was by far the 'cleanest' and most flawless of the night. It was a safe red-carpet attire choice, Gauri & Nainika, but one also has to give credit to PC for pulling it off so well. Special mention to that killer 20s updo!
Verdict: HOT
Richa Chadda
One to always make a grand entrance on the fashion scene Richa kept it quite inconspicuous on the night with an Anushka Khanna kurta set. Would have preferred if she had kept this look simpler with a neat hair do yet the hair was not a complete deal breaker.
Verdict: HOT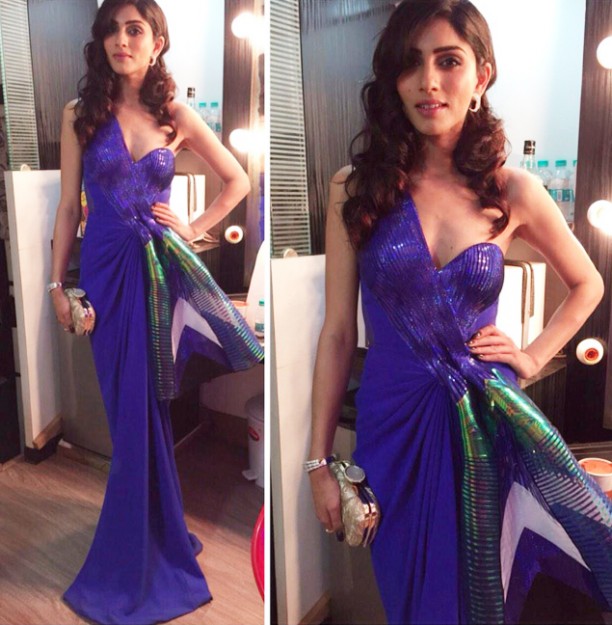 Sapna Pabbi
Khamoshiyaan debutant Sapna put in an appearance in a look that very few could have pulled off. Not quite sure how she works this Amit Aggarwal gown but she done! Especially love the hairdo which she opted for to compliment the look.
Verdict: HOT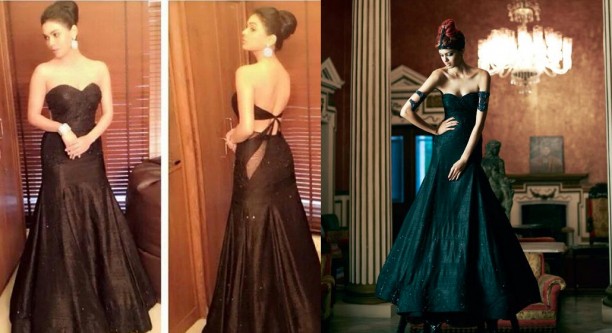 Sara Loren
Sara could have had quite the impressive look in her Schon by Sakshee Pradhan gown but sadly the styling of this look just came through as being extremely dated.
Verdict: NOT HOT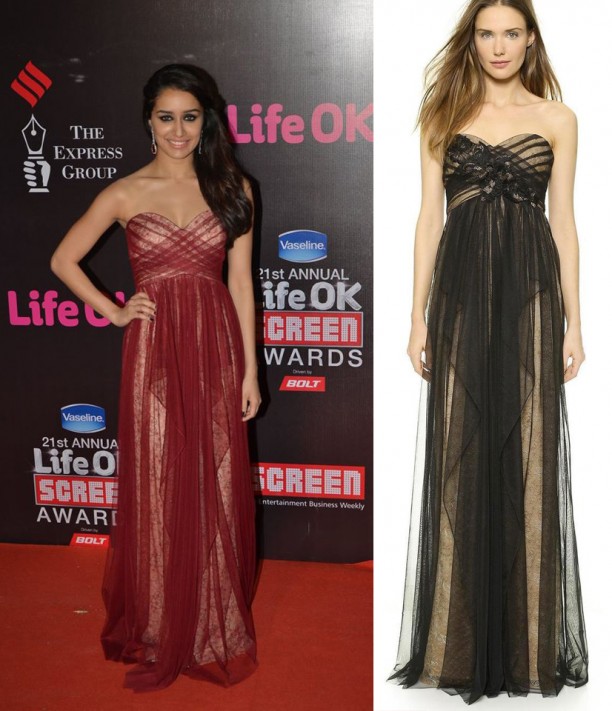 Shraddha Kapoor
Shraddha went with a Marchesa strapless gown for the red carpet event. Maybe the smokey eyes could have been given a miss but she still managed to look quite stunning.
Verdict: HOT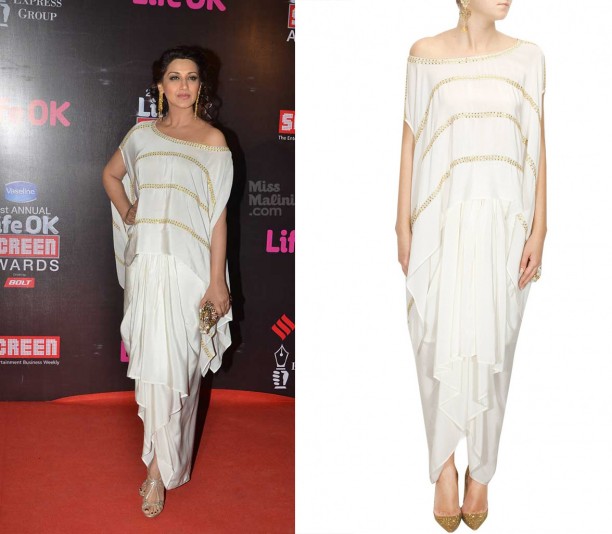 Sonali Bendre
Never imagined that this particular Tanya O'Connor off shoulder kurta set could have been made red carpet appropriate and pulled off so flawlessly but of course where there's Sonali Bendre fashion rules will be bent and expectations will be exceeded.
Verdict: HOT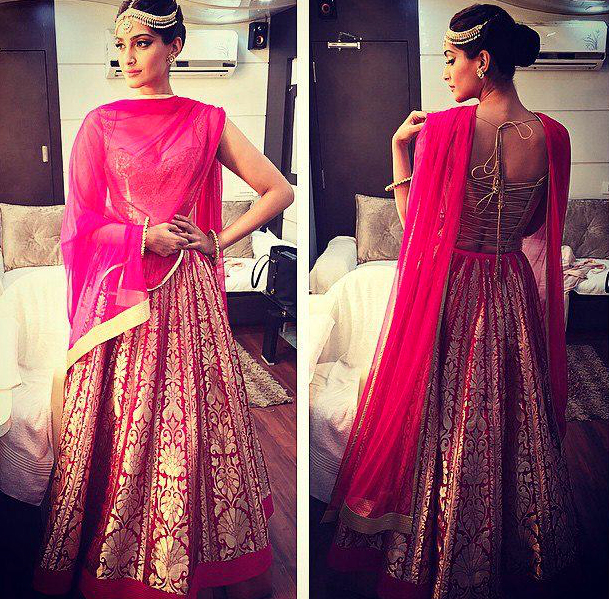 Sonam Kapoor
On any other day Sonam Kapoor would have won all the awards for this look but here at an award show, this one looked a bit out of place. Perhaps had she given the maang-tikka a miss I'd have concluded differently.
Verdict: Misplaced-But-hot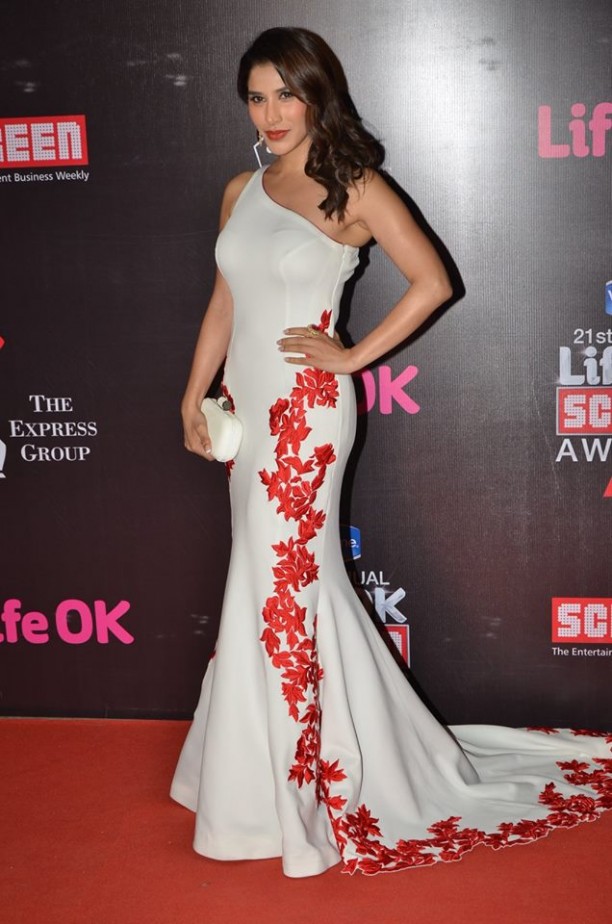 Sophie Chaudhry
A complete vision in white, that was Sophie Chaudhry on the night in her Mayyur Girotra gown. From the lips to the earrings to the clutch, can't fault this one a bit!
Verdict: VERY HOT!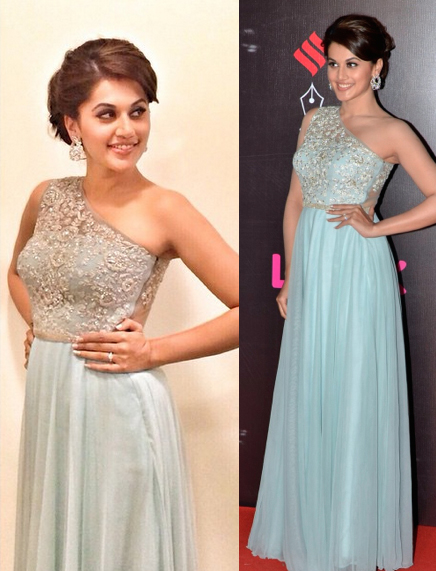 Taapsee
Also doing one shoulder on the night was Taapsee in a Vineti Bolaki gown. She looked stunning in the pastel gown! Simple and effective.
Verdict: HOT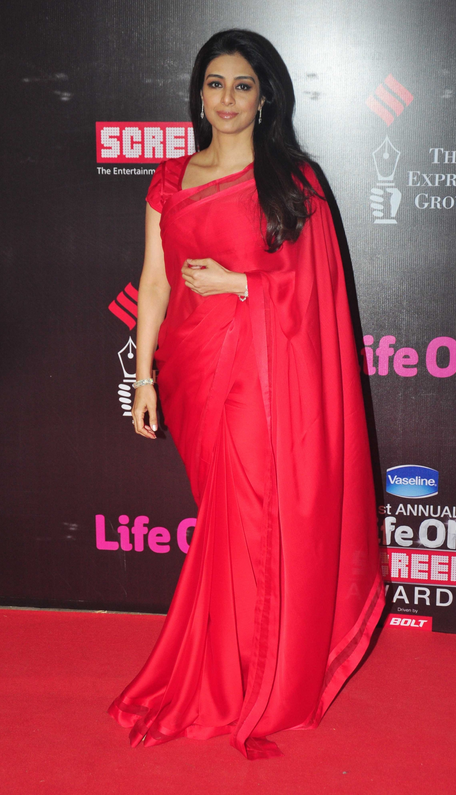 Tabu
Unsurprisingly Tabu was seen in an Abu Jain and Sandeep Khosla saree. Though we would love to see Tabu opt for outfits that would do more justice to her, for now we'll remain satisfied with this.
Verdict: SIMPLY-HOT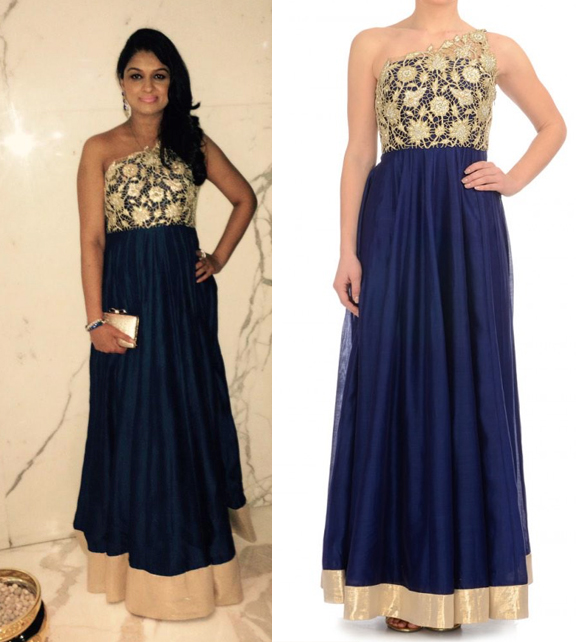 Tejaswini Kolhapuri
Tejeswini sported the other Payal Singhal of the night. While she looked quite flawless in hers what sadly ruined the look was the make up. What a shame.
Verdict: NOT HOT