Celebrating 40 years of reminding women that they're worth it L'Oreal partnered with Femina for their very first Women Awards to celebrate achievements of inspirational women in various field ranging from music and cinema to business and social activism. It was quite a well-attended event and so we now land at the the million dollar question, what did they all wear? Read on to find out Prathna Tiwari's analysis of fashion on the night.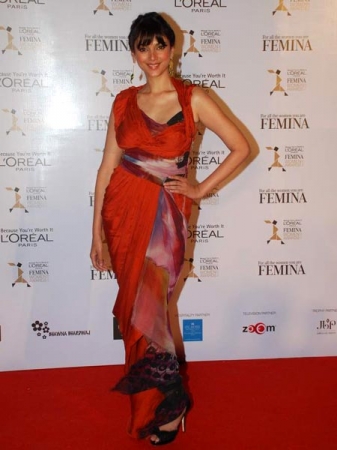 Aditi Rao Hydari
A red and black printed wrap gown was what London Paris New York's star Aditi Rao Hydari opted for. There's nothing more depressing than seeing a stunning women so clueless about what works well for her. Here's a hint Aditi, it is definitely not this gown!
Not Hot
---
Aishwarya Rai Bachchan
Ash stuck to the trusted Bachchan House designers Abu Jain and Sandeep Khosla. Whilst I love the colors and the fact that Mummy Ash is out and about, I can't help but think that the entire shape of the outfit is much like that of a sack! We don't expect her to be in the best of shape post pregnancy so a lovely maxi gown or a kalidaar could have done the trick however to my dismay she opted for 'this'.
Not Hot
---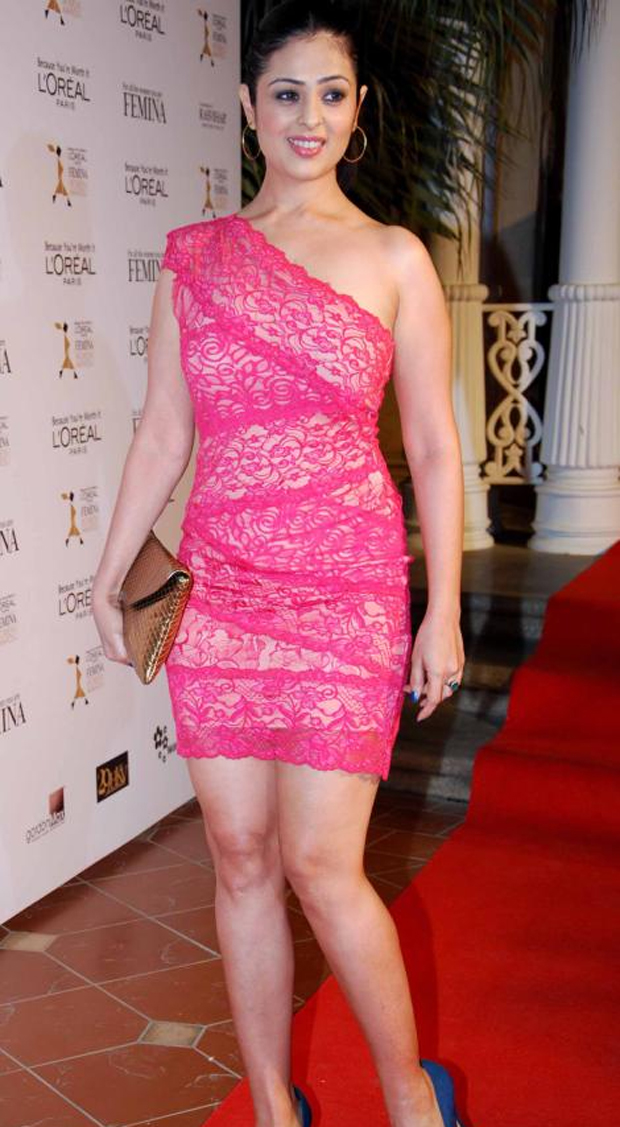 Anjana Sukhani
It was a mini one shoulder pink lace dress for Anjana which in itself was great and she even carried it off brilliantly however the fact that she paired it with 'that' clutch and blue shoes ruins the entire look. Ladies please don't forget that accessorising has the power to make or break the look and sadly for Anjana it's the latter.
Not Hot
---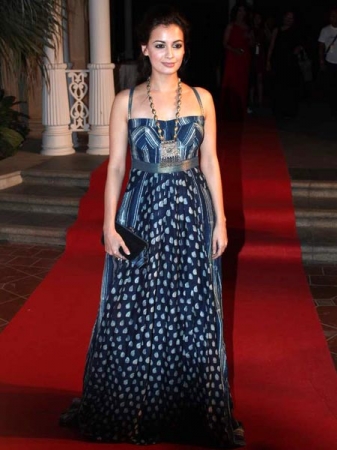 Dia Mirza
An Anita Dongre piece from her latest LFW line was Dia's choice for the evening. Put aside the fact that the gown is something from the summer/resort collection and therefore much more apt for a day event, Dia gets golden points for putting together an otherwise flawless ensemble.
Quite Hot
---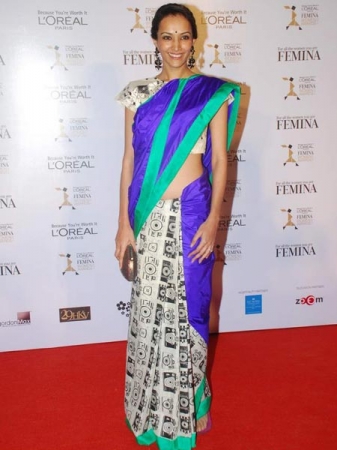 Dipanita Sharma
I love that Bollywood is getting more and more updated with fashion these days and another fresh off the ramp outfit proved just that. Dipanita went for one of Masaba's camera print sarees. It was hard to imagine how this saree would look of the runaway when it was first showcased but Dipanita wears it so well that all my doubts have been cleared!
Hot
---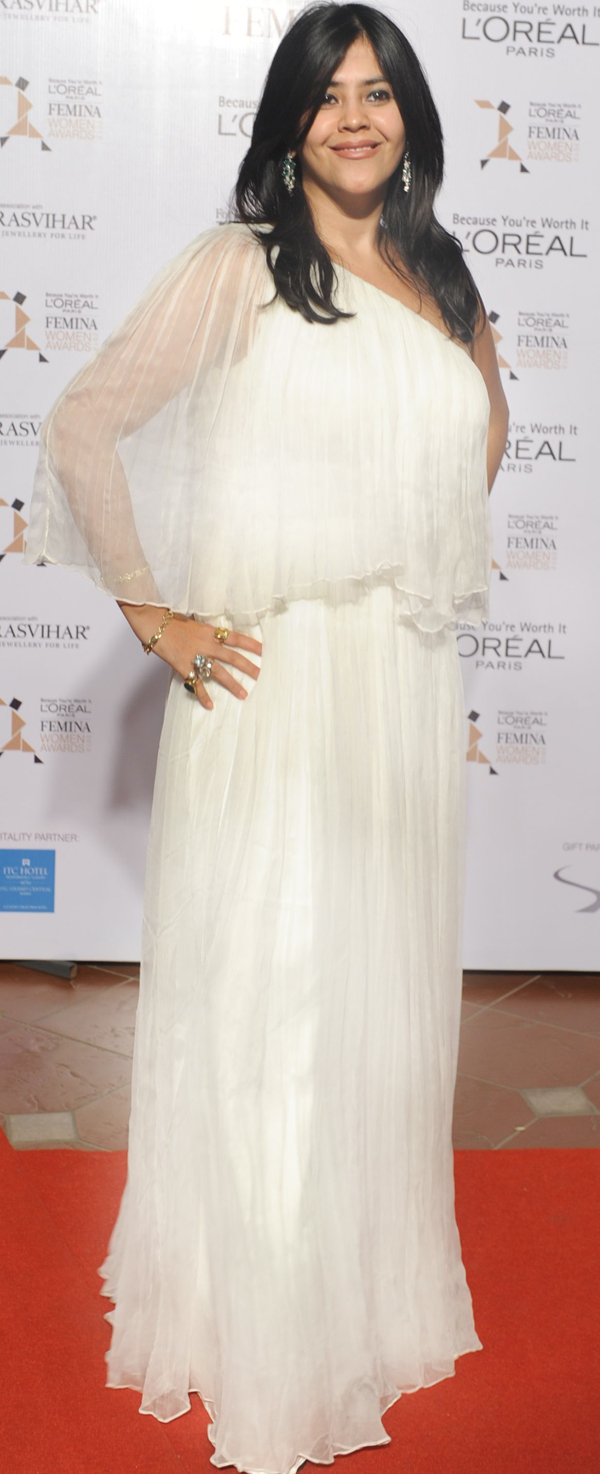 Ekta Kapoor
All white was the theme for Ekta and I simply loved it! She usually opts for a much more louder option on the red carpet so this was especially refreshing. To be honest for the first time I have no complains from an Ekta look!
Very hot!
---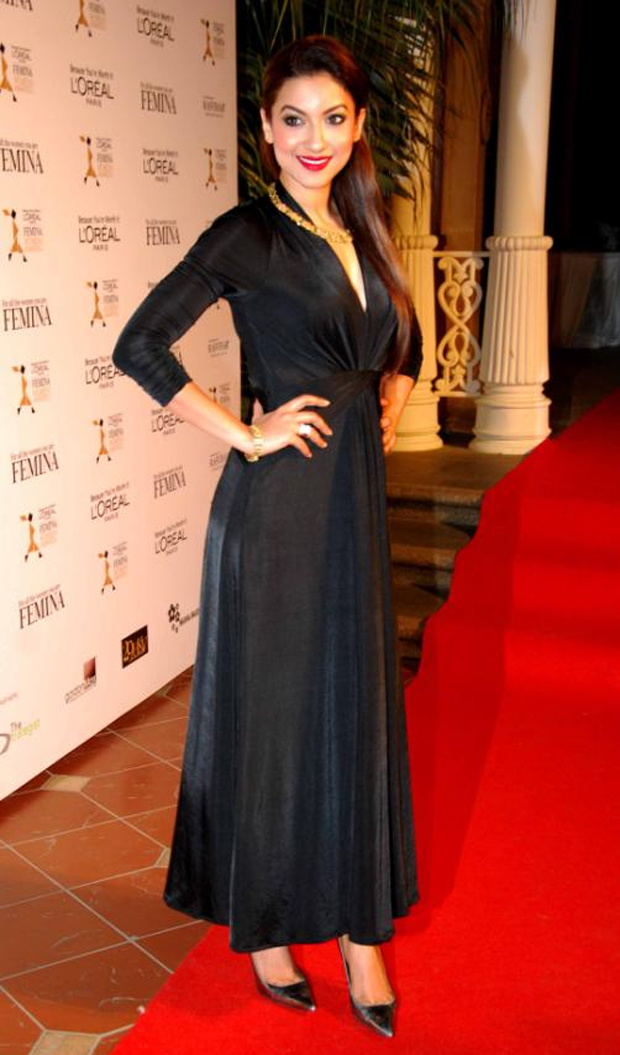 Gauhar Khan
From an all white look we come to an all black one. Gauhar looked stunning in the minimalist avatar. Gold jewellery, pointed shoes and red lips complimented the attire all too perfectly.
Hot
---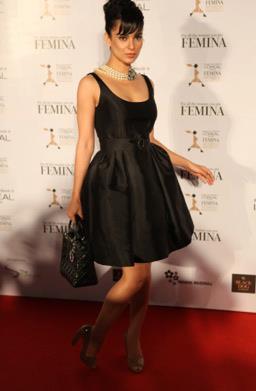 Kangana Ranaut
Another day and another very different look from Ms Ranaut. Once again, very well put together.
Quite hot!
---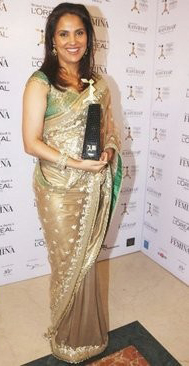 Lara Dutta
We saw another new mommy taking a break from baby duties and to attend the event. Lara looked quite stunning in her cream net saree which was paired with a lovely green embellished blouse. If only she'd bothered to do something with her hair!
Hot…minus the hair
---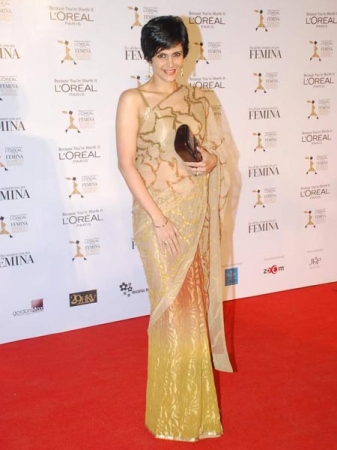 Mandira Bedi
Always one to opt for the unconventional choices in sarees Mandira did just that for the event. No major gripe with the look except for the fact that the blouse and the style in which the saree has been worn is something Ms Bedi has been doing since time immemorial. A good but boring look if you ask me.
Could be hotter.
---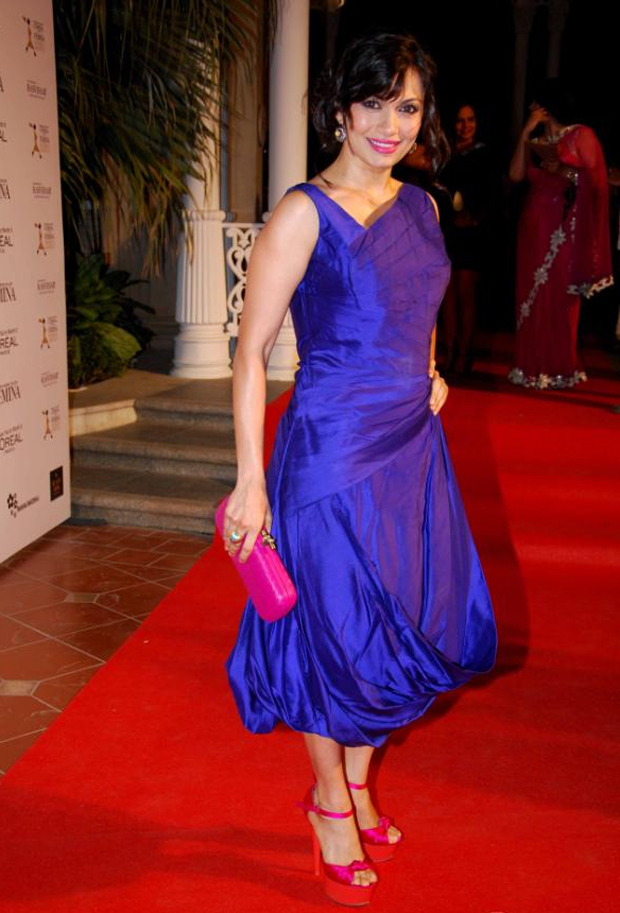 Maria Gorretti
It was a pink and blue color blocked attire for Maria and boy did she pull it off well. The look is formal, trendy and hip all at the same time. No complaints from hair and makeup either!
Very Hot!
---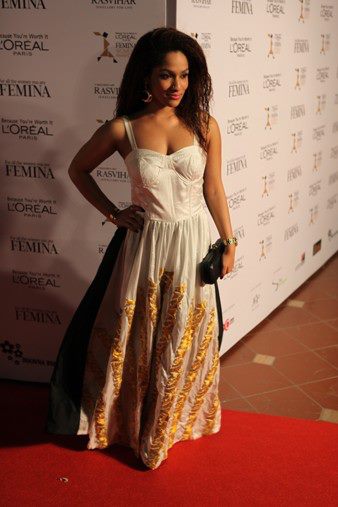 Masaba
Designer Masaba opted for one of her own designs for the night. The gold embellishment and the length of the gown makes it quite appropriate for the event but one can't help but wish that the neckline and shoulder straps were of a different style.
Could be hotter.
---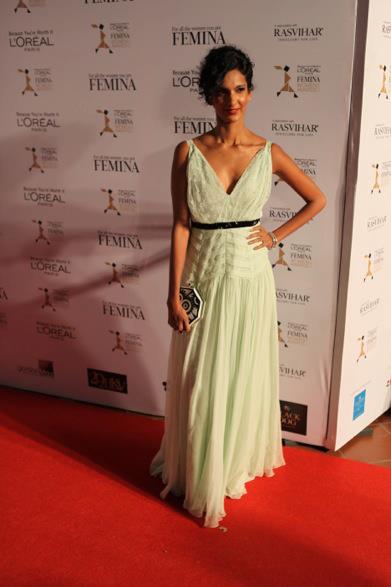 Poorna Jaganathan
It was a Dior gown for Poorna and like most of her red carpet looks, she pulled it off quite well. Despite the fact that the look is flawless, I wouldn't mind seeing Ms Jaganathan gives us a Desi look one of these days.
Hot.
---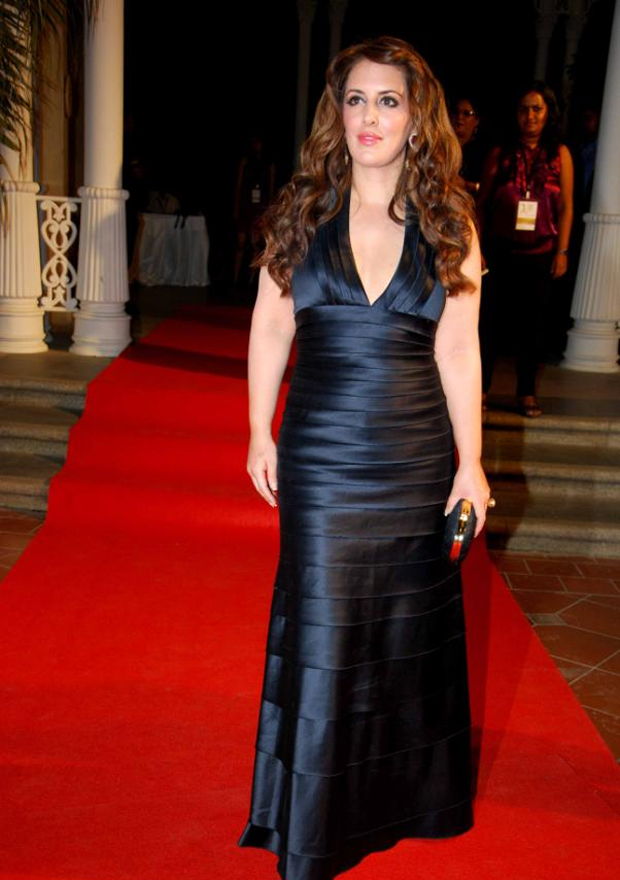 Pria Kataria Puri
Another all black look was seen on the red carpet and this time from designer Pria Kataria Puri. Unfortunately unlike Gauhar's look this one isn't quite as flawless. Not quite sure why that outfit is not working, it just isn't.
Not hot.
---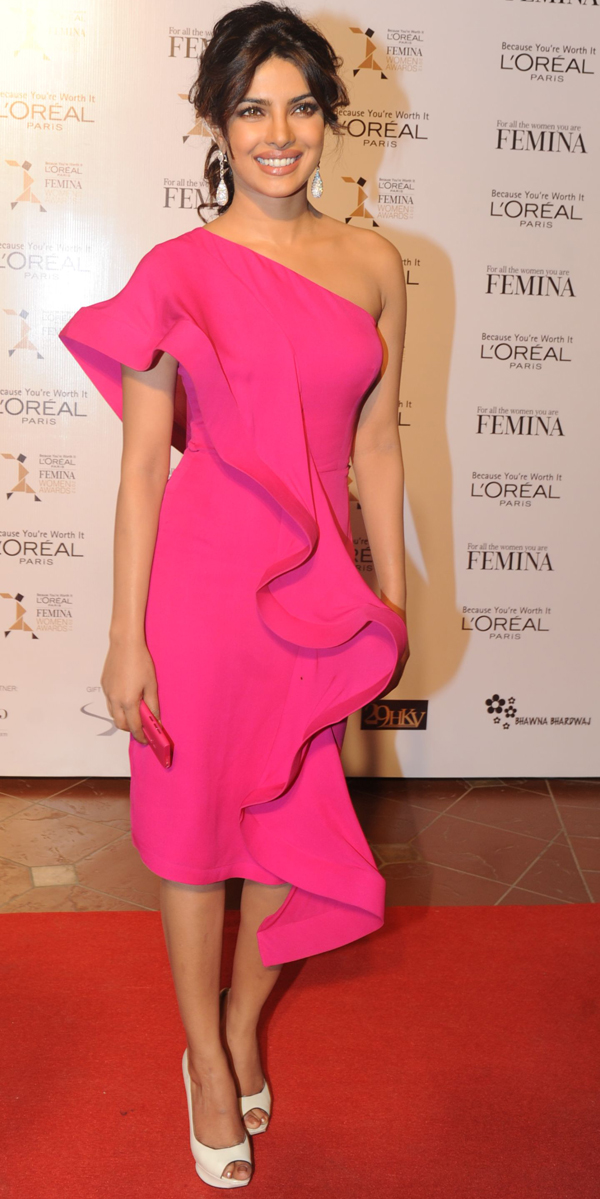 Priyanka Chopra
Miss Chopra seems to be struggling with her fashion these days. The Gauri Nainika gown is just another day in the list of struggling days. Not too impressed with hair and accessorising either. I hope she finds her fashion mojo soon!
Not Hot
---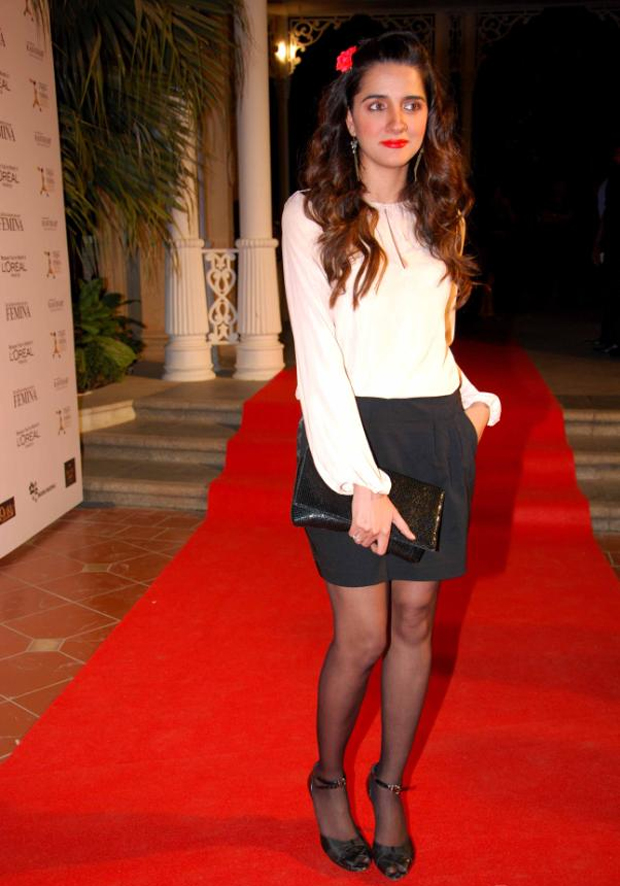 Shruti Seth
No doubt the Worst Dressed award of the night would have to go Shruti for 'this' look. Not quite sure what those shoes are, why her blush is smeared in such an awkward way and what that flower is doing in her hair for an award function. A disaster all around!
Definitely not hot!
---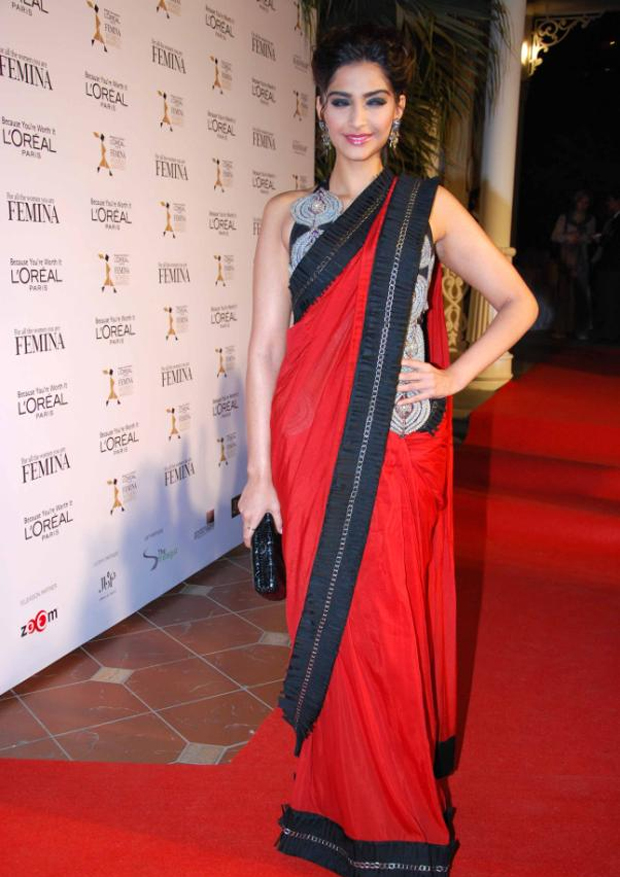 Sonam Kapoor
Sonam opted for a piece from her trustee designer Anamika Khanna. I do love the saree however more than the saree I love the blouse! However I can't help but notice the way in which the saree has been wrapped is somewhat untidy. And ofcourse there's the hair, which just isn't working for me.
Could have been VERY hot!
---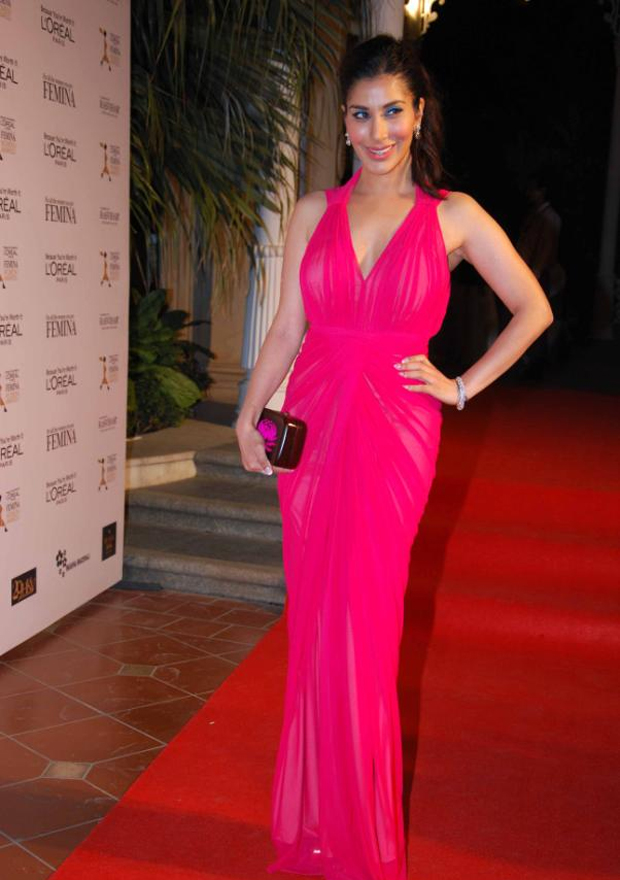 Sophie Chaudhry
One to always impress me Sophie let me down this time around. I don't have much problem with the Ramona Narang gown however what's happening with the hair and makeup. It's almost like she ran out of time and had to dash out.
Not hot
---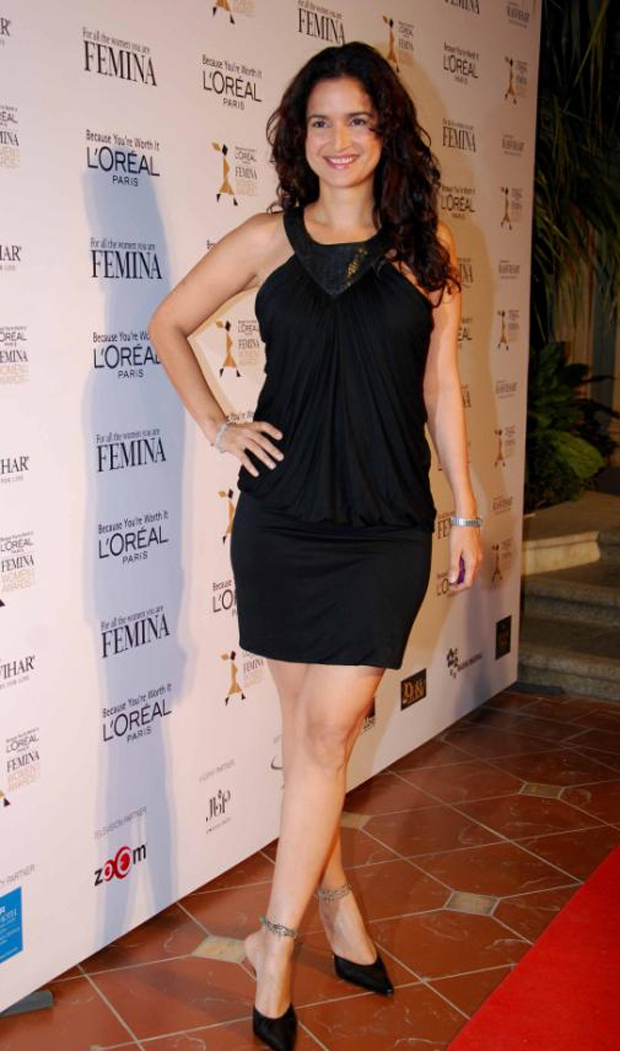 Sushma
Sameera's sister Sushma Reddy was seen at the event in a little black dress. Quite a cute dress however the lack of attention to everything else (hair, accessories and makeup) didn't let the look reach its potential.
Not hot