It's a busy week for our celebs with Saifeena wedding, big film launches and ofcourse religious festivities. The Dutt family continued their tradition to host Mata ki Chowki at their residence. Time to check out the fashion dos and don't that we learnt from the attendees on the night.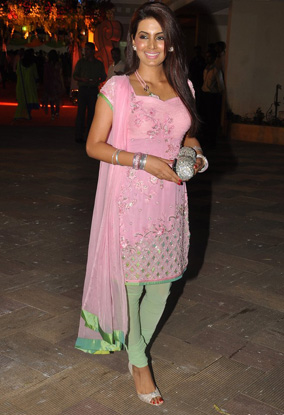 Geeta Basra stuck to the very seasonal color pallet of candy/pastels and looked quite good in it. Good call pairing it with silver accessories. Small gripe with fitting of the churidar top, anyone else agree with me? Oh and lets pretend the oily makeup is just flashes not being kind.
Verdict: Geeta Basra is reasonably hot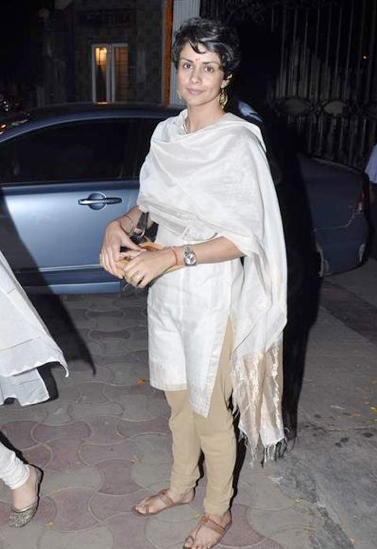 Gul Panag was in the moment of the festivities so kept her outfit to something that didn't detract from the occasion. Even so with a little effort on hair and makeup this attire could have gone a long way. Its earthy and suited for the event granted I do miss a bit of color in the attire. Pairing it with traditional old school chappals made the look even more earthy.
Verdict: Gul Panag is quite hot.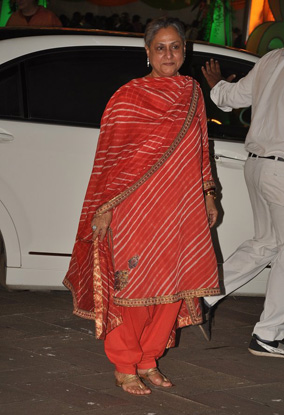 Now here is a lady who knows the color of the festivities. Dressed in all red was Jaya Bachchan on the night. Seeing as she's been in overwhelming Abu Jain Sandeep Khosla outfits lately this much more sober design made for a nice change.
Verdict: Jaya Bachchan is Hot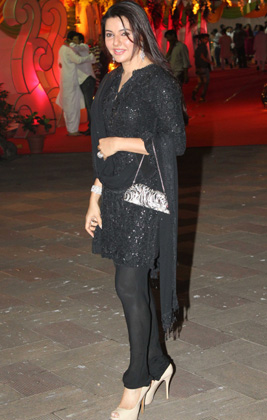 90s item girl Kahkashan Patel was in attendance in an all black churidar. The outfit looks more suited for a cocktail night rather than a mata ki chowki outing. Anyone else feel the same? Inappropriateness of the outfit aside, she looked great in black but that look was let down by the show and bag choice.
Verdict: Not Hot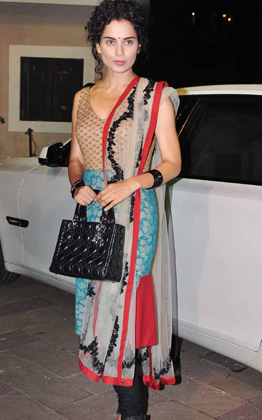 You've heard me saying this many times and I'll say it again, Kangana is consciously upping her game on the fashion front. And why not, about time the fashionista tag extended people who aren't a certain Ms Kapoor. Loving Kangana's look in this unique Sabyasachi. She always picks the best Sabya pieces that give us a break from the sarees/anarkalis Rani & Vidya subject us to. (Which all have started looking the same lately). Black accessorising worked brilliantly for Ms Ranuat except for that bag which seemed a bit off to me. The slightest edition of the bindi was the winning factor for this look.
Verdict: Kangana is REALLY HOT!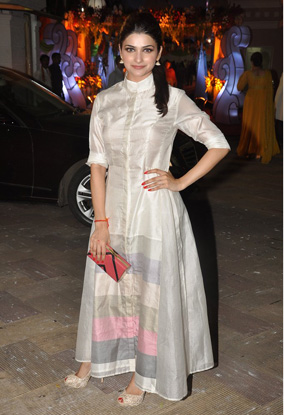 Prachi ditched the sarees, anarkali and bright colors for a Rahul Mishra kurti/gown. One to always love bold choices even I have to admit I would have much preferred she stick to the appropriate attire for the event or at least styled this one in a more Desi manner. (She looks more suited to be strutted around at a chic non-religious outing). Inappropriateness aside we can't take away from Ms Desai that she looked damn hot, minus the shoe choice.
Verdict: Prachi, minus the shoes is REALLY HOT!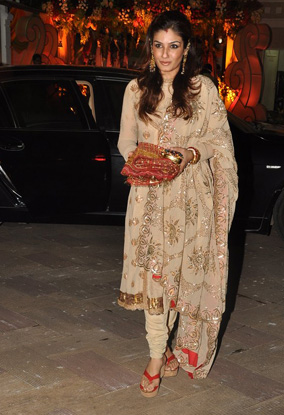 Good to see another lady totally in the mood of the festivities. Love the wonderfully Indian attire. You'd think I'd veto this one on the account of it being overwhelming but I really don't mind the busy work on the gold anarkali. The slightly noticeable running theme of red between the inner lining of the suit and shoe choice works for me. Only thing I'm not feeling is the hair.
Verdict: Raveena-minus the hair- is HOT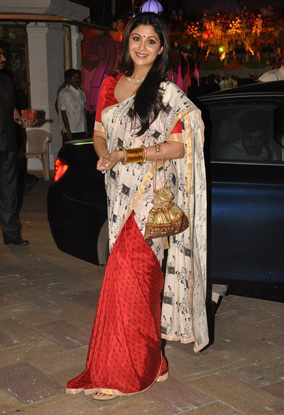 Mommy-Shilpa went for a Masaba cow print half n half saree that I've fallen in love with! Seeing as Masaba offers this in an array of colors I love that Shilpa opted for this version of the half n half cow print. The entire look is perfection, accessories, hair, bindii and all.
Verdict: Shilpa Shetty is HOT!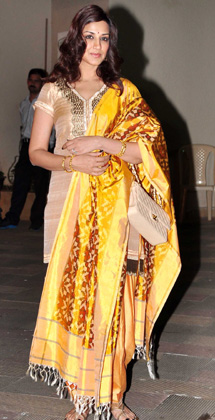 A rare day when I don't feel a Sonali Bendre look! Never thought it would happen but here you go. The dupatta is just ruining the outfit as is that bag. Not sure how this one could be saved in my books because I'm just not liking anything about it.
Verdict: Sonali Bendre is not hot.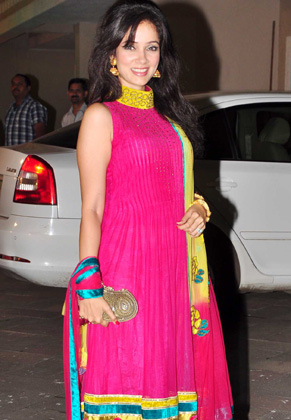 Another attire from the night that caught my eye in the worst way possible was that of Ms Malvades. And like Sonali's attire I really can't point out how to save this one because it's just the entire thing that isn't working.
Verdict: Vidya Malvade is not!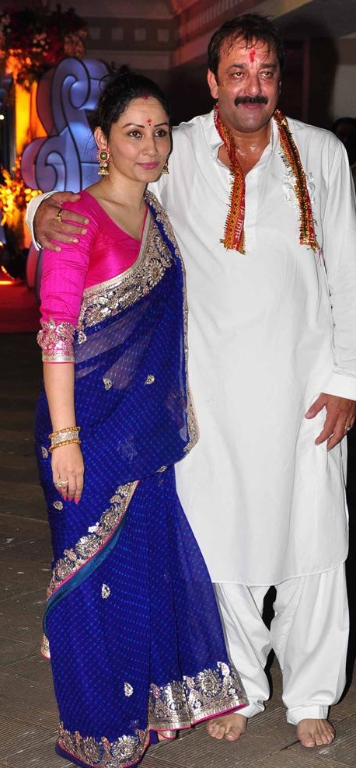 Hostess Manyatta Dutt was in a contrast style blue/pink saree. Brilliant color combo that is perfectly loud enough so as to justify the minimal accessorising.
Verdict: Manyatta Dutt is HOT!