We all love a big fat Bollywood wedding! Who came, who didn't, who wore what and who looked the best. These are just some of the questions that come to our mind with a Btown wedding. Thankfully for the Btown wedding junkies, like us, the Riteish & Genelia's wedding will have quenched our thirst for quite some time. Whilst Bollyspice prepares its mega report on the wedding of the year, here's a fashion analysis of the attendees at the sangeet.

Amrita Arora
It was a Vikram Phadnis lehenga for Mini Arora and although I'd love it on any other occasion, for a sangeet it felt a bit too dull! Definitely not what we expected from Amrita who's usually quite on the ball and definitely not the best piece by the designer.
Not Hot
---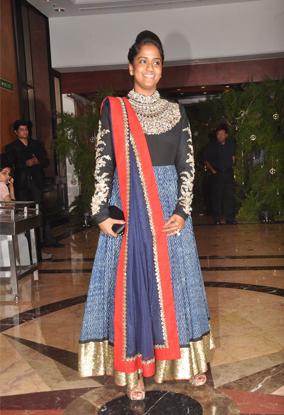 Arpita Khan
Sallu Miya's baby sis is definitely falling hard and fast for Sabyasachi and ofcourse we don't blame her! However we do definitely wish she'd opted for a different Sabya outfit, this one just doesn't seem to be working for her. Maybe it's the print in the kalidar or the overdo of bling on the neckline, one can't quite figure out whether it's the outfit or did Arpita add a heavy necklace. Whatever it may be, its not working.
Not Hot
---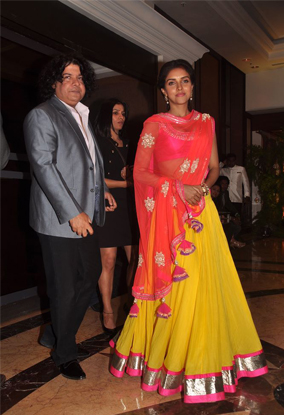 Asin
Our South Indian diva seems to be on a roll with her fashion! We simply love this yellow and orange lehenga with pink edging. It's both simple yet elegant and fit for the event. Simply fabulous!
HOT
---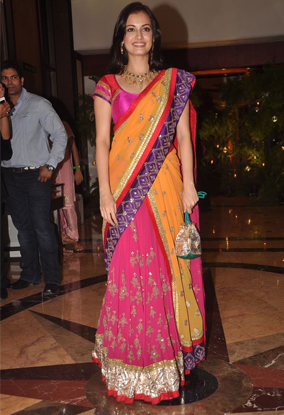 Dia
Dia also went for what appears to be either a lehenga or a lehenga saree. Quite a fabulous color combination for the lovely lady. We only wish she'd given a bit more attention to hair and makeup.
Quite Hot
---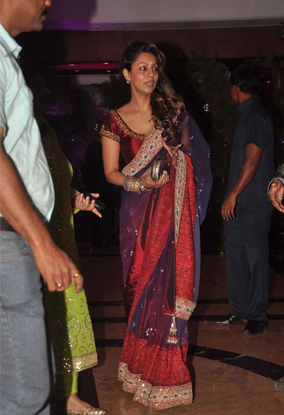 Gauri Khan
The title of 'Queen of Bollywood' rightfully should sit with King Khan's Mrs, Gauri Khan, who was in all her glory on the night in this maroon Manish Malhotra saree. She looked stunning!
Very Hot!
---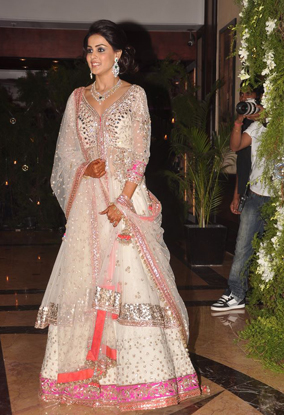 Genelia
And how can we not give a special mention and attention to the pride herself! Genelia chose a Manisha Malhotra outfit for the night and looked like a true princess in the white/pink color combination. We have absolutely no qualms from the beautiful bride-to-be in this outfit.
HOT!!!
---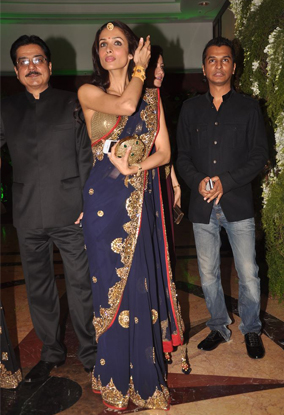 Malaika Arora Khan
Mala brought the sexy in the party in her Vikram Phadnis saree. We love that she kept hair and accessories quite simple and simply added the maang tika for a finishing touch.
Hot
---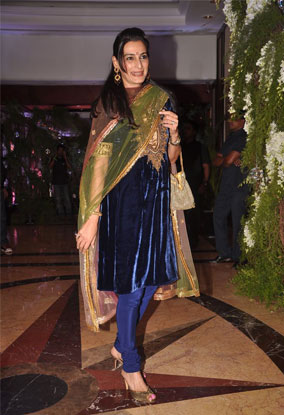 Mana Shetty
It was a blue velvet suit for Mrs Suniel Shetty. Whilst the outfit is quite lovely in itself if only she'd done something different with her hair to finish the look in perfection!
Quite hot
---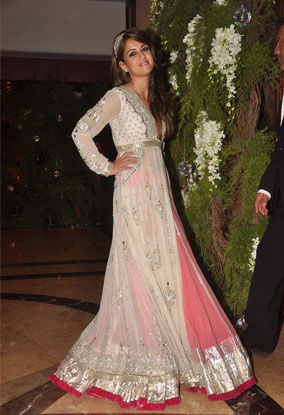 Natasha Poonwala
Socialite Natasha Poonwala was spotted in a lehenga that like the bride's was also a Manish Malhotra and in a very similar color combination. Despite the fact that the outfit was more fit for the bride at the sangeet and not the guest, she looked great as usual!
Hot
---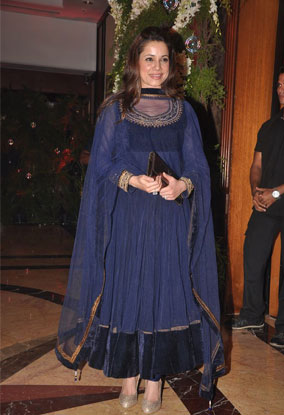 Neelam
Neelam chose a blue kalidaar which she wore in a very simple and elegant fashion. The only thing bugging us in this attire is the shoe choice.
Quite Hot.
---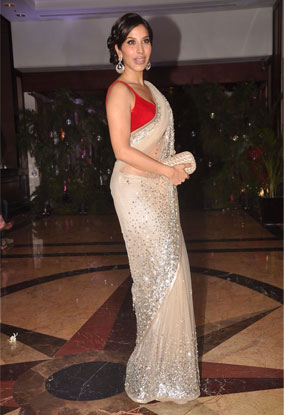 Sophie
Sophie wore on a cream colored net saree that was perfectly complemented by a red blouse. No doubt she looked stunning however the hair up-do tipped the look over the edge a tad bit. We wish she'd left her hair out loose in a simple way as the saree needed to do all the talking in this look.
Quite Hot
---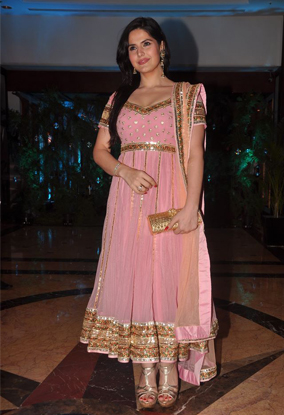 Zarine
Zarine looked absolutely stunning in a pink anarkali. An absolutely flawless look from hair to makeup to accessories.
HOT
And that is the Deshmukh – D'Souza sangeet for you all! Up next will be a full report on the wedding and reception so stay tuned to Bollyspice.com!