The wedding celebrations for the Deshmukhs and D'Souzas ended with a star studded bang at the reception function on Saturday February the 4th. Now it's the moment you all have been waiting for, time to see who looked hot and who did not!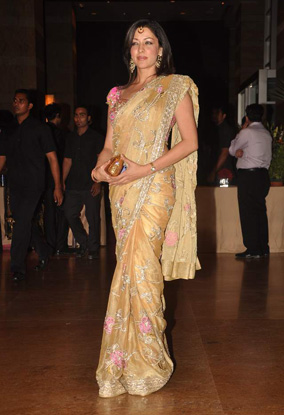 Aditi Gowitrikar
Although Aditi's saree wasn't something to rave about, it wasn't something to warrant a rant about either. She looked quite cute and glamorous.
Hot.
---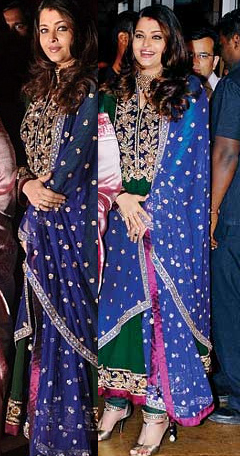 Aishwarya Rai Bachchan
By now you all must know that Ash made her first official non-hospital appearance post the baby at the reception. She opted for a Manish Malhotra anarkali and looked rather gorgeous!
Quite Hot
---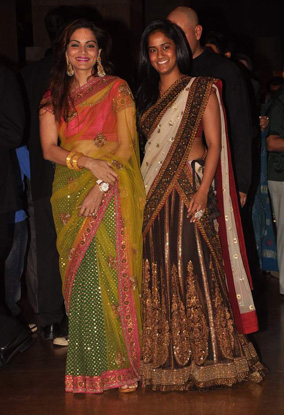 Alvira and Arpita Khan
Sallu Miya's two sisters were in attendance, perhaps on behalf of him who couldn't make it to the wedding celebrations. Alvira went for what appears to be a half/half net saree, Arpita stuck to her favourite designer Sabyasachi. We're not a fan of Alvira's choice but definitely adore Arpita's.
Alvira – Not Hot | Arpita – Hot
---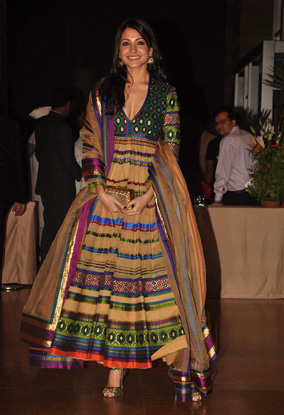 Anushka Sharma
*sigh* Anushka is always such a delight to see at events. Like a breathe of fresh air she waltzed into the event in this stunning and colourful Abu Sandeep gown that'd we'd seen on Shweta Bachchan at Ash's godbharayi (baby shower) function. Regardless to say we loved this look!
VERY HOT
---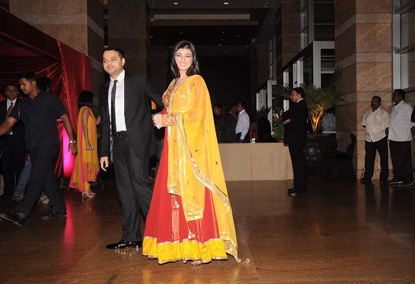 Ayesha Takia
Ayesha made a rare appearance with her hubby in a red and yellow outfit that she simply glowed in!
Very Hot
---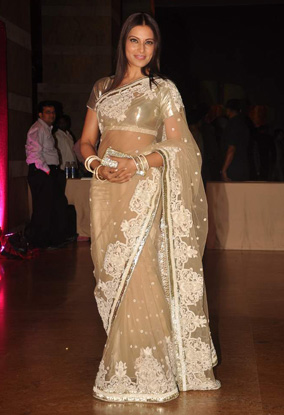 Bipasha Basu
It was a gold net Falguni and Shane Peacock saree for Bips that she paired with a gold blouse that simply ruined her outfit.  What a shame since the saree is rather stunning.  We can't help stressing how important your blouse choice is when going for a net saree!
Not Hot
---
Divya Khosla Kumar
Ab Tumhare Hawale Watan Saathiyo actress and ex-model Divya Khosla Kumar was in attendance with hubby & T-Series owner Bhushan Kumar in a Sabyasachi kalidaar. She looked simply fabulous!
Hot!
---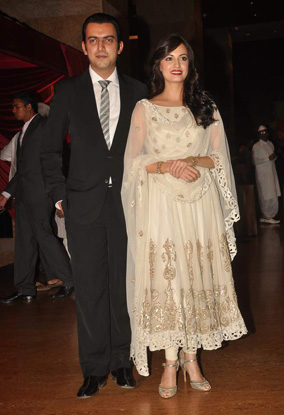 Dia Mirza
Dia went for a white anarkali and looked mighty fine in it. If only she'd not opted for the striking red lips and dull shoes. Normally we love lip colors that are so striking but perhaps this wasn't the most appropriate place for the red lips. As for the shoes, does anyone else feel gold should have been the ideal choice? But despite all that, she did look quite nice.
Quite nice.
---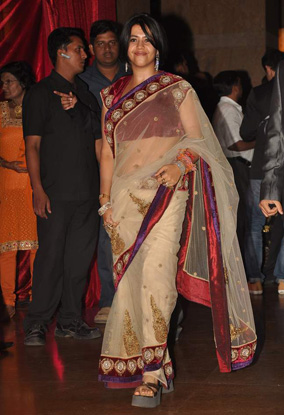 Ekta Kapoor
Lady Kapoor arrived in all her glory in a cream net saree. We love Ekta but can't help wishing she'd gone for something else as this net saree is not working for her. Whether the saree is to be blamed or the draping style, we're not quite sure so we'll leave it for you guys to decide.
Not Hot
---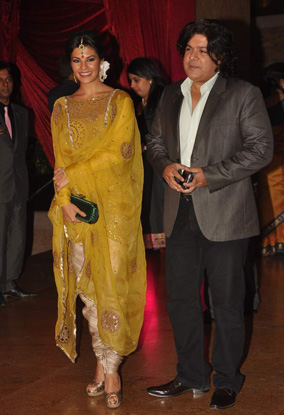 Jacqueline
Ms Fernandez came in with beau Sajid Khan in a complete Desi avatar. We love the color on her! If only she'd opted for a different clutch bag and removed the red bindi as the maang tikka was quite sufficient. Nonetheless the small blunders didn't stop Jacqueline from looking like her sizzling self!
Very Hot
---
Jiah Khan
Jiah chose quite a cute pink net saree that looked lovely on her! But why must you have ruined this amazing outfit with that hair Jiah?! What a shame!
Not Hot
---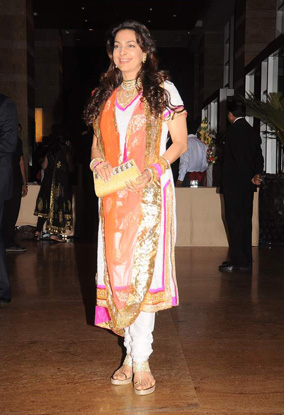 Juhi Chawla
We have a feeling that our dearest Juhi is having some serious hair issues. What's with the oily hair at all the events recently?! One simply can't even begin to analyse the outfit with hair like that.
Not Hot
---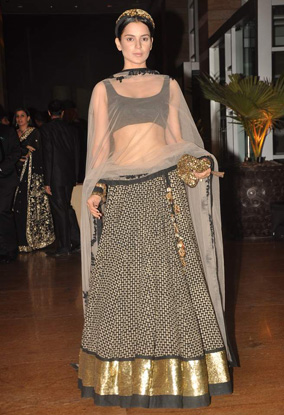 Kangana Ranaut
By now there's been a widely reached consensus that the star of the night was Kangana in her stunning Sabyasachi lehenga! The nude makeup, headband and accessorising were all fit for the ramp. Utter perfection!
VERYY HOT!!!
---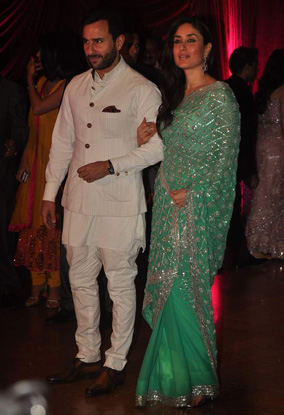 Kareena
We really want to go ahead and re-do Bebo's saree wardrobe because after the appearance at Filmfare and this there's definitely an overhaul of too-blingy sarees that do nothing for the stunning lady. A very mediocre look that was really below expectations for us.
Not Hot
---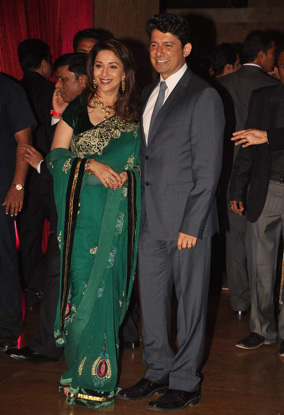 Madhuri
After Bebo we're taking over Madz's wardrobe and bringing in some interesting saree candidates for the diva. Like many of her recent choices, we don't approve of this one either.
Not hot
---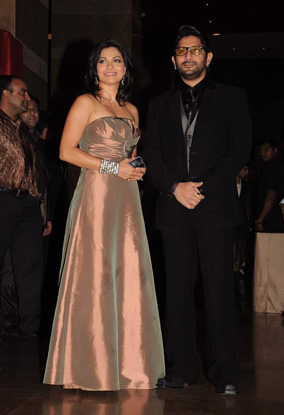 Maria Goretti
Maria opted for a gown over a Desi attire at the event. Whilst we have no problems with her going non-Desi, we do wish she'd chosen a different gown. The color was a rather washout choice for the fair lady.
Not Hot
---
Mehr Jessia Rampal
Mehr looked like a princess in her red lehenga and could have definitely given the bride a run for her money!
Very hot!
---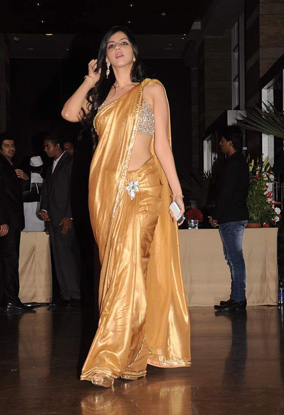 Nishka Lulla
Genelia's close friend and designer Nishka Lulla was spotted in golden saree that was opulence personified!
Very Hot
---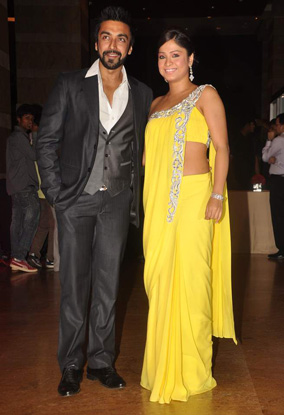 Samita
Samita went for a yellow saree that was quite impressive however was complimented very poorly with an abysmal blouse. We won't even get started on the makeup!
Not Hot
---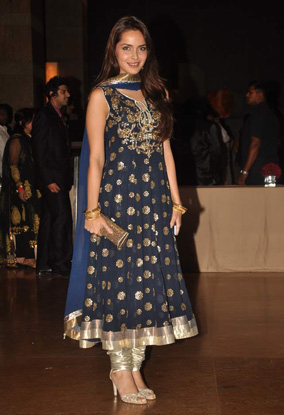 Shazahn Padamsee
It was a cute simple anarkali for Shazahn which although was quite lovely, didn't live up to expectations we have from the actress after her recent appearances.
Quite hot.
---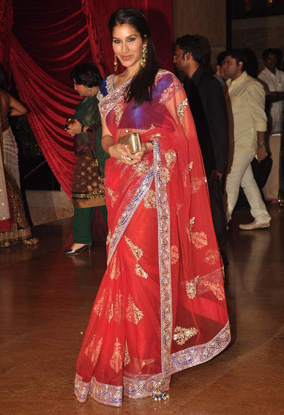 Sophie
We love the red/blue combo on Sophie. A perfect example of how to pull off a net saree. Absolutely stunning!
Very Hot!
---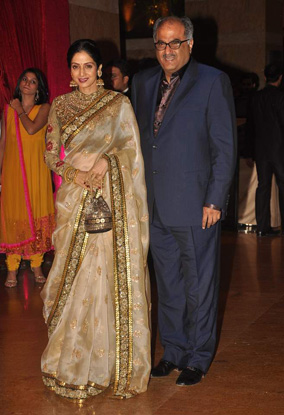 Sridevi
Wow! There's no other word that comes into mind when one sees Sridevi in this Sabyasachi saree. Unfortunately the makeup stops the look from being 'perfect' but we definitely love the bag and the jhumkas!
Hot
---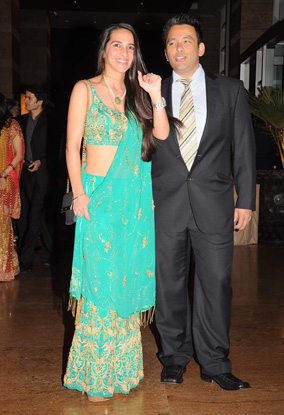 Tara Sharma
Nothing's more disappointing than a stunning lady like Tara Sharma dressing so poorly!
Not hot
---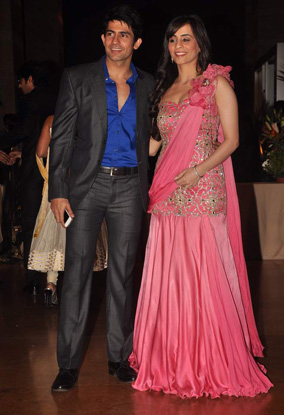 Tina Kuwajerwala
Tina joined Maria and ditched the Desi attire for a gown. But unfortunately like Maria she didn't make the wisest choice when it came to gowns.
Not Hot
---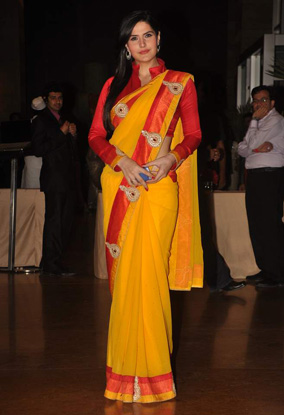 Zarine Khan
Zarine went for a simple and striking red/orange saree that looked rather stunning on the lady.
Quite hot!
And that wraps up the star studded festivities for Genelia-Riteish's wedding! Here's wishing the happy couple all the best for their new life together.